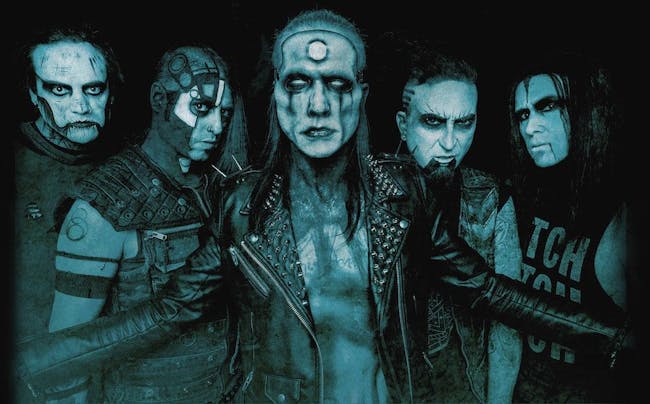 Wednesday 13 at El Corazon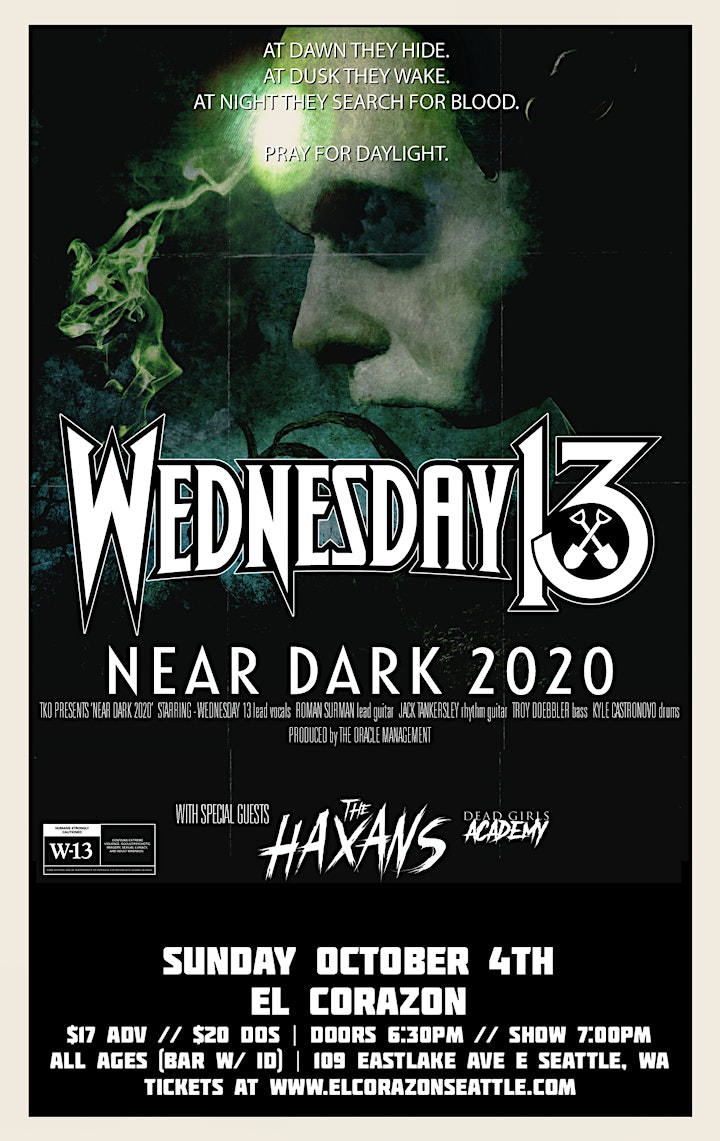 WEDNESDAY 13
Though best known for fronting the Murderdolls, Wednesday 13 is a rock veteran who's been playing in bands since he was 15-years old. He adopted his stage moniker in 1995, naming himself after Wednesday of The Addams Family and the address, 1313 Mockingbird Lane, of The Munsters. A year later he formed his now-deceased horror-core band Frankenstein Drag Queens From Planet 13, named in the spirit of legendary B-movie director Ed Wood. The band put out four independent albums between 1996 and 2001, and played countless local shows.
In 2001, the 'Drag Queens independent releases and loyal underground following caught the attention of national artists, as Wednesday was asked by the (since departed) Murderdolls guitarist Tripp Eisen to join the band. Wednesday started in the bass slot, but his talent and showmanship quickly resulted in a move to the lead vocalist position. It was he and band founder Joey Jordison of Slipknot who collaborated on the writing of the band's debut album, Beyond the Valley of the Murderdolls. The Murderdolls quickly built a fiercely devoted following, through repeated world tours (including 30,000-person shows in Japan, opening slots for Iron Maide throughout Europe, and other choice tours), and worldwide rock press acclaim and album sales followed.
Predictably, the success of the Murderdolls resulted in Wednesday disbanding his first band. Murderdolls were put on hold in 2003 as Jordison returned to the studio and the road with Slipknot. Wednesday returned home, immediately locked himself in his basement, and emerged with over 100 songs written.
In June 2004, he began work on his first solo album, playing all but the drums himself. True to form, Wednesday has stitched together a morgue-full of influences - horror films, cartoons, punk and heavy metal - into a spook-tacular monster-mosh of an album, Transylvania 90210: Songs of Death, Dying and the Dead. Fans of White Zombie, Rob Zombie, AFI, Alkaline Trio the aforementioned Murderdolls, as well as metal, punk, and horror in general would find the record refreshing and outrageous.
With his sallow complexion and raven dreadlocks, Wednesday may look like a grim goth at first glance, but the singer/guitarist is more a throwback to the days of Alice Cooper and Twisted Sister, when rock music had no more pretentious aspirations than being over-the-top, escapist fun.
In 2006, he released his second solo record, Fang Bang and toured for that record with past Murderdolls member Eric Griffin.
In 2008, following work on other project, Wednesday released his third record, Skeletons along with an EP called Bloodwork. The record and supporting tour were a success and later he released a live DVD and live CD to match it called Fuck it, We'll Do it Live.
After another extended period working with various projects and tours, Wednesday decided to start to focus back to his solo band after the success of the first three records. In 2011, he released Calling All Corpses with a totally new lineup and was followed up in in 2012 with an EP called Spook & Destroy which included two new songs and new versions of some old tracks.
Keeping things going in the studio with this lineup, Wednesday released The Dixie Dead in 2013. The record had more of a hillbilly-horror feel and he toured once again in support of the album.
In 2014, Wednesday did something a little different and decided to release a unplugged record of old music. Undead Unplugged was released in July 2014 and with the music there was one new track entitled "Undead". At the same time, he release the box set Dead Meat: 10 Years Of Blood, Feathers & Lipstick which contained a 'Best of', a series of demos and remixes spanning his solo career from 2003-2013.
In 2015, Wednesday wrote and recorded one of his darkest and heaviest records, Monsters Of The Universe: Come Out & Plague. This record was well received and it was seen as a more mature record compared to his past offerings, even despite the camp horror themes that were a staple of his music. He toured heavily to support this record, and started to focus more on the theatrics much like his idols, such as Alice Cooper.
In 2016, he started to record his follow up to Monsters of the Universe. He felt the title was fitting as a lot of his rock idols died that year, and therefore the album was aptly entitled, Condolences. In 2017, they released the record and released music videos ("Blood Sick", "What The Night Brings") for the first time in many years to support the record. Touring in support of Condolences would continue across the world throughout 2018.
Wednesday 13 joined Cradle Of Filth as supports on their 2019 dates in North America. During this tour they introduced a new song called Zodiac that will appear on the upcoming record, Necrophaze, due for release in 2019.
After the Cradle Of Filth tour concluded in mid-2019, Wednesday 13 was added to the cast of supporting acts joining the recently re-formed Static-X who were celebrating the 20th anniversaty of their seminal album, Wisconsin Death Trip as a tribute to the late Wayne Static. The tour would see Wednesday 13 perform in North America, the UK and Australia for most of 2019, alongside Devildriver and Dope.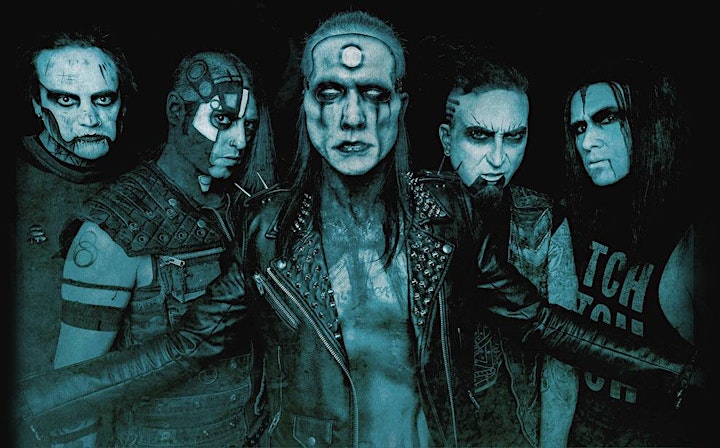 THE HAXANS
THE HAXANS, the goth-pop-infused power duo featuring Ash Costello (NEW YEARS DAY) on vocals and Matt Montgomery (ROB ZOMBIE) on vocals and guitar, will release its debut album, "Party Monsters", on Friday, October 13 via Another Century Records.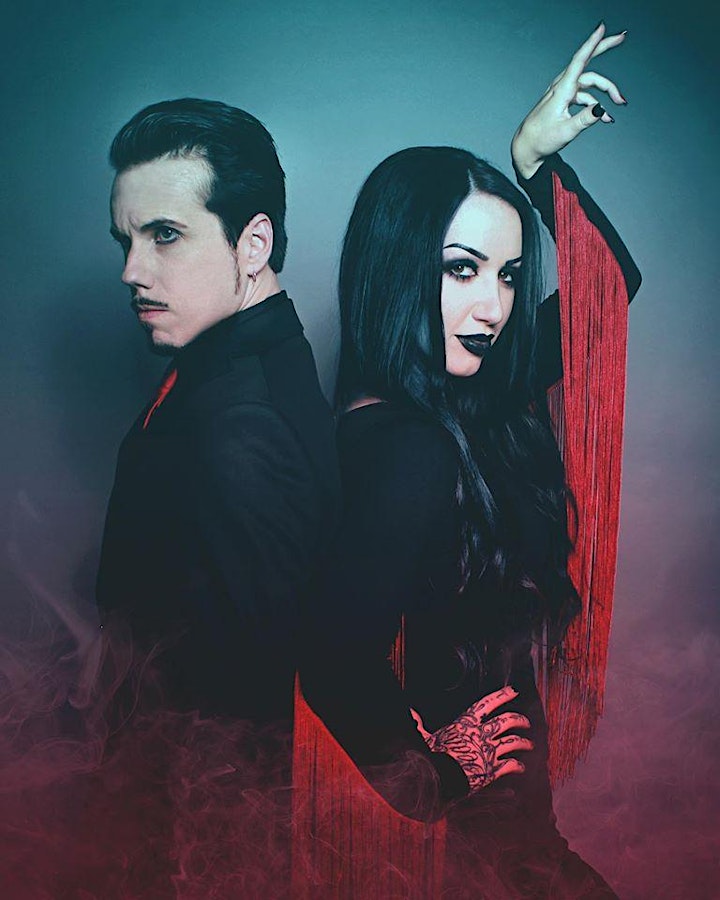 DEAD GIRLS ACADEMY
After retiring his previous band, Vampires Everywhere!, in 2016, frontman Michael "Vampire" Orlando formed the post-hardcore/alternative metal outfit Dead Girls Academy. Less spooky occult shock-rock than Vampires Everywhere!, Dead Girls Academy leaned closer to the post-hardcore, punk side of the spectrum, while retaining Orlando's dark and dramatic aesthetic. Once Vampires Everywhere! ended, Orlando entered the studio with Ronnie Radke (Falling in Reverse) and producer Michael "Elvis" Baskette (Falling in Reverse, the Amity Affliction, blessthefall) to start songwriting for the project. DGA's first single, "I'll Find a Way," arrived in 2017, quickly followed by tours with Motionless in White, Issues, and Falling in Reverse. Orlando signed the band to Victory Records and began writing a full album. Before the 2018 Warped Tour kicked off, DGA released the singles "No Way Out" and "Everything" from their debut, Alchemy.
Venue Information:
El Corazon
109 Eastlake Ave East
Seattle, WA, 98109