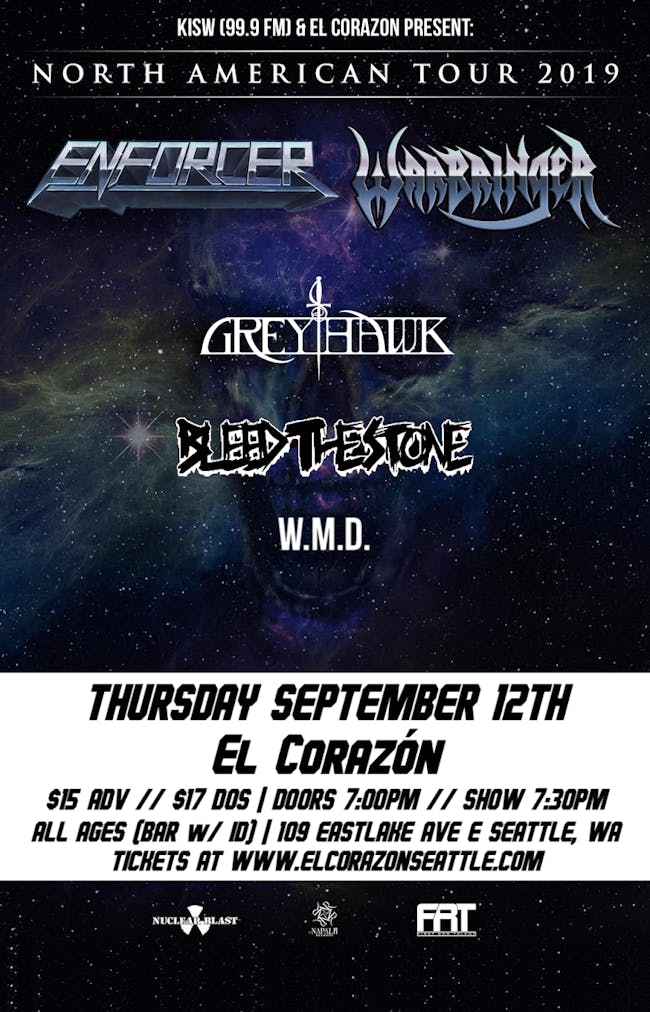 KISW (99.9 FM) Metal Shop & El Corazon Present
Warbringer
Enforcer
Greyhawk, Bleed The Stone, W.M.D.
El Corazon
Warbringer and Enforcer LIVE with Greyhawk, Bleed the Stone, and W.M.D
WARBRINGER
Thrash metal band from Newbury Park, California, USA formed in 2004.
Est. 2004
Signed to Century Media Records: 2007
Discography:
War Without End (2008)
Waking Into Nightmares (2009)
Worlds Torn Asunder (2011)
Warbringer IV: Empires Collapse (2013)
Signed to Napalm Records: 2016
Current Lineup:
John Kevill: Vocals
Adam Carroll: Guitars
Carlos Cruz: Drums
Jessie Sanchez: Bass
Chase Becker: Guitars
Former members:
Ben Bennet: Bass
Ben Mottsman: Bass
Ryan Bates: Drums
Nic Ritter: Drums
Andy Laux: Bass
John Laux: Guitar
Jeff Potts: Guitar
Alex Malmquist: Bass
Noah Young: Guitar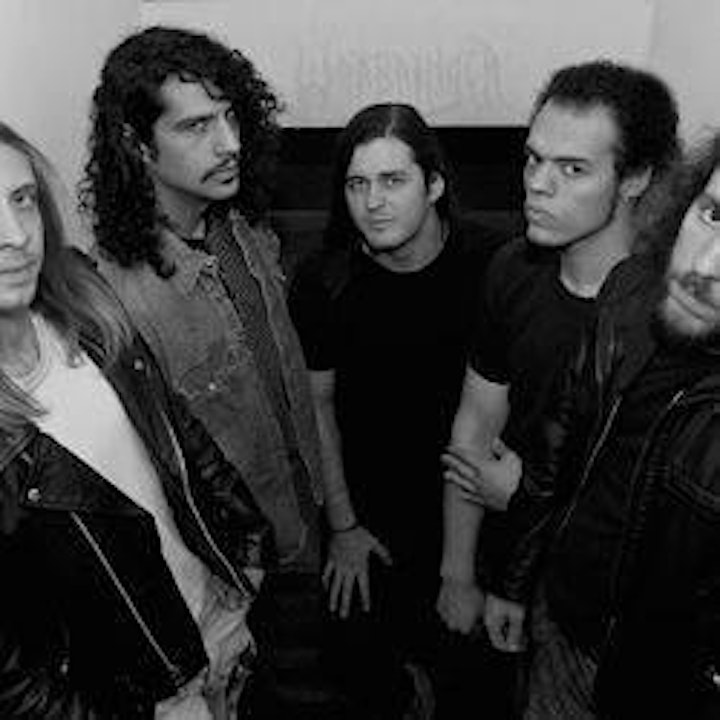 ENFORCER
New album, DEATH BY FIRE, is out now worldwide via Nuclear Blast Records. Order at http://smarturl.it/Enforcer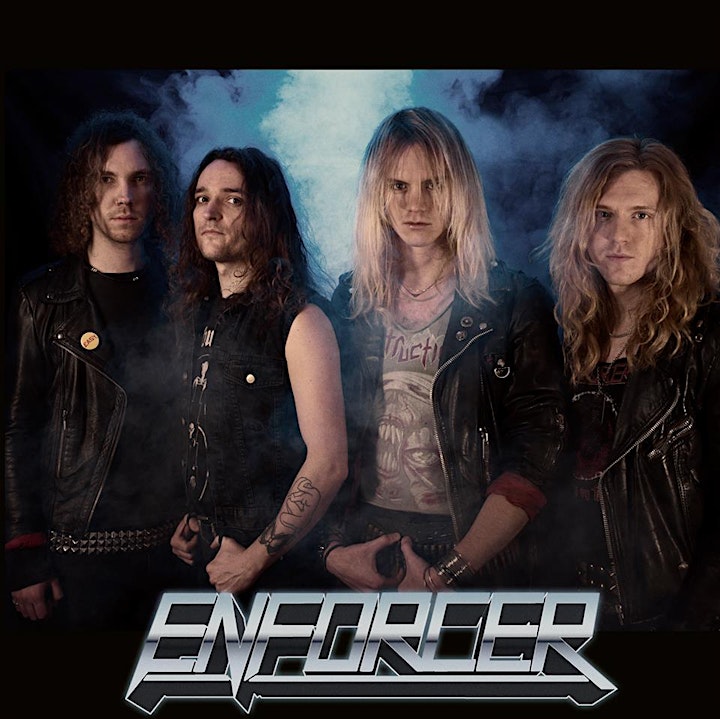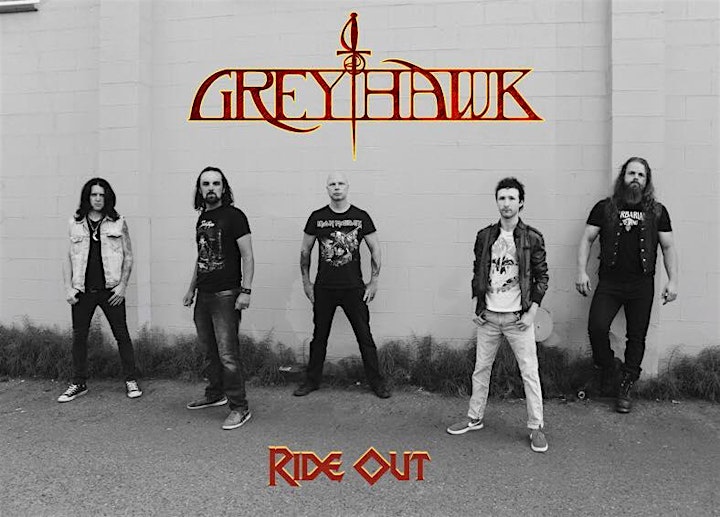 BLEED THE STONE
Bleed The Stone is a hard rock band emerging from Tacoma, WA. BTS has been a force in the local music community since 2013, with two hiatus periods. As individuals; Michael Stone (vocals), Brandon Carnahan (bass), Justin Hodge (guitar), Andrew Foster (drums) and Timmy Berry (guitar/vox) have a wide variety of musical influences.
BTS has released their first self titled demo through Bandcamp as of March 2019. They have shared the stage with a number of great bands! This includes acts such as DOPE, Motograter, American Head Charge, Mechanism, American Wrecking Company, Element A440, Unhailoed, Toy Called God, Casualty of God, Amerakin Overdose and many others. With no boundaries, BTS can be seen at any kind of show; whether it be hardcore, funk, rap, pop, rock, or anything in between. Bleed The Stone continues to play alongside and support all different genres of music.
"BTS has been working hard. The music, the art, the brand, and performances. Soon as they get more opportunities, many more people will enjoy their music. Rock n' Roll with some pretty tasty vocals that we can hear and understand." - Louie Galarza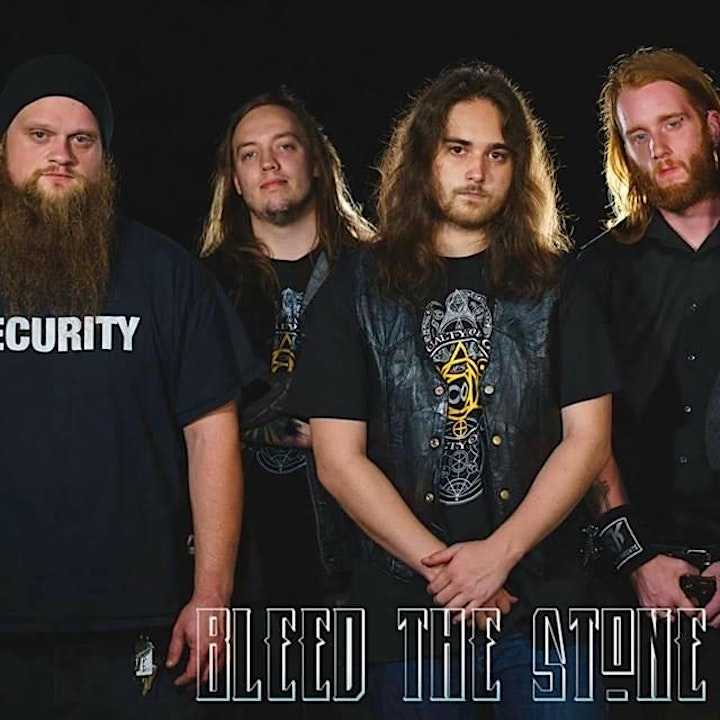 W.M.D.
Ripping thrash metal from Calgary, Alberta determined to ignite the stage and command the night. Behold, riffs of fury and lethal precision brought forth.
Formed in 2015, W.M.D, previously known as Shrapnal, has evolved into a blistering fast thrash act that consistently destroys every performance. Their name, which stands for "When Minds Develop", is a concept that inspires their heavy Thrash Metal with the idea that the developed human mind is the ultimate weapon of mass destruction. W.M.D are currently recording their debut album, so prepare yourselves for a party. These 20-22 year old maniacs don't just destroy the stage....they destroy themselves as well!
Venue Information:
El Corazon
109 Eastlake Ave East
Seattle, WA, 98109