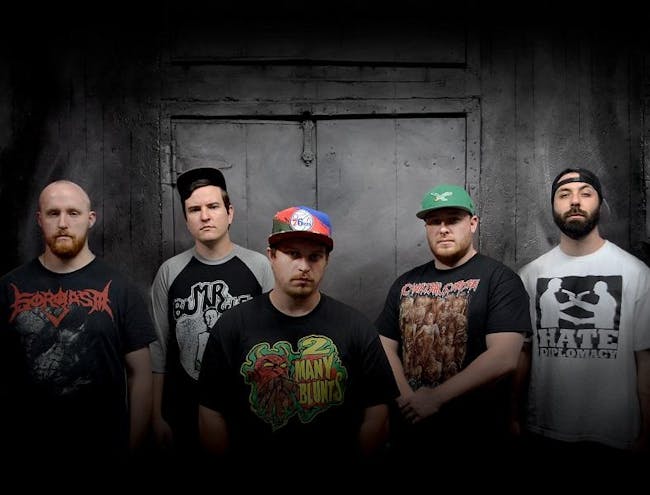 Waking the Cadaver
Vulvodynia, Organectomy, Wormhole
Funhouse
Waking The Cadaver at The Funhouse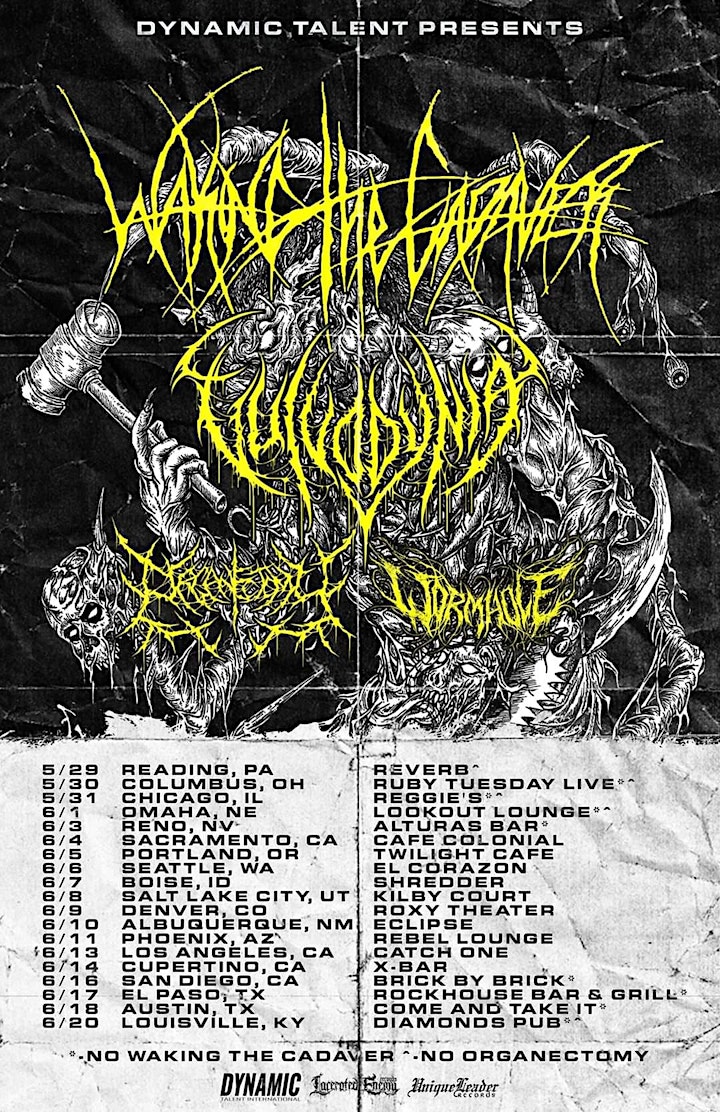 WAKING THE CADAVER
Formed in 2006, Waking The Cadaver quickly went to work at producing some of the most blatantly heavy music combining the most furious of death metal, grind, and hardcore all in one unique display of power, catchiness, and aggression to be known as "Slamming Gore Groove". After releasing their self titled 2 song demo in 2006, Waking The Cadaver didn't hesitate tearing apart their home state of New Jersey and received good response. Ultra-violence amongst many, a Waking The Cadaver show is entertainment not to be missed, in which the crowd has no choice other than chaos. In late 2007 the debut album "Perverse Recollections of a Necromangler", was released on Necrohamonic Records. On this debut Waking The Cadaver not only proved to critics that their music is a force to be reckoned with, but also proved that they strive to be the next level of brutality.
Fast forward to 2010 Waking The Cadaver released their 2nd full length album "Beyond Cops. Beyond God." With a new refined and calculated approach meshed with their original slamming sound, Waking The Cadaver pushed the limits of what is deemed "heavy" brutal death metal. Subsequent touring followed with Waking The Cadaver supporting tours for legendary bands such as Napalm Death and Immolation.
Looking to the future, the band plans on touring relentlessly to crush the world with their live performance, and release album after album as the kingpins of death.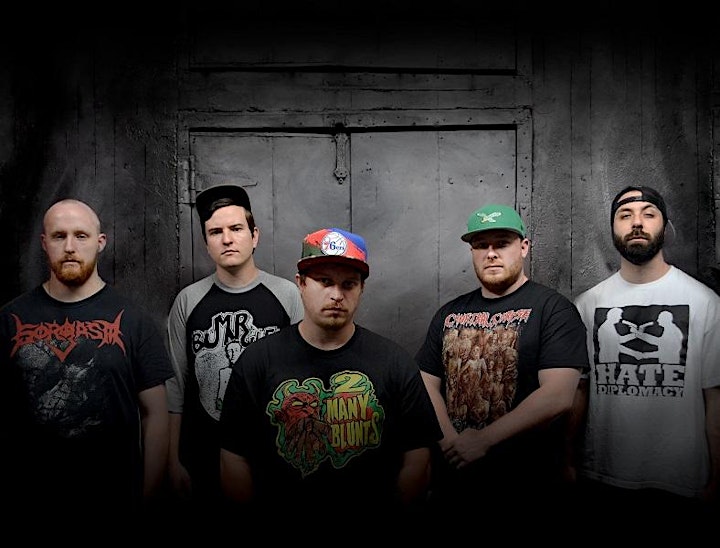 VULVODYNIA
Looking in a medical textbook will tell you the following: Vulvodynia is a chronic, severe vaginal pain with no identifiable cause. While the severe part is dead on, what a medical textbook won't tell you is that Vulvodynia is also the pioneer in what is rapidly becoming South Africa's most eviscerating export: slamming brutal death metal. With lobotomizing, lurid riffs, skin-shredding blast beats and slams gruesome and filthy enough to induce septic shock, Vulvodynia are a lethal plague, spreading throughout the flesh of today's heavy music scene—infecting one set of ears at a time, and leaving no survivors.
Spawned in 2014 by Vocalist Duncan Bentley and Guitarist Luke Haarhoff, Vulvodynia is a South African slam juggernaut designed with one purpose: to make the craziest, most absurdly heavy music possible, while attempting to define themselves as more than just "another slam band." If their mission was over-the-top heaviness, then consider it accomplished—from their debut release, Lord of Plagues, Vulvodynia's penchant for skull-splitting technicality and eviscerating heaviness has been obvious. Rapidly gaining popularity and recognition for their prodigal slam prowess, Lord of Plagues saw the band reach ears not just in their local scene, but around the world as well. As the band's popularity grew, their sound matured, drawing more from a greater array of influences and improving their musicianship and dynamic in August 2014 the band signed a two album contract with Australian Label 'Vicious Instinct Records' and added producer Byron Dunwoody in as second guitarist, in October of 2014, the band released their debut full-length album, Cognizant Castigation. Featuring Acrania's Luke Griffin and Ingested's Jason Evans (among many others), Cognizant Castigation is an album that cements Vulvodynia's status as slam legends, transcending common gimmicks and staples of the genre and instead opting to generate an overwhelmingly crushing experience that fans of any style of heavy music will be able to get into.
If 2014 was the year the band finally grew into their potential, 2015 was the year they shattered their own mold, evolving into an even more aggressive and creative display of no-holds-barred heaviness. The band released a lengthy-but-lurid eight track EP titled Finis Omnium Ignoratium, completing their contact with Vicious Instinct Records. No longer satisfied with their status as a terrifying trio, the band sought to expand—searching South Africa for more like-minded musicians willing to bring forth brutality. Vulvodynia's search was not in vain—as they added drummer Thomas Hughes (Fuzigish, Haggis and Bong & All Forlorn), bassist Kris Xenopoulos (Carnage Carnival, Contrast the Water) and guitarist Matthew Mader (Your Cynical Sanity). With a full-fledged line-up confirmed, the band made their first moves sextet—a contribution to a multi-band Halloween split and a signing to the Czech-based label Lacerated Enemy Records.
A packed 2015 well in the books, 2016 is looking no less busy. Already in the studio recording their next release, Psychosadistic Design, which is slated for a mid-spring street date. Never satisfied, the band will keep writing, as well as finalizing plans for a 2016 Europe tour and a 2017 U.S. tour to follow—proof that there is no way to predict just how far or how fast Vulvodynia's sinister infection will spread.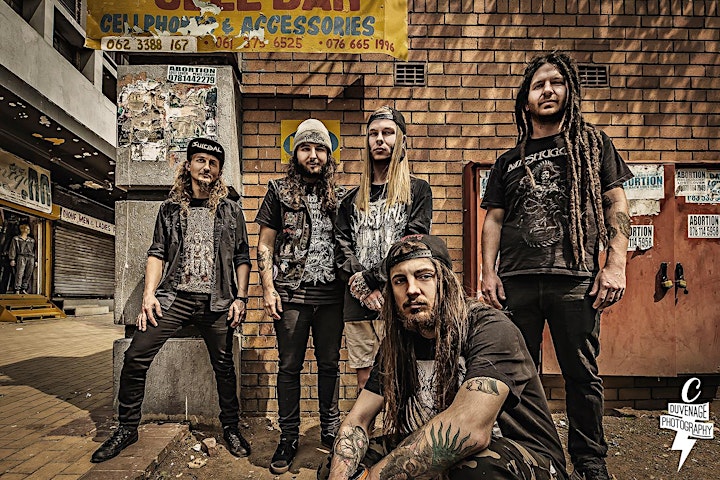 ORGANECTOMY
Hailing from Christchurch City, New Zealand, 'Organectomy' have been at the forefront of New Zealand's Slam and Death Metal scenes since first hitting the stage back in 2010.
The twisted slamming brainchild of Bassist Tyler Jordan, Drummer Jae Hulbert, Vocalist Alex Paul, and Guitarists Sam McRobert and Ashton Moore, Organectomy's unique brand of 'Slamming Death Metal' incorporates Aspects of Old School Death Metal, Melodic Death Metal, Brutal Death Metal, Atmospheric Death Metal, Technical Death Metal, and Slam into a twisted amalgamation of pure, sickening brutality.
With a couple of Demo's, an EP, and shows all over New Zealand under their belt, December 2017 saw the release of their debut Full length album; Domain of the Wretched.
Following this release Organectomy quickly saw an overwhelmingly large amount of positive feedback and reviews globally, and very soon after found themselves being signed to American Extreme Metal label; Unique Leader Records.
Having gained a lot of traction online and within the local New Zealand metal scene, Organectomy found themselves being given the opportunity to support larger local and international metal acts, such as:
Fleshgod Apocalypse from Italy,
Cattle Decapitation from the United States,
Depths from New Zealand,
Archspire from Canada,
Aborted from Belgium, Rivers of Nihil from the US, and Beyond Creation from Canada.
Organectomy has just recently released their sophomore album, 'Existential Disconnect' and along with a new lineup of Matthew Bolch and Levi Sheehan playing on the album, the new sound is faster, heavier and more slammier than ever.
Soon Organectomy will be departing to the Land of the Free, the USA for a 28 show tour along side other Death Metal heavyweights from around the world.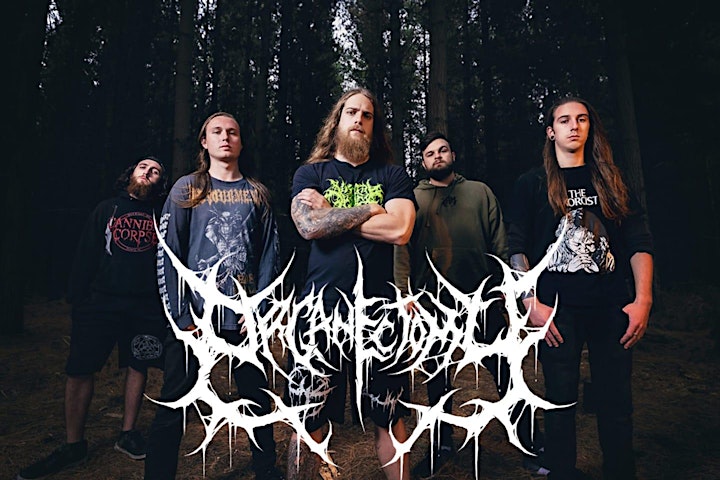 WORMHOLE
Slamming brutal death metal from Baltimore, Maryland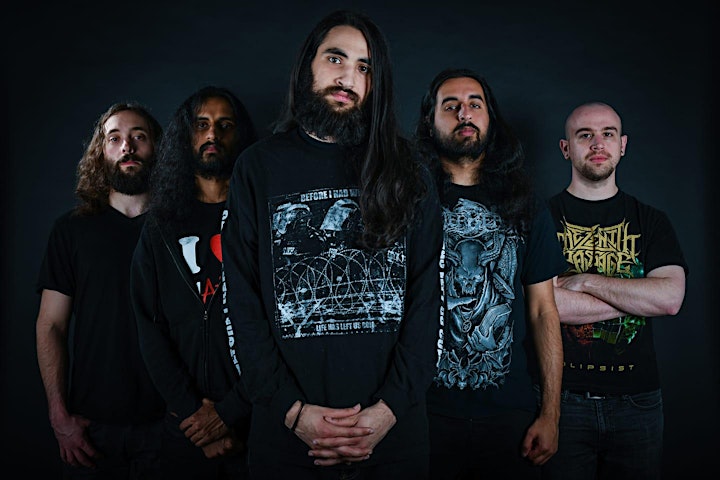 Venue Information:
Funhouse
109 Eastlake Ave E
Seattle, WA, 98109