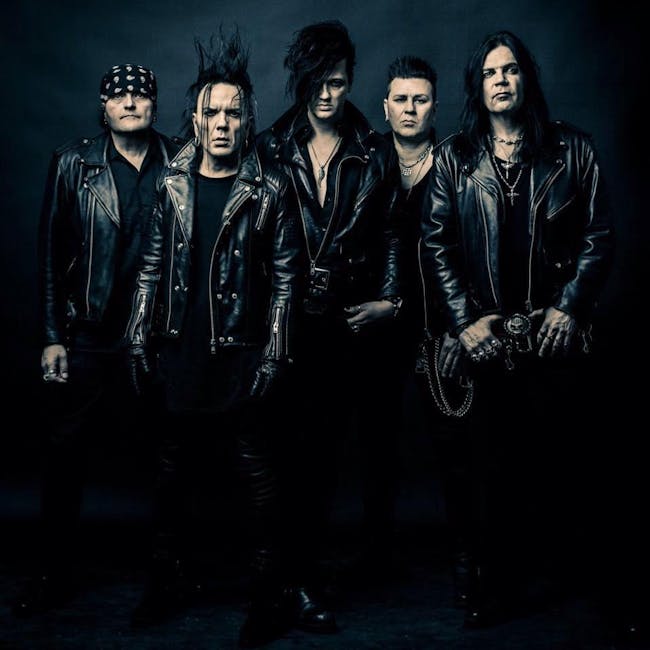 The 69 Eyes
Wednesday 13, Sumo Cyco, The Crowned, Cryptamnesia
El Corazon
The 69 Eyes, Wednesday 13 Plus Guests at El Corazon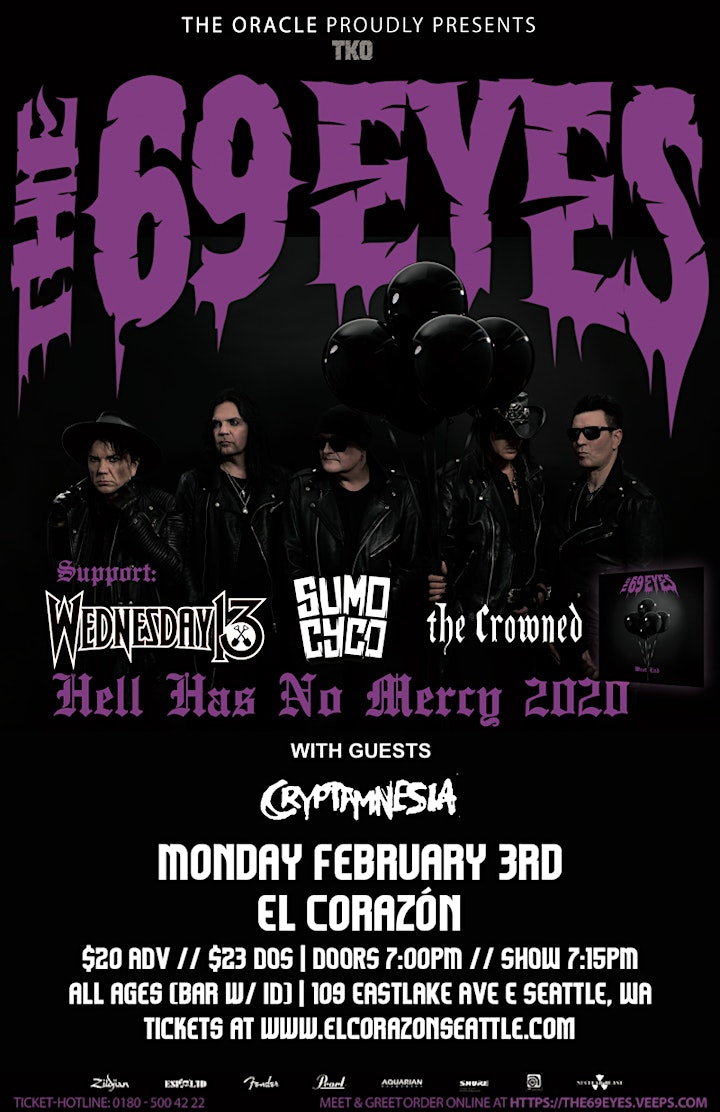 THE 69 EYES
Some 22 years later after forming, in the world without THE RAMONES or TYPE O NEGATIVE, THE 69 EYES release their 10th studio album. To celebrate their long existence, the band has decided to name the album as Roman tenth, "X". It also has ten songs. In the world where albums mattered, the 10th album of THE ROLLING STONES was "Exile on Main St." And indeed "X" is also a turning point for THE 69 EYES. It clearly starts something new. Once again it sounds completely fresh and ambitious. It's more melodic than its predecessor, Hollywood-made glam metallic "Back In Blood". It's also the most catchy and hooky goth 'n' roll you have ever heard – no wonder since the album's made under the supervision of the Swedish pop orientated production team called On The Verge. The team of Pat Phoenix and Joakim Övrenius has been co-writing with THE 69 EYES before; songs like "Never Say Die" and "Perfect Skin" have been written with them, but it was until now that the Helsinki Vampires felt it was the right time to move their coffins to Stockholm and record the entire album there. "This is our "Made in Sweden" album. We've considered Stockholm as one of our home towns really for a long, so it was about the time! It was also the time to bring back the more melodic side of ours, so with On The Verge guys that was perfect too. Lyric wise I thought to get also more personal since I had the chance to exploit my classic "My Babe Left Me" situation, so that's where the real melancholy comes from this time," says the singer, Jyrki69.
The 10th 69 EYES album was recorded in Stockholm and Helsinki during the spring of 2012. It was produced by Swedish team On The Verge and mixed by Stefan Boman (KENT, THE HELLACOPTERS, BACKYARD BABIES). It takes THE 69 EYES' goth 'n' roll sound back to their highlights decade ago of their albums like "Blessed Be" and "Paris Kills", yet rising the singer Jyrki's voice as the main statement of the record. The man in black is back. THE 69 EYES rise. Again.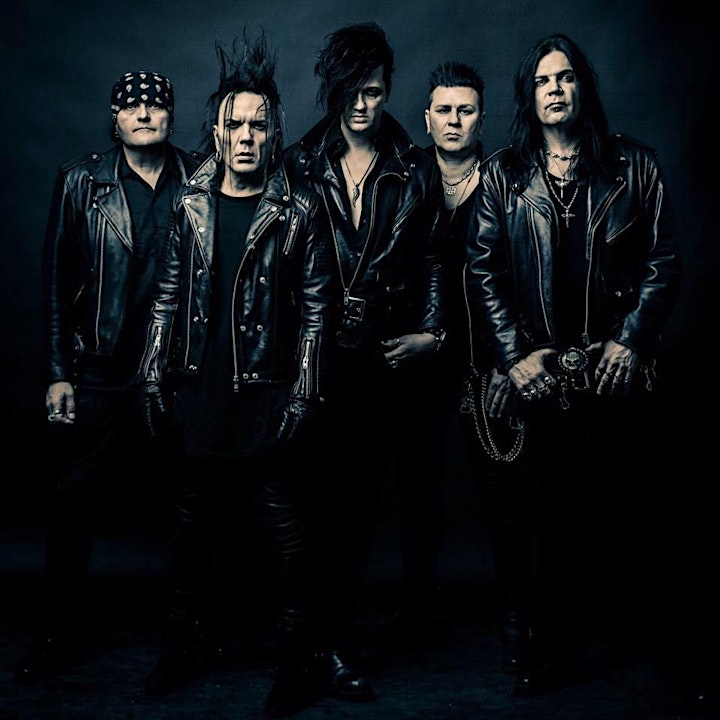 WEDNESDAY 13
Though best known for fronting the Murderdolls, Wednesday 13 is a rock veteran who's been playing in bands since he was 15-years old. He adopted his stage moniker in 1995, naming himself after Wednesday of The Addams Family and the address, 1313 Mockingbird Lane, of The Munsters. A year later he formed his now-deceased horror-core band Frankenstein Drag Queens From Planet 13, named in the spirit of legendary B-movie director Ed Wood. The band put out four independent albums between 1996 and 2001, and played countless local shows.
In 2001, the 'Drag Queens independent releases and loyal underground following caught the attention of national artists, as Wednesday was asked by the (since departed) Murderdolls guitarist Tripp Eisen to join the band. Wednesday started in the bass slot, but his talent and showmanship quickly resulted in a move to the lead vocalist position. It was he and band founder Joey Jordison of Slipknot who collaborated on the writing of the band's debut album, Beyond the Valley of the Murderdolls. The Murderdolls quickly built a fiercely devoted following, through repeated world tours (including 30,000-person shows in Japan, opening slots for Iron Maide throughout Europe, and other choice tours), and worldwide rock press acclaim and album sales followed.
Predictably, the success of the Murderdolls resulted in Wednesday disbanding his first band. Murderdolls were put on hold in 2003 as Jordison returned to the studio and the road with Slipknot. Wednesday returned home, immediately locked himself in his basement, and emerged with over 100 songs written.
In June 2004, he began work on his first solo album, playing all but the drums himself. True to form, Wednesday has stitched together a morgue-full of influences - horror films, cartoons, punk and heavy metal - into a spook-tacular monster-mosh of an album, Transylvania 90210: Songs of Death, Dying and the Dead. Fans of White Zombie, Rob Zombie, AFI, Alkaline Trio the aforementioned Murderdolls, as well as metal, punk, and horror in general would find the record refreshing and outrageous.
With his sallow complexion and raven dreadlocks, Wednesday may look like a grim goth at first glance, but the singer/guitarist is more a throwback to the days of Alice Cooper and Twisted Sister, when rock music had no more pretentious aspirations than being over-the-top, escapist fun.
In 2006, he released his second solo record, Fang Bang and toured for that record with past Murderdolls member Eric Griffin.
In 2008, following work on other project, Wednesday released his third record, Skeletons along with an EP called Bloodwork. The record and supporting tour were a success and later he released a live DVD and live CD to match it called Fuck it, We'll Do it Live.
After another extended period working with various projects and tours, Wednesday decided to start to focus back to his solo band after the success of the first three records. In 2011, he released Calling All Corpses with a totally new lineup and was followed up in in 2012 with an EP called Spook & Destroy which included two new songs and new versions of some old tracks.
Keeping things going in the studio with this lineup, Wednesday released The Dixie Dead in 2013. The record had more of a hillbilly-horror feel and he toured once again in support of the album
In 2014, Wednesday did something a little different and decided to release a unplugged record of old music. Undead Unplugged was released in July 2014 and with the music there was one new track entitled "Undead". At the same time, he release the box set Dead Meat: 10 Years Of Blood, Feathers & Lipstick which contained a 'Best of', a series of demos and remixes spanning his solo career from 2003-2013.
In 2015, Wednesday wrote and recorded one of his darkest and heaviest records, Monsters Of The Universe: Come Out & Plague. This record was well received and it was seen as a more mature record compared to his past offerings, even despite the camp horror themes that were a staple of his music. He toured heavily to support this record, and started to focus more on the theatrics much like his idols, such as Alice Cooper.
In 2016, he started to record his follow up to Monsters of the Universe. He felt the title was fitting as a lot of his rock idols died that year, and therefore the album was aptly entitled, Condolences. In 2017, they released the record and released music videos ("Blood Sick", "What The Night Brings") for the first time in many years to support the record. Touring in support of Condolences would continue across the world throughout 2018.
Wednesday 13 joined Cradle Of Filth as supports on their 2019 dates in North America. During this tour they introduced a new song called Zodiac that will appear on the upcoming record, Necrophaze, due for release in 2019.
After the Cradle Of Filth tour concluded in mid-2019, Wednesday 13 was added to the cast of supporting acts joining the recently re-formed Static-X who were celebrating the 20th anniversaty of their seminal album, Wisconsin Death Trip as a tribute to the late Wayne Static. The tour would see Wednesday 13 perform in North America, the UK and Australia for most of 2019, alongside Devildriver and Dope.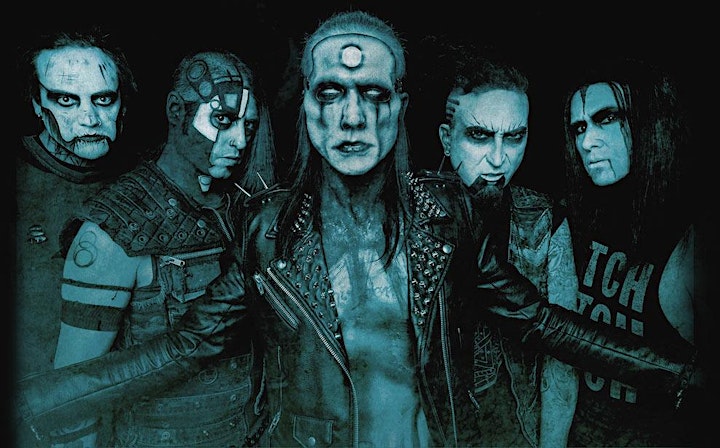 SUMO CYCO
Punk rock metal band based in Hamilton, Ontario. Formed in 2011
Sumo Cyco is a four-piece, female fronted, hard rock band from Toronto, Ontario. Sumo Cyco fuse hard rock guitar riffs with in your face blast beats and dance hall rhythms, topped by electric female vocals.
Line-up:
Sever a.k.a. Skye Sweetnam - vocal
MD13 Matt Drake (3) - lead guitar
Thor (Ken Corke) - bass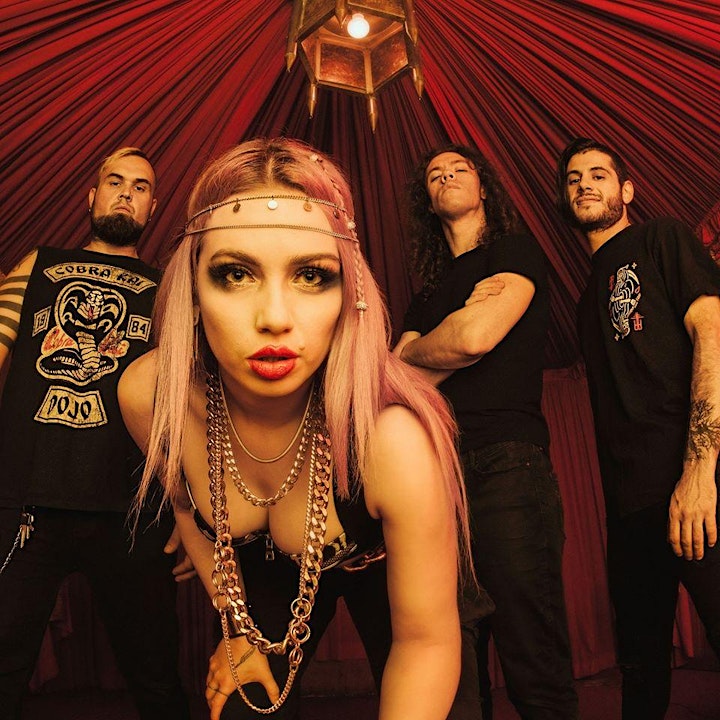 THE CROWNED
The Crowned, concocted of blood, metal, sweat, tears, and blow up dolls. Formulated in 2013, these guys have been touring around the U.S., overseas, released 5 music videos, released a full length album, currently writing the 2nd, and showing no signs of stopping this madness of a machine they call a band.
Fronted by drummer/lead singer Marc Coronado, he drags his group of misfits around the world to share the music that is, The Crowned. These guys have toured with the likes of HellYeah, Flaw, Orgy, Co-Op, Motograter, Blacklite District, The Maension, Sons of Texas, and many more.
The Crowned released their full length album, "Apparition" back in 2017 and received great reviews immediately after it's release. The Crowned had their song, "Kill" on Sirius XM Radio and hit over 60k likes on Facebook. They are currently writing their 2nd full length album which is estimated to be released in late 2019.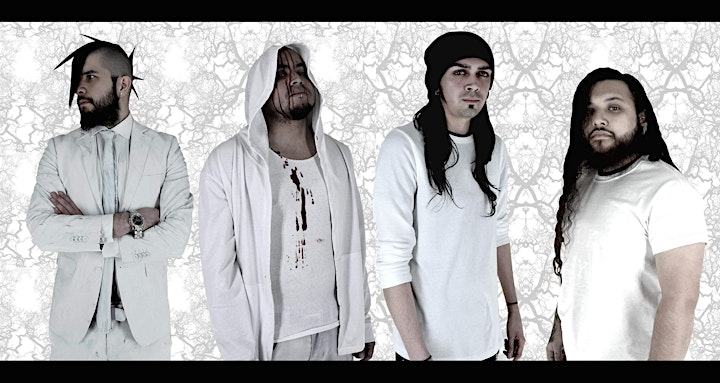 CRYPTAMNESIA
We are a hard rock band from Burlington, WA who focus on anything and everything Paranormal, supernatural, mystical and spectral!
We formed together as members who left past projects due to creative differences to form a group of awesomeness! We started in Burlington, WA. With what we have learned individually as musicians we bring to the table as a group and intend to plague the world of our newly found monster rock!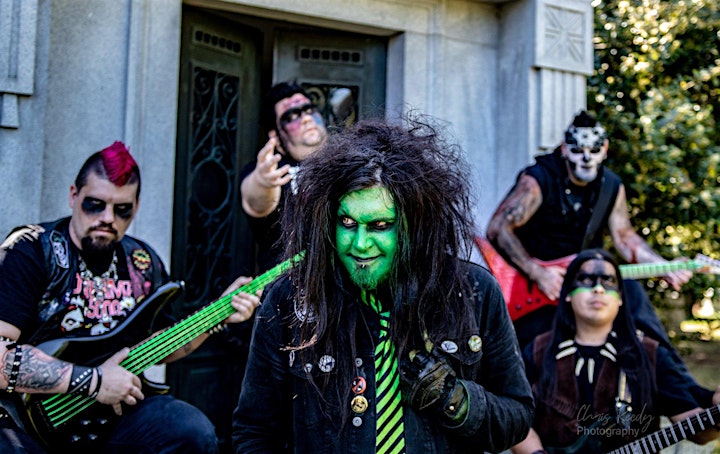 Venue Information:
El Corazon
109 Eastlake Ave East
Seattle, WA, 98109