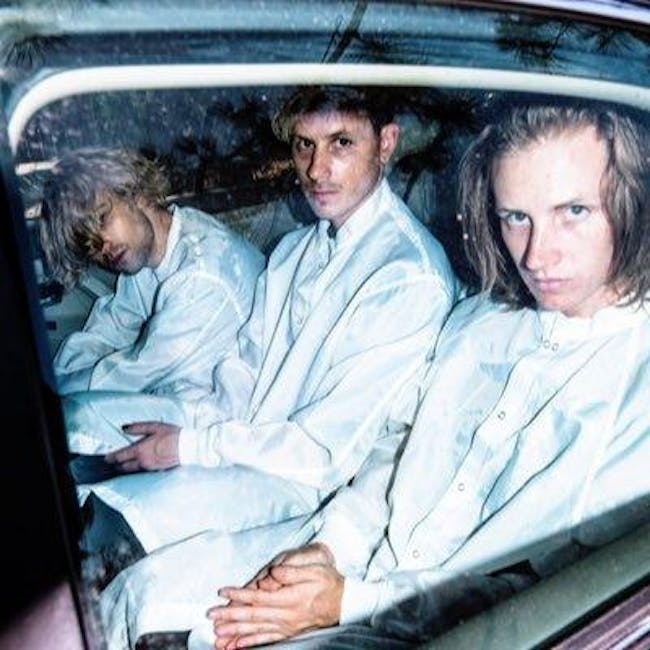 Tremolo and The Funhouse Present:
Tennis System
Slow Crush
Fotoform, Guest Directors
Funhouse
Tennis System and Slow Crush at The Funhouse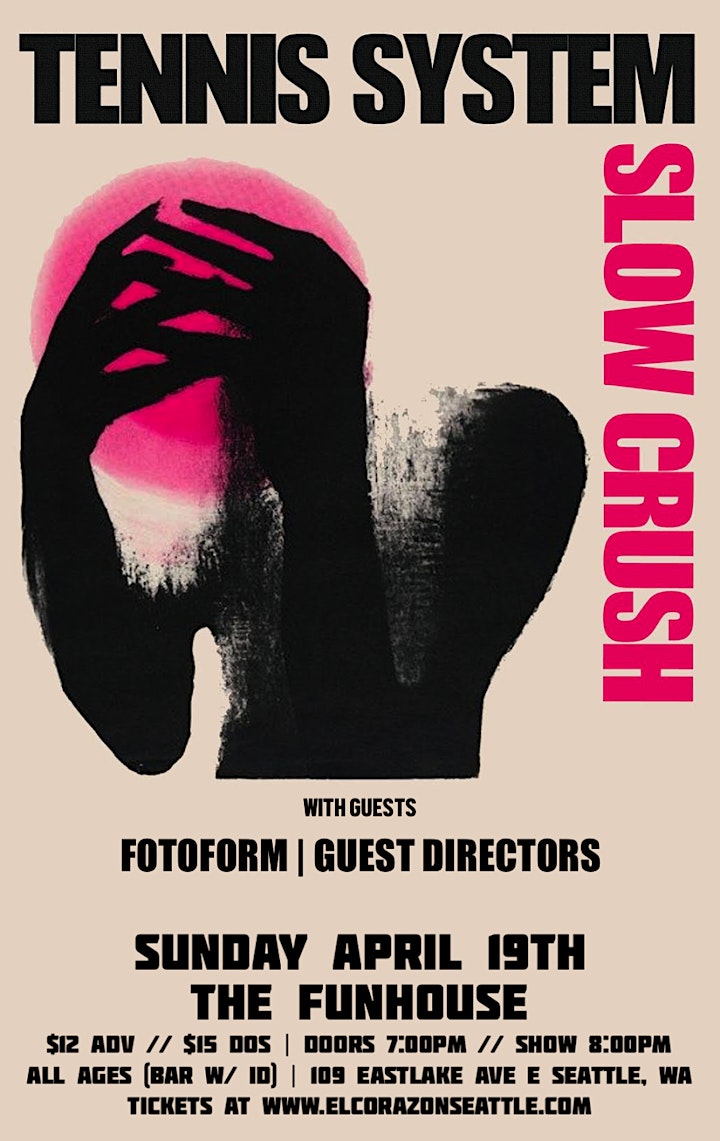 TENNIS SYSTEM
Loud but dreamy indie act Tennis System developed a noise-pop sound thick with hazy guitars borrowed from luminaries like Sonic Youth and My Bloody Valentine, but also a streetwise songwriting edge attributable to the tough environments that gave birth to the legendary D.C. hardcore scene. Frequent line-up changes and a relocation from D.C. to Los Angeles tempered that punk edge somewhat, but songwriter/guitarist/vocalist Matty Taylor pushed the band forward sonically, growing more explosive as lyrical themes became more self -aware on the band's 2019 album Lovesick.
Part Time Punks Session Tennis System began as a four-piece band in the Washington, D.C. area around 2008. The group was originally made up of guitarist/songwriter Matty Taylor, bassist Clinton Cole, second guitarist Brad Fullilove, and drummer Misha Bullock. The group opened for touring bands such as Ty Segal and Pains of Being Pure at Heart and recorded 2010's The Future of Our History before Fullilove and Cole moved on later that year. At an impasse and ready to make a full album of the songs they'd been developing with their former bandmates, Taylor and Bullock relocated to Los Angeles, where they met guitarist Christopher Norman and bassist Marcus Russell Price. In a new city with a new energy from their new lineup, Tennis System self-released Teenagers in late 2011 and did some touring, gaining a following through festival appearances and the occasional online single. In 2013, the group worked with L.A. tastemakers Papercup Music the release of a five-song EP entitled Part Time Punks Session, which included raw re-recordings of some of the band's earlier material. They signed up with Papercup Music for their second album, 2014's Technicolour Blind. Tennis System shifted their lineup again after the album, paring down to a trio when Taylor was joined by Sam Glassberg on bass and Garren Orr on drums. They played around Los Angeles and continued working on new material, reaching a new level in 2018 when they began working with Graveface Records, the label run by Black Moth Super Rainbow's Ryan Graveface. The label released Tennis System's 2018 EP P A I N and the next year followed up with Lovesick, the third and heaviest album from the band yet.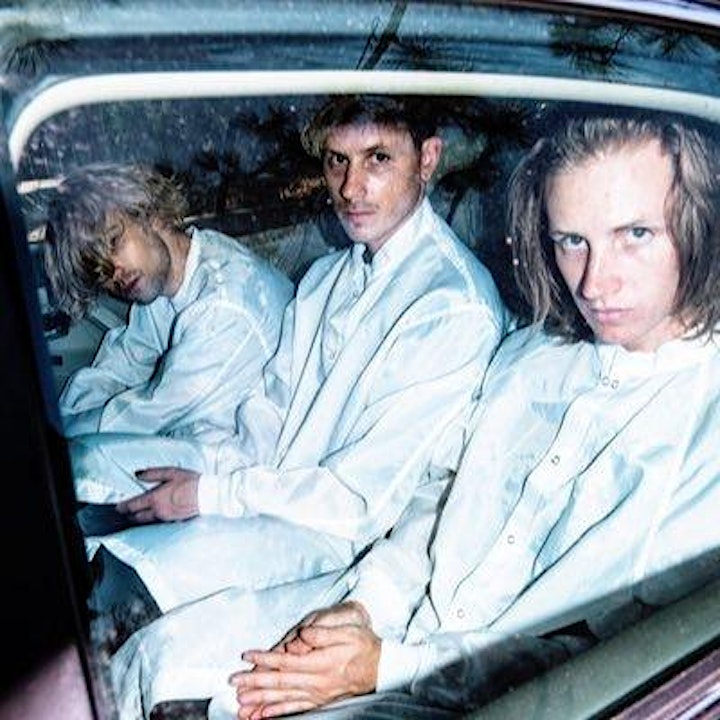 SLOW CRUSH
A compelling abrasive shoegaze band, dealing with the aesthetics of contrasting sounds.
Heavy like a gloomy dream yet soothingly vibrant.
The vulnerable soft floating voice of Manchester's Isa Holliday underneath layers of grungy shoegaze soaked noisepop, seeking shelter from a f'ed up world.
Slow Crush are bridging boundaries with their own distinct sound between Shoegaze, Postrock, indierock, Heavypop, Nugaze, Postpunk, Grunge.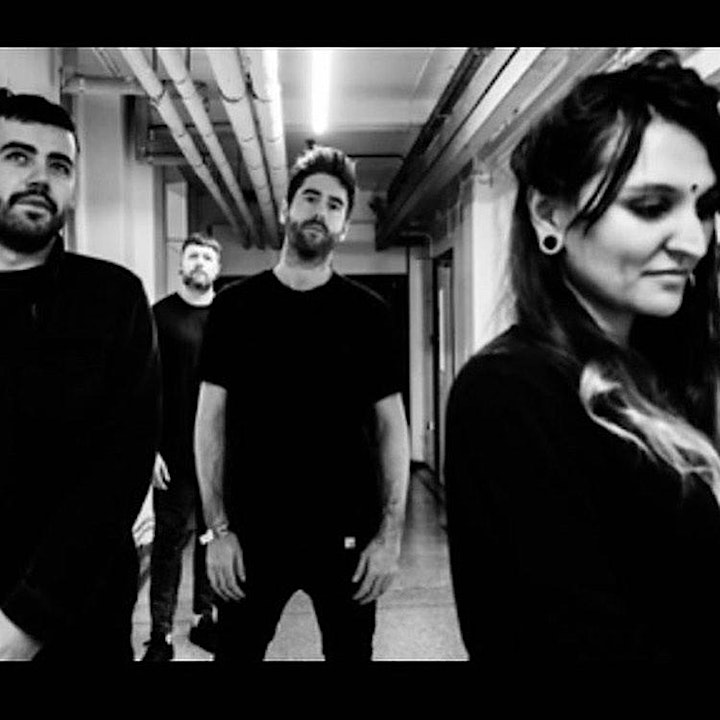 FOTOFORM
Seattle's Fotoform create beautiful guitar-based dreamy post-punk. Propelled forward by Kim House's melodic bass and Garrett Croxon's (Fleet Foxes, Erik Blood, Moon Dial) swinging backbeat, Kim's vocals glide over intertwining guitars from Geoff Cox and Stephen Jones (Red Martian).
Taking their name from a mid-century expressionist photography movement, Fotoform recall the gauzy atmosphere of UK alternative (The Cure, Cocteau Twins, Lush, Slowdive, Siouxsie and the Banshees) with the immediacy of US indie and post-punk. A captivating and arresting live band, Fotoform will be releasing their debut LP in early 2017, following an ultra-limited hand-lathed acetate 7" single.
Fotoform draw from the band members' history in shoegaze/darkwave veterans, C'est la Mort, who enjoyed critical attention in the US and especially Europe. After weathering multiple line-ups (some bordering on the Spinal Tap-esque: one drummer left because of narcolepsy; another moved to Belgium to work for the DEA), C'est la Mort released one album and contributed to a number of compilations (including a tribute to The Smiths, alongside Stars, Doug Martsch, Telekinesis, Wedding Present, etc). C'est la Mort began performing as Fotoform in late 2016.
Their self-released debut was a KEXP listener's 90.3 albums of the year for 2017 and more. New Part Time Punks session out now!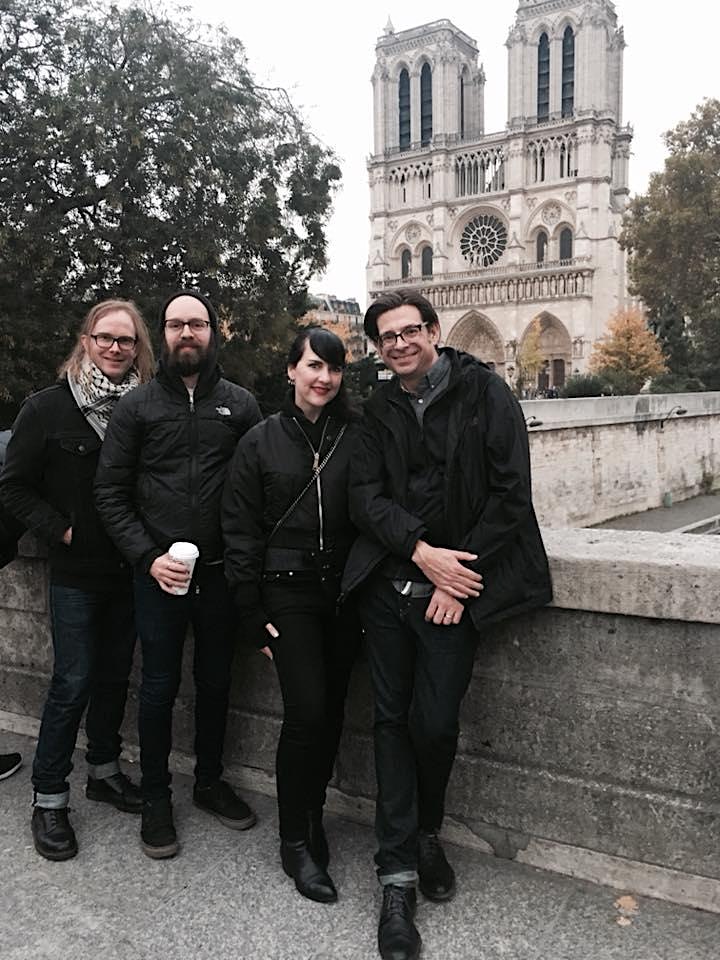 GUEST DIRECTORS
Guest Directors is a group of guides: comfortably demonstrating a familiarity with the sonic landscape of their native Northwest and poised to lead wherever its audience needs. The quartet's confident chemistry and ambitious spirit eschew typical routes in favor of new paths brimming with honest secrets and bold challenges.
Their kaleidoscopic instrumentation is comprised of the delightfully tangled Jazzmasters and moody vocals of co-leads, Gary Thorstensen and Julie D., as well as Rian Turner's volatile drumming and Charlie Russo's propulsive bass work. The group has mastered its musical surveillance, recognizing each bit of sonic space as an opportunity for attention, examination, and artful refinement. And whether the moment calls for scaling peaks or wading through turbulent waters, the group is unwaveringly prepared, willing, and able.
Guest Directors' spooky and soulful music evokes images of evergreen silhouettes, dreamy breezes, and the power of seemingly perpetual precipitation. Their new EP, "Dream the Currents," evokes ghost-like shimmering and half-moons moaning to their cousin constellations. It's the next step in what has amounted to an annual progression of EPs demonstrating harmonic, rhythmic, and stylistic explorations that hover around a familiar sonic center.
With Guest Directors, you will never feel lost. Instead, the band will help lead you to the spots that have always been your own.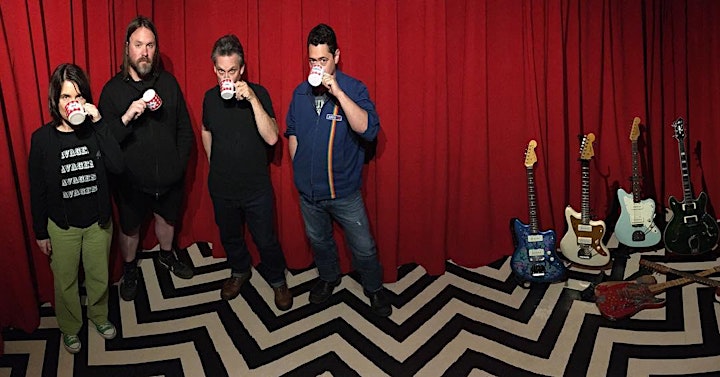 Venue Information:
Funhouse
109 Eastlake Ave E
Seattle, WA, 98109