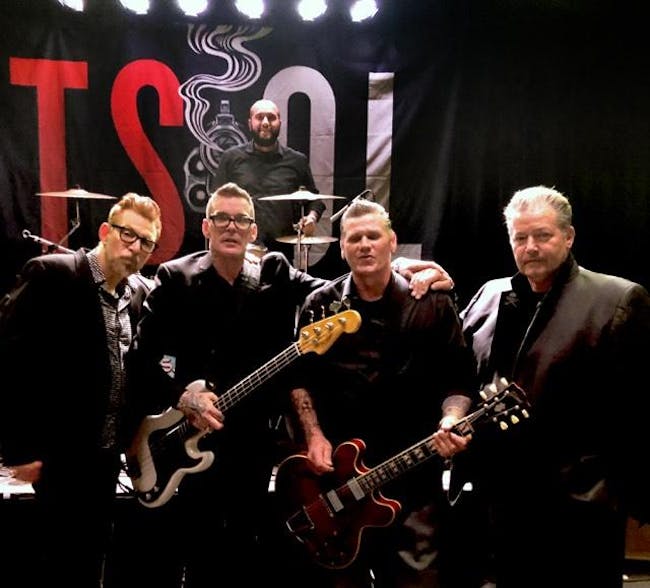 T.S.O.L.
The Derelicts, Coffin Break, The Lucky Boys, Fully Crazed, Thee Deception
El Corazon
T.S.O.L. at El Corazon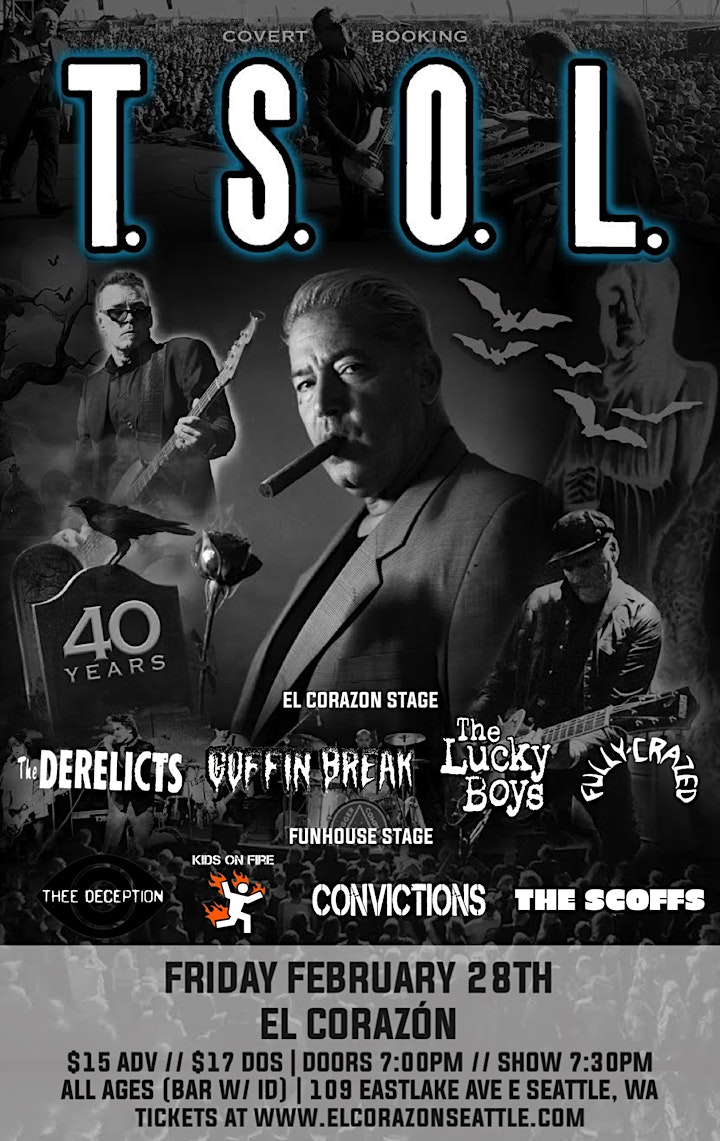 T.S.O.L.
T.S.O.L. is an American punk rock band formed in 1978 in Long Beach, California. Although most commonly associated with hardcore punk, T.S.O.L.'s music has varied on each release, including such styles as deathrock, art punk, horror punk and other varieties of punk music.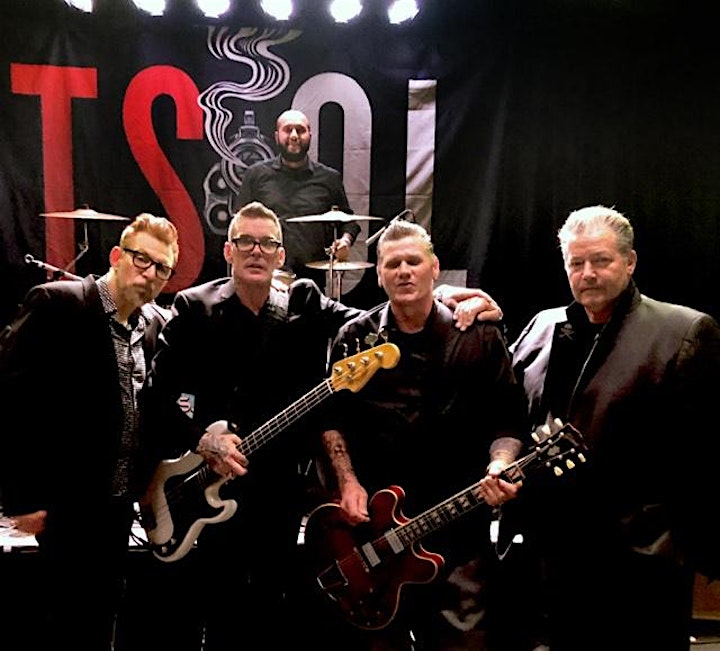 THE DERELICTS
the Derelicts fucked up a bunch of stages and turntables, and probably your house, between summer 1987 and spring 1991. The Band reunited March 16 2014.
Band Members : Duane, Neil, Donny, Jason.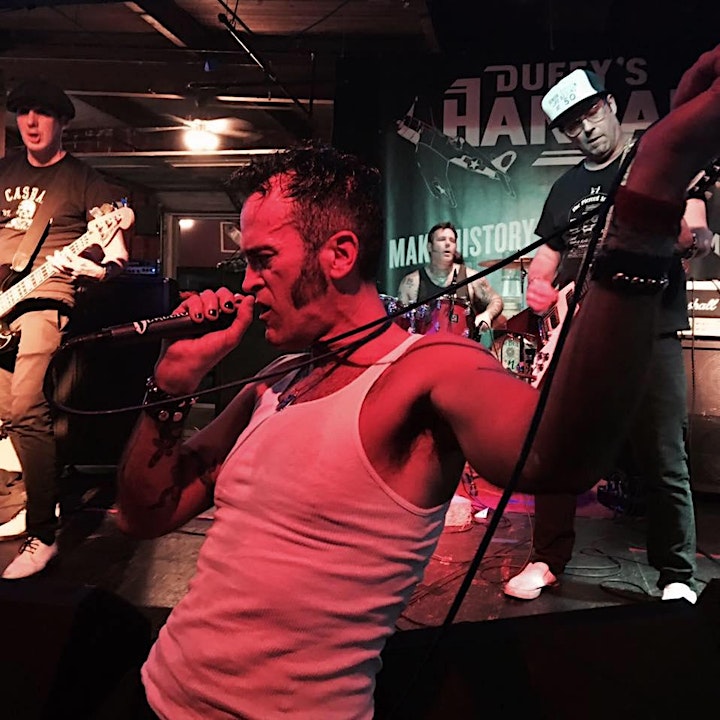 COFFIN BREAK
Coffin Break formed in 1987 in Seattle. They released records for C/Z records and later signed with Epitaph Records.
They toured with the likes of Bad Religion, Gwar, and Victim's Family. They shared the stage with many great bands such as NoFx, Social Distortion, Dagnasty, Nirvana, Sound Garden, Skinyard, Gruntruck, Big Drill Car, HR (of Bad Brains), DOA, Cows, The Didjits, Sick of It All, Primus, No Means No, Poison Idea, Alice Donut, Unsane, Down by Law, The Offspring, Lagwagon, Mudhoney, TAD, L7, The Lunachicks.
They shied away from the grunge trend of the Northwest, instead drawing their inspiration from punk. C/Z Records issuing three of their albums and reissuing their first two albums as a single disc. The band issued their first two albums, Psychosis and Rupture, in 1989, featuring David Brooks on drums, Peter Litwin on guitar and vocals, and Rob Skinner on bass and vocals. The albums did well enough to earn the band a major-label contract, leading to two releases on Epitaph, Crawl in 1991 and Thirteen in 1992. Simultaneously, C/Z Records released a singles and outtakes collection, No Sleep 'Til the Stardust Motel.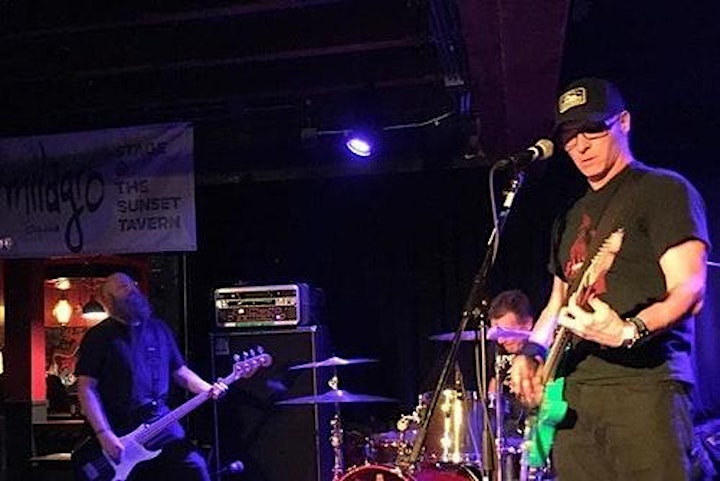 THE LUCKY BOYS
The Lucky Boys play a style of punk rock that has been compared with The Rezillos and described as The Avengers with a gut punch. X riding a freight train.. They have played with some of the stalwarts of both the local and national underground music scene including GBH, Fang, Dayglo Abortions, The Real McKenzies, Zeke and The Boss Martians. Catchy hooks and well crafted songs make you want to sing a long. A refreshing break from the gloom side of rock, in just a few years time The Lucky Boys have honed their craft into a melodic rollercoaster ride with the infectious feeling of good times to come and parties to be had.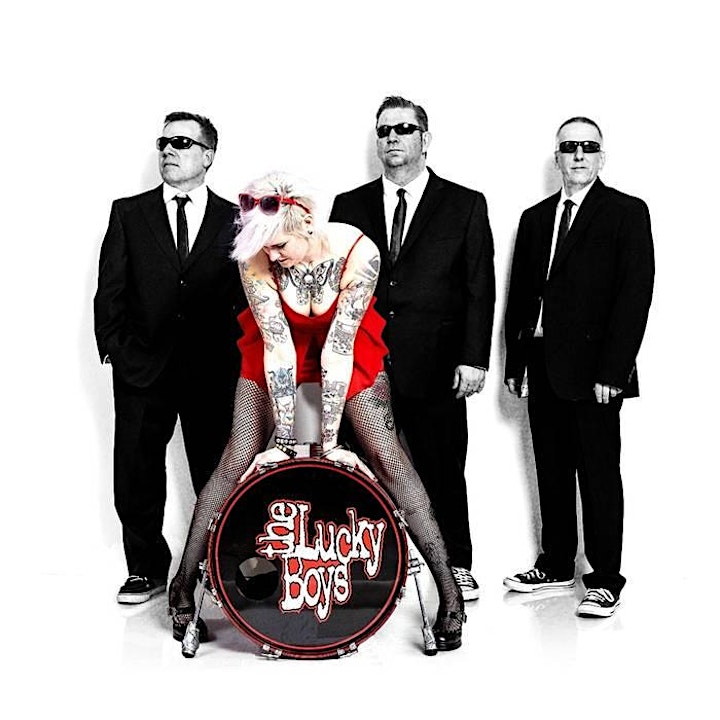 FULLY CRAZED
Metal Tinged Skate Rock brought to you by ex members of Dayglo Abortions and ShutDown ...all members of Jaks Skate Team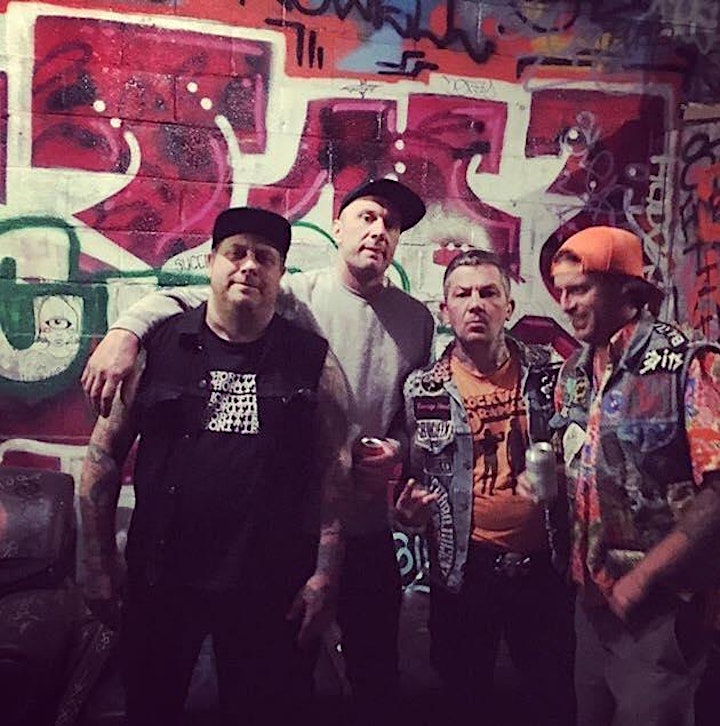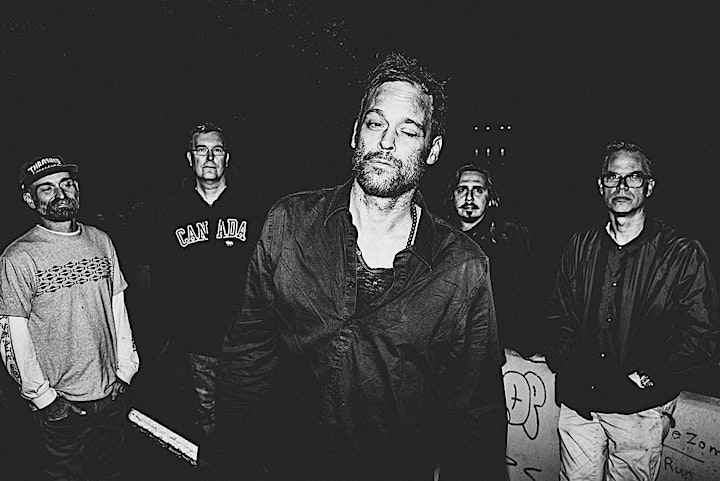 KIDS ON FIRE
Melodic street pop punk from the rainy streets of Seattle. With a knack for hooks, Kids on Fire serve up songs designed to celebrate good times, bad jobs and irresponsible behavior. We have fun doing it, you will have fun listening to it, and hopefully we'll all be drunk by the end of the night, covered in sweat and beer! So have a listen and raise a pint with us in honor of good people and good times!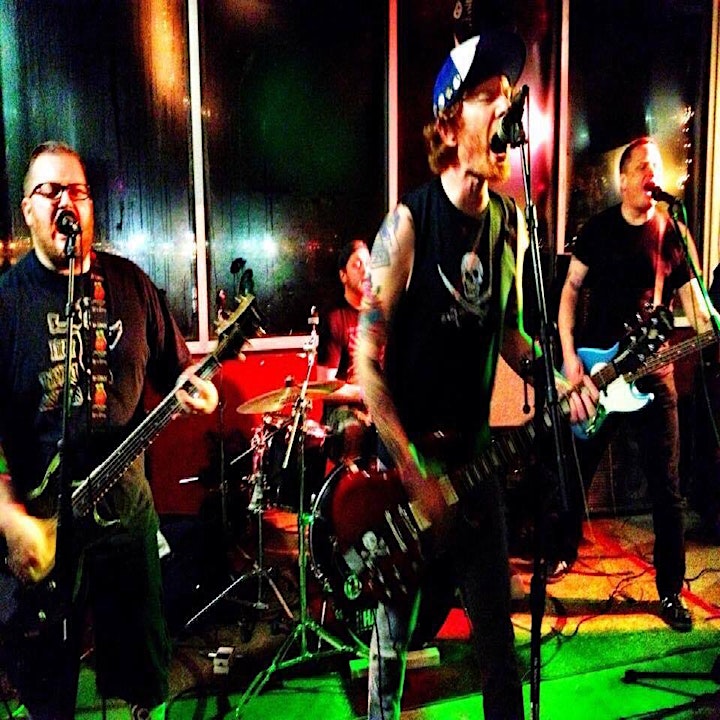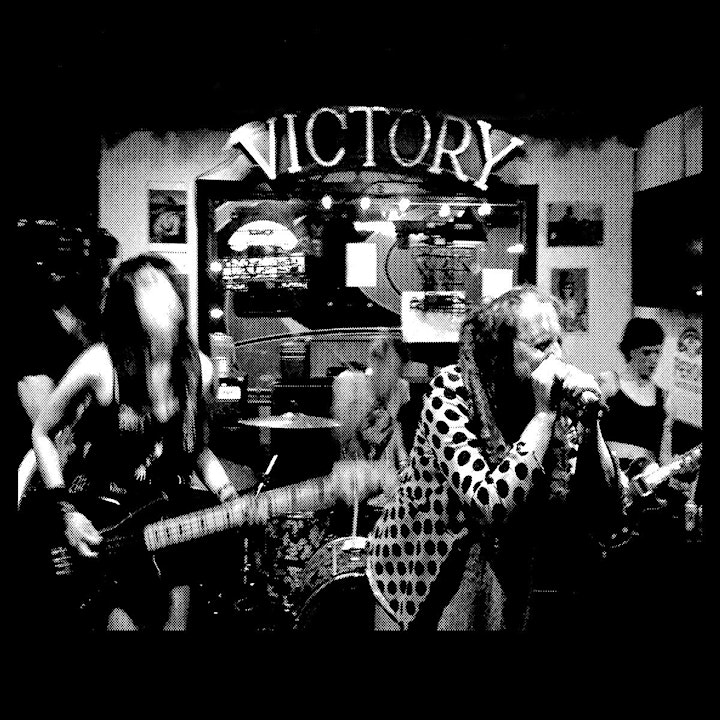 THE SCOFFS
Some fellas you might know doing music you don't yet know. Old-school punk rock aggression on newer gear.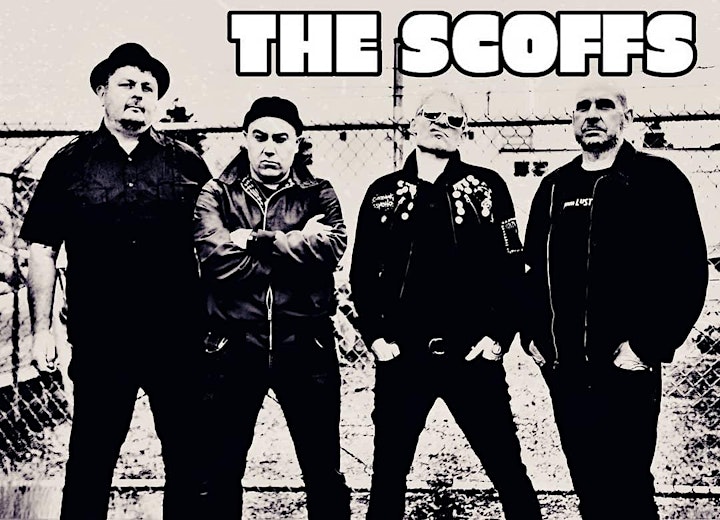 Venue Information:
El Corazon
109 Eastlake Ave East
Seattle, WA, 98109