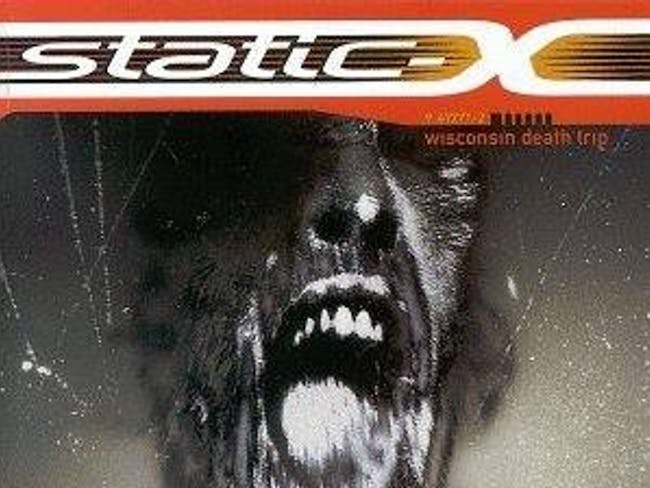 Presented By KISW (99.9 FM) Metal Shop & El Corazon Present
Static-X
Davey Suicide, Horizon Of Chaos, Jack Havoc, Society 1
El Corazon
KISW (99.9 FM) Metal Shop & El Corazon Present: Static-X
STATIC-X
Industrial Metal band from Los Angeles, California (USA).
Static-X formed in 1994 and released six studio album before going on on hiatus in 2010. In 2012-2013 frontman Wayne Static toured with his solo band under the name Static-X. Arguments about using the name with Campos led to Wayne Static touring under his own name instead of Static-X until his death in 2014.
In 2018 Campos, along with Fukuda and Jay, announce the band comeback.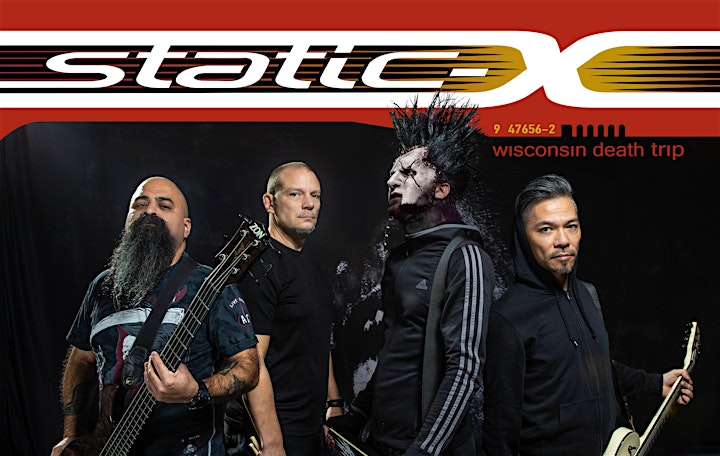 DAVEY SUICIDE
The name, "Suicide" is a constant reminder that unless we kill ourselves, there's no ceiling for what we are capable of."
Hailing from Hollywood aka Unholywood Killafornia, Davey Suicide is fusing arena rock, gutter grit, sleaze, and theatrics into their own "nu" brand of industrial rock. The band, which features Davey Suicide along with Niko Gemini, Derek Obscura, & Needlz distills rock, industrial and punk into anthems that are as corrosive as they are catchy. "Rock fans haven't gone anywhere, they just need a reason to fall in love again," Suicide exclaims.
Formed in 2010, after building a huge online persona, Suicide played a few shows in Hollywood, California before garnering the attention of labels and the former manager of Linkin Park. Armed with the recordings that later became the Davey Suicide LP, by early 2012, Suicide signed a record deal with Standby Records. By the summer of 2012, the band started extensively touring. From 2012-2015, Suicide completed 16 tours, over 330 shows (with the likes of Static-X, Combichrist, Wednesday 13, Jeffree Star, Twiztid, Ill Nino, Orgy, New Years Day, William Control) and put out 3 releases including the Put Our Trust in Suicide EP (Nov 2012), the self titled Davey Suicide LP (March 2013) and the World Wide Suicide LP (September 2014).
Along the way, Suicide gained notable press with songs "Generation Fuck Star" and "Kids of America" by Kerrang Magazine as one of the Top 50 Rockstars in the World, Alternative Press' 100 Bands You Need to Know, Revolver Magazine's Ones to Watch, and numerous features in Big Cheese, Outburn, Substream, Scuzz TV & Blank TV.
Rumors of heavy friction between Suicide and their record label started surfacing after the botched release by the label of World Wide Suicide in September 2014 and several contractual breaches by the record company. In the spring of 2015, Suicide and Standby locked horns in a litigation over rights of Suicide's albums and numerous contractual breaches. After a year and a half of litigating with little movement from the courts, Suicide released a tell-all video depicting the details of what the band had gone through with the label in August of 2016. The tell-all video went viral and spun the music community into a media circus. It amassed over 1.3 million views, and reached over 3 million people in a matter of days. Shortly after, an emergency hearing was called by the label and took place in Ohio. The lawsuit got settled the day of the hearing in exchange for the viral post being removed from Facebook. In addition, a settlement, freedom and music rights were granted back to Suicide.
in late August of 2016, Suicide released the empowering single, "Rise Above" which got added to Kerrang TV, Scuzz TV and Kerrang Radio's rotation. "Rise Above" symbolized freedom, a new life for the band and became the first single off their 3rd studio album entitled, "Made From Fire."
On September 16, 2016, Davey Suicide's catalogue was re-released on Itunes, and all digital outlets by Suicide under the name AntiSystem Records.
Made From Fire, the 3rd studio LP, was released on March 24, 2017 and charted on Billboard. The album peaked at #3 on Top Heatseakers, #6 on Top Hard Rock, #14 on Top Independent and #76 on the Top 200. Made From Fire has guest features from Twiztid and William Control. Suicide exclaims, "all of this adversity tested us and forced us to learn how to survive. It could have ended us, but instead, we've created our most exciting collection of material to date."
Critics have been raving over this comeback story. "Davey Suicide's, "Made From Fire" incorporates the anarchistic bite of vintage Marilyn Manson with the stadium feel of Bring Me The Horizon and the epic melodies courtesy of In This Moment. Blended together with barefaced sex appeal and borderline extremism and danger, Davey Suicide has erected a new kingdom of torching wrath, industrial destruction, passionate melodies, tons of charisma and a tough attitude allowing only one conclusion: If there's a Rock band the world really needs right now, it's Davey Suicide."
The band finished the Made From Fire album cycle in 2019 and have just finished their 4th studio LP due out in the fall.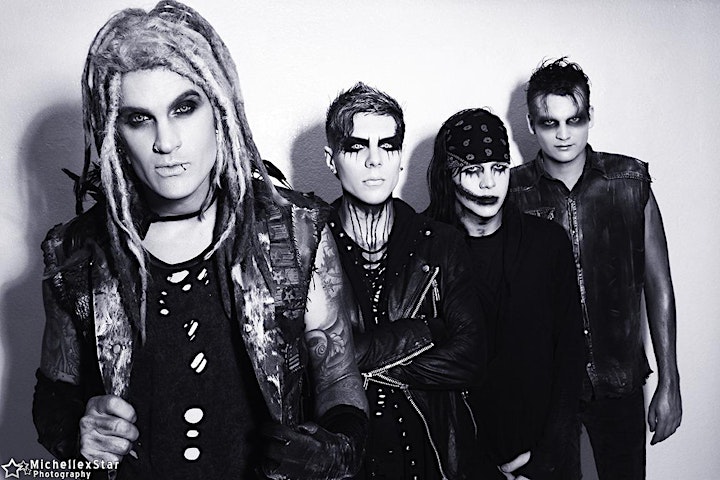 HORIZON OF CHAOS
Horizon Of Chaos is a fusion of many influences from metal, punk, rock and everything in between. The camaraderie and mutual love for making music, HOC lays down infectious rhythms, choruses and face-pounding verses. The music combined with a stage presence seldom matched, Horizon Of Chaos leaves fans with an insatiable appetite for more.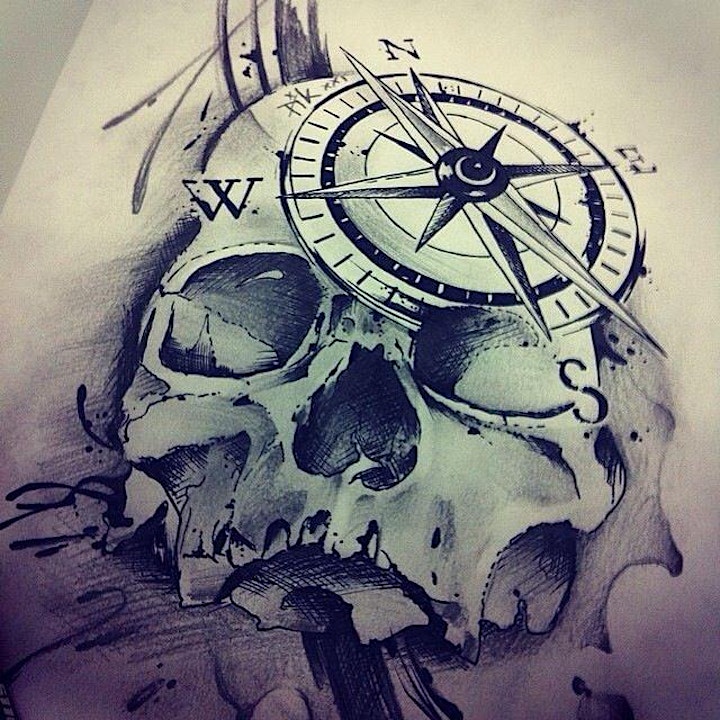 JACK HAVOC
Jack Havoc has been around for over a decade, now, and will be around for decades to come. We are very professional and pride ourselves in putting on a good show, first and foremost. We're an ecclectic blend of pop and metal, with a horror twist and we're often joined by our resident DJ, O.B.1 (also from the Olympic Northwest).
The band will play for charities and other non-profit events, but we are also open to commercial opportunites, as well. Success is the driving force behind our desire to play, as a band, full time.
SOCIETY 1
"Society 1 captures the essence of abuse, overkill and ultimate inspiration..."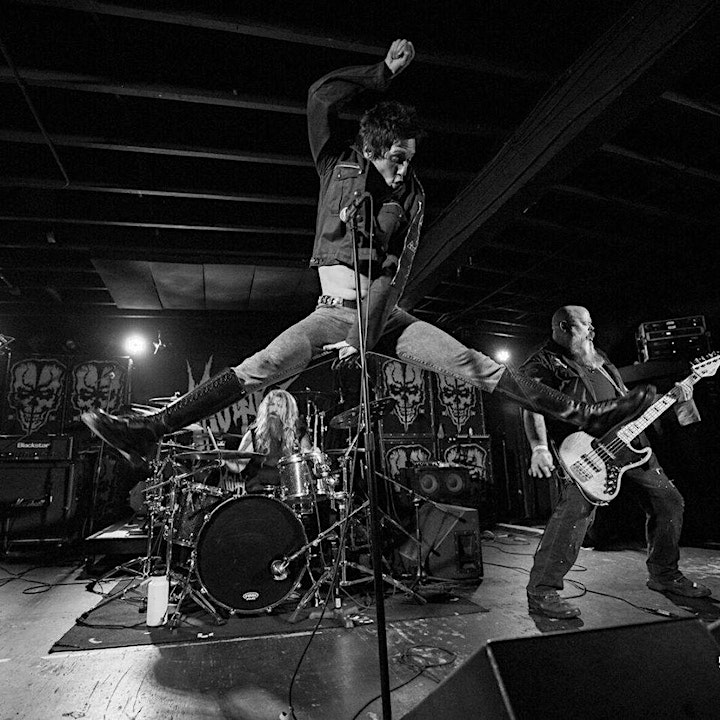 Venue Information:
El Corazon
109 Eastlake Ave East
Seattle, WA, 98109