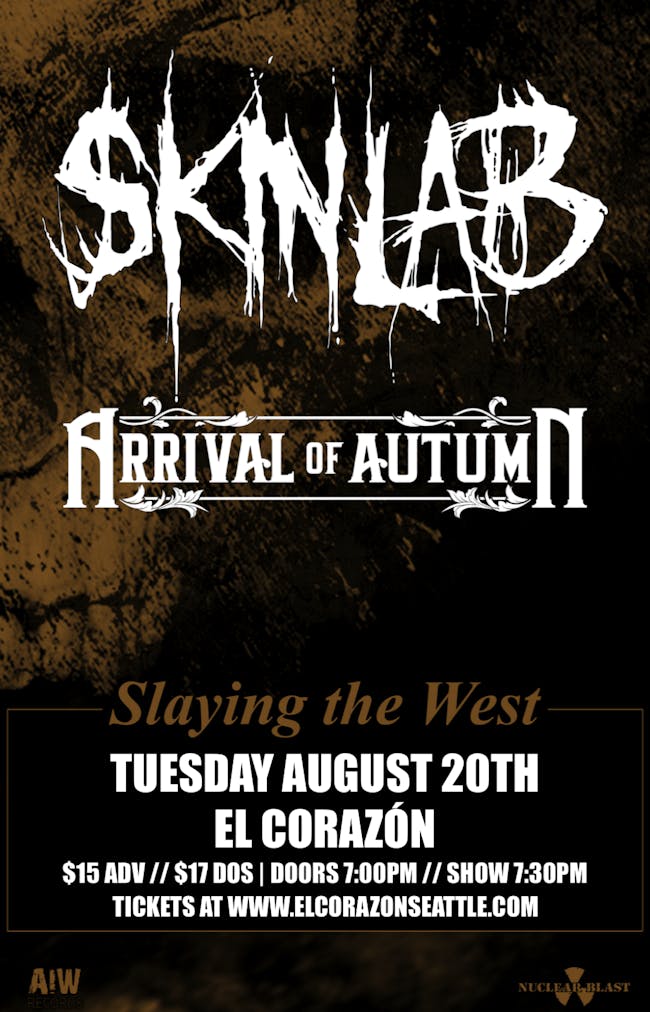 Skinlab
El Corazon
Skinlab LIVE with Arrival Of Autumn and TwasmonauT
SKINLAB
Groove metal band formed in 1994 in San Francisco, California by vocalist/bassist Steev Esquivel (who used to sing in the Bay Area thrash metal band Defiance) and guitarist Mike Roberts.
Years active: 1994–2003, 2007–present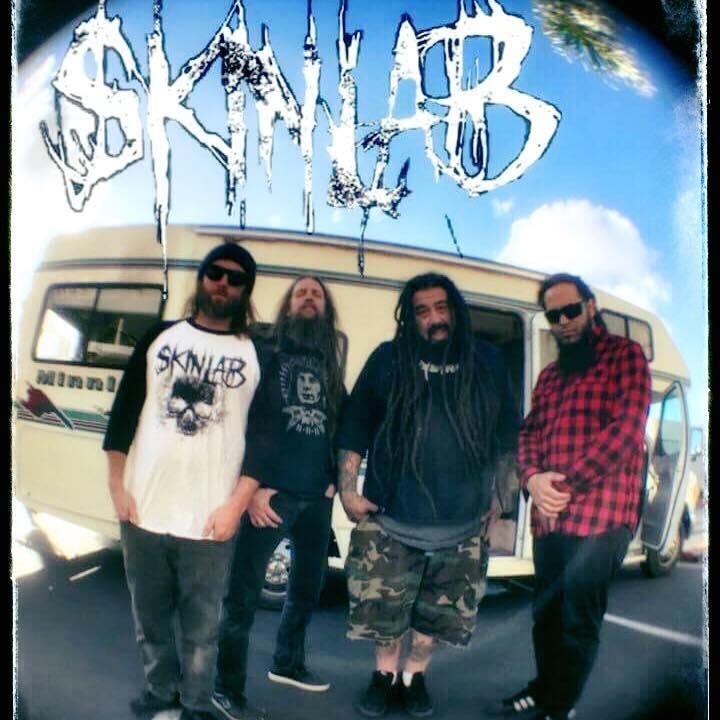 ARRIVAL OF AUTUMN
Arrival of Autumn started as a band with a mission to play music without compromise and carve their way through the music scene on their own terms. Coming from a small city in Northern Canada, this was a necessary strategy, since the band didn't come up in a big city scene with regular promoters, venues and attendees. The band had to learn how to make their own opportunities, and did this by putting on their own shows, playing the roll of booking agent, finding the venues to play at, and promoting to every possible person in every possible way. This work ethic paid off, as every show was a lesson learned, and each new show came with a bigger audience than the last; more people were introduced to the band, and other bands from other cities began to take notice. ​​
With the band's reach growing, they began to consistently play shows and festivals in the surrounding cities. The thirst for the road was strong. And like the shows in their home town, more people began to take notice, and more people would show up, feeding off the energy and screaming lyrics back at the band.
Something special was happening.
Every move the band has made was made to push the group ahead - to push further into new territories. After touring their independent and locally recorded albums "Endless Nights" and "Shadows" as much as possible, the band began plotting their next release. On a whim they decided to send some of the new demos to one of their heroes, Jason Suecof at Audiohammer Studios, to see if he would be interested in recording them. To the band's absolute surprise, Jason liked what he heard, and found time between some of the heavy-hitters that he had been working on to record the material. This was an opportunity the band couldn't pass up, and immediately starting planning the trip of flying over 3,000 miles, from one end of the continent of North America to the other to record the best songs the band had ever written.
In March of 2016, the band packed their bags and made their trek to Florida in what would be a time that would change the course of the band forever. Working with Jason turned out to be the perfect fit, as the band was able to realize their vision with him: to make crushing and dark tunes combined with memorable hooks. The gamble had paid off and the product of these recording sessions alone would be cherished as a success by the band.
As much fun as the guys had, and as much as they learned, they had to return home at some point and plan their next move. The goal with this first EP at Audiohammer was the same as they had always had: to tour to new places and get in front of as many people as possible; to take the opportunity of recording at a world-renowned studio, and turn it into opportunities on the road. With this in mind, the band began planning and booking their tour to support the EP, playing everywhere they possibly could and to continue cutting a swath through the music scene.
The tour would have to wait, as fate had other plans for the group.
As they were making final preparations in September 2016 for their biggest tour yet, the band got a call from Jason and he relayed the news that there had been some label interest in the band, and that some key people in the industry wanted to hear more songs. Jason wanted to fit the band in again, but would only have time in October - one month away. This was a key moment, as the band had to decide if they not only wanted to cancel their tour, but if they were able to write enough new songs in one month, take the risk and expense of recording another EP, and have no guarantee for how it would be received.
A ship is safe in harbor, but that's not what ships are built for.
The band unanimously agreed to face the risk head on. The opportunity alone to get to record with Jason again was something the guys couldn't pass up. Immediately they got to work writing again, surpassing the three songs they were hoping to have ready and came with five ready to go.
But while the first sessions at Audiohammer were incredibly smooth, the second sessions would come with a few surprises. For this trip, the band went down with staggered arrivals, with Brendan and Ty first, followed by Kevin, then Jamison. This was supposed to allow everyone to finish their parts before the next person came down and was a great plan in theory.
Then came Hurricane Matthew.
Brendan and Ty were already at Audiohammer when the storm hit, knocking out the power in the whole area, including the studio. With the Orlando airport closed, Kevin's flights were redirected to Utah, where he would be stranded until the hurricane cleared.
Several days later, when Orlando's airport was back in business, Kevin was able to escape Utah, and his flight landed just before Jamison's - who was originally scheduled to be showing up days after Kevin.
With everyone now in Florida, the band all made their way and were safely reunited at the studio. But with the power still out from the hurricane little progress was able to be made on the recording, and time was running out.
After a number of days without power, sweating it out in the humid Florida heat (a time affectionately known as "Camp Audiohammer"), the city had repaired the electrical grid and the crew got back in action. Having lost a number of days to the hurricane, Jason and the band worked furiously to record the songs. With a condensed schedule, the decision was made to record only three songs, instead of the five they had prepared.
Once again, as the songs started to take shape, something special began to happen. Whether it was from being more confident in the direction of the band, or being more comfortable working together with Jason, or having struggled together through the hurricane and its aftermath, the songs began to take on a life of their own. The hurricane left its impact on the group, and the band was able to bottle up that aggression and put it back into the recording sessions.
With two successful recording sessions Produced by Jason Suecof and Mastered by Mark Lewis now complete, the band was able to attract the services of a manager in Shaun Glass to help the band navigate further into the industry.
And that brings us to today.
We are a band that's ravenous. Having worked with a team of industry veterans and armed with recordings created in the wake of a hurricane, we were able to impress A&R legend Monte Conner and show him the strength of our vision. We are now incredibly proud to be signed with him to Nuclear Blast Entertainment! Our label and team have seen what we have been through, what we are capable of, and share a belief in that vision and are here to help us spread it further.
We started this band with humble roots, in a small city in the middle of nowhere. The whole time, we always knew it was never about where we came from, but where we had the drive and willingness to go.
We are Arrival of Autumn, and we are about to go everywhere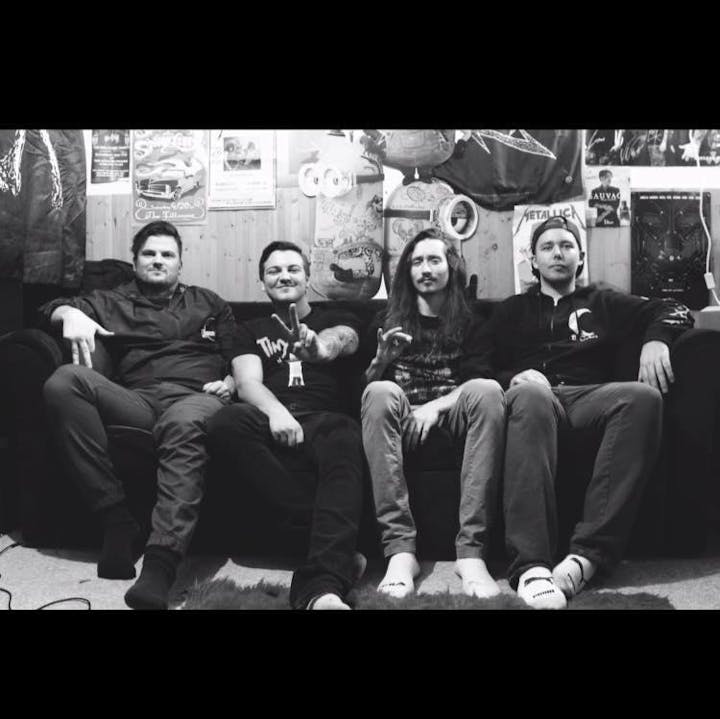 TWASMONAUT
Monster Hard Rock dedicated to songs. Twin Les Pauls, Thunderous Bass, precision Animal drums, Soaring vocals. looks and smells like Seattle, upgraded!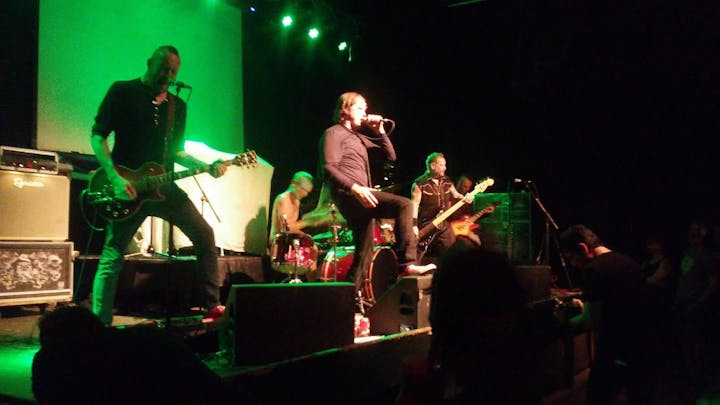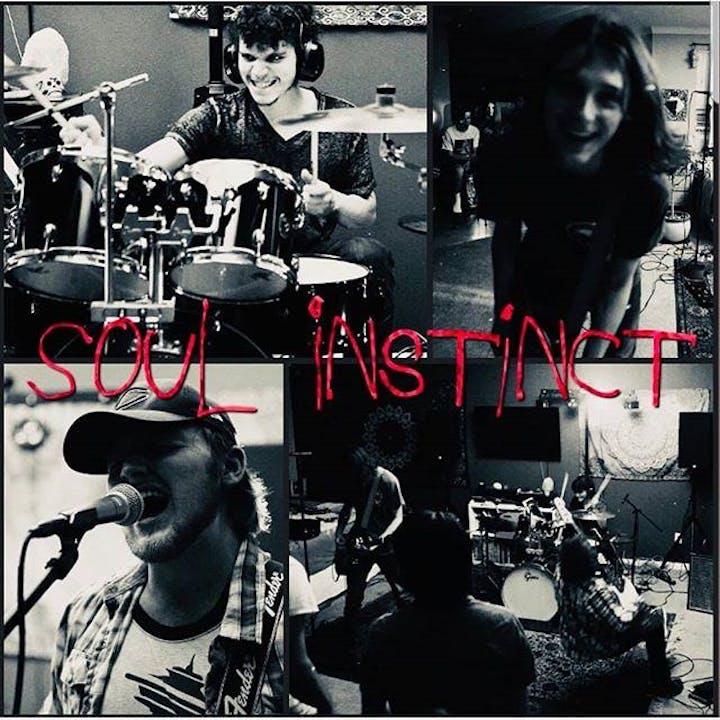 THE FACE OF LOKI
Influences include, but are not limited to:
Lamb of God, Killswitch Engage, Cannibal Corpse, Pantera, Iron Maiden, Judas Priest, Dio, Meshuggah etc...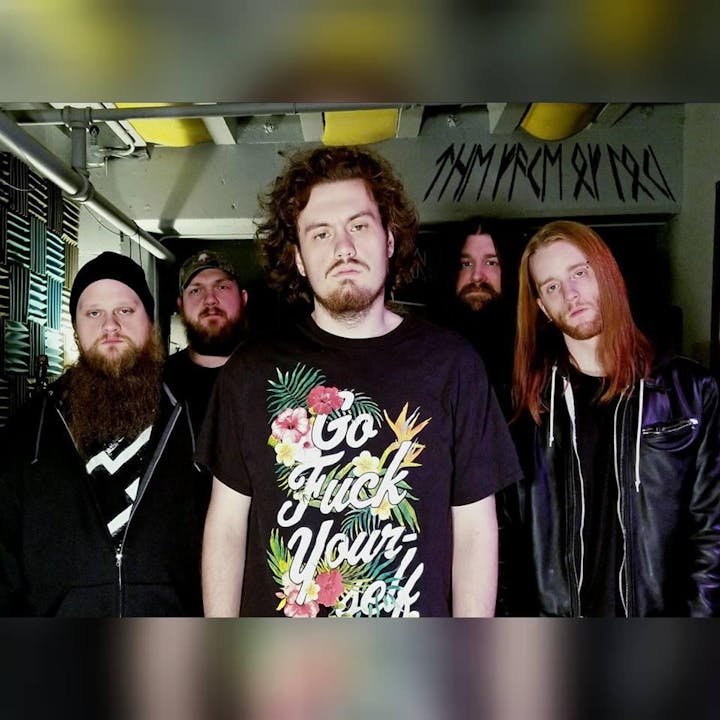 Venue Information:
El Corazon
109 Eastlake Ave East
Seattle, WA, 98109