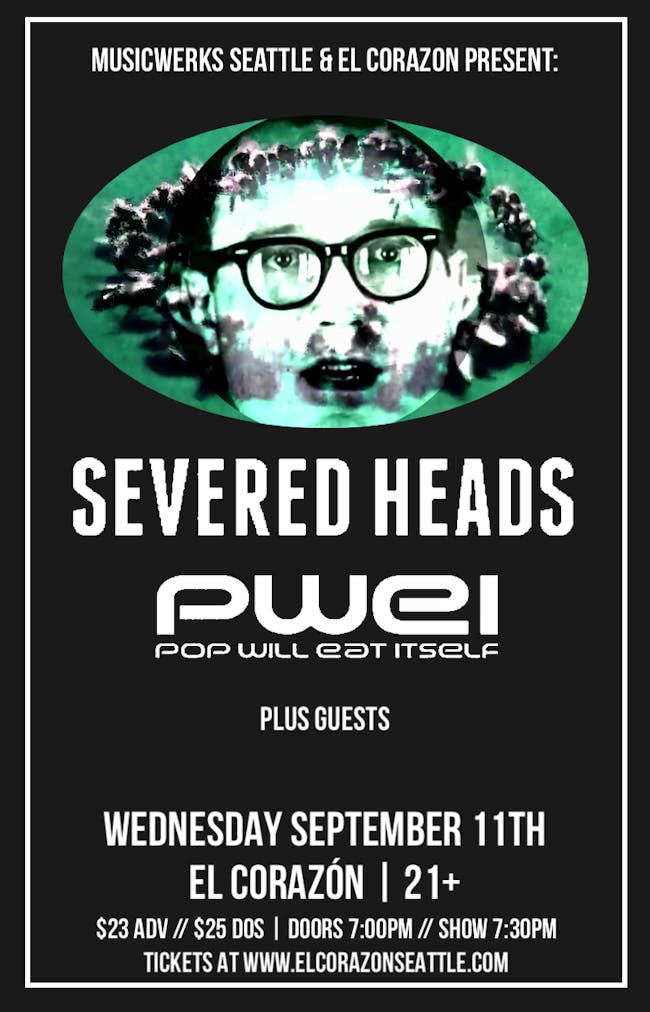 Musicwerks Seattle & El Corazon Present
Severed Heads
Pop Will Eat Itself
Suffering For Kisses, Adrian H and The Wounds
El Corazon
Severed Heads, Pop Will Eat Itself, Suffering For Kisses, Adrian H And The Wounds LIVE at El Corazon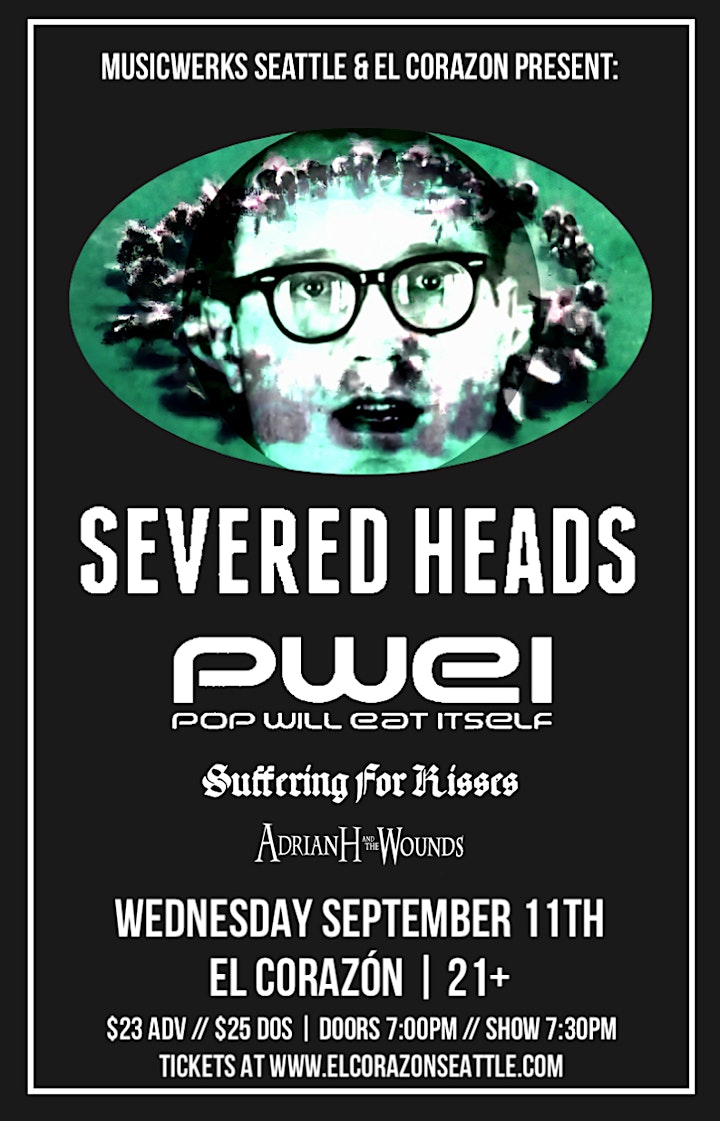 SEVERED HEADS
Severed Heads is an Australian group based and founded in Sydney in 1979. The group was originally known as Mr And Mrs No Smokin' Sign who started recording in 1977 and comprised of Richard Fielding and Andrew Wright (8). Tom Ellard joined the group in 1979 and shortly thereafter Wright departed. Once Wright left the group Fielding decided to change the name to Severed Heads. Fielding eventually left the group too, in 1981, citing it as becoming "too rock 'n roll", leaving Ellard as the sole continuing member of the group. A variety of people have played in Severed Heads, including Garry Bradbury, Paul Deering, and Stephen Jones (3), but over time the group has devolved to Tom Ellard.
Early Severed Heads music was characterised by the use of tape loops, noisy arrangements of synthesizers, and other dissonant sound sources, putting Severed Heads in the general category of industrial music. After several releases in that vein, Severed Heads began incorporating various popular music tropes, such as a consistent 4/4 rhythm, strong melodic lines, and resolving chord arrangements. This move was underscored by the incorporation of mimetic devices, such as drum machines. The result was a striking hybrid of the avant-garde, EBM and Synth-pop.
Severed Heads were signed to Nettwerk Records in North America, and Volition Records in Australia, and charted in 1984 with the song "Dead Eyes Opened". This deal lead to a world tour, which was as much a multimedia event, thanks to the video work of Stephen Jones. A period of more or less dance music influenced releases followed until Volition went bankrupt and Nettwerk dropped the band which led to a re-activation and digital distribution via their own Sevcom imprint.
On 4th February 2008 Tom Ellard announced the end of the "Severed Heads".
However, they continue to play occasional live shows and played on 16th and 17th December 2011 at the 10th Anniversary BIM Fest in Antwerp, Belgium.
In 2013 they played the Adelaide Festival in Australia again.
2015 saw a performance at the Metro in Chicago for Cold Waves IV, as well as a North American tour.
2016 saw performances in Europe and back on their home turf Australia.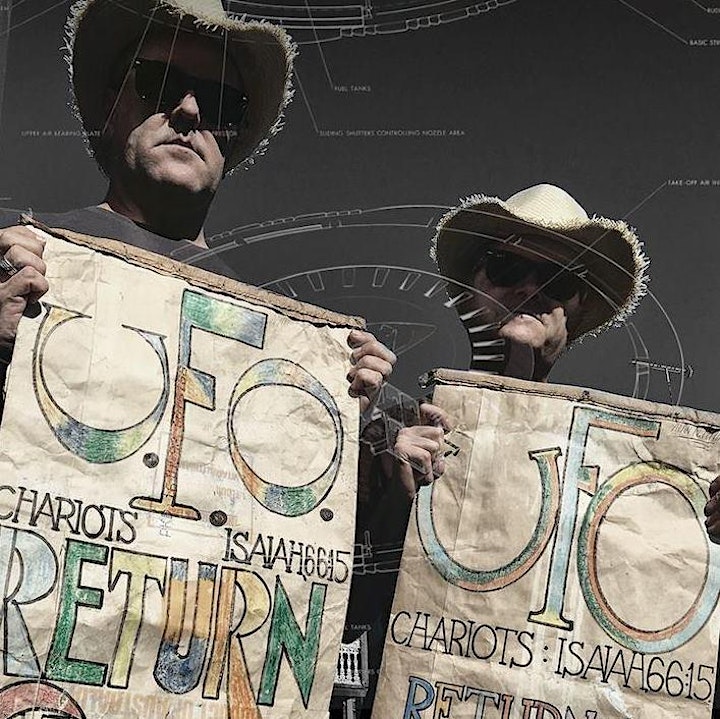 POP WILL EAT ITSELF
In 1986, the line-up of singer and guitarist Clint Mansell, guitarist and keyboardist Adam Mole, bassist Richard March, and drummer Graham Crabb formed as Wild And Wandering in the English town of Stourbridge. After some months and one e.p. they changed their name to Pop Will Eat Itself (PWEI) and earned attention from the indie scene for their first e.p., The Poppies Say Grrr! on Chapter 22. At the time they played short, fast, slightly psychedelic punk-pop tunes and went on with that for three more e.p.'s before starting to incorporate house and hip hop beats and samples on Beaver Patrol. By autumn 1987 PWEI released their first album, Box Frenzy, with some tunes leaning towards new wave, some towards hip hop and acid house. A drum machine called Dr. Nightmare was installed and Graham Crabb took the second microphone.
After the 12" Def.Con.One PWEI signed a deal with RCA and released Can U Dig It? in 1989, which would be the first of 12 PWEI singles going UK top 40. In the same year their seminal second album This Is The Day...This Is The Hour...This Is This! appeared to public and critical acclaim for its witty fusion of rock and electronic music.
PWEI opted for an even more electronic, slightly darker and moodier approach on Cure For Sanity, their third album, which appeared in 1990 alongside PWEI's alternative soccer world cup theme, Touched By The Hand Of Cicciolina, a fusion of dub and acid house.
Electronics took a backseat on 1992's The Looks Or The Lifestyle, when Fuzz Townshend was brought in as a drummer. PWEI reinvented themselves as grungey groovers and released Get The Girl! Kill The Baddies! as their highlight single. PWEI had been sacked by RCA at the time the single went number 9 in the UK in early 1993.
The band signed with Infectious in the UK and Nothing in the US and released R.S.V.P., Ich Bin Ein Auslander, and Everything's Cool as singles in 1993 and 1994. The tunes displayed a development from where they had left towards dark industrial rock. The mixture on their fifth album Dos Dedos Mis Amigos was received well and won the band many new fans.
Nonetheless, the band only released the remix album Two Fingers My Friends after that and collapsed upon the departure of Graham Crabb in 1996. Crabb released an album as Golden Claw Musics, Richard March went on to form Bentley Rhythm Ace, Fuzz Townshend went solo, and Clint Mansell has done film soundtracks. In 2005, a reunion tour and new songs were announced, but the reformation fizzled out by the end of the year.
In 2010, in the wake of the dissolution of Vile Evils, Graham Crabb announced his intention to reconstitute PWEI. By 2011, Crabb had recruited new band members, and PWEI released a new album, New Noise Designed By A Sadist, and went on tour.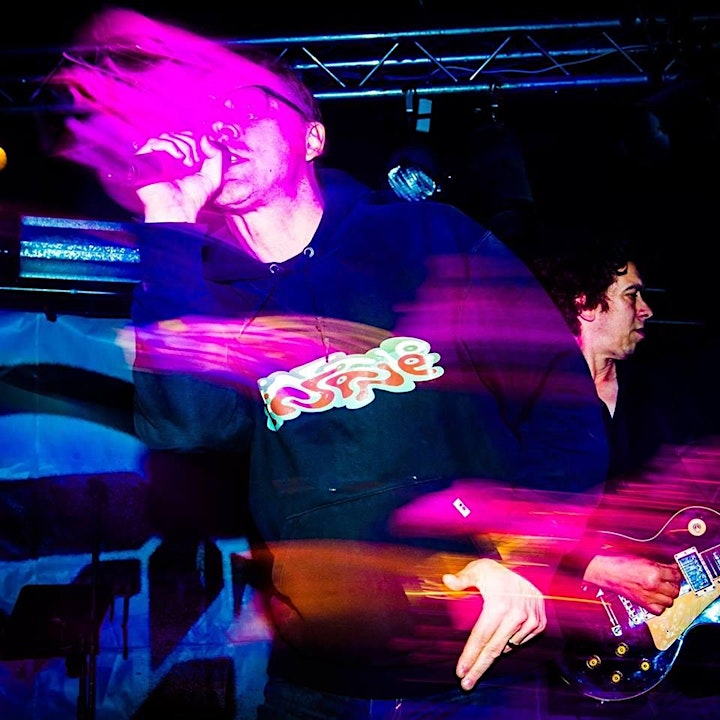 SUFFERING FOR KISSES
Suffering For Kisses is a project from the mind of Tony D'Oporto aka The Gnome, also known for his projects Gnomes of Kush, Gnome & Spybey (w/ Mark Spybey of Dead Voices On Air) and Crisis Actor (w/ David Thrussell of Snog) . A native of Southern California, Tony has been at the forefront of electronic music since the early 1990's where he has worked in a variety of styles that include New Wave / Goth / EBM, Trance, Ambient and Down Tempo backed by countless performances throughout North America.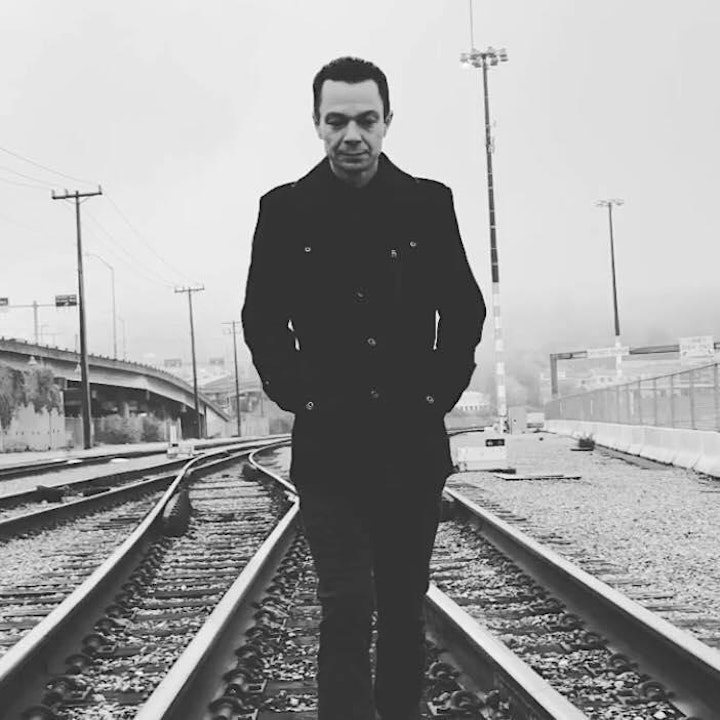 ADRIAN H AND THE WOUNDS
ADRIAN H and THE WOUNDS are your post-goth storytellers.
The immediate reference of their dark, brooding music with lyrics of great narrative power and poetic bent draw to mind references such as NICK CAVE, GARY NUMAN, LOU REED, but they are eclectic enough to keep on with this referencing further on and it would be better and more exact just to say that they've blended and absorbed all and out came their own superb poignant dark-wave style.
Adrian H and The Wounds have a sound that is sinfully soulful and reminiscent of a night in a darkroom full of hallucinations, secrets and song. Adrian's voice and lyrics cut like a straight edge. He evokes impassioned stories of tragic love, lost faith and twisted taboos.
Venue Information:
El Corazon
109 Eastlake Ave East
Seattle, WA, 98109