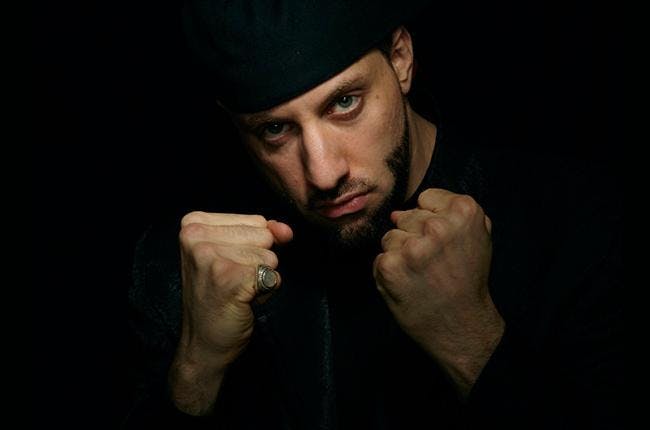 R.A. The Rugged Man
Andy Beatman, Grand Arch, Brothers
Funhouse
R.A. The Rugged Man at The Funhouse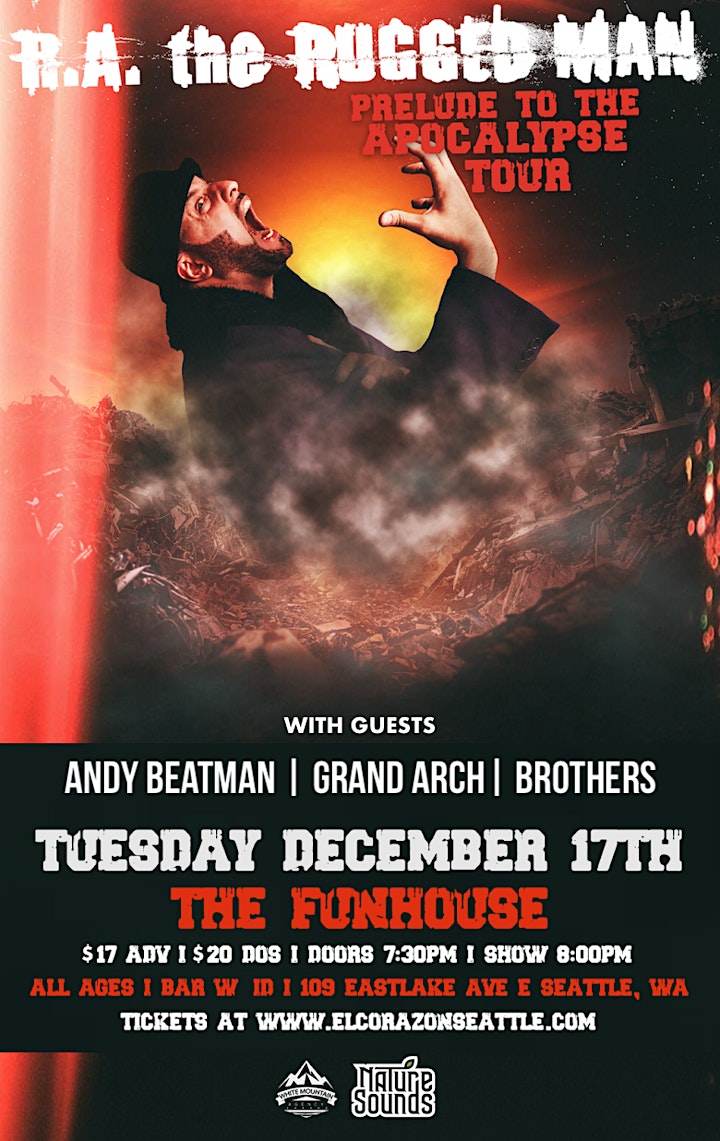 R.A. THE RUGGED MAN
Few artists are ever as controversial as they are influential. New York legend R.A. the Rugged Man has lived up to such a moniker by simultaneously inspiring generations of rappers while being banned from every major record label's offices and even barred from performing during the late-90s underground explosion. But by combining the authenticity of his undeniably rugged life with his undisputed mic skills and understanding of the genre as a Hip-Hop historian, his music has both survived and thrived, setting a standard for "Real MCs" that few have ever attempted to match. Collaborator The Notorious B.I.G. was once quoted in reference to R.A. by stating "And I thought I was the illest."
Originally from a broken home in Long Island's Suffolk County, R.A. was raised by a Vietnam veteran/mental patient father whose exposure to Agent Orange left his brother Maxx physically and visually impaired and his sister Dee Ann unable to walk or speak. Finding refuge in Hip-Hop, R.A. began his whirlwind rap career at the age of 12. His immediate growth as an artist and constantly rising profile soon caught the attention of the majors and R.A. found himself at the center of a nine-label bidding war. While he eventually signed with Jive, his vile behavior proved too much for the label to handle as they left him to die without an album in stores to his name.
Taking matters into his own hands, R.A. pioneered the truly independent indie-rap hustle, pressing his own vinyl singles and racking up one of the most impressive resumes in Rap history. From Wu-Tang and Mobb Deep to Biggie and Kool G. Rap, not to mention productions from Erick Sermon, DJ Quik and The Alchemist, his discography reads like a Hip-Hop Hall of Fame. The Rugged Man has also been championed by critics for his show-stealing work on the three Rawkus Soundbombing collections, as well as contributing "Break the Walls Down" to the Platinum selling WWF Aggression compilation.
Many of these classics were later released and remastered on both his 2004 debut Die Rugged Man, Die! and his 2009 Legendary Classics compilation. Legendary Classics included "Uncommon Valor", his collaboration with Jedi Mind Tricks that earned R.A. the prestigious "Hip-Hop Quotable" by The Source magazine. R.A. has also been acclaimed for his non-rap writing, regularly contributing to Vibe, Complex and Mass Appeal magazine as well as landing a book deal with Testify books. R.A. is also the screenwriter and producer of the cult film Bad Biology and is working on his directorial debut; a documentary based on the life of his father Staff Sgt. John A Thorburn.
Now, the onetime outcast has improbably outlasted nearly all of his peers. Having been banned, forgotten, blackballed, and left for dead, the Rugged Man has somehow emerged with a thriving career, a nonstop touring schedule, a die-hard fan base, and the recently-released Legends Never Die, one of the most critically acclaimed hip hop albums in years. Featuring A-list guests like Tech N9ne, Hopsin, Talib Kweli, Brother Ali, Krizz Kaliko, Vinnie Paz, Masta Ace, Sadat X, Eamon, and more, Legends Never Die is being touted as a classic worldwide, balancing technically brilliant lyricism with raw honesty and head-nodding production. The album is not only a celebration of R.A.'s illustrious career, but an exciting look at what's still to come. "Honestly, I feel like this is only the beginning," says R.A. One of the most fascinating figures in hip-hop history is just getting started.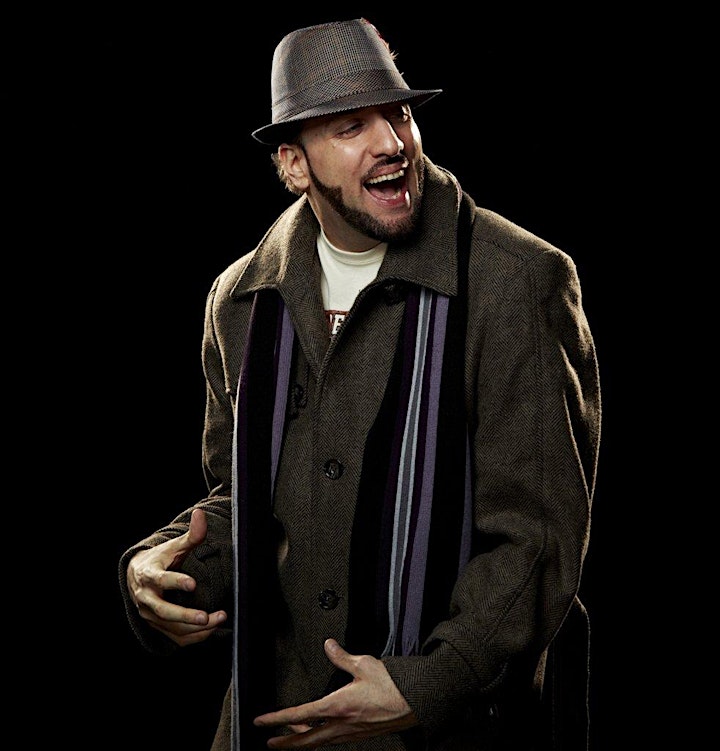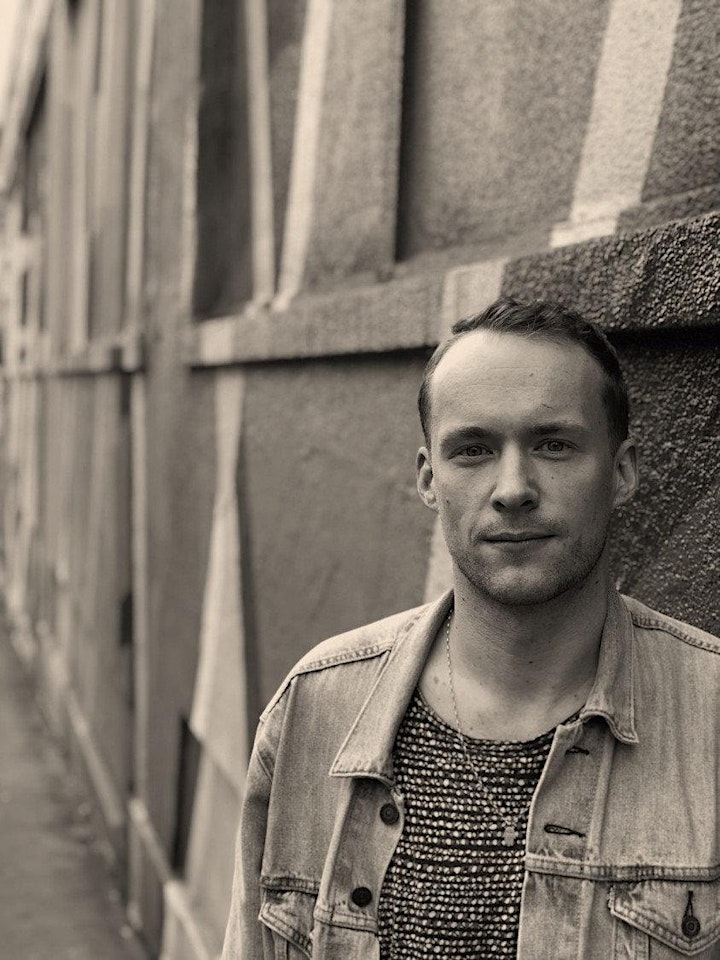 GRAND ARCH
Grand Architect is here to change the face of the Hip Hop realm entirely. The flagship artist and co-founder of Cook Book Records, Grand Arch seeks talented independent artists to offer the exchange of professional media services. Thanks to the close knit community of producers, graphic artists, industry reps, promo agents as well as emcees makes up the backbone of the Grand Arch's overall success. Staples of the Hip Hop beat making society, super producers such as; Panik (Molemen Inc.), Vherbal (Enemy Soil), J Beats (Big Bang Latino) lay down the groundwork towards the completion on the debut LP, "Endangered Species". CBR in house production from Ill-a-str8d has been responsible for such hits as, 'Going On Tour' feat. Main Flow (MOOD) and 'So Smooth' feat. J Sands (Lone Catalysts) and Rashad (Elev8tor Music) all available on Double Helix's EP "The Strain" released 2012. Also mostly noted for his strong cannabis advocacy, Grand Architect solidified that stance when he worked with the Grand Buddha Master Himself B REAL of Cypress Hill creating the hit single, 'Crop Circles' of B Real's solo album "The Harvest" released in 2010.
"The end result is 'The Harvest'. B Real has recruited some of the hottest underground emcees to stand by his side. After releasing the first Cypress Hill album in 5 years earlier this year, B couldn't imagine a better time to begin planting the seeds for the next crop of emcee's to bless the mic."-Soul Assassins via ughh.com (2010)
Born Dec 5 1981 Mark Joseph Howell Jr., into the land of enchantment New Mexico was the embodiment of an eighties baby. As early as age 9 groups like Digable Planets, Cypress Hill, Rakim etc. left an inspirational infection which to this day still has no cure. By 13 he had begun tinkering around with groundbreaking new music software such as Rebirth, Cubase, Soundforge producing beats for emcees in the local vicinity. Digging for records was a pastime throughout high school. Grand Arch sharpened his skills as an Ableton audio engineer, mixing and mastering until recording finally invaded the majority of the time. Finally a graduation from the sound academy provided by Douglas Geist of Sante Fe Center Studios which does the audio for TV's popular series "Breaking Bad", Grand Architect was more than confident in his musical aptitude. Now Grand Architect works on ensuring the continuity of our most precious commodity, Hip Hop.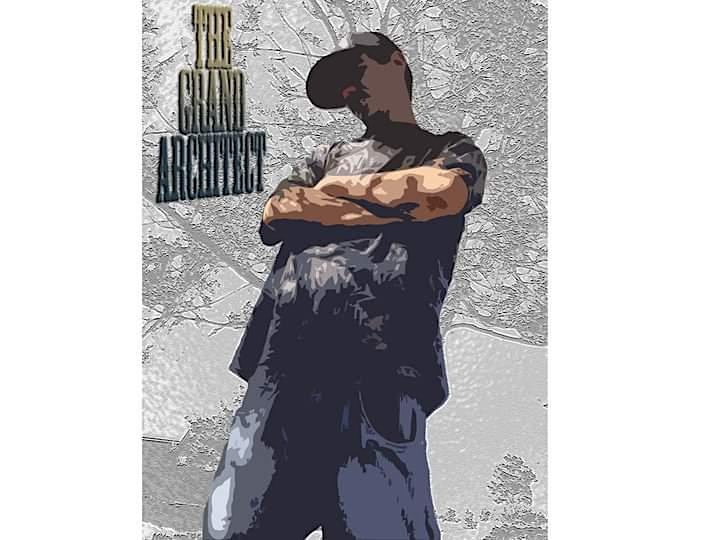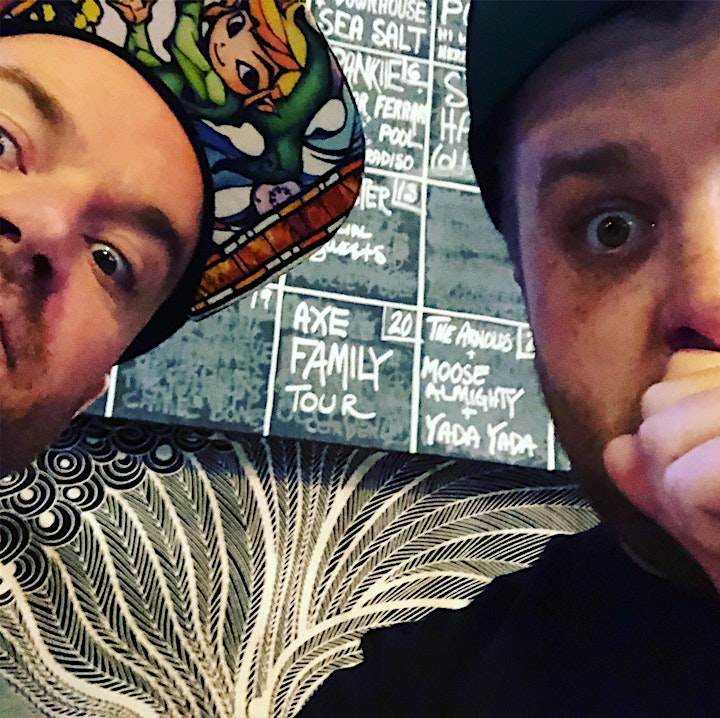 Venue Information:
Funhouse
109 Eastlake Ave E
Seattle, WA, 98109