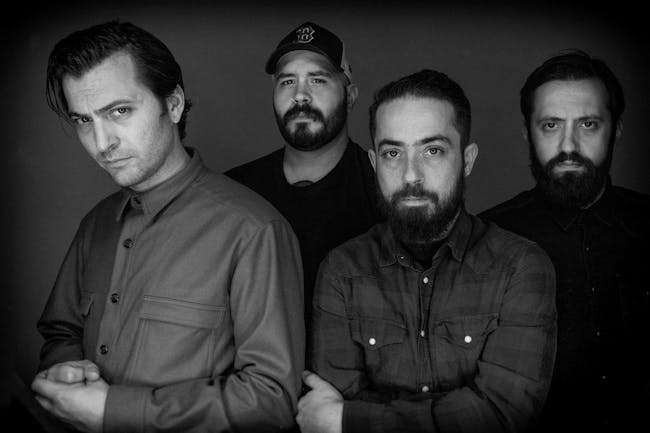 Planet Of Zeus at The Funhouse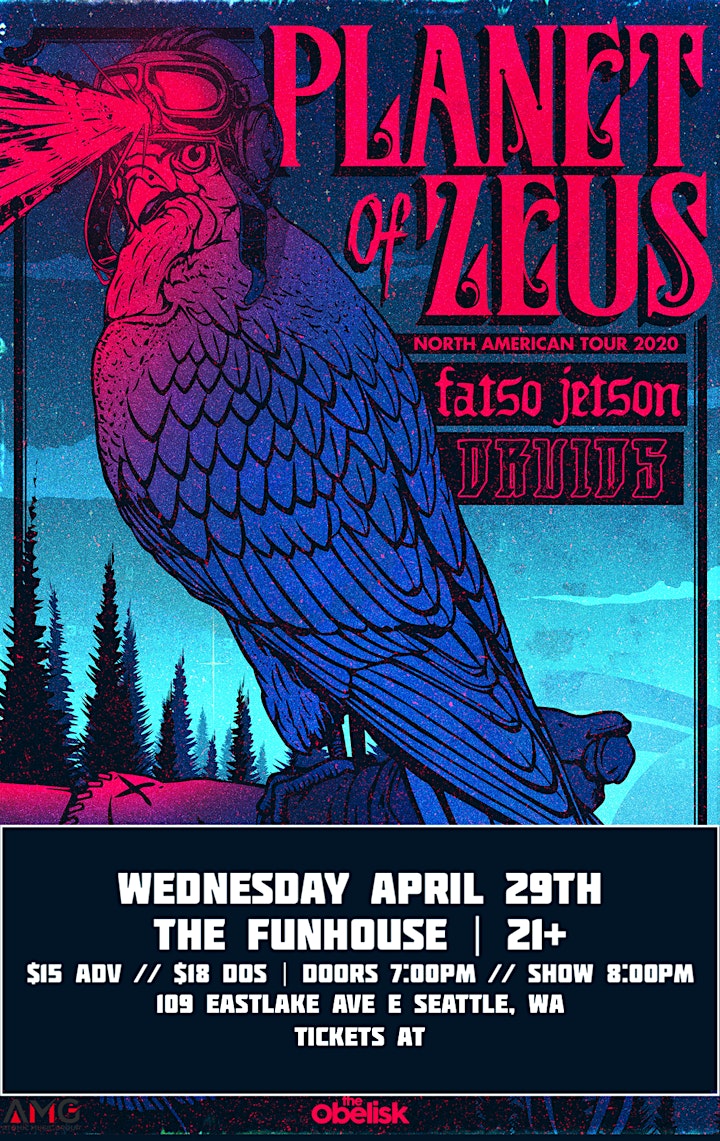 PLANET OF ZEUS
Planet of Zeus are a heavy rock band from Athens, Greece. They have been around since 2000, playing extensively throughout their home country, just about anywhere they could, ranging from house parties to stadiums. Their raw, sincere and constantly evolving live performances have secured them a loyal and hardcore underground following, which exceeds Greece's geographical borders. After 5 consecutive European tours and several high profile festivals (Bloodstock etc), Planet of Zeus were the main support band at Clutch's 2015 Psychic Warfare European Tour.
Planet of Zeus have released 3 albums. "Eleven the hard way", was released in April 2008, through Casket Music/ Copro Records (UK). The album, although a debut, received great reviews from magazines, such as Metal Hammer and Kerrang and even Bruce Dickinson featured it on his BBC radio show. The sophomore album "Macho Libre", released in May 2011, through B-Otherside Records, was the album, that established the band as a major act in Greece and started creating a European buzz around Planet of Zeus. Since then, their two official music videos, "Leftovers" and "Vanity suit" have become classics. With their third album,"Vigilante"(2014, ihaveadrum records),the band upped the ante and created their own distinct blend of riff heavy, groove laden rock n roll.
At a time in which individualism seems to be the ultimate solution for some, Planet of Zeus come back with their highly anticipated fourth album, "Loyal to the pack", an ode to the benefits of teamwork. Being well known for their never ending signature heavy riffs, gritty vocals and dancing grooves, the band decided to "shuffle their deck of cards" and embark on a new musical direction, encompassing melody, clean, but heartrending vocals and a newly found sense of dynamics. This mixture seems to establish a signature sound for Planet of Zeus, a sound that takes the listener on a journey throughout the history of heavy music. From Lynyrd Skynyrd to Mastodon, the Allman Brothers Band to Queens of the stone age and AC/DC to Clutch.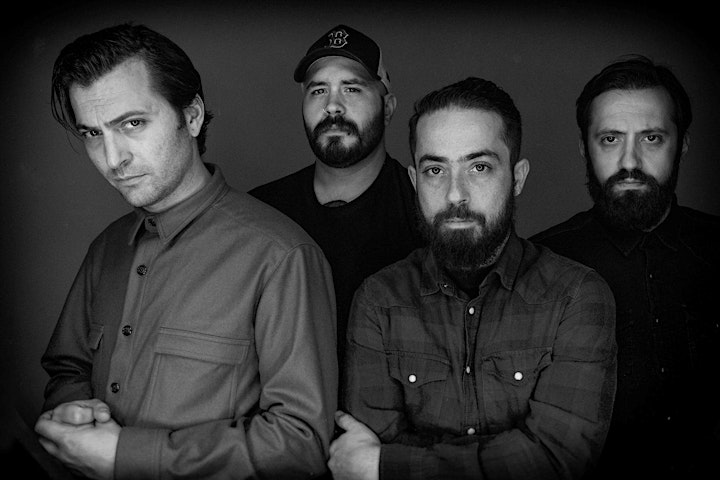 FATSO JETSON
Fatso Jetson formed in the wee hours of 1994 after Tony Tornay, and cousins Mario and Larry Lalli spent way too much time together playing pool, drinking shitty beer and watching TV in the after hours at Mario and Larry's nightclub, "Rhythm & Brews." They decided that since they already played the appropriate instruments, that their time would be better spent playing music instead of eternally making double-or-nothing bets on a crummy pool table and watching History Channel documentaries.
After cobbling together 9 or 10 songs (and coming up with a name that references an old Ingmar Bergman film character) they played their first show in September 1994, opening for former Black Flag guitarist Greg Ginn. On the basis of this show, Ginn decided he wanted to release an album with the band on his SST Records imprint. The band then went on to play as many shows as possible including a tour with fellow desert dwellers Kyuss.
Then, in August 1995, Fatso Jetson's first record, "Stinky Little Gods" was released. Just over 2 years later in November 1997, the band released their second full length opus, "Power Of Three", again on SST featuring the bands first collaboration with Vince Meghrouni. It was around this time that the band hooked up with Brant Bjork (ex-Kyuss, ex-Fu Manchu skinsman) who played rhythm guitar. Brant stayed in this capacity until touring with Fu Manchu forced him to leave the band, though he did appear on two 7" releases, one of them a split with The Bloodshot, and the other a split with Fu Manchu.
In late 1997 Fatso Jetson started to look for another record label and found themselves in the company of Bongload Custom Records. In April 1998, Tony, Mario and Larry entered Monkey Studios in Palm Springs to record their 3rd full length offering for Bongload, The album they came up with is "Toasted," produced by Chris Goss (Masters Of Reality, Desert Sessions). Around this time famed artist Frank Kozik asked the band to record a record for his now legendary "Mans Ruin Records". In August 1998 the band re-entered Goss' Monkey Studios to lay down the tracks for a record that would eventually become "Flames For All." Long time Lalli collaborater Gary Arce joined the band as a rhythm guitarist for a tour with Queens Of The Stone Age and continued to play with the band for a European tour and an appearance at the Dynamo Festival in Holland and an appearance at SXSW in Austin, Tx. in 1999 until he finally departed in April 2000.
Amidst all of this activity Fatso Jetson also contributed to "The Desert Sessions" releases. The Desert Sessions were the brainchild of Josh Homme (Kyuss, Queens of the Stone Age). He organized these recordings bringing desert musicians, outsiders, freaks, and other creative like-minded rock musicians together to collaborate. At these sessions Mario Lalli co-wrote two songs with Homme ("You Think I Ain't Worth A Dollar, But I Feel Like A Millionaire" and "Monster in the Parasol") these would eventually make their way on to the Queens of the Stone Age albums "Rated R" and "Songs for the Deaf." All three members contributed music to other tracks that would find their way onto "Desert Sessions" records
After some regional touring in the United States and a second appearance at SXSW in 2000, Fatso Jetson headed back into the studio to record their 5th full length studio album: "Cruel & Delicious." Recorded in Silver Lake, Ca. at Donner and Blitzen Studios with earthlings? and Twilight Singers collaborator Mathias Schneeberger. The album was subsequently released on Josh Homme's "Rekords Rekords" in November of 2002.
After some highly anticipated dates with Queens Of The Stone Age, Fu Manchu, and Beck, Fatso Jetson quieted down for a few years. The permanent members Mario, Tony, and Larry had found themselves living in different cities with other obligations taking over their time. They consistently played regional shows and spent time in various studios recording but it would be a few years before any new music would come to light.
Even in their quiet they managed to still make noise: LA Weekly nominated them as one of the "Best Rock Bands" in Los Angeles in 2003.
Around this time Tony spent some time playing with Black Flag alum Chuck Dukowski recording a record and playing shows in both the States and Europe with an appearance at Coachella, while Mario toured and recorded with a reactivated Yawning Man and a desert "super group" Orquesta del Desierto along side Pete Stahl (Scream, earthlings?, Goatsnake), and Alfreado Hernandez (Yawning Man, QOTSA, Kyuss)
In 2007 The band now joined full time by Vince Meghrouni playing multiple instruments and singing, released "Live" a, well as the name implies, a live record recorded in their adopted hometown of Los Angeles and released on Cobraside Records
2010 saw the release of "Archaic Volumes" again on Cobraside Records with subsequent European and United States tour dates with Oaks Mary and The Atomic Bitchwax including sold out performances at The Roadburn Festival and Stoned from The Underground Festival.
In 2010 Tony started Deep Dark Robot with famed record producer Linda Perry. They recorded an album "8 Songs About A Girl" in 2011 and spent the year touring America in support of the album and making videos starring the likes of Kat Von D and Juliette Lewis.
In 2013 Fatso Jetson was joined by Dino Lalli (Mario's son) and released a Split 12" record with fellow desert dwellers Yawning Man and headed out for a European tour to promote it including sold out co-headlining performances at both Desert-Fest London and Berlin.
Tony spent a few months at the end of 2013 and the beginning of 2014 recording and touring with childhood friend Brant Bjork on his project "Brant Bjork And The Low Desert Punk Band". They hit Australia, America and Europe before Tony bowed out to re-focus on Fatso Jetson
2014 has seen the band playing festival shows and some regional touring while being featured on the Foo Fighters: Sonic Highways documentary.
2015 promises to be quite a busy year for Fatso Jetson with both the recording and release of a new record and extensive touring in bothe The States, Europe, and beyond…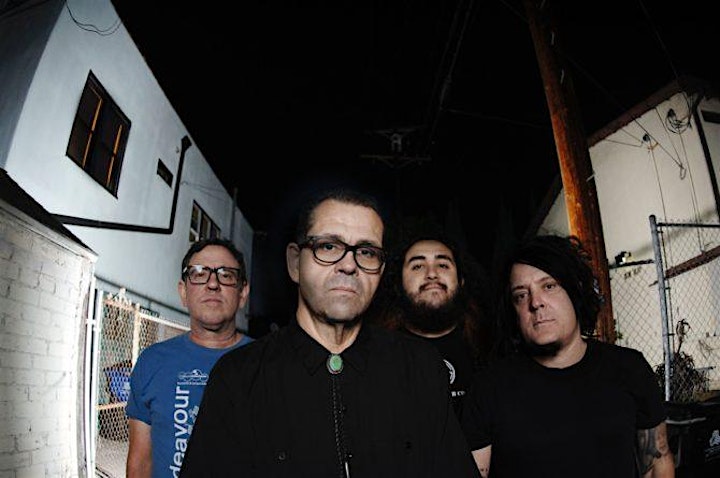 DRUIDS
Creating music about a weary space traveler in search of a tangible object within her body to balance the scales of a fictional universe isn't necessarily a common task, but Druids makes it look easy.
Formed in 2008, Des Moines, Iowa's metal trio, Druids, set out to create music that was loud, crushing and beautiful, while painting lush, vast pathways for imaginative soundscapes.
They laid their destructive groundwork over two releases, 'Pray For Water' and 'The Sound of Meditation' (2009 and 2013, respectively), continually looking to push their own personal boundaries, physically and sonically.
With the release of 2016's 'Cycles of Mobeum', the boys embarked on a full year of heavy touring all over the United States, giving audiences in unsuspecting cities a heavy, cathartic live show, awash with wailing guitar solos, rhythmic drumming and chunky, grooving bass-lines. In short, with heads banging in unison, it was safe to say that Druids was well-received.
They took to the studio in early 2017 to record their follow up, 'Spirit Compass' with producer, Brandon Darner (David Keuning, Radio Moscow), to shape what would be a smoldering follow-up to 'Cycles'.
The band spent most of 2017 and 2018 touring in support of 'Spirit Compass', while writing and recording their biggest record to date, 'Monument' (out April 19th on Kansas City's The Company label). The release provides five songs at a 30 minute run-time, proving to be the trio's most confident and explorative effort to date.
With the backing of Tone Deaf Touring, heavy new tunes and a killer live show, Druids show no signs of stopping any time soon.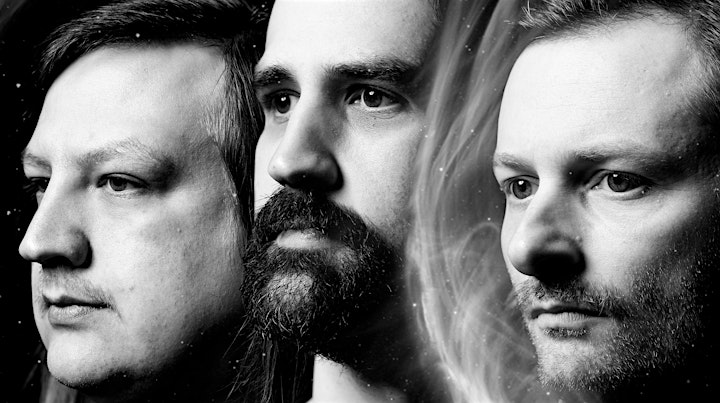 Venue Information:
Funhouse
109 Eastlake Ave E

Seattle, WA, 98109