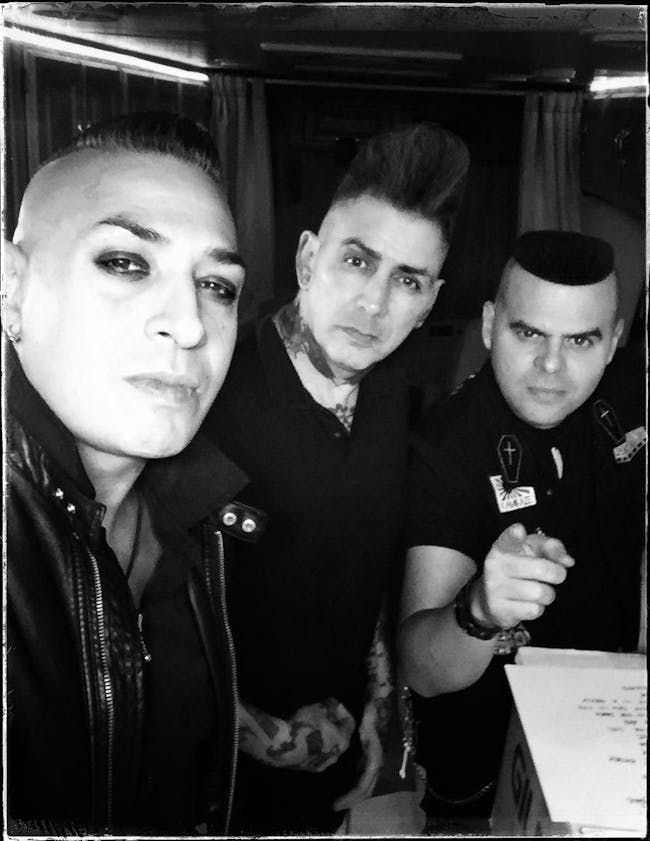 Nekromantix
Stellar Corpses, The Brainiax, Kids On Fire , Ghost Train Trio
El Corazon
Nekromantix with Stellar Corpses LIVE at El Corazon - Seattle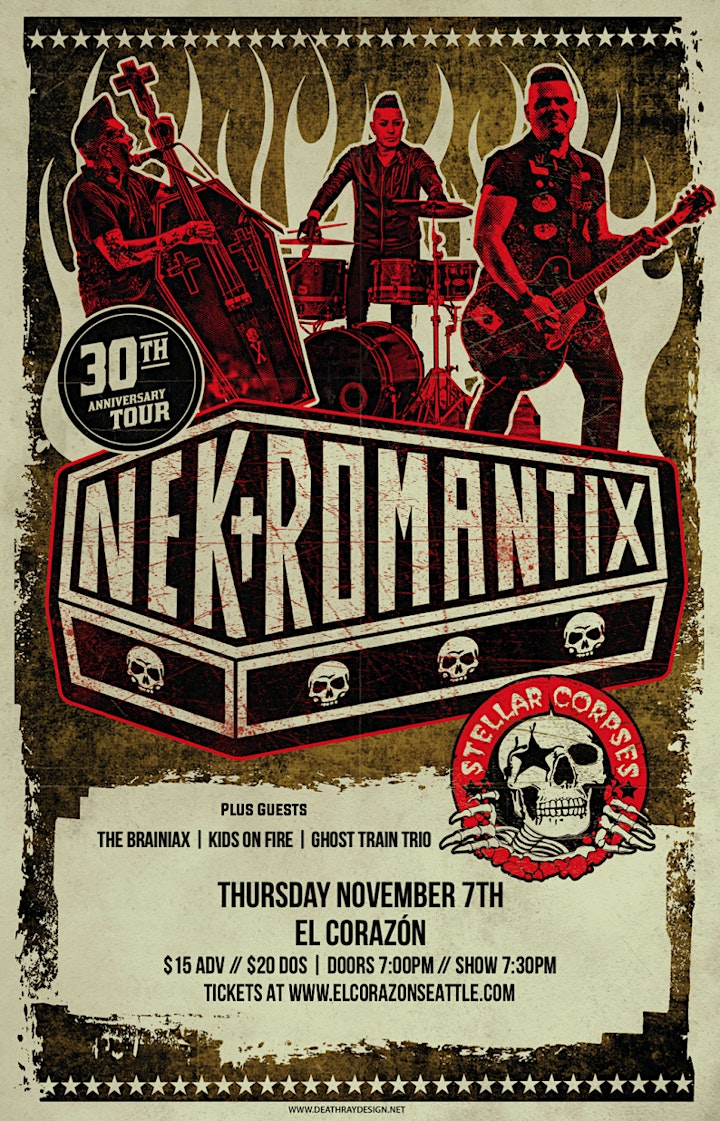 NEKROMANTIX
Never self-serious while far from a joke at the same time, Nekromantix is a musical unearthing of the biggest themes from the greatest works of monster, zombie, vampire, werewolf and b-horror fiction; ripped from literature, comic book pages or classic celluloid. Nekromantix chases a darkly romantic muse with an even darker humor.
The Nekromantix catalog boasts enduring genre classics like the unapologetically hooky yet undeniably fierce "Who Killed the Cheerleader?" and "Gargoyles Over Copenhagen" alongside subversively sentimental cuts like "Haunted Cathouse" and "Subcultural Girl." There are echoes of rock n' roll's greats and punk rock icons alike, all with modern flair.
A Symphony of Wolf Tones & Ghost Notes broadens the Nekromantix legacy with expansive ambition that never sacrifices the trio's inherent grittiness, furiously stoking and reshaping the flames of the creative vision begun in Denmark with legendary labels like Nervous Records, through the band's master classes in punk n' roll albums stateside with Hellcat Records, the label cofounded by Tim Armstrong and Brett Gurewitz.
Armed with his signature coffin bass, chilling baritone, monstrous expressions and ten-stories-tall haircut, Kim Nekroman has earned tremendous respect, admiration and goodwill from a fiercely dedicated legion of hard-partiers, rabble-rousers, well-meaning degenerates, grease monkeys, outlaw bikers, nostalgic tastemakers and forward-thinking punks. It's a crew of supporters as diverse as the otherwise classic and timeless music the Danish-born California transplant has unleashed as leader of Nekromantix.
Nekroman's notorious quiff is as instantly recognizable as the coffin bass he's slapped into submission on nine studio albums, countless worldwide tours and festivals. The quiff, of course, combines the midcentury rebel style of the pompadour and flattop with the punk attitude of New York and Europe from the late 70s. It's a fitting symbol for the style of music Nekromantix has perfected into an art form, a rollicking psychobilly sound with reverence for the genre's origins and predecessors, infused with an iconoclastic boundlessness that refuses to abandon the electric catharsis of unadulterated fun.
Return of the Loving Dead (2002) marked a career resurgence and subcultural breakthrough for what was previously a feverishly cherished underground band best known outside of North America, via now legendary records like Curse of the Coffin (1991), Brought Back to Life (1994), Demons Are a Girl's Best Friend (1996) and their unstoppable debut, Hellbound (1989). The new millennium brought the band to America (at first to tour and eventually, to stay), conjuring into the world new Nekro landmarks in the forms of Dead Girls Don't Cry (2004), Life is a Grave & I Dig It! (2007) and What Happens in Hell, Stays in Hell (2011), as Nekroman steered the band through shifting lineups and energized shows with bands like Rancid and Reverend Horton Heat.
Nekroman has been joined by skilled guitarist Francisco Mesa for nearly a decade now, with drummer Adam Guerrero bringing a fresh injection of passionate enthusiasm to the band in 2014. A Symphony of Wolf Tones & Ghost Notes is a fertile proving ground for a reenergized lineup that fans of the band have already loved for two years. New songs like "Glow in the Dark," "War Bats" and "Resting Witch Face" are instant classics, standing mightily alongside the greatest Nekromantix songs enduring in their set list.
There are some bands whose sound, image and front person became synonymous with an entire subculture, whether as originators of a particular style, a crucial innovator among a handful of likeminded artists, or simply as the best embodiment of everything a specific style has to offer. Rock historians may debate who reigns supreme among Black Sabbath, Led Zeppelin and Deep Purple, but there's no denying they are all heavy metal titans. When someone says "Lemmy" or "Strummer" or "Blondie," certain feelings are immediately invoked. There's a palpable energy in the air among hardcore acolytes and culture mavens. It's a kind of iconic resonance that transcends boundaries.
To their dedicated army of supporters around the world and across every dimension, Nekromantix stands tall among the ghosts in rock n' roll's undead cemetery.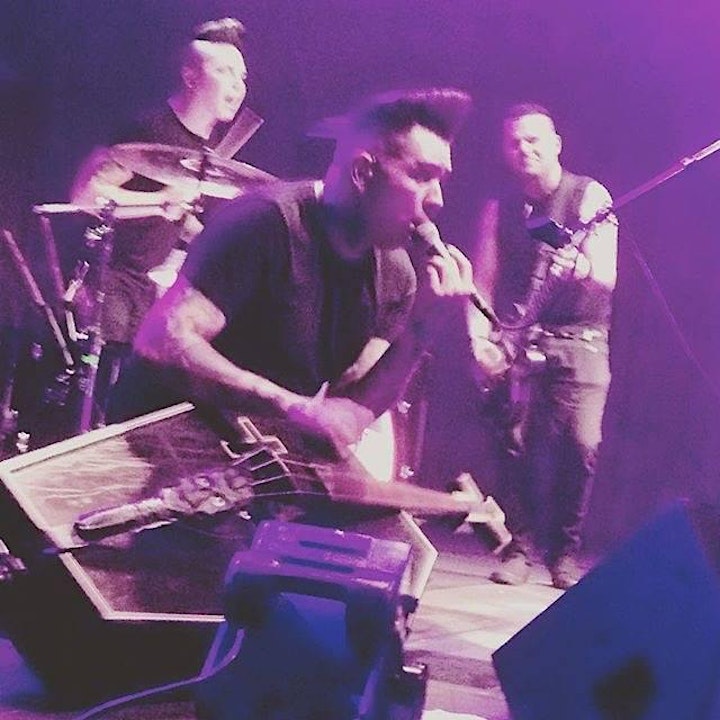 STELLAR CORPSES
The four guys in Stellar Corpses (which literally means "dead stars") not only rock, but are also intelligent, cool people and have kick ass personalities. Their album Dead Stars Drive-In (Santa Carla Records) drops on January 24, 2012. And they're not bad to look at either, for all the females reading this.
Good looks aside, they can rock the hell out of any venue they play. They're hard core rockers to the bone, and they prove it every time they hit the stage or whenever their music is played. Their new album, Dead Stars Drive-In (Santa Carla Records), will be released on January 24, 2012, and was produced by Joe McGrath (AFI, Tiger Army, Alkaline Trio and many more). "It was amazing to record in the same place that so many of my influences recorded," Dusty exudes. "Black Flag, Descendents and Pennywise to name a few. And working with Joe McGrath was incredible. He helped us to make the best record of our lives. "We are excited to have some really special guests on the album like Hunter Burgan (AFI), Jade Puget (AFI) and Michale Graves (Misfits)!"
Stellar Corpses list their musical influences as Elvis, Black Flag, Social Distortion, Stray Cats, Bad Religion, Black Sabbath, AFI, The Misfits, Danzig, Rancid, Sepultura and Megadeth. With a mix like that, it's no wonder Stellar Corpses blended their musical tastes into something really special. Says the whole band, "We hope we can inspire some young kid who's life is changing and needs some music to relate to. Morbid music saves lives…we don't care what anyone says."
Stellar Corpses hail from Santa Cruz and have become a fixture in its hard rock music scene. This is no overnight success story. Stellar Corpses met in high school and have been around, playing shitty clubs, building their fan base and doing whatever it takes to be able to create and perform music as their lifelong careers, if they get their fondest wish. They've got the goods…now it's time to get out there and prove it to a bigger audience.
"I grew up in a good home," says Dusty. "My dad played guitar and sang at church and I always wanted to be like him. I'm not religious, but I do belong to the church of Rock and Roll! I think in metaphors, which makes it easy to write good songs that people can relate to and find their own meanings in. I don't write in a literal way, like about politics or daily mundane stuff. I write mostly about love and death, our biggest motivators and mysteries! My favorite thing in the world is a live rock concert. There's nothing like a big group of people singing the same song and rocking out together.
Life for Dusty was not always rosy. After his family split up he was left alone in Santa Cruz where he spent years drinking, fighting, playing in bands and experimenting with drugs. "I partied hard and ended up in jail on 12 different occasions." Dusty recalls, "Music was always my passion, but I knew I was headed nowhere. So I wised up and decided to go to school, where I earned a Bachelors Degree in psychology and an Associates in music." During this time, Dusty started Stellar Corpses (an astronomy term he learned in college) with his good friend Dan Lamothe. Dan, Emilio and Kyle managed to keep themselves out of jail, although they're certainly not what you'd call angels either...they know very well there's a time and a place for everything, and the music always comes first!
Stellar Corpses' songs cover all sorts of subjects: "The title track, 'Dead Stars Drive-In,' is about the dark side of Hollywood and how some of its brightest stars, like Elvis, Marilyn, Bela Lugosi and Vampira eventually burned out. But to this day, their lights shine as bright as ever, and we will go on loving them always," Dusty explains. Emilio reveals, "'Teenage Witchcraft' is about being different…it's simple, really. 'One More Day' is about living your last day on earth to the fullest with no regrets and no apologies. 'So Long Goodbye' is a parallel of death and the end of a relationship." "'Vampire Kiss' is a nod to our hometown Santa Cruz, where the movie The Lost Boys was filmed. Its a powerful sing along that would frighten any glittery vampire out there," Dan quips.
The band's live show is dynamic and interactive with the fans. Emilio says, "We are like human buzz-saws live, we tear through our set with raw energy. I'd say get ready to sing with us, most of our songs are very anthem like and require the crowd to sing along. Its my favorite part, when the crowd actually knows the song and is singing along in my face…its the best payoff ever."
Stellar Corpses literally live and breath music, music and more music. Says Dusty. "Music is everything to me. It's my lifeblood. I need to hear it, learn it, write it, record it and perform it live, or I will surely die. I've had so many different jobs and I couldn't stand any of them. Music is the one passion that has kept me completely enthralled non stop every day since I got my first guitar. Society tells you to get a job, but people on their deathbeds always say to follow your heart. We follow our hearts no matter what."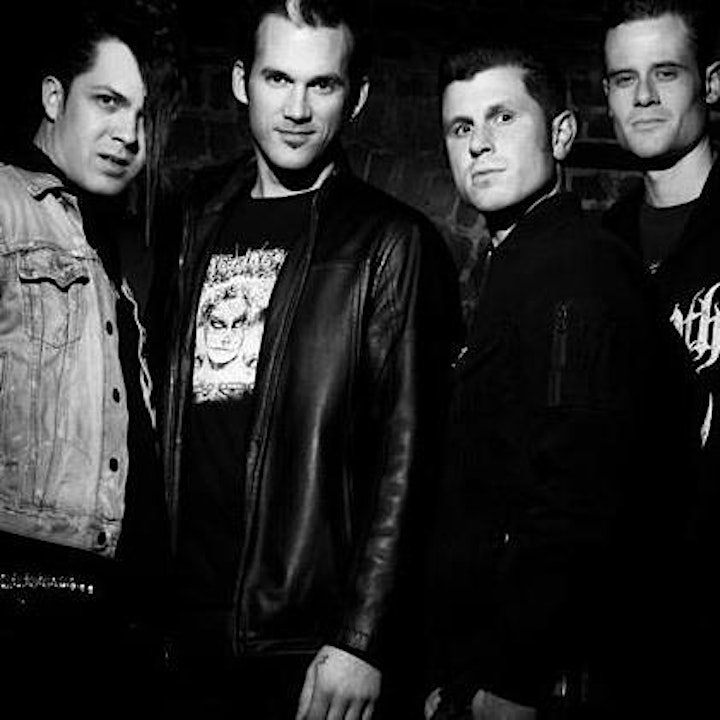 THE BRAINIAX
"The brainiax are great road friends of myself and the Koffin Kats, we've done a number of shows with them and they never disappoint, great sound and live performers, with the heart to back it up" -Tommy Koffin
"These mad scientists deliver what we need the most; the perfect cure for boredom. The frequencies they produce with their sonic experimentations will turn you into a rampaging-manic-booze-thirsty-mutant-speedfreak. If not, I'm afraid you're already dead. -Johnny Toxic
The foundation for what has quickly become an explosive power trio in American psychobilly known as The Brainiax formally began in the summer of 2017 in Portland, OR. Lead singer and upright bass player Awful Olli (Collin Gerber) joined forces with longtime friend and guitar player Andy Hell (Andrew Hoover) from the ashes of a former rockabilly band they co-founded, to create a more explosive, dynamic and rock-forward sound in the tradition of Motorhead, Stray Cats, The Damned, Devo and a slew of other influences. They recruited their old friend and Northwest punk scene staple Grody Cody (Cody Lamb) on drums to round-out their dream lineup.
The three had performed together in various outfits over the preceding years, and a unique and unified vision of what could be done in rock brought them to create this new, ambitious undertaking. From their first show in May 2017, to the release of their first album "Rock 'n' Roll Lobotomy" in July of that same year, The Brainiax have been on a non-stop assault all over the West Coast and into Mexico. In less than 2 years as a band, The Brainiax have played over 50 shows, and shared the stage with such scene staples as Demented Are Go, Nekromantix, Koffin Kats, Gutter Demons, Real McKenzies, Delta Bombers, Guana Batz and Hillbilly Moon Explosion among many others.
The current year has a lot already in store for them, and building their skillset, stage performance, reputation and professional relationships is at the forefront, in addition to keeping up their live energy and furious pace of writing and recording. They continue to expand on thematic elements in their songs such as mad science gone wrong, mental instability, old-West marauders and devilish women, and are currently in the studio recording their second album.
You can keep up with them on their very active social media pages on Instagram and Facebook!
KIDS ON FIRE
Melodic street pop punk from the rainy streets of Seattle. With a knack for hooks, Kids on Fire serve up songs designed to celebrate good times, bad jobs and irresponsible behavior. We have fun doing it, you will have fun listening to it, and hopefully we'll all be drunk by the end of the night, covered in sweat and beer! So have a listen and raise a pint with us in honor of good people and good times!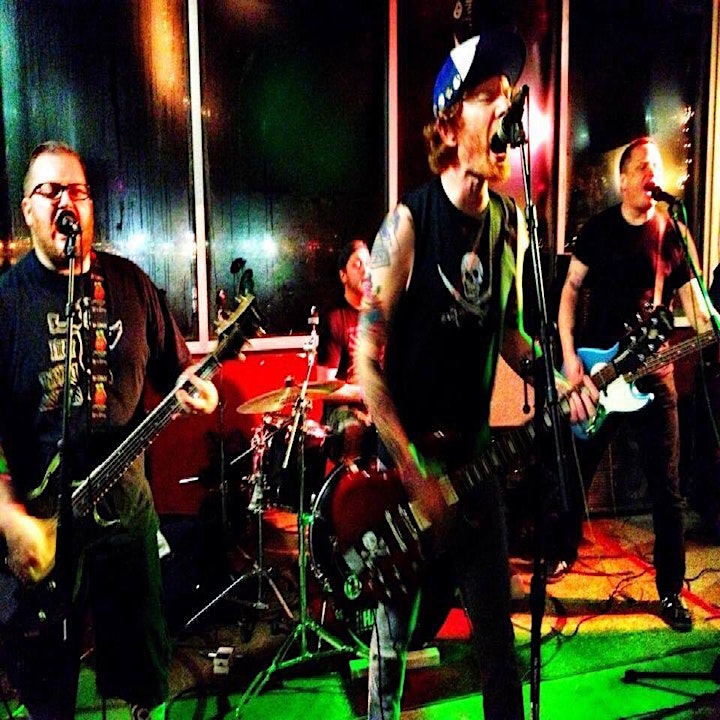 GHOST TRAIN TRIO
Musically they reminded me of a cleaner version of Social Distortion. Guitarist/vocalist Patrick Mackinnon was great at growling and hootenanny yowling, but with a voice so clear I could make out every word of the provocative poetry he sang. Lots of twangy guitar licks were combined with the prowess of Joel Putzier on double bass and the often manic drumming of Bob Farwel.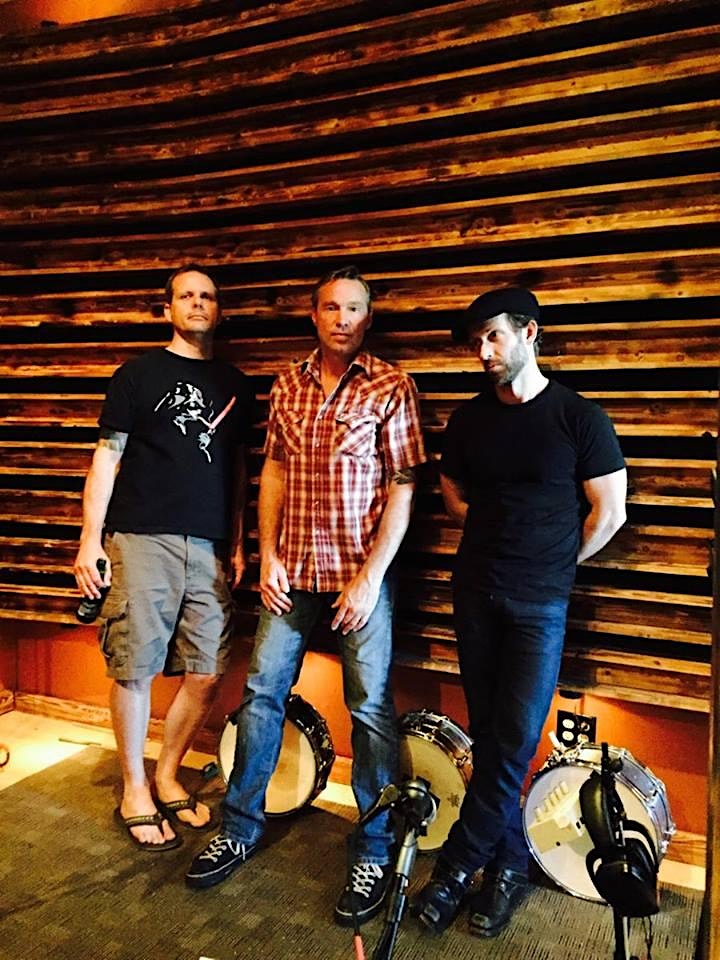 Venue Information:
El Corazon
109 Eastlake Ave East
Seattle, WA, 98109