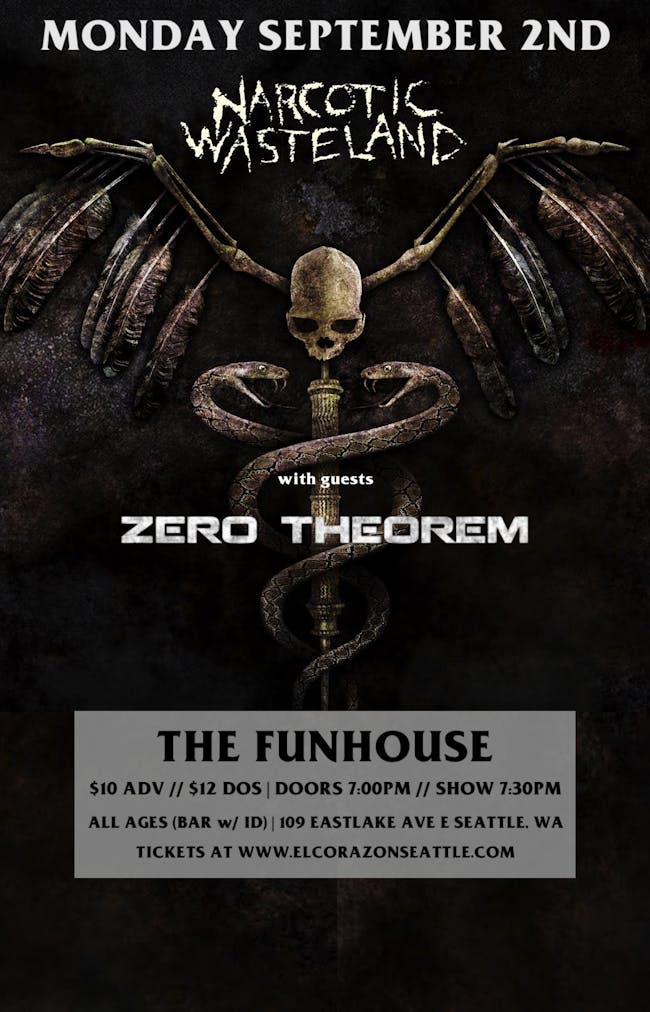 Narcotic Wasteland
Zero Theorem, Thou Shall Kill
Funhouse
Narcotic Wasteland LIVE with Zero Theorem
NARCOTIC WASTELAND
Narcotic Wasteland started as a side project Dallas Toler- Wade had been working the past few years when he was not touring or in the writing/studio mode with "Nile." "The more songs I completed for "Narcotic Wasteland," The more I wanted to put a full band lineup together," said Dallas.
Toler- Wade asked longtime friend Edwin Rhone (lead guitar/vox) if he was interested, which he was. They both had played in some metal bands together in the early to mid 1990's. Edwin had later recommended Chris ("Lutachrist") Dupre for bass/vox.
Dallas stated, "Chris came in and not only knew his parts, but owned them with lots of attitude. So the only thing left was finding a drummer. After trying out several drummers from all over the states over two years, my band mate in "Nile," George Kollias, recommended Erik Schultek. Erik did not only nail the material, but fit very well to the style and sound of the music."
The band's overall concept is very reflective of the city where Dallas, Edwin, and Chris grew up. Fayetteville, North Carolina, a military town, has a PTSD rate of up to 75% in males, and is the highest rated city in the US for Shaken Baby Syndrome. The availability of street drugs is astounding, and the ever growing epidemic of addiction to pharmaceutical drugs is an extremely toxic and unstable environment to grow up and live in.
Dallas states, "Other than joining the military, there was nothing to do but work low paying jobs, do drugs, and get in trouble, but music saved us from the otherwise depressing round of existence. For Edwin, Chris, and I, there was not much of a positive outlet there other than music." Although hard drugs and death are sort of a main topic, it's not the only topic. We as a band, do not want too many limitations on what we write about."
"On the first album," added Dallas, "There was a song about South Carolina's most famous serial killer, and another song with an anti-organized religion message. Like I have said many times over the years, Iron Maiden doesn't only write songs about iron maidens! We are in the process of finishing up our second album right now, and the topic of drug use and death is still present, but we are also branching off a bit to talk about venomous human behavior, self reflection, and big pharmaceutical companies ruining lives for big profits."
Dallas continues with one of his infamous monologues, "Musically, the band is retaining it's already established sound while expanding into more dark, sinister, and very sad sounding passages, capturing the mental imagery of the lyrics. We like writing music that challenges us as players, but also actually means something. We want to connect to the listener as emotionally as possible, to have a release for their anger and sadness. That to us is the most important mission as songwriters for this band."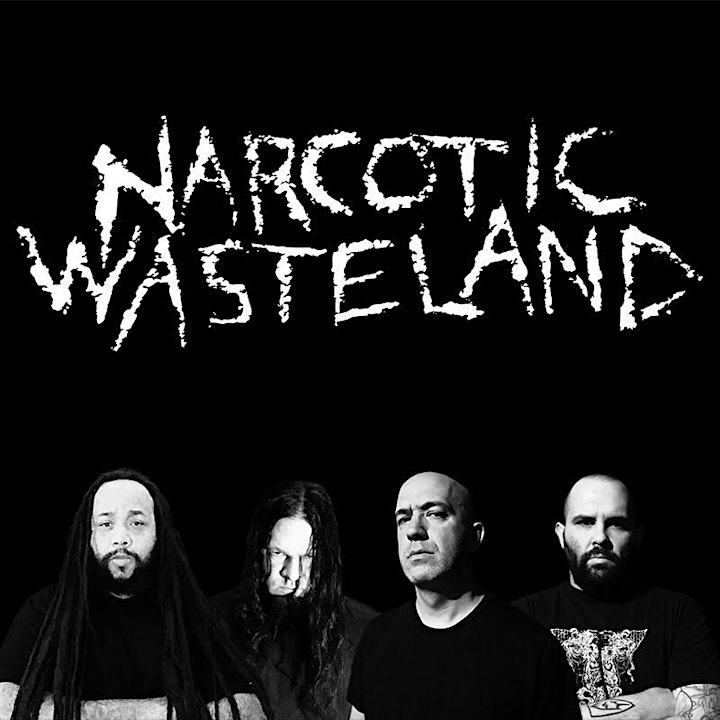 ZERO THEOREM
Blending alternative hard rock with the rhythmic and uncompromising intensity of metal, Los Angeles-based Zero Theorem has drawn early comparisons to Disturbed, Five Finger Death Punch, and Tool. Their first single "Area" has steadily climbed the Active Rock radio charts since late 2017.
Zero Theorem initially developed as a cross-country collaboration between cousins Caesar (based in Chicago) and Joe Scarlotti (Los Angeles), who began writing songs by sending digital files to one another. As their creative partnership developed, Caesar relocated to LA to further his musical ambitions. They recorded the initial ZT demos in 2017. Then, through word of mouth and networking in the Los Angeles music scene, the band came together with guitarist Max Georgiev, bassist Eloy Palacios, and drummer Jake Hayden.
The demos were honed into finished songs with producer Kane Churko (Papa Roach, Five Finger Death Punch, In This Moment). Caesar says "Kane is immeasurably talented and has made us better songwriters by helping to emphasize our strengths and explore new territory."
The band has gained notoriety quickly as a live act by performing with Doyle, Hed PE, Art Of Dying, and Motograter, among others.
Zero Theorem's sound, says Caesar "is groove metal with big melodies and some progressive material mixed in. Heavy music itself is a lifestyle choice, and we strive to embody that with both substance and wit."
Zero Theorem's debut EP, Ataraxis will be released on May 4th, 2018 through Tunecore on Shim Sham, LLC.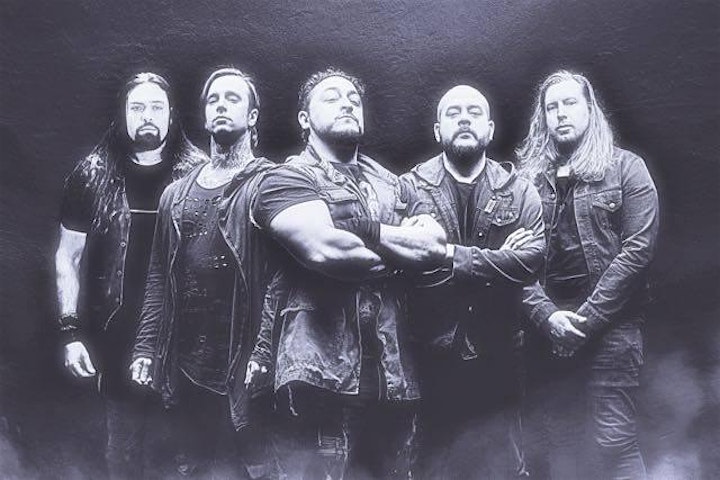 THOU SHALL KILL
The time has come once again for a new reign of power. From the north through rain, wind, and storm comes a new breed of death metal. Bringing back what was once lost in today's death metal. The art of creating dark and spiritual music that empowers the listener with a sonic soundscape of the past, present, and future. Thou Shall Kill are visionaries, not followers of trends but in fact creators of a new & truly different style of sheer apocalyptic destruction. This art of extreme metal will see new horizons as we strive to work hard and continue to bring quality yet devastating metal to the masses. Showing extreme technicality and memorable songwriting skills and show no mercy attitude to create memorable song's. Bringing back the sound, the attitude, the darkness of 90's European/ Florida death metal with a modern day touch. Releasing the 2006 demo " Penance Of Death." Then releasing the 2008 "Feeding Christians To Lions" and 2009 "True Evil" promo songs. Started as a one man project founded in 2004 in Los Angeles Ca. The living entity of founder guitarist/vocalist Dragonis Khan stopping at nothing and never compromising to change. Staying true to the the spirit of death metal and it's legacy. Dillon "Destroyer" DePoe on drums carries the fast and heavy beats that can only be found in the deepest depths of the earth. Frank "Freak" Kattner the headhunter on bass lows from the darkest depths of earth. In April 2011 the "From The North" four song E.P. was released. Now in 2017, circle pits have become the new coliseum of blood elbows, ears, and necks that will never be the same again. The kings of Seattle death metal and the assassins throne have risen, ruled, and dominated by releasing their long-awaited new album "Death King Enthroned" on August 18th 2017... and has caused destruction and chaos throughout Washington State!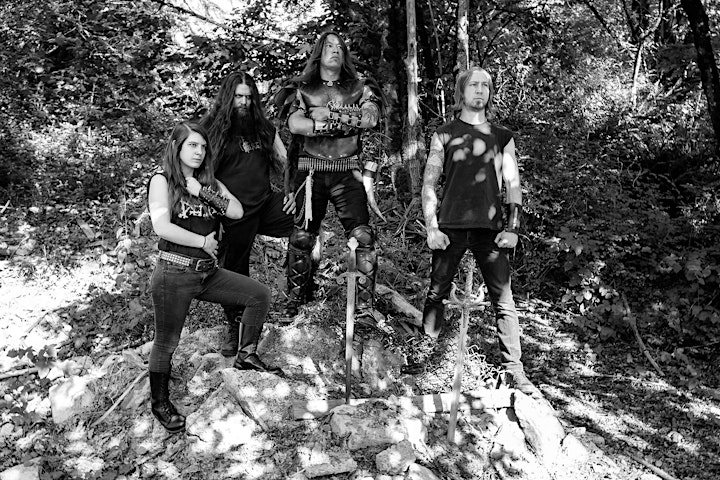 Venue Information:
Funhouse
109 Eastlake Ave E
Seattle, WA, 98109