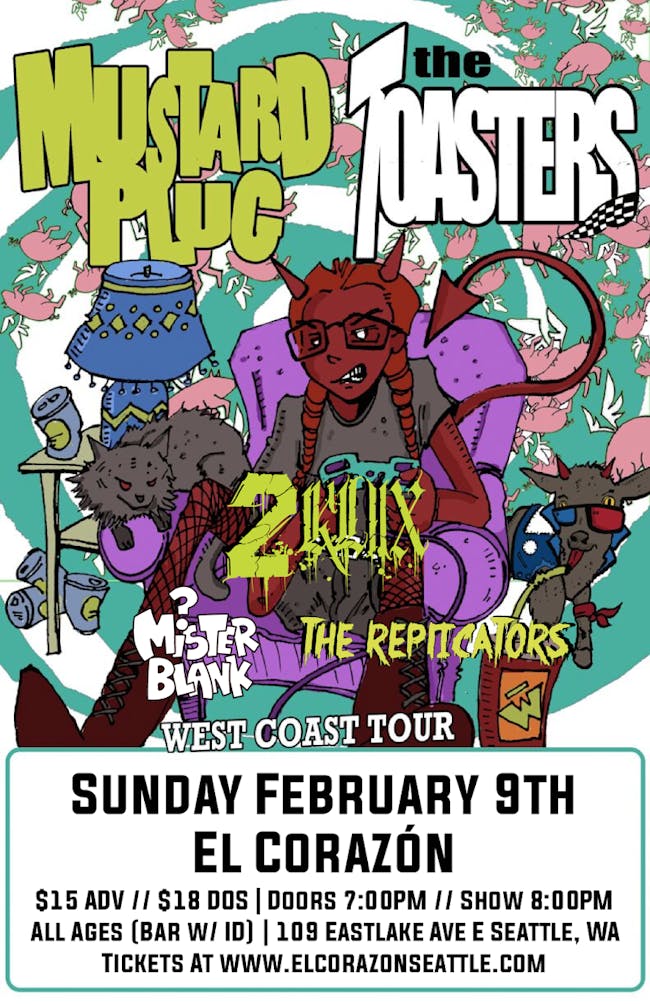 Mustard Plug
The Toasters
Mister Blank, The Replicators, Super Sonic Battle Squad
El Corazon
Mustard Plug & The Toasters at El Corazon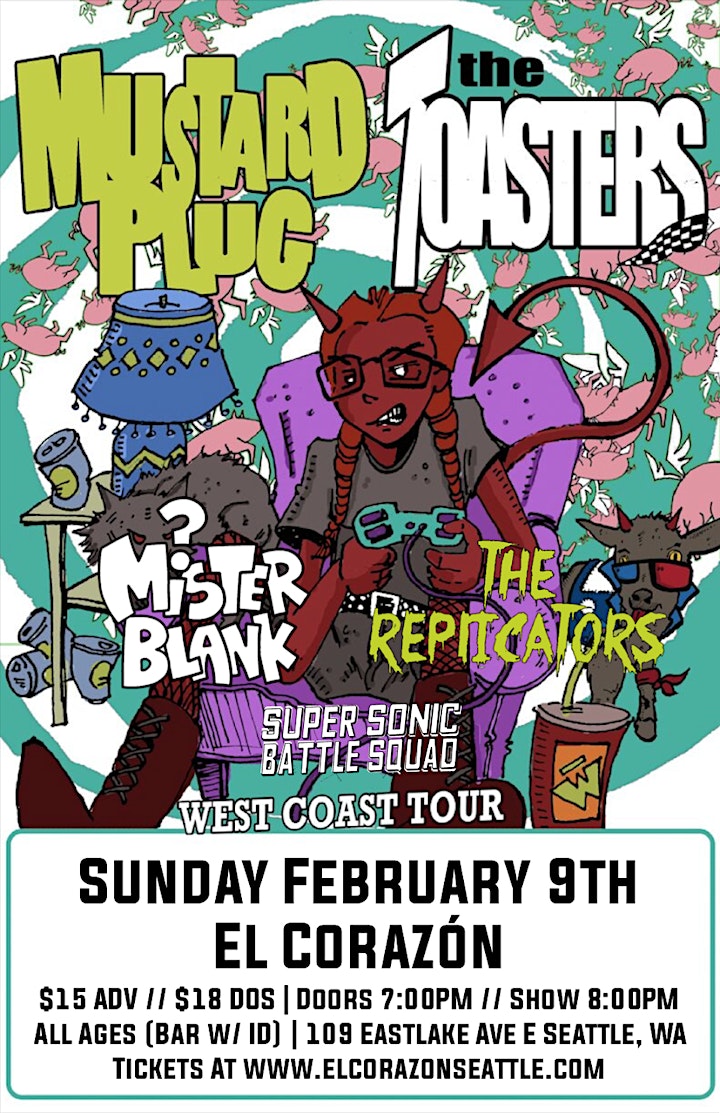 MUSTARD PLUG
Mustard Plug started out in the punk clubs, basements and dive bars of the Midwest, playing punk-influenced ska music before most people in the U.S. had ever heard of ska. They clung to a DIY work ethic that had been ingrained in them growing up in the 1980′s hardcore punk scene and applied it to everything they would ever do together as a band. Mustard Plug released their first cassette tape themselves (1992′s Skapocalypse Now!), and played constantly to earn enough money to record their first album – 1994′s Big Daddy Mulititude. Their debut full length was released on legendary NYC label Moon Records (home of Toasters, Hepcat, Dance Hall Crashers, and pretty much every other 90′s ska band of note). With their new found national distribution and exposure, the band climbed into their van and performed their music to new fans across North America. Twenty-one years, 1500 shows and 200,000 album sales later, it cannot be denied that the band has surpassed all expectations and permanently staked their claim in contemporary music.
For their new album, "Can't Contain It", Mustard Plug have returned to the DIY blueprint that the band was built upon, while at the same time embracing all the school of hard knocks craftsmanship and wisdom that the band has earned along the way. The band spent the last several years writing new material that was informed by 22 years of songwriting experience while retaining the youthful energy that has endeared them to their fans. They tracked the record at bassist Rick Johnson's Cold War Studios, giving them the flexibility to experiment and add new layers and dimensions that were not possible given the time constraints on their previous recordings. Many of their musician friends(Dan Potthast, Sean Bonnett, Mark Petz, Corey Ruffin) were tapped to contribute, creating a denser, more intricate sound.
Once the recording process for Can't Contain It was complete, the band turned to their fans to help finance the mixing and production of their record. Their Kickstarter campaign surpassed all their expectations, doubling their initial goal and re-confirming the support and love of their audience. The tracks were then sent to be mixed at Bill Stevenson's Blasting Room Studios where Mustard Plug had recorded 3 of their previous albums (including 1997's breakthrough "Evildoers Beware" and 2007's "In Black and White"). The result is possibly their most diverse and best record to date.
After tapping their friends and fans to help out with the recording, the band turned to more of their posse to collaborate on the artwork. Underground icon Jeff Rosenstock designed the album packaging, while noted artists Craig Horkey and Larry Kole created alternative limited edition album covers and posters. The final piece came together when at the last minute, No Idea record founder, Var Thelin heard the record and offered to partner with the band on its release. Mustard Plug is excited to be given the opportunity to collaborate with a label known for its' strong punk rock ethics and underground credibility.
Ultimately, this release is about the community Mustard Plug has built during its' 22 year existence. Coming full circle back to the DIY scene and the community that the were born out of has helped them to put out their best record to date.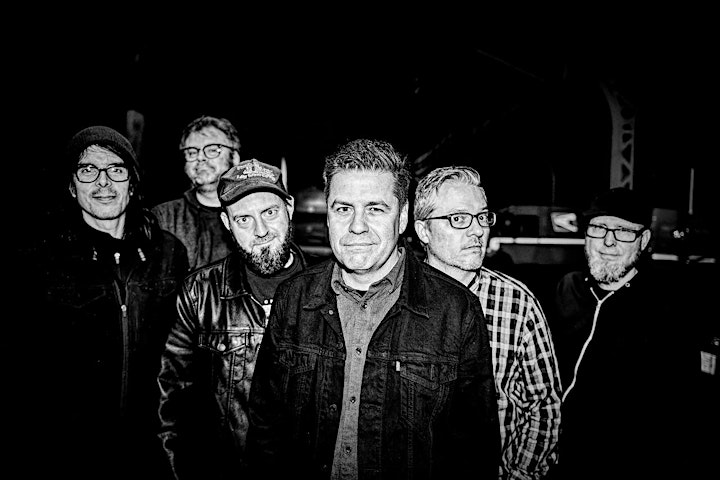 THE TOASTERS
The Toasters, are "Ska Pioneers" (Billboard magazine) and boldly go where no ska band has gone before. Having been compared to the Ramones, due to their longevity and adherence to core principles, the Toasters are held to be one of most influential ska bands out there. Their lean, mean ska machine has galvanized audiences and musicians alike with their embrace of the Jamaica-born pop music style that overwhelmed England in the 1960's, migrated to America in the early 1980s, and went global in the 1990s. The hallmark Toasters sound sits at the nexus of Reggae, Jazz, Punk and Soul and is the musical equivalent of a brass knuckle-duster.
Formed in New York City by British guitarist/frontman Rob "Bucket" Hingley in 1981, the Toasters exploded onto the Lower East Side scene. Cutting their teeth with a residency at legendary clubs like CBGB and Danceteria, the band has defied gravity and industry skeptics alike by staying true to their original 2-Tone ska roots, whilst logging over 4000 globe-trotting live appearances.
Longtime fans and critics agree, the current "International All-Stars" posse (featuring members of some of the world's greatest ska bands) is one of the most formidable in The Toasters' long and chequered history. Along with the irrepressible Bucket on lead vocals and guitar, The Beat's Andy Pearson is featured on bass. Expect to see Neil Johnson (Planet Smashers) and Tommy Quartulli on saxophone (The Allstonians), Greg Robinson (Mephiskapheles) on trombone and Jesse Hayes (Westbound Train) on drums. Special appearances by Arjen Bijleveld (Rotterdam Ska-Jazz Foundation) and Buford O'Sullivan (Easy Star All-Stars) are also to be expected in 2009. Legendary keyboardist Dave Barry rounds out the posse.
As the founder of Megalith Records (and former boss of the legendary Moon Ska Records, the most influential ska label of the 1990s) the Toasters' leader, Rob "Bucket" Hingley has a ska resume that trumps virtually anyone else in the business. With the aid and support of likeminded musicians such as producer Joe Jackson, who has worked with the band over the years, he has been able to compile a recorded legacy and a songwriting catalog. Among the many ska classics Hingley has penned: "Weekend In L.A.," "Matt Davis," "2-Tone Army," "Social Security," "Dub 56"—and the list goes on and on.
In the commercial realm, the Toasters have recorded jingles for AOL, Cisco Systems, Miller, Anheuser-Busch, and Coca-Cola, and have contributed to movie and television scores (Bleached, Bang!, MTV's Wildboyz, Mission Hill, Kablam!, Showtime's Brotherhood, etc.). Where Bucket and The Toasters truly excel, and live up to their reputation as one of the greatest bands of all time, however, is on the road. Averaging more than 200 performances a year, the band is well on its way to playing its 5,000th gig, a milestone they should achieve by the end of the decade.
Toasters fans from all over the world have known for a long time that their favourite ska band is the coolest group around, a true classic. Now, it's time for everyone else to catch up, and get hip to The Toasters!
The Toasters are currently sponsored by the following partners: Conn-Selmer wind instruments, Ludwig drums, Jagermeister, Ska Brewing, Pick World, Ernie Ball, Greasy Groove, Reverend Guitars and Instanbul Cymbals.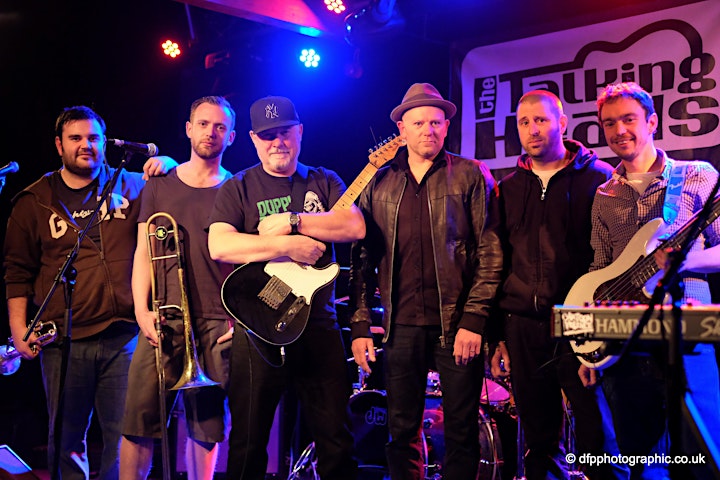 MISTER BLANK
As It Gets Worse parts ways with us, we're staying behind to keep rocking, rolling, and making music for the Seattle area! We've got some new (and some old) tunes coming out very soon, with a west coast tour not too far behind! We can't wait to see all of our favorite fans, as well as new ones in the next chapter of our musical lives! Stay tuned, there's a lot to come!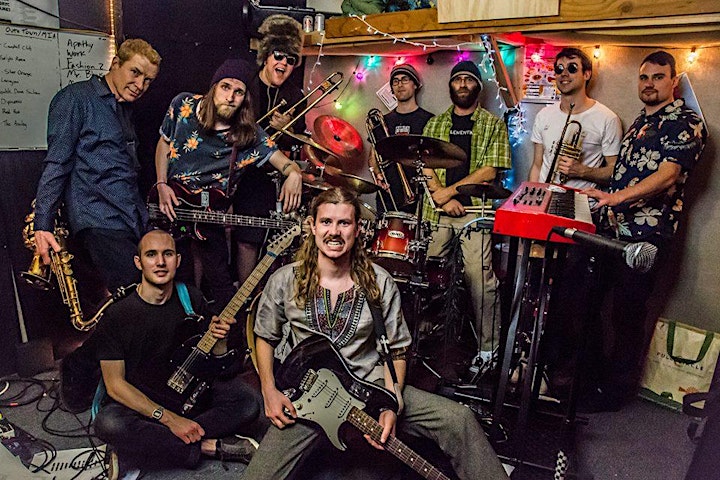 THE REPLICATORS
We have the super terrific fat-bottom-bass sounds from Locke, Bang-a-rang Boomstick Scott on drums, Aaron will re-start your engine with some crankin' Guitar strings, Twitter-pated Chris on Cornet, Kyle ripping the Slazzity-slick Sax, and Kristina takin' that mid-range Skippity-bop bop Trombone. Need vocals? We don't! Listen to all of us wail on the Mic! For real though- listen to us sing. We will make your ears bleed honey.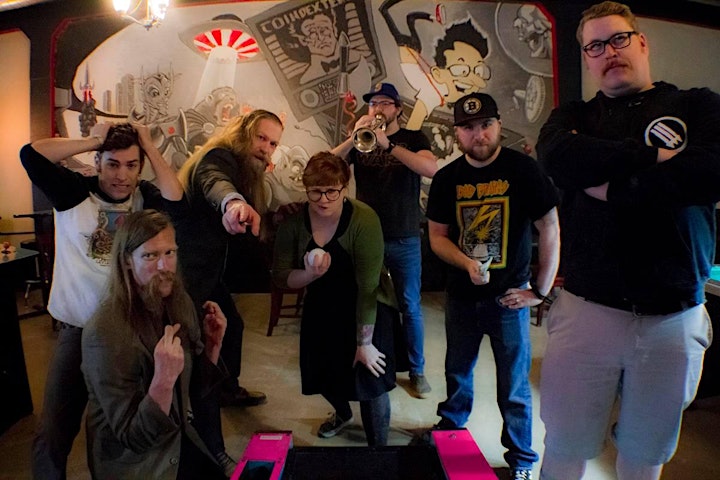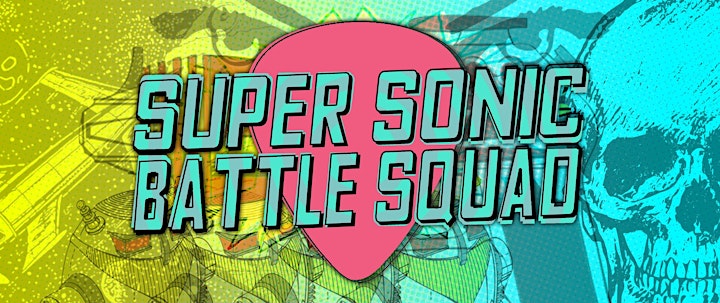 Venue Information:
El Corazon
109 Eastlake Ave East

Seattle, WA, 98109