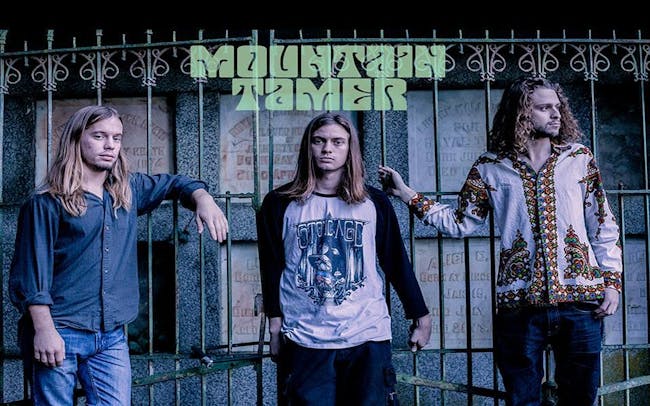 Mountain Tamer
El Corazon
MOUNTAIN TAMER - Live In The Mojave Desert (Livestream Concert Film)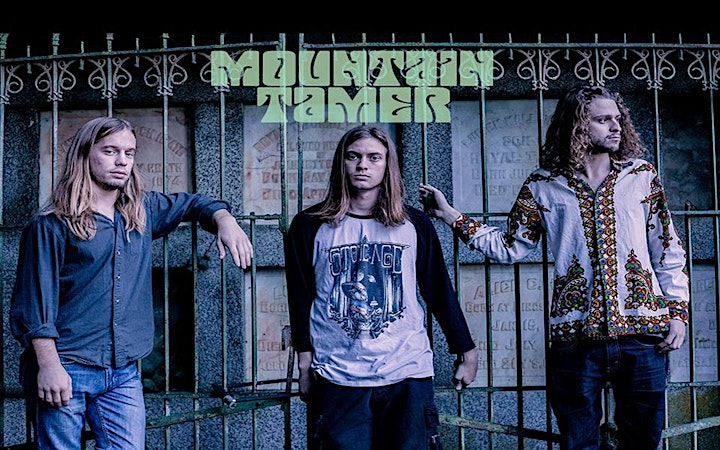 MOUNTAIN TAMER
Mountain Tamer takes the expansive vision of pure psychedelia and pares it down through the brooding and focused lens of doom and rock and roll. 
 Guitarist/vocalist Andrew Hall, drummer Casey Garcia and bassist Dave Teget, formed their signature fusion of heavy psych rock in 2011 just outside of San Francisco. Now based in Los Angeles, Mountain Tamer's cult following is built on their DIY aesthetics, inimitable songwriting, and in your face live performances.
After self-releasing several demos, the band released their s/t debut album in 2016 on Argonauta Records. Mountain Tamer toured heavily following the release, supporting heavyweight acts along the way such as Dead Meadow and Weedeater. 
 In 2018, Mountain Tamer teamed with Magnetic Eye and Nasoni Records to release their sophomore album Godfortune// Dark Matters.
The band rode the success of Godfortune// Dark Matters to a full US tour and appearances at SXSW in 2019. In 2020 Mountain Tamer signed with Heavy Psych Sounds Records and released their third album Psychosis Ritual which was met with critical praise for its genre bending aesthetics.
"Mountain Tamer stands apart from their peers with their keen sense of fusing the universally-loved qualities of doom and stoner rock with the hallucinatory freak outs of psychedelia." – Metal Injection (US)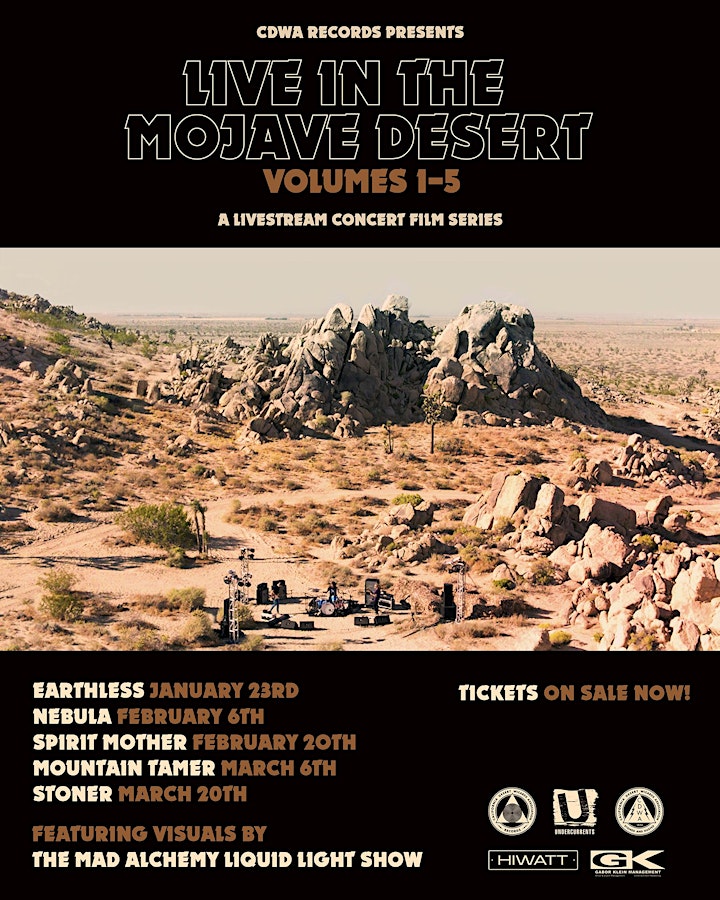 Live in the Mojave Desert - Volumes 1-5 - "a livestream concert film series"

Audio recordings made with 24 track ProTools on site.

Will stream full 1080p

Livestream events will air live, and be available on demand for 48 hours after.

Ticketholders can both watch the stream and also enjoy replay for the 48 hours following.

Each of the five presentations will be a two hour program

Hour 1 - hosted, live hangout with the California Desert Wizards and other guest hosts, presenting new original content, music clips, art, funny shit, weirdo shit, psychedelic shit, desert shit.

Hour 2 - hosted by the California Desert Wizards and the bands themselves. We will present the concert films in their entirety.

LIVE IN THE MOJAVE DESERT is a livestream concert film series created deep in the deep sand and huge boulders of some insanely beautiful California wilderness, with performances from Earthless, Nebula, Spirit Mother, Mountain Tamer, and STONER (a new band by Brant Bjork and Nick Oliveri). Each concert film will be presented in a world-premiere, 1080p HD livestream event hosted by the California Desert Wizards, the bands themselves, and your favorite rock heroes of the California Desert Rock scene. Get ready for rad music, good times, and other psychedelic, weirdo content.

Inspired by Pink Floyd's Live at Pompeii, we made five new concert films and five live albums on location. We called up a few of our favorite bands - new and legendary artists - and enlisted the Mad Alchemy Liquid Light Show to light up a huge double pyramid of boulders. To capture it all we brought in a crack squad of filmmakers, photographers and audio engineers, and now we bring it to you. Recorded in 24 track ProTools and shot in full HD, these films will turn your living room into psychedelic rock n' roll happening. Grab a couch, turn it up, and hang on man!!

This series is produced and presented by CDWA Records and the California Desert Wizards Association (CDWA), the same folks who throw the annual live music event/generator party near Joshua Tree, CA called Stoned and Dusted.

We are set to launch early next year:

EARTHLESS: Saturday 23rd January, 2021

NEBULA: Saturday 6th February, 2021

SPIRIT MOTHER: Saturday 20th February, 2021

MOUNTAIN TAMER: Saturday 6th March, 2021

STONER (Brant Bjork + Nick Oliveri): Saturday 20th March, 2021

SUGGESTED POST COPY:

Tune in! Turn it up! Sit Down! Rock out! With EL CORAZON x CDWA Records, as we join together to bring you Live in the Mojave Desert, a Livestream Concert Film Series beginning January 2021! Five New Concert Films in HD. Join us in the chatroom and get tickets now!

Stay home and party with Earthless, Nebula, Brant Bjork, Nick Oliveri, and more legends of Stoner Rock. Catch the world premiers of 'Live In The Mojave Desert' livestream concert film series. 24 track audio recordings. Liquid light show on Desert boulders. Filmed and ready to stream full 1080p from your desktop, mobile or streaming device. Begins January 23, 2021. Get Tix now!

Get Rad! Reserve your spot today for the world premiers of 'Live In The Mojave Desert' livestream concert film series. Your favorite bands in full HD 1080p, sounding great and shredding in the desert with a liquid light show on huge boulders! Hosted by your favorite desert dudes and the bands themselves. +Live chat! Hang out and rock out.

What do you get when you take five rad bands, a liquid light show, HD camera team, and Pro Tools recording engineers 30 miles into the middle of nowhere? Live In The Mojave Desert Concert film series. You can watch them all live streamed and hosted by the bands beginning January 23, 2021. Yeah buddy! Get Tix!

INSTAGRAM TAGS:

#CaliforniaDesertWizardsAssociation

#CDWArecords

#CDWA

#Liveinthemojavedesert

#stonedanddusted

#stonerrock

#desertrock

@CDWAOfficial

@EarthlessRips

@the_official_nebula

@spiritmotherband

@mtntmr

@stoner.band

@Brant_Bjork

@NickOliveri

@themadalchemistliquidliteshow

SOCIAL MEDIA LINKS:

CDWA on Facebook:

https://www.facebook.com/StonedandDusted

CDWA on Instagram:

https://www.instagram.com/cdwaofficial/

WEB LINKS:

https://www.californiadesertwizardsassociation.com/

California Desert Wizards Association on YouTube:

https://www.youtube.com/channel/UCddVHd0i_N1r4w3RsN7HxOA

Promo Video:

https://youtu.be/V_4HRcflIks

Venue Information:
El Corazon
109 Eastlake Ave East

Seattle, WA, 98109