Leo Presents and MetalSucks present
Michael Angelo Batio
Funhouse
$20.00 - $100.00
Canceled
On Eventbrite
Michael Angelo Batio at The Funhouse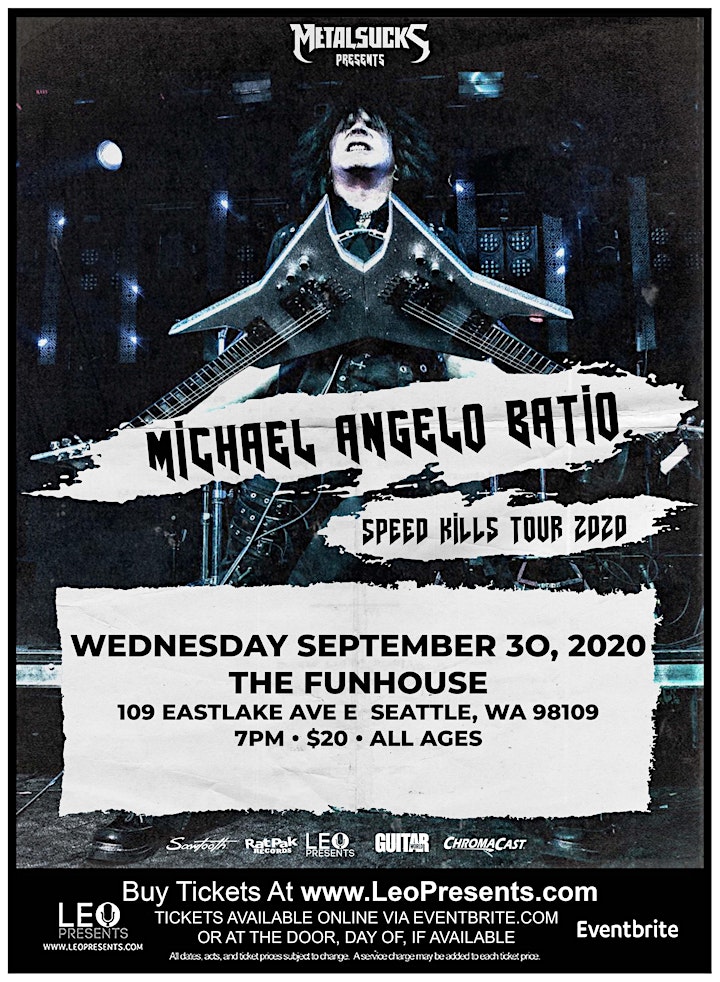 MICHAEL ANGELO BATIO
Michael Angelo Batio is an icon of Rock and Metal guitar. Michael is known worldwide for his amazing fretwork, his innovative and original live show, his inventions such as the "MAB Over-Under technique, "the V shaped twin "Double-Guitar," his 4 necked "Quad" guitar (which was voted one of the 50 most outrageous moments in Rock and Roll history by FHM Magazine,) his great songwriting, arranging abilities and his incredible sense of humor between songs at his shows.
Michael Angelo Batio has influenced the worldwide guitar community and changed the way people play guitar. His lessons have inspired major artists such as Tom Morello, John Petrucci, Dimebag Darrell, Michael Romeo, Corey Beaulieu, Herman Li and many more. People all over the world use Michael's concepts as teaching guides and Michael's influence spans generations.
More details about MAB -
Michael is one of the originators and pioneers of the entire "Shred" Guitar genre. Michael showcased guitar techniques and innovations, for the first time, on his early instructional programs as well as in live performances, which are now considered "standard techniques" among guitarists throughout the entire world.
Michael invented and was the world's first player of the Double-Guitar. Michael invented and has a patent on the MAB String dampeners that he uses on his Double-Guitar.
One of Michael's Dean Double-Guitars called the "Jet" Double-Guitar is on permanent display and was inducted into the Rock and Roll Hall of Fame in 2012.
Michael invented his signature stage move called the "MAB Over-Under" technique.
Michael invented and has a patent on the "String Dampener" that mutes the strings on his Double-Guitar.
Michael has toured in 58 countries!
Michael has over a dozen signature guitars available from Dean Guitars!
Michael also has a Dean signature pick up called the "HWS" neck pick up.
Michael has over 100,000,000 views on YouTube, featuring several "viral" videos like "Speed Kills" which is currently over 18,000,000 views.
In 2017 Michael performed a spectacular Double-Guitar version of the USA national anthem, played live at a Special Olympics event. A video of the performance was posted by a fan and has gotten over 1,500,000 views on Facebook.
Michael's latest instrumental guitar album, titled "Shred Force 1" on RatPak Records, debuted at no. 11 on the Billboard Hard Rock charts and no. 2 on a new Billboard chart called "Heatseekers." "Shred Force 1" features over 20 guest stars including George Lynch, Michael Wilton, Todd LaTorre, members of Trans Siberian Orchestra and Metal Church, Guthrie Govan, Michael Romeo, Jeff Loomis, Craig Goldy, Chris Poland, Rusty Cooley, Mike Lepond, Elliott Dean Rubinson and more.
Michael appeared on VH1 Classic's "That Metal Show" featuring host Eddie Trunk. "That Metal Show" was one of VH1 Classics most popular shows on their channel. Michael's interview on "That Metal Gear," a part of "That Metal Show," is one of the top 10 most viewed segments in the history of the show.
Michael's "Speed Kills" instructional series is one of the most famous and influential guitar programs in the world. "Speed Kills" has helped several generations of guitarists improve with techniques that are as relevant today as they were when Michael first introduced them.
VOTED THE NO. 1 SHREDDER OF ALL TIME! Guitar One Magazine
Voted one of the Top 100 Greatest Metal Guitarists of All Time! Guitar World Magazine
Michael WON the Guitar World Magazine 15th annual readers choice award in the BEST SHREDDER category. Paul Gilbert placed second, Buckethead third, John 5 fourth and finally Herman Li and Sam Totman.
Michael won the Guitar World Magazine readers choice award and was voted the "Fastest Guitarist of All Time." Over 440,000 votes were cast!
When MAB was in college and taught guitar privately, Tom Morello from "Rage Against the Machine" was his student.
Michael has also worked with Creed guitarist Mark Tremonti and Michael's instructional DVDs have helped and influenced many famous guitarists such as Dimebag, John Petrucci, Michael Romeo, Herman Li and many more.
MAB quotes
"The most blazing guitarist on the planet!" Guitar World Magazine
"Laser guided fretwork and the fastest of fingers: Mr. Angelo is practically a god. Seriously"! Total Guitar Magazine in the UK
"More machine than man"! Guitar One Magazine
Guitar World Magazine voted Michael's "Speed Kills" DVD one of the top 75 best, must have guitar DVDs of all time!
Guitar World called Michael's "Speed Kills" DVD: "The ultimate face-melting instructional DVD." "Michael Angelo Batio, the world's fastest guitarist and inventor of the mind-boggling double guitar..." Guitar World Magazine
MAB overview and background
Michael started playing the piano at age 5 and started playing the guitar at age10. At age 14 Michael was playing Jazz and by 16 won an award for outstanding Jazz soloist on guitar.
Michael is from Chicago, Illinois and has a B.A. in Music Theory and Composition from Northeastern Illinois University.
Michael has been signed to 2 major labels in his career. Atlantic Records with the band "Holland" and Rhino/Warner Brothers Records with the band "Nitro."
Michael started his own record label titled M.A.C.E. Music, Inc. in 1993 and was one of the first music companies to go on line in 1996.
MAB was a columnist for Guitar World Magazine for over 5 years. His monthly column called "Time to Burn" also appeared on TV and on line.
Michael's "Speed Kills" series instructional DVDs are some of the most famous and best selling guitar programs in the world!
Michael started as a session guitarist when he was 19 years old. He has recorded TV, radio and industrial film music for: Burger King, Pizza Hut, Taco Bell, KFC, United Airlines, United Way, McDonalds and the Chicago Wolves hockey team among others.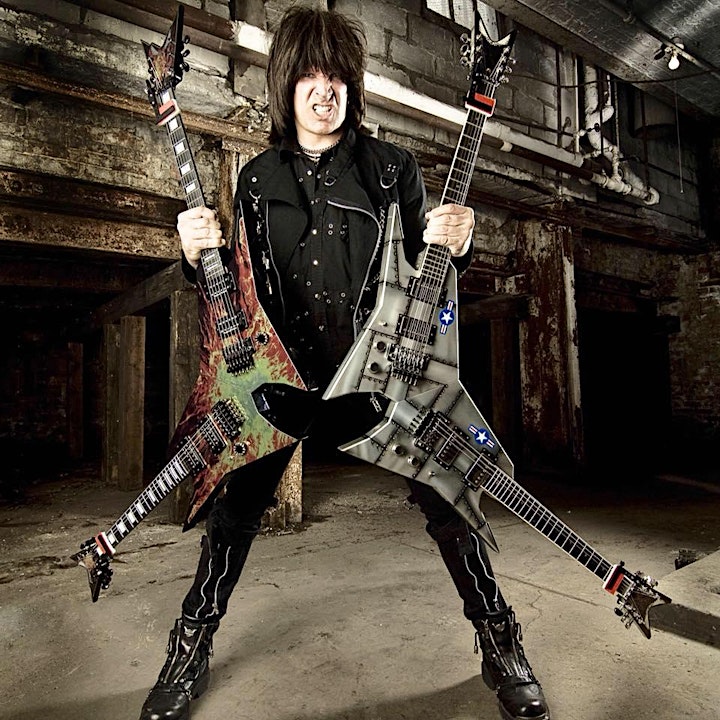 Venue Information:
Funhouse
109 Eastlake Ave E
Seattle, WA, 98109