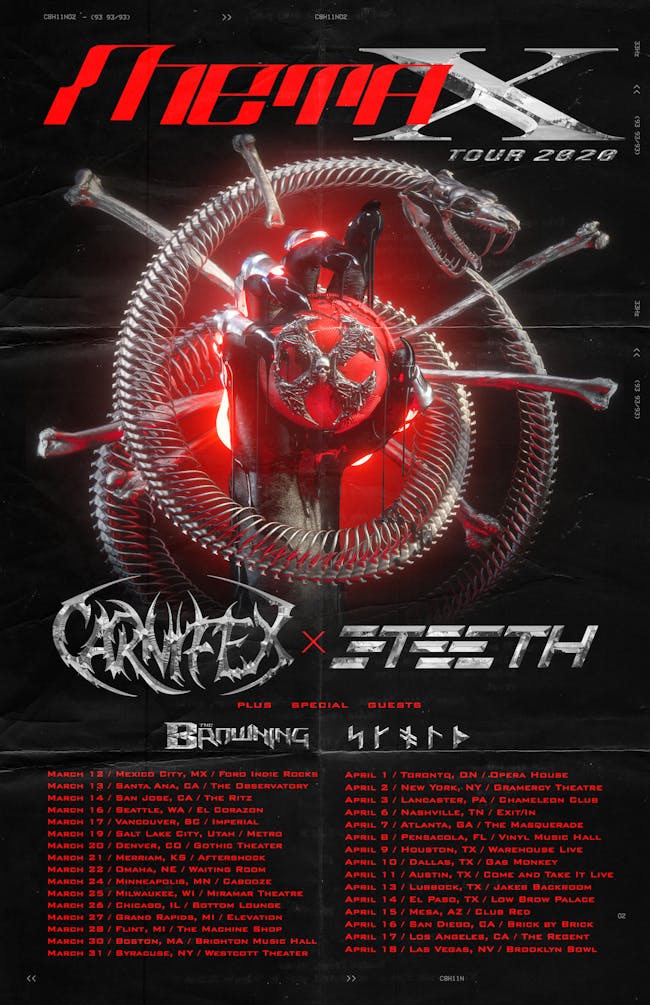 KISW (99.9 FM) Metal Shop & El Corazon Present:
META X TOUR: Carnifex
3TEETH
The Browning, Skold, Murder Weapons
El Corazon
KISW (99.9 FM) Metal Shop & El Corazon Present: META X TOUR: Carnifex / 3TEETH at El Corazon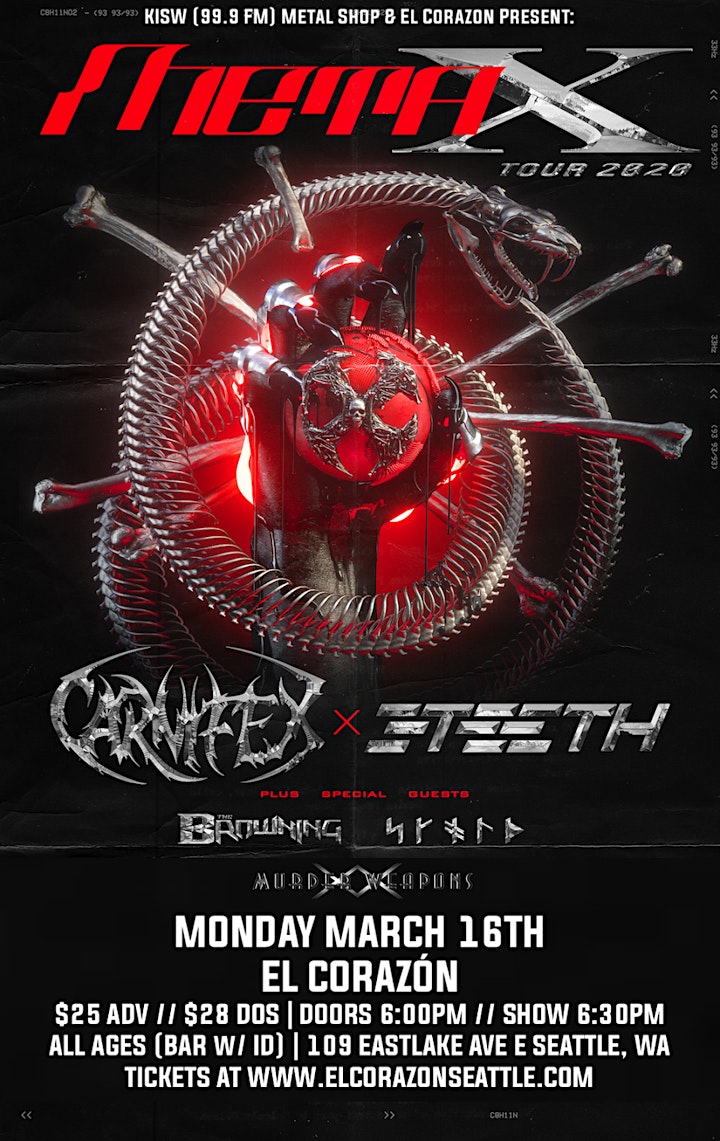 CARNIFEX
Colossal swells erupt from a vast ocean of human suffering and universal dread and in their wake present to us the latest offering from the minds of CARNIFEX: World War X. Soul darkening, eye-bloodying, flesh crushing death metal is to be expected from this group of musicians, yet with the new album comes a unique notion of unavoidable hopelessness; the inevitable rot of mankind. CARNIFEX has stoked the coals and breathed a distinct power into »World War X« that boils over into subjects and sounds of human degradation.
Still scorching from the release of »Slow Death« in 2016, CARNIFEX never really stopped their writing process but rather developed one element, and continued to flow into another to create a natural path between Slow Death and World War X. Although not a concept album as it would normally be defined, World War X is conceptually rounded in a manner which displays a distinguished theme. Through the lens of war can be viewed subjects CARNIFEX fans will be familiar with; individual struggles, and internalized challenges that can feel akin to a deadly battle.
The album artwork created by Blake Armstrong is more expansive than CARNIFEX's usual, straightforward, symbol-centric album covers. Although a shard of iconography still rests center stage, a landscape erupts around it setting forth the final physical forms of evil onto the remaining shards of the planet. "It's chaotic, dangerous, violent, mysterious... much like the album," reflects frontman Scott Ian Lewis.
Nine blistering tracks are contained within World War X and each song is compiled of multiple menacing layers which are substantially longer than previous CARNIFEX songs. There is a noticeable gain in the complexity of song structure as they deliver you further into an audio-sensory sojourn. "To me, this album is the best we've done as far as both guitar riffs and solos," says Lewis. "There's a lot of listenability there; you hit the end and you want to hit play again. There's more theatre, more depth to this record." The album was once again recorded by Jason Suecof of Audiohammer Studios at the helm of tracking and mixing (DEATH ANGEL, JOB FOR A COWBOY, THE BLACK DAHLIA MURDER), and was mastered by Ted Jensen of Sterling Sound (DEFTONES, PANTERA, AS I LAY DYING).
The title track opens the album and quickly ignites the tone of World War X both lyrically and musically. Much like a conversation, the song displays multiple, cynical points of view on the subjects of war, death, and certain destruction. "The fallout from that," reflects Lewis, "what happens when you find yourself in a place where the only way you can move forward is with those types of emotions, and that type of violence." A music video for the track, shot in the barren, death filled landscape of the Salton Sea and directed by Lewis, will also be showcased alongside the single.
'No Light Shall Save Us' featuring Alissa White-Gluz will also accompany a music video (directed by Scott Hansen) upon its release. Exemplifying the album as a whole, and containing the majority of the album's elements in one song, 'No Light Shall Save Us' was written not long after the conclusion of the »Slow Death« album cycle. "We really wanted to feature a guest female vocalist. Alissa not only has an extremely strong, recognizable voice, but a vast range of clean and melodic singing, too. It's different for a CARNIFEX song, but it still has all the elements of our sound. It's a great lead in for the album - fans are gonna hear a lot of things they haven't before, but it still sounds like us. We're trying to push ourselves within what we write, not push ourselves to go beyond our genre. I feel that at some point people feel they need to evolve beyond metal, perhaps for popularity's sake, but I think there's another way to do it, and that's just to get better at what you do." Another track entitled 'All Roads Lead To Hell' includes guest guitar solos by solo artist Angel Vivaldi.
World War X will be released on August 2nd, 2019 via Nuclear Blast Records, just in time for the band's summer headlining gig with The Summer Slaughter Tour across North America. After two years of gaining momentum with the tour (2010, 2016), CARNIFEX is thrilled to be headlining for the entire run. As usual, CARNIFEX has taken the poisons of this world and translated them into a powerhouse of extreme musical artistry t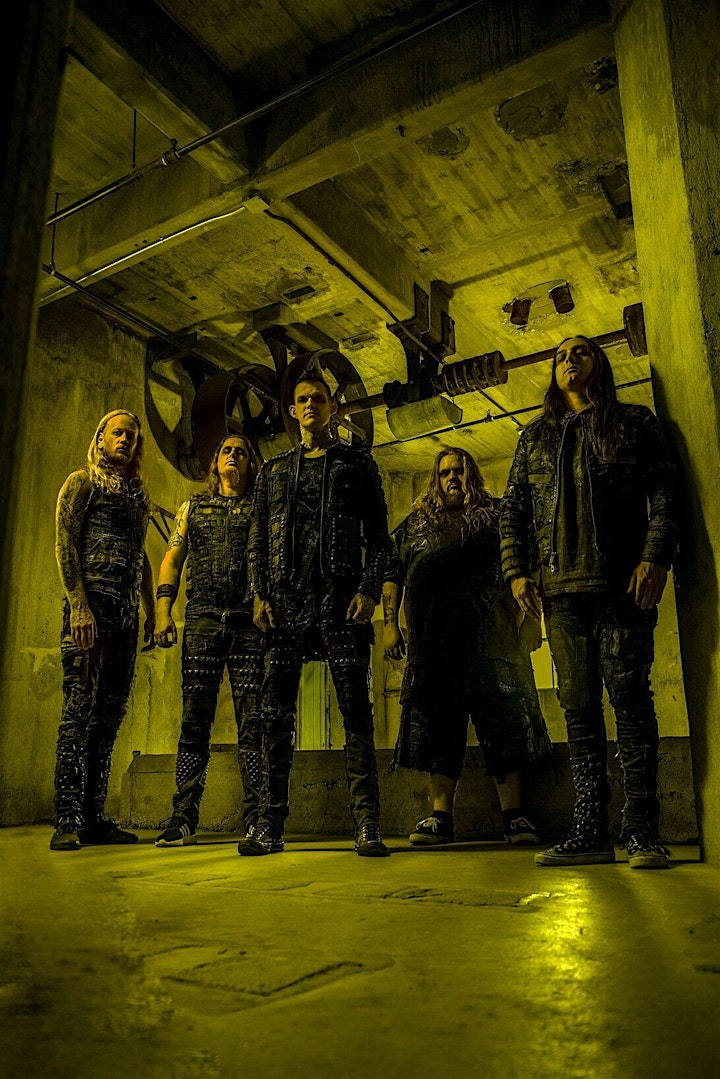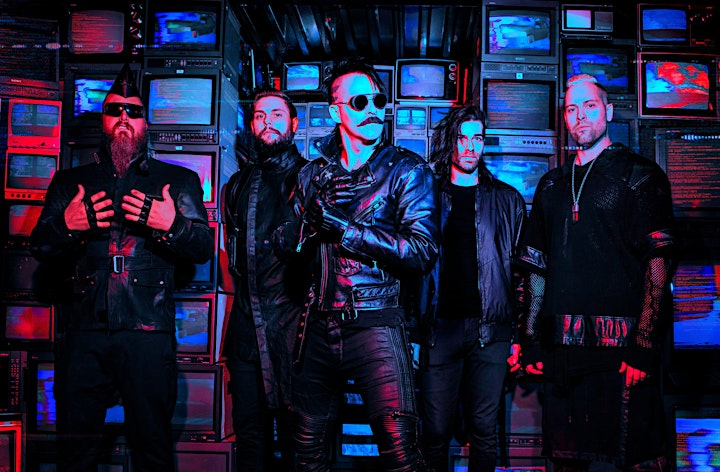 THE BROWNING
Electronicore (Electronic metalcore) band from Kansas City, Missouri, USA.
The Browning could very well be heavy music's answer to the Terminator. Whereas everybody's favorite Arnold Schwarzenegger cyborg hid an exoskeleton under a sheath of skin, the Kansas City quartet—Jonny [vocals, electronics], Cody [drums], Brian [guitar], and Rick [bass]—thinly veil a hard rock edge beneath a casing of skittering electronic dance music, hip-hop grime, metallic brutality, and industrial expanse. That signature style is "back" in a big way on their third full-length album and first for Spinefarm Records, Isolation.
Since emerging with a bang on 2011's Burn This World and refining their attack on Hypernova in 2013, the group has destroyed stages alongside everybody from Fear Factory to Static-X to We Came As Romans to Alesana to Chelsea Grin to Shadows Fall on national tours. Hypernova would clinch "Album of the Week" honors from Revolver, while their fan favorite video for "Bloodlust" would rack up over 1.8 million views by 2016 as they built an impressive social media audience exceeding 212K Facebook fans.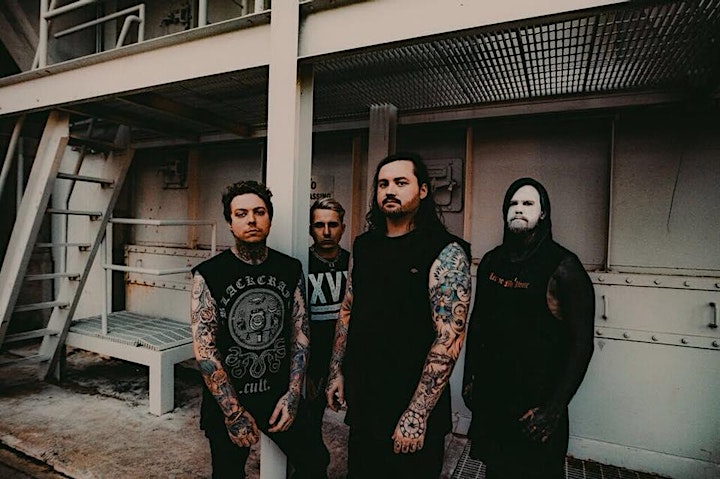 SKOLD
Rise and Revolt
Generated from a rigid society and harnessed to a culture censoring expression, Tim Skold is self-liberated and now, again, striking out like the blinding white Swedish summer sun.
Erstwhile driving forces of KMFDM, Shotgun Messiah and Marilyn Manson, and bearing the marks of a further litany of productions and collaborations, e.g. Motionless In White, he's worn of the perpetual hiatus of his eponymous devotion — turning that inside and over, growing something darker and harder.
Reborn in the ineffable name of SKOLD, and in league with Cleopatra Records, he will liberate the whole weight and title it "Never is Now".
Not content in what the studio wrought, he'll see it out in person, done justice, on North American tour for your review, your revels and your revolt.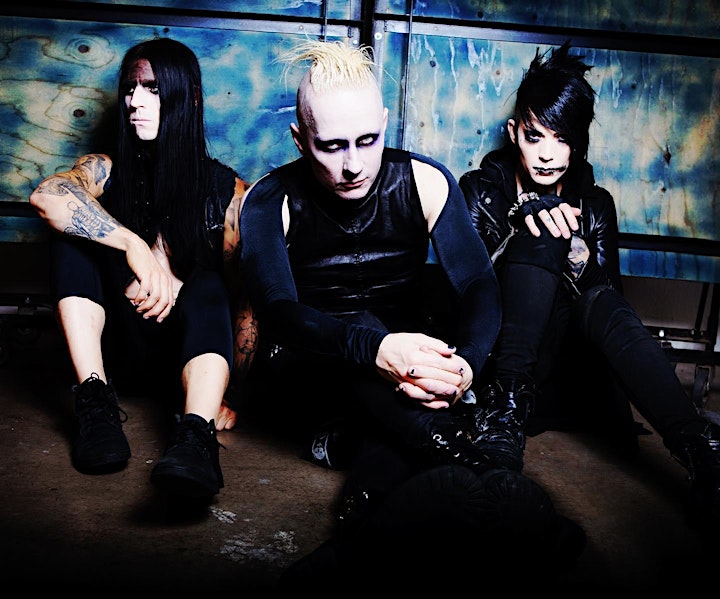 MURDER WEAPONS
Spawned due to a disdain for groups who have nothing more to do than stand on stage playing their instruments, Lunatic Clam was dedicated to providing a top quality visual show along with morbid homicide-laden musical offerings. Switching the name to Murder Weapons and acquiring a guitar player and a singer, the quintet's second show opening for My Life with Thrill Kill Kult indelibly thrust gore rock into Seattle's forefront. From there, there was no turning back.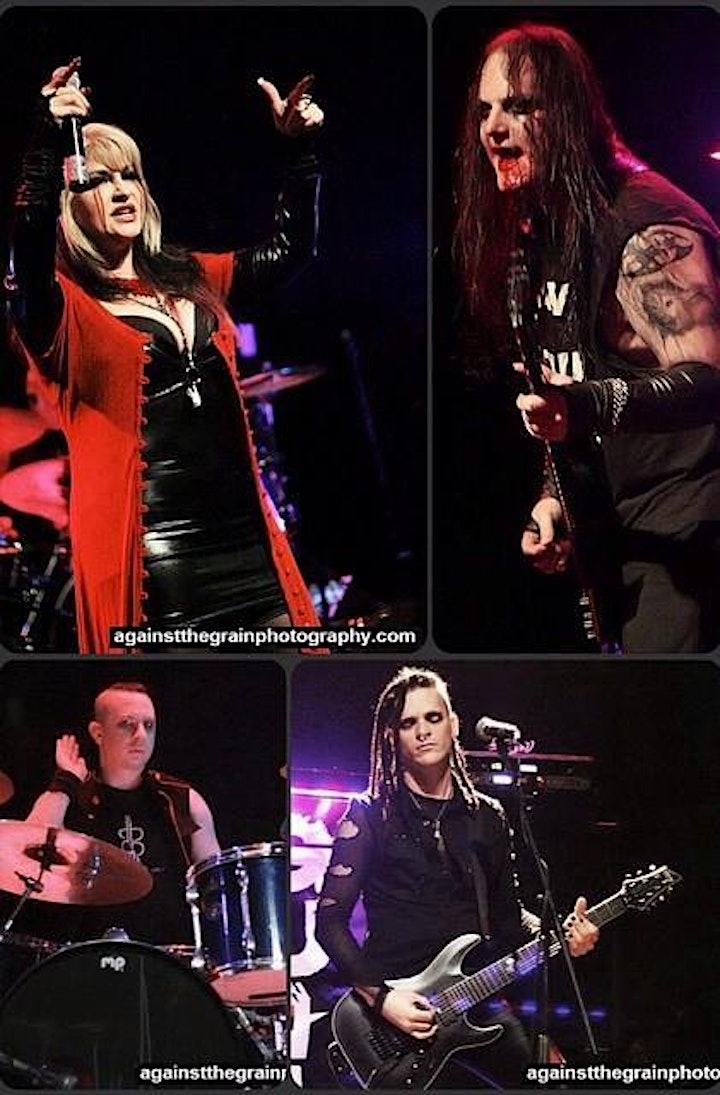 Venue Information:
El Corazon
109 Eastlake Ave East
Seattle, WA, 98109