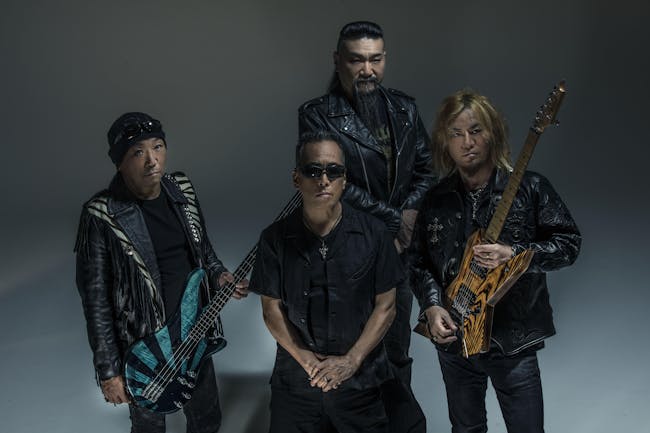 Present By KISW (99.9 FM) Metal Shop & El Corazon Present
Loudness
The Midnight Devils
El Corazon
Loudness at El Corazon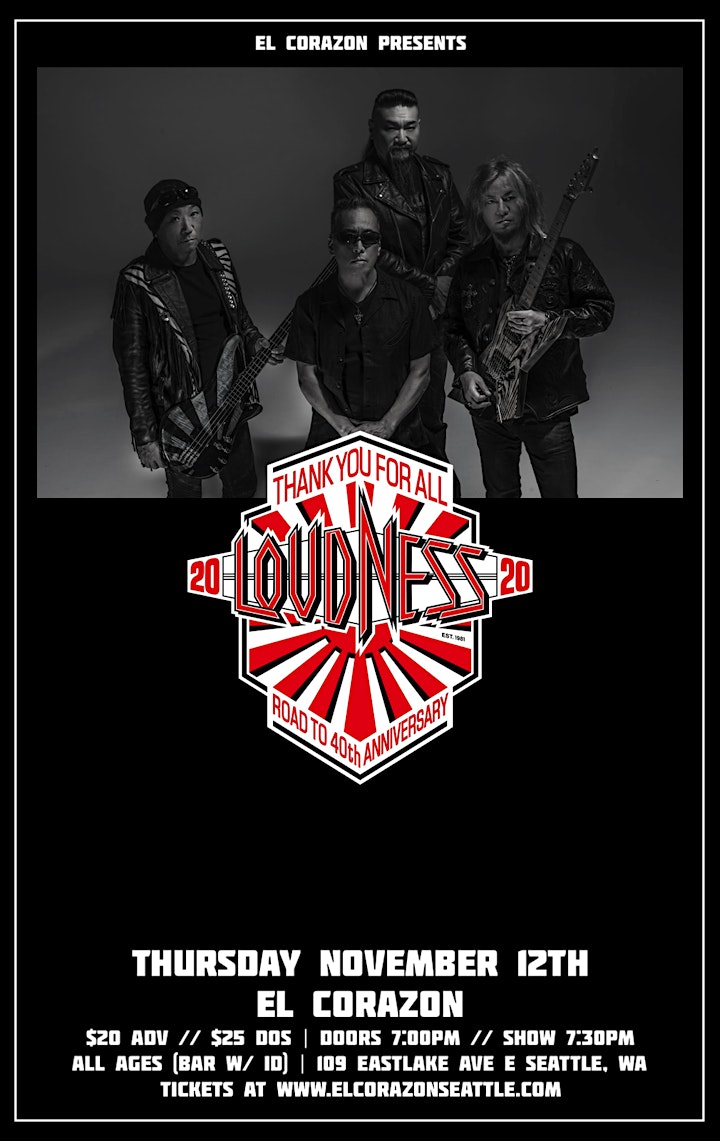 LOUDNESS
Loudness was formed in 1981 by Akira Takasaki, Munetaka Higuchi, and Hiroyuki Tanaka who were transitioning from rock band Lazy to trying their hand at a heavy metal band, unhappy with the musical direction of Lazy. Shortly after formation, however, Tanaka quit the band to pursue a career in anime soundtracks with the band Neverland. In turn, Takasaki recruited childhood friend Masayoshi Yamashita as the new bassist and shortly after hired frontman Minoru Niihara formerly of Earthshaker through an audition.
In 1985 following the band's first North American and European tours Twisted Sister's co-manager Joe Gerber helped Loudness ink a deal with Atco Records. This was the first time in history that a Japanese heavy metal band had signed with an American label, or toured the US, and under Atco, the band released their American debut Thunder in the East which was met with good sales and commercial success reaching #74 on the Billboard 200 and remained there for 23 weeks, also a first for a Japanese metal band. After two more albums and two more Billboard appearances, producer Max Norman suggested that the band hire an English speaking vocalist which would end up being Michael Vescera. Vescera would serve as vocalist for the next two Loudness albums before leaving in 1991 to join Yngwie Malmsteen.
Following a steady decline in popularity through the Vescera era, Loudness returned to Japan where Masayoshi Yamashita also left the band. He was replaced by Taiji Sawada of X Japan fame. But by 1993 Sawada quit to form Dirty Trashroad followed by founding member Munetaka Higuchi who joined Niihara's new band Sly leaving Takasaki as the only original member left. Later that year Loudness introduced replacement members Masaki Yamada and Hirotsugu Homma of Ezo on vocals and drums, and finally Naoto Shibata, band leader of Anthem on bass essentially turning Loudness into a supergroup. This lineup would release three albums before Yamada indicated his desire to leave the band in 2000.
Before leaving, Yamada suggested that Loudness hold a reunion tour to celebrate their 20th anniversary and by 2001 Higuchi, Niihara, and Yamashita had all returned to the lineup where they would remain for the next 7 years until the death of Munetaka Higuchi which was mourned greatly throughout Japan.
In 2009, the band indicated that they wouldn't be disbanding despite the passing of Higuchi and hired Masayuki Suzuki to fill the void left due to Higuchi's passing. Loudness remains active to date.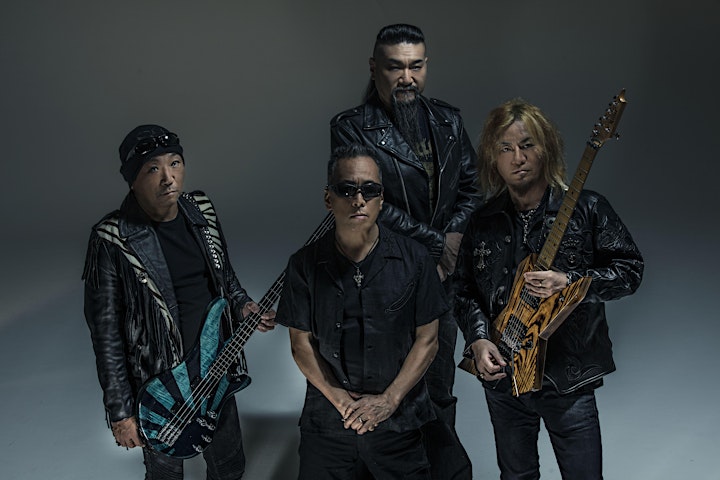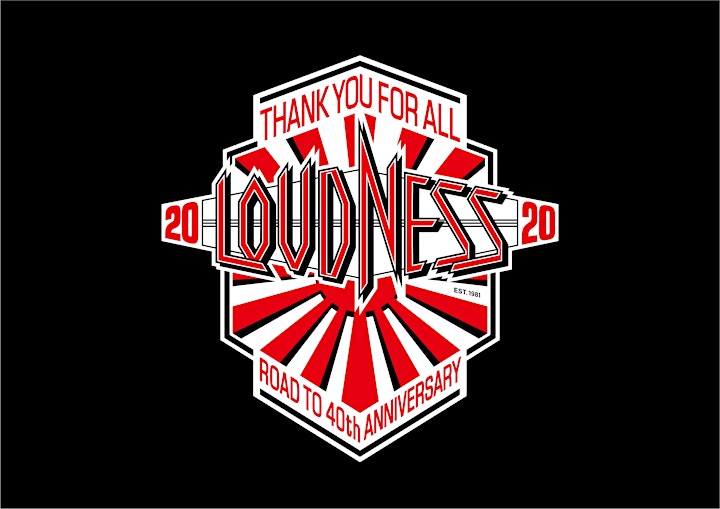 THE MIDNIGHT DEVILS
The Midnight Devils are a high energy glam slam boogie woogie rock n roll band out of Omaha, NE. It's unique and it's unpredictable, and it's Glam Rock like you've never seen it before! A little bit punk, a little bit rock n roll, mixed with a whole lot of attitude. The Midnight Devils are Sniper on lead guitar, Sam Spade on bass and vocals, and the indestructible Jimmy Mess behind the drum kit. These bad boys are here to have a good time, so if you want to party, then get on board. On July 13th 2018 The Midnight Devils independently released their debut album, "Something Bigger" featuring the singles Pink Halo and Generation Durt. Out on the road constantly over the last year and half in support of this new album, The Midnight Devils have toured nationally in the United States as well as performed at the 2018 Rocklahoma Music Festival. This isn't for the faint of heart, they're not pretty boys, they say bad words, they wear more makeup than your girlfriend, and they're pants are tighter than a frogs ass. Not recommended for normal people... but for those of you wild animals that like to walk on the wild side and get a little weird….The Midnight Devils might be just what you've been waiting for. Nothing even comes close.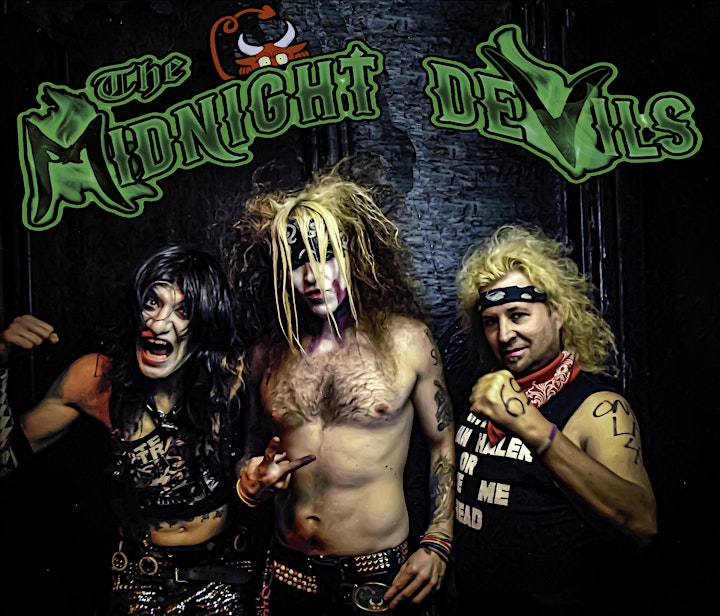 Venue Information:
El Corazon
109 Eastlake Ave East

Seattle, WA, 98109