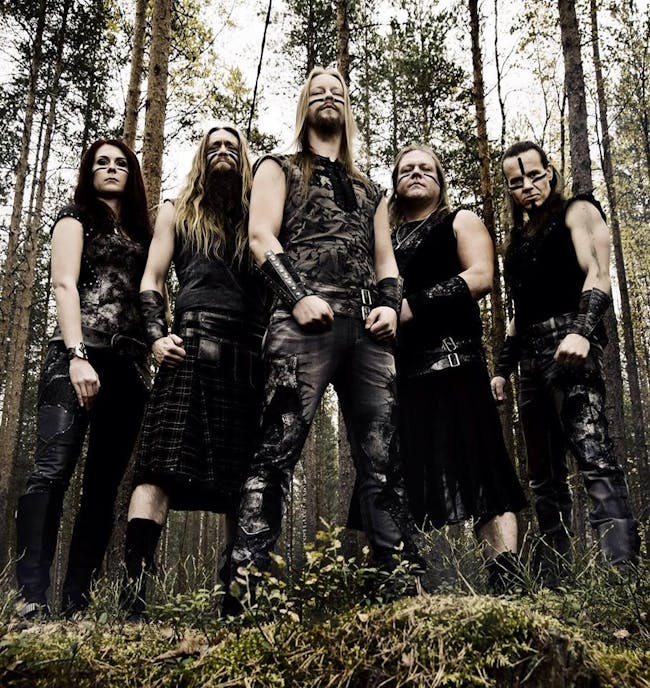 Ensiferum
Kalmah, Abigail Williams, Aenimus (2), Blood And Thunder
El Corazon
KISW (99.9 FM) Metal Shop & El Corazon Present: Ensiferum, Kalmah, Abigail Williams & Aenimus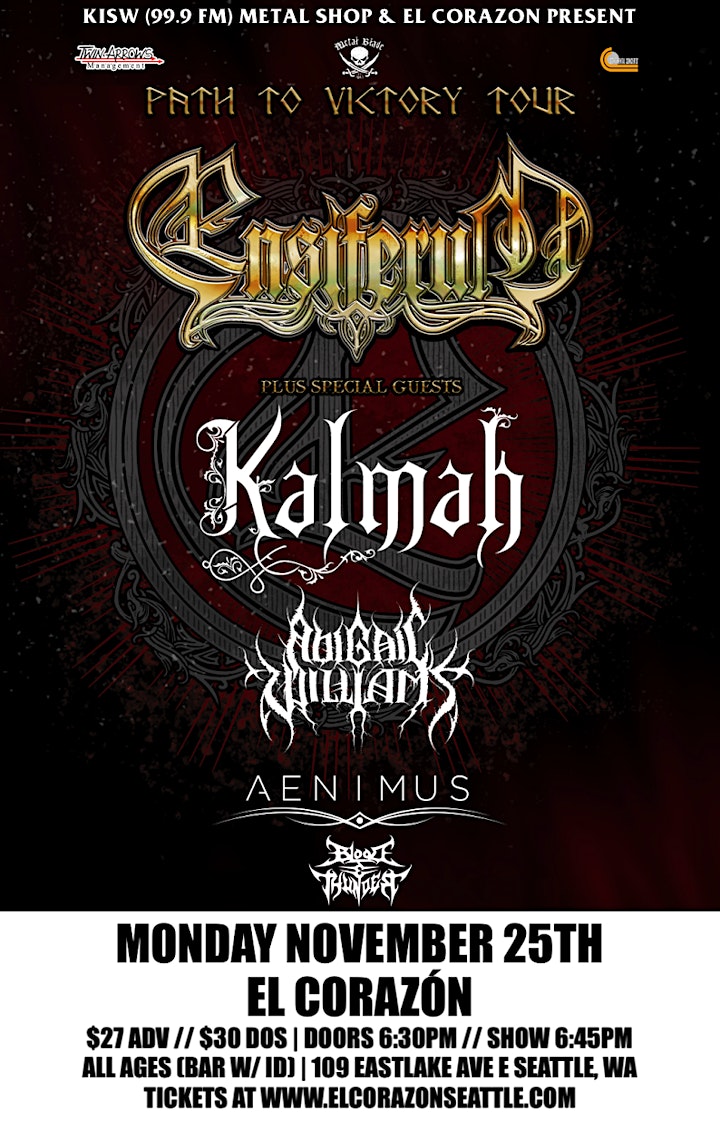 ENSIFERUM
You can't talk about the true greats of folk metal without reverent mention of Ensiferum, and with Two Paths they once more affirm their place in the pantheons of the genre. Further building upon the thrilling metallic hybrid honed across six full-lengths, Two Paths is simultaneously the Finnish quintet's most epic and far-reaching collection and their most organic, which definitely sets it apart from the pack. "When we made One Man Army (2015) we wanted it to sound more like a live album than a traditional studio album. With Two Paths we took that to the next level with analog recording, cutting down tracks and even recording songs without a click, and because of that there is a totally different kind of groove compared to most modern metal albums," states bassist/vocalist Sami Hinkka. While their ideas are huge and they consistently prove they have the talent to back them up, the band maintain the grounded MO that has served them so well over the years, with the results speaking for themselves. "It all comes down to writing music that sounds good to us and is fun to play live, and I would say with Two Paths we've done everything better than we ever have before."
With One Man Army standing as the band's most accomplished effort to date, going into the process of following it up the members were able to place faith in the intuition of each other, all driven to deliver the best record they could. For Hinkka, Markus Toivonen (guitar/vocals), Petri Lindroos (vocals/guitar) and Janne Parviainen (drums), this trust has steadily grown and strengthened with every release, and this same respect was also extended to former Turisas accordionist Netta Skog, who became a full-time member of Ensiferum in 2016. "Netta started with us as a tour replacement for Emmi (Silvennoinen, keyboards/vocals), so when Emmi wanted to step aside for good it was really natural to ask if she would be interested to join as a full-time member." As world champion of digital accordion, fans concerned that they may not be able to play their older songs sans keyboard are quickly reassured once they catch her in action. "Digital accordion is exactly like a keyboard with all the possible and impossible sounds, but with a different kind of 'user interface', and Netta really knows her stuff! She comes from a different kind of musical background, and besides being an amazing performer, virtuoso with her instrument and world class singer she is also full of creative ideas, so her input for Two Paths was really important."
Never rushing to finish songs, Two Paths includes some that were first demoed seven years ago, and due to the care and attentiveness the band invest in everything they do they maintain an enviably high standard. It is also a record with energy to spare, practically daring the listener to resist being caught up in its infectious liveliness. Whether it's the breakneck, ultra-catchy thrashings of "For Those About To Fight For Metal" or "King Of Storms", the crunchy stomp of "I Will Never Kneel" or the surging thunder of the title track, they never fail to grip, and when they slow things down – as on the cinematic "Hail To The Victor" – they somehow manage to sound even bigger. Likewise, the grandiose, heroic themes that have always run through Ensiferum's records feature in the lyrics, and while the theme of Two Paths – the choices we make, and the consequences of these decisions – also factor into this, Hinkka always prefers leaving things open to interpretation by the individual listener. "For me, it's really important that all lyrics have deeper, more serious and sometimes very personal meaning, while also fitting Ensiferum's heroic theme. It's a nice challenge to write lyrics this way, but it's also really rewarding to hear fans' interpretations of our music. There is no right or wrong in this matter." However, more literally taking the concept of Two Paths to heart, the record also includes two different versions of standout tracks "Don't You Say" and "God Is Dead". "Even though Ensiferum has always had clean vocals and choirs, harsh vocals have been the main style, and those songs worked so well with both styles that we decided to include both versions. Everyone can choose which version they enjoy listening to the most – and this will add a nice twist for upcoming tours: which version shall we be playing each evening?"
Having developed such a strong working relationship with producer Anssi Kippo (Children Of Bodom) with One Man Army, reuniting for its successor was the obvious choice. Everyone finding themselves on the same page when it came to what they were looking for, the sessions – while regularly stretched out over twelve hours – went smoothly. "Anssi has a really great recording method, in that he wants to find the best possible sound and tone for drums, bass, guitars, vocals etcetera at the start, so that as you finish the individual tracks it's close to what you want the final sound of the album to be. That way, you don't have to ponder over what you can do in the mixing." With Mikko P. Mustonen again handling orchestral arrangements and Lassi Logren returning to play nyckelharpa and violin on a few songs, Hinkka is more than happy that they brought "more bombastic orchestral and down to earth folk aspects" to the record, further fleshing out their vision. This also applies to the contribution of Gyula Havancsák, who provided the artwork for both Two Paths and One Man Army. "It was really nice to work with him again because he always wants to hear our ideas and then he adds his own magic and improvements to them, and the result is always astonishing."
As is typically the case, Ensiferum will be entering into an extensive touring campaign in support of the record, their calendar already full for the next year. Having accomplished so much since dropping their self-titled debut full-length back in 2001 their appetite has not dulled, wanting to reach more and more people with every successive release, yet they remain characteristically grounded. "I guess everyone who starts to play music will dream at some point of playing music they made for massive crowds, but I never believed that this would be a dream that would come true for me. We have achieved a lot and hopefully there is still much more to achieve. We are really privileged to be in this situation and we wouldn't be where we are today without the right people on our side, all the intensive touring we have done, but most of all our loyal and crazy fans around the world. You make this all possible, and we salute you!"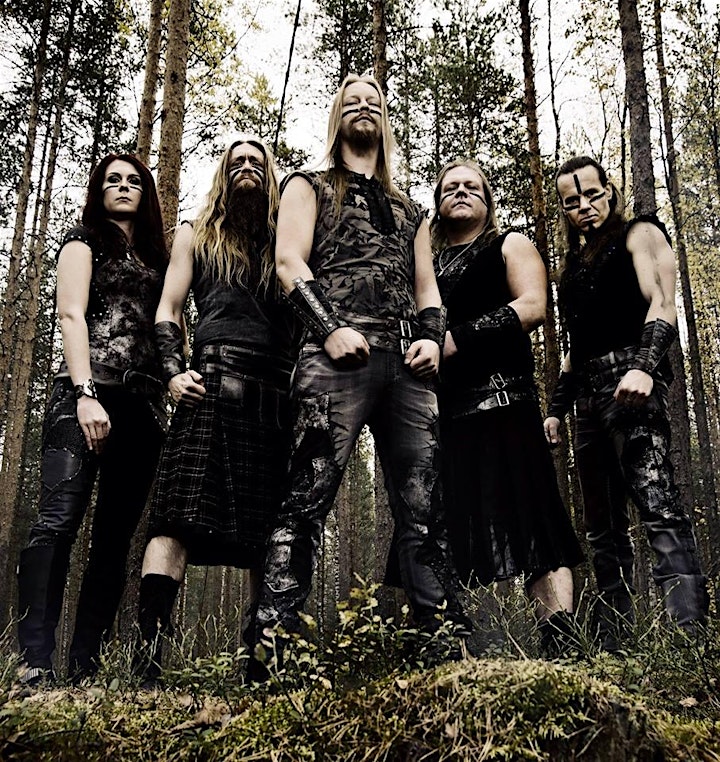 KALMAH
Kalmah is a melodic death metal band from Oulu, Finland that formed in 1998. In less than a year after its formation, Kalmah was signed by Spinefarm Records. The word "kalmah" is Karelian and could be translated as "to the grave" or "to the death".
ABIGAIL WILLIAMS
The American symphonic black metal band Abigail Williams was founded in 2005, in Phoenix, Arizona, and borrowed its name from an infamous girl accuser who was partially responsible for the Salem Witch Trials. Ironically, the group's early history was checkered with similar (if far less deadly) acts of "treason" as more than a dozen musicians sifted through their ranks, making vocalist/guitarist Ken Sorceron the only mainstay. In fact, Abigail Williams even broke up for a spell after recording 2006's metalcore-inflected Legend EP, but was resurrected the following year, relocated to New York, and signed to Candlelight Records for the release of 2008's debut album, In the Shadow of a Thousand Suns. This set the group's course on the road to black metal and led to a sophomore opus, 2010's In the Absence of Light, which featured the lineup of Sorceron, guitarist Ian Jekelis, and drummer Ken Bedene. Most of that lineup remained for 2012's Becoming, an album that shifted the band's sonics toward dark, atmospheric, post-psychedelic black metal. AW toured in support and the set received more praise than previous outings.
The AccuserSorceron was restless, however. Formerly a member of Lord Mantis himself, he enlisted former drummer Charlie Fell and bassist Will Lindsay (also of Indian), along with former Wolvhammer guitarist Jeff Wilson in late 2014. After rehearsals and collaborative writing sessions, Sorceron took this version of Abigail Williams into the band's home studio in Olympia, Washington and cut The Accuser in five days. A more intensely focused black metal offering than they'd issued before, it was released by Candlelight in the fall 2015.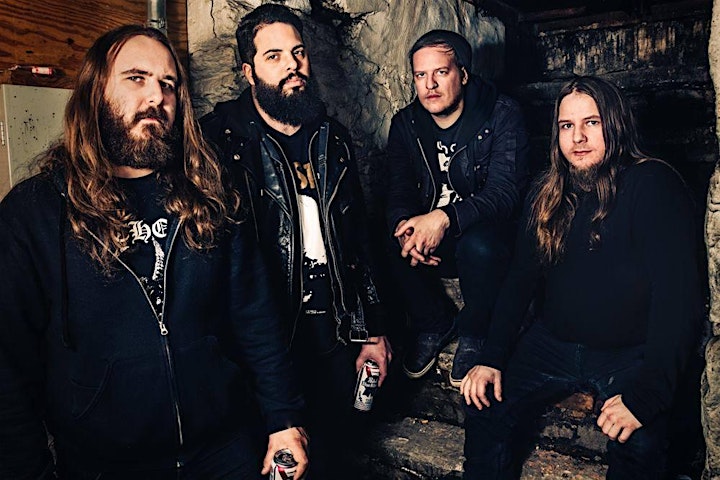 AENIMUS
Aenimus is a progressive extreme metal band based out of San Francisco, CA and recently signed with Nuclear Blast Records. Debut album, Transcend Reality, engineered by Nick Botelho of NB Recording. Aenimus takes elements from the best in extreme and progressive metal and seamlessly blends them together into one cohesive crushing debut album. New album Dreamcatcher out now on Nuclear Blast Records.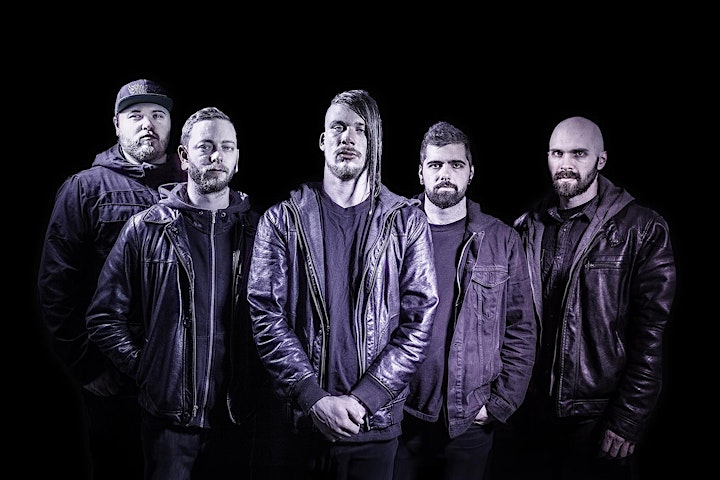 BLOOD AND THUNDER
Seattle's burgeoning metal scene has given birth to a new force where the ley lines of dark melody and brutality intersect: Blood and Thunder. Weaving together intricate guitar-craft, ringing, swirling keyboards, bludgeoning bass and drums, and a mix of crack-ice blackened vocals and wolfish death-metal roars, Blood and Thunder create melodic death metal that both crushes and loads your head with barbed hooks that won't come loose after the music ends.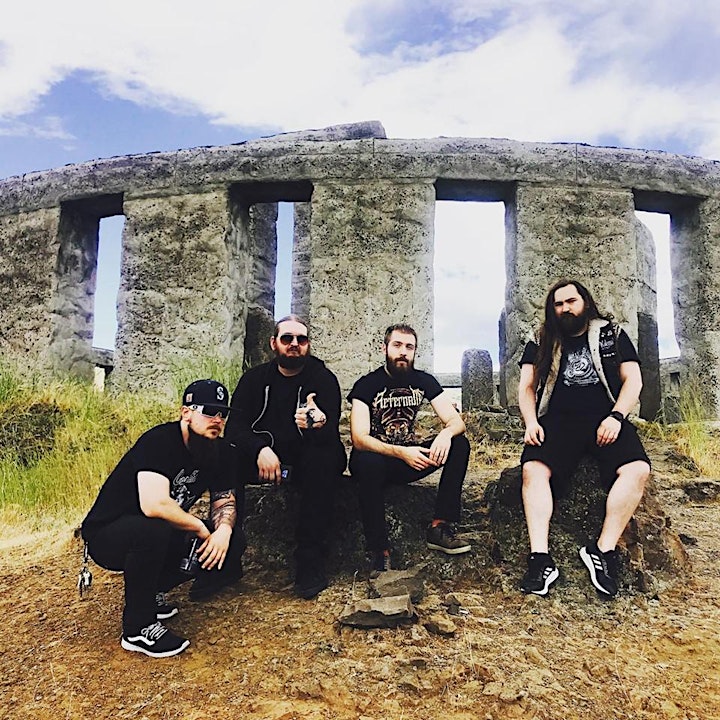 Venue Information:
El Corazon
109 Eastlake Ave East
Seattle, WA, 98109