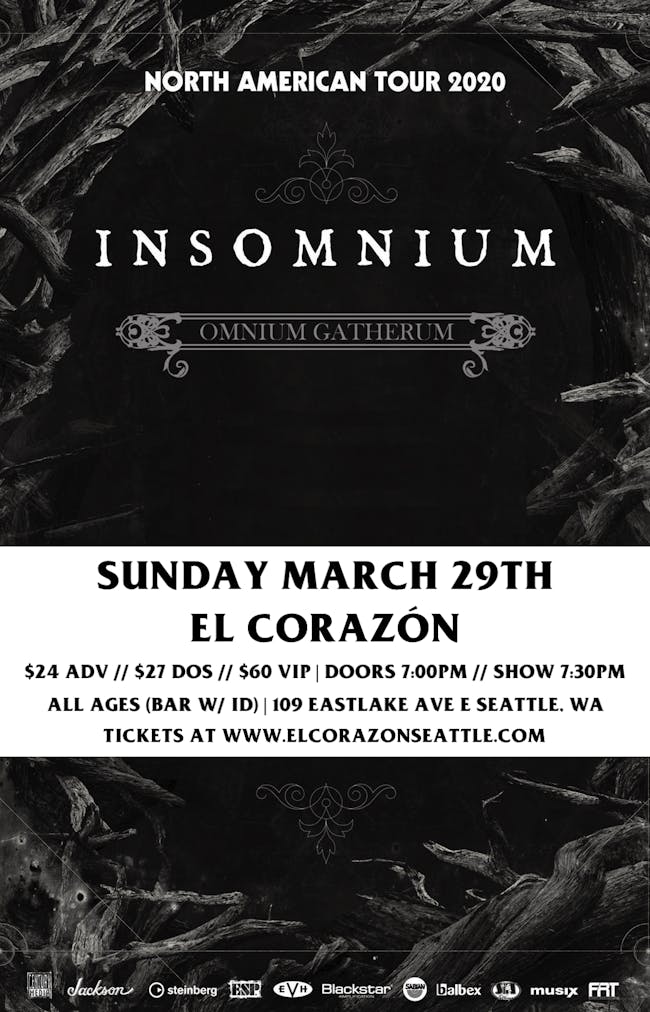 Insomnium
Omnium Gatherum, Seven Spires, Aphelion, Locistellar
El Corazon
$24.00 - $60.00
Postponed
KISW (99.9 FM) Metal Shop and El Corazon Present: Insomnium LIVE with Omnium Gatherum and ApHelion at El Corazon - Seattle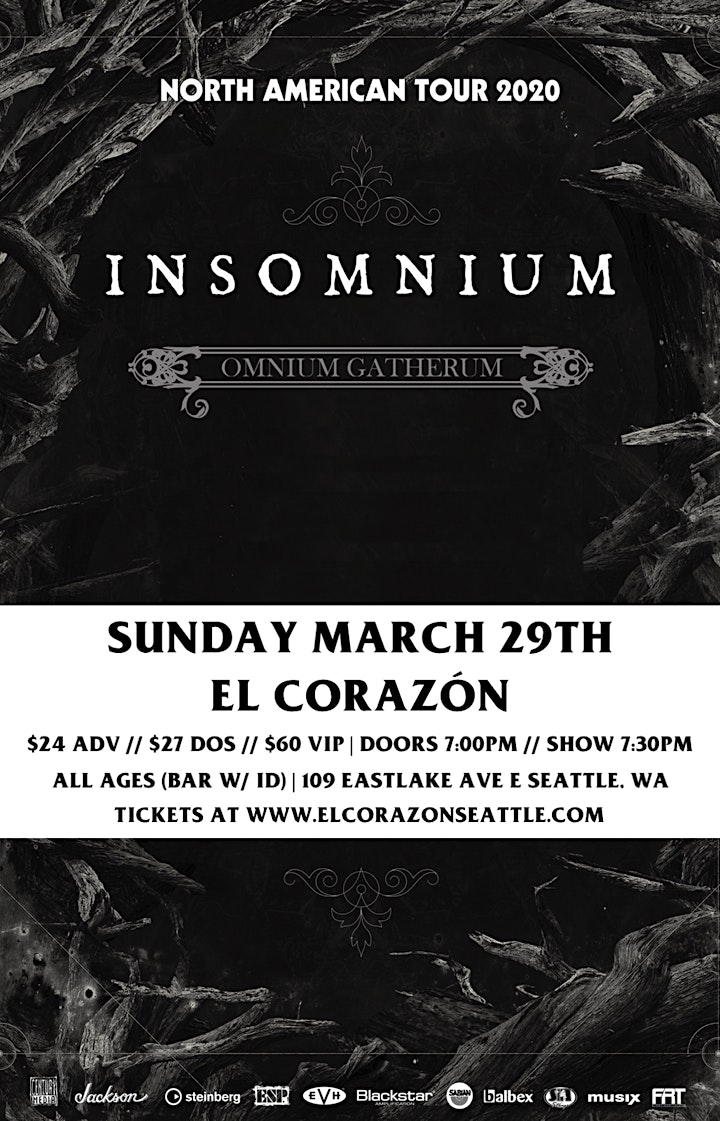 INSOMNIUM
Hailing from the land of thousand lakes, boasting with a thousand melodies and spawning a thousand emotions comes "Shadows Of The Dying Sun", sixth studio album of Finland's melodic metal magicians INSOMNIUM. An album born of the melancholy, sorrow and dreariness of long winter nights, as relentless and overwhelming as an autumn storm and yet as refreshing as the first sunbeams of a spring morning and as peaceful as a mild summer's eve. Two and a half years after their acclaimed masterpiece "One For Sorrow" the Finns return with an album that brings them one step closer to the Olympus of melodic metal where their established countrymen Amorphis shouldn't ensconce themselves too comfortably. "Shadows Of The Dying Sun", which once again immerses deeply into stirring abysses of melancholy, is even more varied, intense and dynamic than its predecessor – with each new album INSOMNIUM seem to bring their songwriting craftsmanship closer to perfection. "We haven't changed our style dramatically", vocalist and bassist Niilo Sevänen explains the general approach of the new album. "Fans can rest assured that it is still classic INSOMNIUM. Of course there's also some new flavors here and there, and maybe it's even more diverse compared with the last album. The easy stuff is easier than before, the heavy stuff is heavier. The contrasts between the songs are probably bigger than on any of our previous albums."Exhibit A for the impressive sonic range INSOMNIUM cover on "Shadows Of The Dying Sun" is placed right in the centre of the album: While the beastly "Black Heart Rebellion" features brutal blast beats and even ventures into black metal realms, the ensuing gut-wrenching semi-ballad "Lose To Night" may be the softest song INSOMNIUM have ever written. An emotional roller coaster the listener cannot flinch from. Of course it takes some reruns to fully grasp all the subtleties and details of the majestic compositions gathered on this tantalizing opus, however, those are the kind of records that outlive the rush of fresh excitement and finally become something bigger than just another new album, aren't they? "That's what we aim for, to have an interesting, diverse, long-lasting album that you don't get fed up with", Sevänen describes the musical self-conception of a band that has evolved impressively since their foundation in the Finnish university city of Joensuu back in 1997.
Inspired by bands such as their legendary countrymen Amorphis and Sentenced, early Paradise Lost or Swedish genre pioneers à la In Flames, Dark Tranquillity, At The Gates or Opeth, 17-year-old Sevänen buried his grunge band and asked his metalhead schoolmates Ville Friman and Markus Hirvonen if they wanted to form a metal band with him. From that point, the only direction for INSOMNIUM was up: album by album – from their 2002 debut "In the Halls Of Awaiting" via "Since The Day It All Came Down" (2004), "Above The Weeping World" (2006) and "Across The Dark" (2009) through to their Century Media debut "One for Sorrow" (2011) – also introducing Markus Vanhala as the new fourth member. And tour by tour the passionate musicians edged their way to the very top of the scene and have by now become the spearhead of melodic
death metal made in Finland.Even the departure of longtime guitarist Ville Vänni shortly before their tour supporting "One For Sorrow" at the end of 2011 couldn't knock INSOMNIUM off course. With new guitarist Markus Vanhala, who has contributed considerably to "Shadows Of The Dying Sun", they found an equal substitute for Vänni who left the band amicably for personal issues.
Maybe an album title like "Shadows Of The Dying Sun" might sound cliché for a melodic metal band from Finland at first. However, once you are lost in the fascinating sonic realms that INSOMNIUM conquer here, "Shadows Of The Dying Sun" suddenly becomes the only title possible. Branding the band as cliché Finns would be quite superficial anyway, especially as melodic monsters like "While We Sleep" or the album's first single "Ephemeral" exude an immensely positive aura. "Somehow our music has always something sad, dark and dreary, and our lyrics just fit the music. It's the kind of music we love and want to make, the kind of music that makes us feel good. It doesn't mean that we are depressed or sad in our lives", Sevänen muses. "And we do have empowering, hopeful and uplifting songs as well, even though at first sight some song titles may appear quite sad and melancholic. But there is an optimistic vibe hidden somewhere in our lyrics, some hope that not all is lost."
An optimistic vibe becomes INSOMNIUM anyhow, seeing that they are about to conquer new frontiers with their manifold sixth studio album whose cover was once again designed by Ghost Brigade guitarist Wille Naukkarinen who had already done such a great job on "Across The Dark" and "One For Sorrow".
Fearlessly and wakefully, INSOMNIUM now dispel the shadows of a dying sun – and head into a new tomorrow: The dawn of musical majesty.FACEBOOK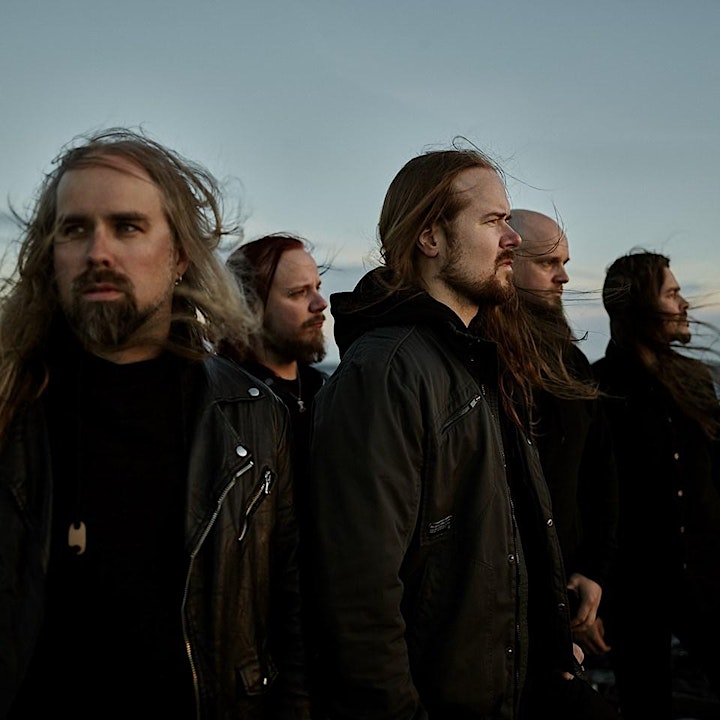 OMNIUM GATHERUM
Hailing from Finland, Omnium Gatherum is a band playing fierce death metal with breathtaking melodies and progressive originality for people in the metal field looking for something different that still is catchy. A band that truly walks it's own path proudly and shows some new exciting sides on identifiable character. A band of many directions and styles, some of them clearly visible while others were more unseen - namely working and keeping it all together under the moniker of melodic life-and-death metal and bastardizing it with various influences. Adult oriented death metal that it is!"THE DEMOS"During the first spring rays of 1996 a thing called OMNIUM GATHERUM took its first steps and shapes in a gloomy and oily cellar in the south-eastern harbour town of Kotka in Finland. Omnipotent young fellas Markus Vanhala and Olli Lappalainen (who's still a part of the band as an art designer & have made all the OG artworks since the very first demo) were extremely influenced by the rapidly ascending wave of scandinavian melodic death metal and the polar alliance between brutal death metal spiced with the despairing Finnish melancholy. The result of intensive training was seen as a four demos; "Forbidden Decay" '97, "OG-ep"'98, "Gardens, Temples...This Hell!" '99 & "Wastrel" '01, that built up a quality cult following in the underground scene and set standards for the up-coming.
"STEAL THE LIGHT" 2002After the highly acclaimed "Wastrel" demo the band signed a deal with the growing UK metal label Rage Of Achilles and were sent right away to the Sonic Pump studio in Helsinki with Nino Laurenne to re-record their latest demo as debut EP entitled "Steal The Light" during the last days of 2001. The debut EP was released after a long, long wait in September 2002 and both the critics and the audience seemed to like the stuff and the metal medias awakened for the new Finns.
"SPIRITS AND AUGUST LIGHT" 2003The debut full-length album "Spirits And August Light" was released in April 2003 via Rage Of Achilles and gave the band some well deserved attention within the underground metal community and the press. The album showed another side to the light: despite the clear and catchy melodies and the stable rhythm all along the way it had a lifelike taste of dirtiness to it, with desperate love and uninvited hate searching for an outlet, like something you didn't want to see happen but it did nonetheless. The reviews were unbelievably great, for example being the only Finnish band then so far with a debut review of 5/5 in Kerrang! and all the major metal magazines followed in the same vein. So far, so good... so what!
"YEARS IN WASTE" 2004Next in line to be was the band signing to a metal giant label Nuclear Blast in the autumn of 2004 to release the second album "Years In Waste", as also re-issues from the "Steal The Light/Spirits And August Light" via NB. More technical, more progressive and sophisticated, thus naturally more difficult also, while at the same time keeping distance to the listener. The new recipe was completed with themes from the wasted youth and the verses of fall. "YIW" showed another way out from the great depression, and OG did the first festival appearances outside Finland. In the spring 2006 an era came to an end. The long-time singer Antti Filppu was replaced by Jukka Pelkonen aka J.
"STUCK HERE ON SNAKES WAY" 2007The debut album of "The new OmG" - featuring J on vocals - was released in April 2007 after a successful UK headlining tour and signing with British Candlelight Records. "Snakes Way" is an endless road dealing with the choices in our existence and the temptation within the mind of every soul on this third planet of ours, and unfortunately so many people are stuck. Gladly OG didn't get stuck with the album and the "Snakes Way" conducted the band to do tours abroad with Dark Tranquillity, Caliban and Entombed, spiced with a large amount of Finnish headlining gigs and the #31 position in the Finnish national album chart!
"THE REDSHIFT" 2008The 4th album "The Redshift" & year 2008 introduced the camp OG in its very strongest form seen yet. The album were recorded in the spring days of 2008 once again by their court engineer Teemu Aalto and it was mixed/mastered at Unisound Studio in Sweden by the legendary metal-mastermind Dan Swanö himself, who even commented the album with his nice words: "You won't find a better album in years!" The album was full of contrasts; melodic but yet brutal, lots of changing atmospheres, moods from sorrow to joy and from hope to despair, very catchy but still stand outs after lots of listens and the sands of time. The album themes are about that certainty, when you reach a point in your existence that makes you transform into something new and improved, It is about going faster and yet more calmly than ever before, It is a salute to knowing oneself and the space that is around! The redshift riders were sent to playing all over the Europe about 100 shows in support of the album, doing festivals and tours in Europe alongside Nile, Grave, Swallow The Sun, Insomnium & Dark Tranquillity, and even gained a #24 position in the Finnish album chart. Change for the better!
"NEW WORLD SHADOWS" 2011During anno 2010 OG signed to Lifeforce Records and started to record their new masterpiece with a fresh and refined sound. After dedicated and time consuming pre-production the "New World Shadows" album was an epic and massive attack of ever flowing stream of Finnish melodic death metal! The album was released in February 2011 and peaked on Finnish official album chart on position 5. and reached the position 1.(!) on Finnish Rumba indie shop chart. "New World Shadows" were again recorded by Teemu Aalto & mixed by Dan Swanö, who also provided some amazing clean vocals for the album. Band did two European tours after the release during 2011, first with Rotting Christ and second with Dark Tranquillity, Eluveitie, Mercenary etc. and two extended Finnish tour and big amount of festivals.
The "NWS" album is pure northern death metal without limitations - really melodic and intelligent but still aggressive and heavy as a really heavy thing, aside quoting feels from prog rock to even AOR - this is adult oriented death metal in it's most epic & purest form!
The next step of OG's saga is coming out early in 2013, so the story continues soooon!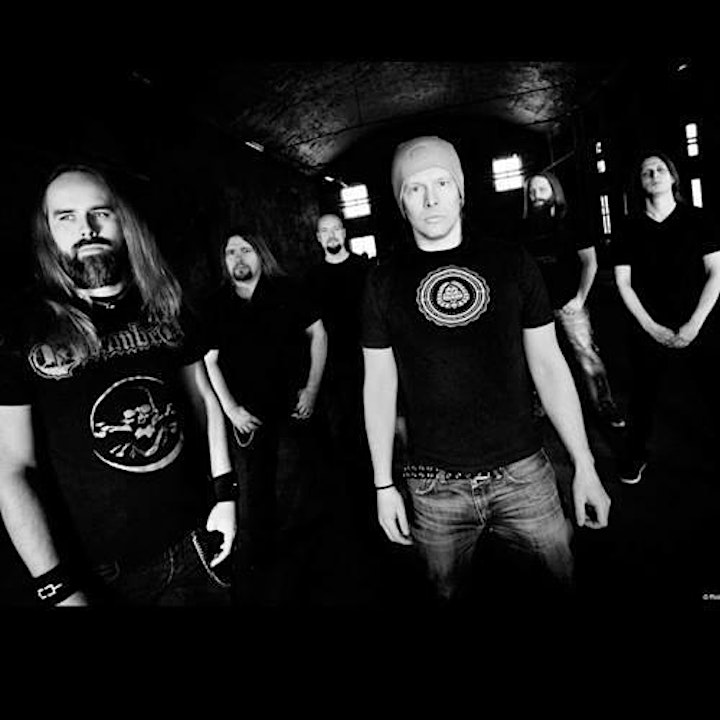 SEVEN SPIRES
"Already hard at work on album number two, Seven Spires have the wind in their sails and it's not hard to imagine them becoming inordinately huge over the next 12 months." - Dom Lawson (Metal Hammer UK)
"Tougher tracks such as 'Paradox' or 'Burn' compliment the Symphonic Metal metal elements, so you sometimes feel like you already have the new Dimmu Borgir…" – Metal Hammer (Germany)"Spires are one of the most untypical symphonic metal bands I've ever seen." – Rock Hard (Germany) review of "Solveig" 7.5/10"Captivating from start to finish, 'Solveig' captures every nuance that the subject matter deserves and will appeal to anyone who loves their metal symphonically and emotionally charged, with the only downside being Seven Spires have set the bar so high for themselves that even Robert Wadlow would struggle to reach his pint." – PowerPlay magazine (UK) review of "Solvieg" 10/10Seven Spires is an American metal quartet specialising in melancholic tales and tenebrous grandeur. Part bittersweet melodic metal anthems, part apocalyptic melodic death and black metal, and part Romantic Classical poets, they are storytellers who draw from across the traditional spectrum of metal and beyond to weave tragedies of demons, death, love, and the peculiarities of human condition.
Following a highly successful crowdfunding campaign and release of their debut album "Solveig", Seven Spires performed extensively in the US, Canada, and at festivals such as MetalDays, 70,000 Tons of Metal, and ProgPower USA. They are in the final production stages for their second full length record, which will once again be mixed and mastered by Sascha Paeth (Avantasia, Kamelot, Epica, etc).
Seven Spires' new album "SOLVEIG"Seven Spires' new album is "SOLVEIG", a theatrical metal concept album in two acts. It is the story of a lost soul and his journey through a Demon's sunless neo-victorian underworld. Despite small glimmers of hope, it is a grim tale with a heavy focus on escapism, death, and decadence. With distinct attention to melancholic power metal, melodic death, and black metal, Seven Spires fuse sounds from across the spectrum of metal with their great love for Romantic composers, and the atmospheric and storytelling capabilities of film scores. "Solveig" is available worldwide NOW!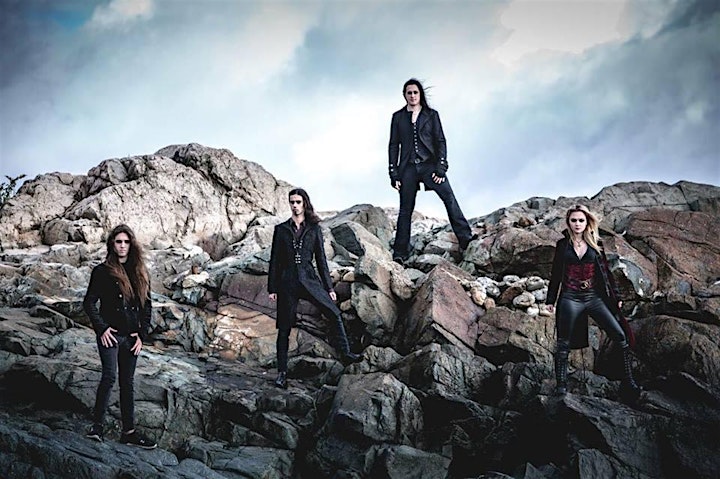 APHELION
We are a technical/melodic death metal band from Snohomish county Washington.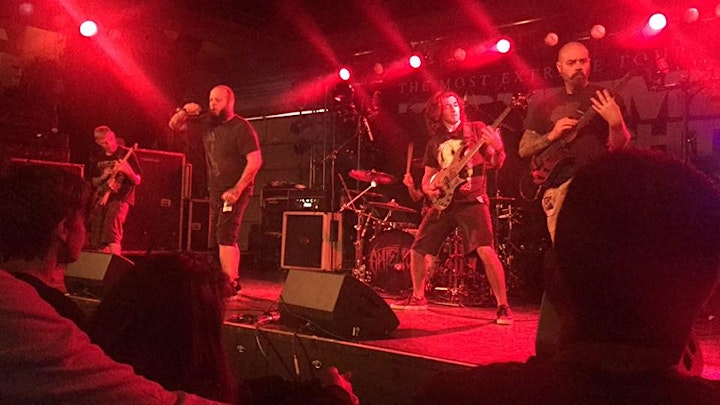 LOCISTELLAR
Conceived in London, England and born in Seattle, WA, Locistellar is a brand new heavy metal formation ready to creep out from the underground. Locistellar's music blends together elements of rock and metal; it is heavy and dark, melodic and intense. Many can't label the band, others have branded it "post apocalyptic Alice In Chains" or simply "punishing".
It was founded by Didier Almouzni (Razor of Occam, Dragonforce) and guitarist Alexandre Lenormand (Loudblast), who were the creative force behind the band's new EP "Leading Era". The band relocated to the US and found the perfect singer to complete their vision in Lance Neatherlin (Pinch). With the addition of Eric Snyder on guitar (Second Coming, The Crying Spell), they completed the recording of "Leading Era" and were later joined by bassist Dagna Silesia (Nevermore, Warrel Dane, The People Now) and Paul Thuriot on guitar (Jungle Rot) to complete the line up.
"Leading Era" was co-produced and mixed by Gwen Kerjan at SlabSound Studio and mastered at Audio Siege by Brad Boatright.
Locistellar is currently booking shows and looking for opportunities across the globe.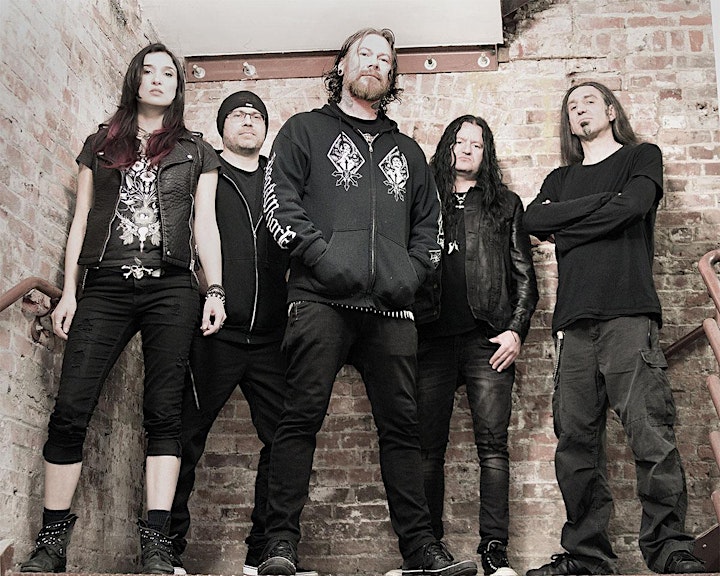 Venue Information:
El Corazon
109 Eastlake Ave East
Seattle, WA, 98109