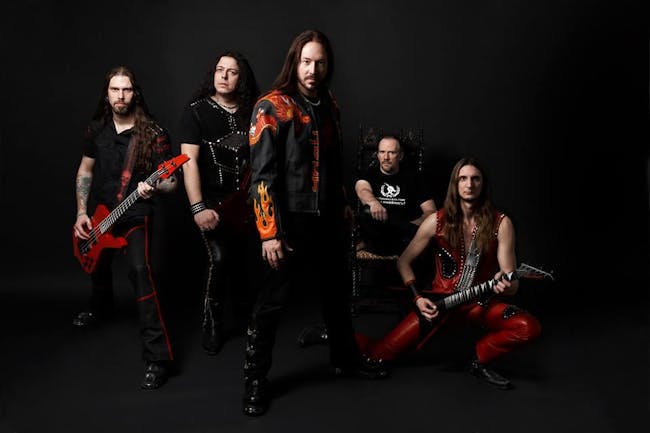 Hammerfall
Beast In Black, Edge Of Paradise
El Corazon
$30.00 - $65.00
Postponed
Hammerfall at El Corazon
HAMMERFALL
Formed in Göteborg, Sweden, in 1993 by guitarist Oscar Dronjak. Early line-ups included members from In Flames and Dark Tranquillity, most notably Jesper Strömblad, who continued to write songs together with Oscar and singer Joacim Cans despite leaving before the first album was released. Glory To The Brave (1997) and Legacy Of Kings (1998) cemented the band as the pioneers of modern Eighties heavy metal.
Often credited with bringing back the melodies and honesty in music, the world-wide crusade continued with Renegade (2000), an album that generated a breakthrough for HammerFall and metal music in general in the mainstream media in Sweden.
The line-up was now complete with drummer Anders Johansson, formerly of Rising Force fame, Stefan Elmgren on guitar and Magnus Rosén on bass guitar. The latter two joined HF before the release of the inaugural record, with Stefan even being a session player on Glory To The Brave.
Crimson Thunder (2002) was next, followed by a live album and DVD - One Crimson Night (2003) - recorded in their home town in front of a capacity crowd. The fifth album, aptly titled Chapter V: Unbent, Unbowed, Unbroken (2005) further planted the name HammerFall in the minds of households in Sweden, as well as metal fans all over the world. The band's fourth world tour on as many albums was an even bigger success than before, headlining the U.S. for the first time (after supporting Death and Dio in 1998 and 2002 respectively).
Two sportsrelated videos were recorded in 2006, a remake of "Hearts On Fire" for the Swedish Olympic Women's Curling Team, and a brand new song called "The Fire Burns Forever" specifically written for Kajsa Bergqvist, Robert Kronberg and a couple of other Swedish track & field superstars, culminating in a performance at the opening ceremony at the European Athletics Championships in August, bringing HammerFall into the home of 250 million people around the world. Threshold (2006) saw the light of day at the end of the year, and virtually the entire 2007 was spent on the road promoting it.
Magnus Rosén left the band in March. Without skipping a beat, original basist Fredrik Larsson was brought back into the fold, elevating the musical side with his steady brilliance. Celebrating its ten year anniversary as a record-releasing artist, HammerFall released Steel Meets Steel - Ten Years of Glory (2007). The album features two brand new tracks, a re-recording of an old classic plus some bonus material for the true fans.
Surprising to all, Stefan got a job as an airline pilot in the spring of 2008, and after careful consideration decided to pursue that dream instead. Pontus Norgren of The Poodles fame replaced Stefan and made his on stage debut with the band at the Heavy MTL Festival in Montréal, Canada.
Out of this sprung the very successful album No Sacrifice, No Victory (2009), and the world tour took the band to as remote locations as India, as well as the regular sold-out shows in Scandinavia, continental and Eastern Europe and USA.
The strain known as Infected (2011) spread throughout the world, and was followed by an extensive tour over the next two years. The concert at Dalhalla in July was captured by Patric Ullaeus and released as the Gates To Dalhalla (2012) DVD/Bluray. Shortly after, the band took a time out, after fifteen years of non-stop recording and touring. In order to be able to bring the fans another fifteen years of Templar steel this was a necessary move, to recharge the batteries and return with a fresh energy.
This 18-month break resulted in an invigorated and hungry band, as HammerFall once again reunited with producer Fredrik Nordström, merging his experience with the band members' own for a hard-hitting, in-your-face album. Recorded in Oscar's own Castle Black Studios, the drums, guitar and bass has gotten back that raw energy that hasn't been duplicated since the first album. The vocals were recorded by James Michael, who somehow got Joacim to perform even better than last time. For the mix, Fredrik Nordström spent 3 weeks in his own Studio Fredman to give the production the crisp and powerful polish it has.
(r)Evolution (2014) was released on August 29 and stormed the charts worldwide, debuting on #1 in Sweden and on the Billboard Heatseekers Chart, as well as reaching Top 5 in several other countries. The subsequent tour, dubbed the World Wide (r)Evolution 2014-15, saw HammerFall return to Latin America together with Edguy and Gotthard, followed by a full European assasult in the beginning of 2015. Unfortunately, the band was decimated when drummer Anders Johansson left shortly after the release of (r)Evolution, but David Wallin (Pain) was brought in as a temporary replacement to ensure that the show would go on.
After another very successful world crusade, the band went to work writing and recording the follow-up to (r)Revolution, entitled Built To Last (2016), which came out on November 4th. 2 singles were released before the full-length:
"The Sacred Vow" (lyric video here: https://www.youtube.com/watch?v=7EBB26EXopg)
and "Hammer High". The production was set up almost exactly as last time, and became even heavier and more energised than the previous one.
Travelling around the world once again the band did more shows than ever before on a single album cycle, with not one but two North American legs, as well as two European ones plus two summers of festivals. During this time, huge parts of the forthcoming album was conceived, writing on the road a first for the band. But it resulted in an extremely raw and varied heavy metal album called Dominion, a definite improvement on all fronts from the previous effort. The production was done in the same way as for (r)Evolution and Built To Last, and with the same people: Fredrik Nordström and James Michael each brought their unique abilities and stellar work rate to the recording, making the album sound extremely fresh and their most energetic release since the debut. The first single, "(We Make) Sweden Rock", a tribute to the Swedish hard rock and metal bands over the past 50 years, went down a storm with the audience, and accompanied by a state of the art lyric video the song has become an instant classic in the set list. After 20 years, HammerFall feels hungrier and more vital than ever before!
HammerFall stands for powerful, majestic and melodic heavy metal. The memorable choruses, straight and heavy riffs, thundering drums, pounding bass power and outstanding vocals will without a doubt become metal hymns for eternity. Their unstoppable creations reigned in a time when none cared about classical Heavy Metal, and they have and will always deserve credit for bringing the melodies back to metal music.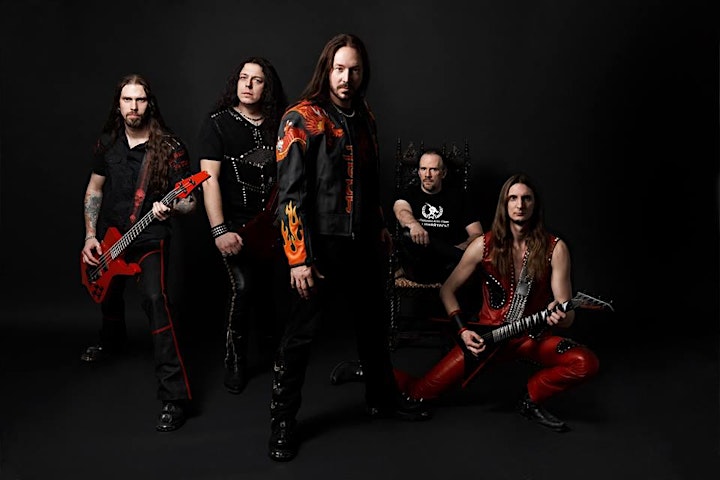 BEAST IN BLACK
"The BEAST is back, the BEAST IN BLACK!" Haunting words recalling »Berserker«, BEAST IN BLACK's debut album, which was finally released in November 2017. Although it never actually felt as if the BEAST had been away entirely. Right after the departure from his former band BATTLE BEAST, BEAST IN BLACK's founder Anton Kabanen recruited new companions in the way of high-pitched vocalist Yannis Papadopoulos (WARDRUM), bassist Mate Molnar (WISDOM), guitarist Kasperi Heikkinen (U.D.O.) and last but not least drummer Atte Palokangas (THUNDERSTONE), who officially replaced Sami Hänninen in early 2018.
Continuing with the same style of songwriting that he started with BATTLE BEAST, Kabanen crafted a new host of addictive songs that excite with their use of relentless energy and power. Especially the album's first single, 'Blind And Frozen', that blew the roof off and set the bar very high by achieving several million YouTube views in just a year. To cut it short: »Berserker« was very well received by both new and old fans of Anton's work, as well as fans of the anime series »Berserk«, which Anton drew inspiration from. A number of well-known musicians have also praised the record such as NIGHTWISH's Tuomas Huolopainen (who said that "you have to be mentally insane to not love this album"), HELLOWEEN / GAMMA RAY's Kai Hansen and many more.
Additionally, »Berserker« not only allowed BEAST IN BLACK to enter the hearts of many people all around the globe, but also gave them the keys to the gates of the world's stages! The accompanying touring cycle kicked off in October 2017 in the form of a few European shows supporting the legendary W.A.S.P. - one of Kabanen's musical idols next to JUDAS PRIEST, ACCEPT among others - followed by select shows opening for Germany's BEYOND THE BLACK. If you'd have thought, that it's impossible to top such an amazing beginning, you would soon be proved wrong. The BEAST started 2018 with two sold out headlining gigs in Finland, the home-country of Anton, Kasperi and Atte. But there was no rest for the wicked, as the group joined Italian symphonic metallers RHAPSODY Reunion on their extensive »20th Anniversary Farewell Tour« across Europe, where the band visited a number of countries and cities for the first time ever. The summer saw BEAST IN BLACK playing several festival gigs, many of which were in Finland. To worthily close the »Berserker« live chapter, the band returned to where their live career had begun back in 2015 - supporting Finnish symphonic metal giants NIGHTWISH in front of several thousand fans in November & December 2018. Despite their extensive touring schedule, the BEAST managed to achieve something else in the past few months…
The band secretly forged 11 hot new tracks which comprise their highly-anticipated sophomore record »From Hell With Love«. The album was once again recorded in Anton's own Sound Quest Studio, and true to the motto "Never change a winning team", the cover artwork was created by Roman Ismailov who worked on »Berserker« as well as the first record Kabanen wrote under the banner of BATTLE BEAST, »Steel« (2012). Although BEAST IN BLACK's new tunes musically fit into a similar vein as their debut album, the lyrics haven't only been inspired by the aforementioned »Berserk«, but also by other movies and TV series Anton is a huge fan of, as well as personal experiences once again. For example, 'Cry Out For A Hero' is based on another Japanese manga and anime series called »Fist Of The North Star«. Fans of »Berserk« have nothing to worry about as with the help of Anton's Italian friend Paolo Ribaldini the record still delves deep into Anton's favourite series!
»From Hell With Love« delivers everything that made fans love Anton's work in the first place. A slew of fast-paced tracks like the opener 'Cry Out For A Hero' and 'Repentless', hymnic songs 'Unlimited Sin' and 'This Is War' and one of the band's specialties, mid-tempo smashers that only BEAST IN BLACK can deliver are back and represented on the new disc by the lead single 'Sweet True Lies' and the album's title track. There's one thing that all of these tracks have in common. Each and every song catches the listener with irresistible melodies, taking residence in the listener's mind from the moment they hear it.
With their very first European headline run, Finnish gigs and even a few festival appearances already being announced, everything's set for the BEAST to continue on its unstoppable path to the pinnacle of today's metal scene from February 2018 onwards... There's simply no way to escape its claws! As JUDAS PRIEST already knew in their hit song 'Nightcrawler': "Beware the BEAST IN BLACK…" You better do!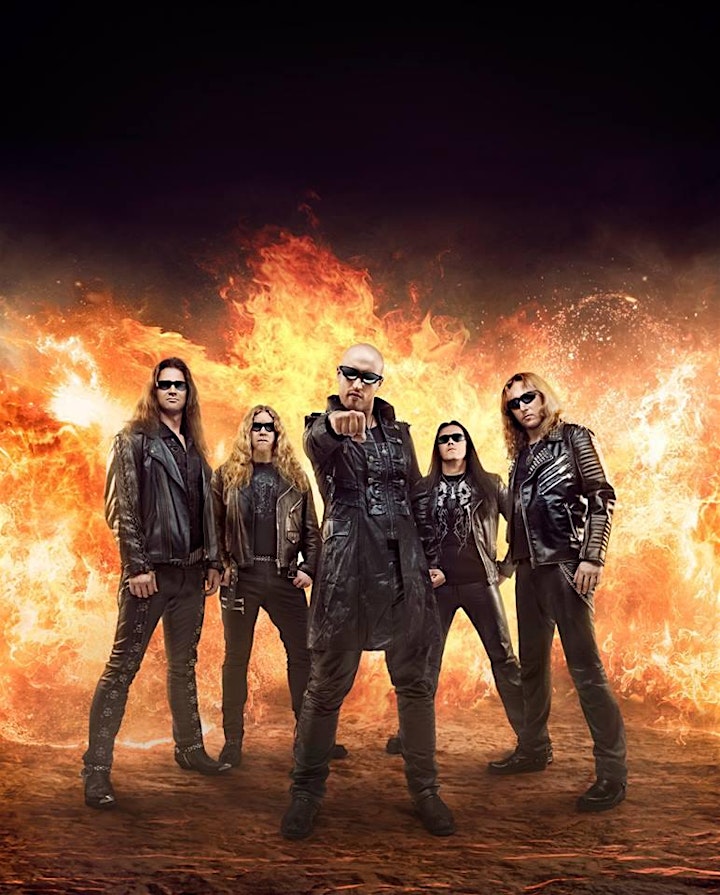 EDGE OF PARADISE
Edge Of Paradise is an industrial hard rock act fronted by Margarita Monet. Known for their dynamic sound and theatrical show. The band formed in 2011 by Monet and guitarist Dave Bates in Los Angeles, CA. Their full length album Immortal Waltz (2015), produced by the legendary Michael Wagener, was greatly received and solidified the band's place in music.
March 10, 2017, Edge Of Paradise released a 5 songs EP ALIVE via ILS/Universal. Produced by Chuck Johnson (Korn, Slipknot...) and mixed by Jay Ruston, Mike Plotnikoff and Michael Wagener. ALIVE hit the BILLBOARD charts 1st week of it's release. Made it to Billboard's top 100 new artist albums & current rock album at #58! Receiving rave reviews, the band is excited to bring the music to the people!
With the solid line up that consists of Margarita Monet -vocals, Dave Bates-guitars, David Ruiz - second guitars, Nick Ericson-bass, John Chominsky-drums, the band made their European debut at Femme Festival in Netherlands and are looking forward to keep spreading the Edge Of Paradise world!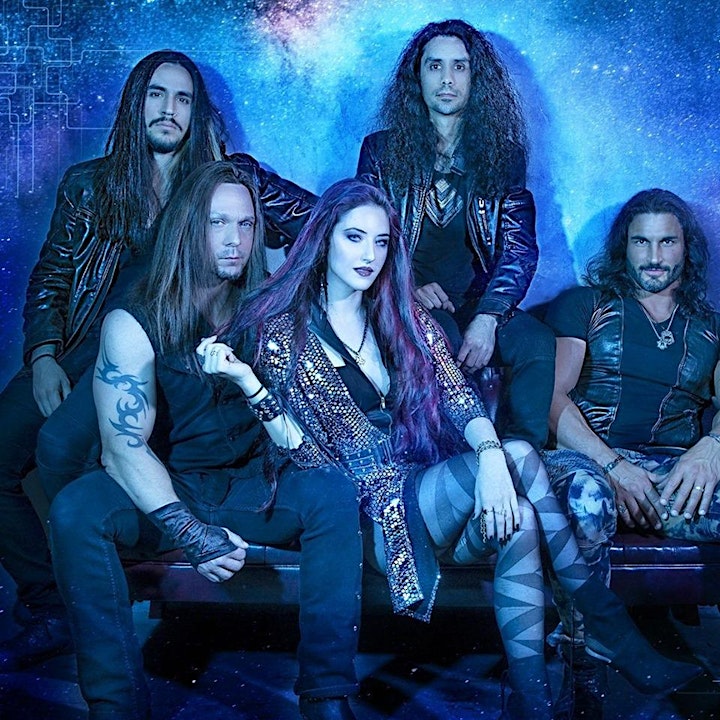 Venue Information:
El Corazon
109 Eastlake Ave East
Seattle, WA, 98109