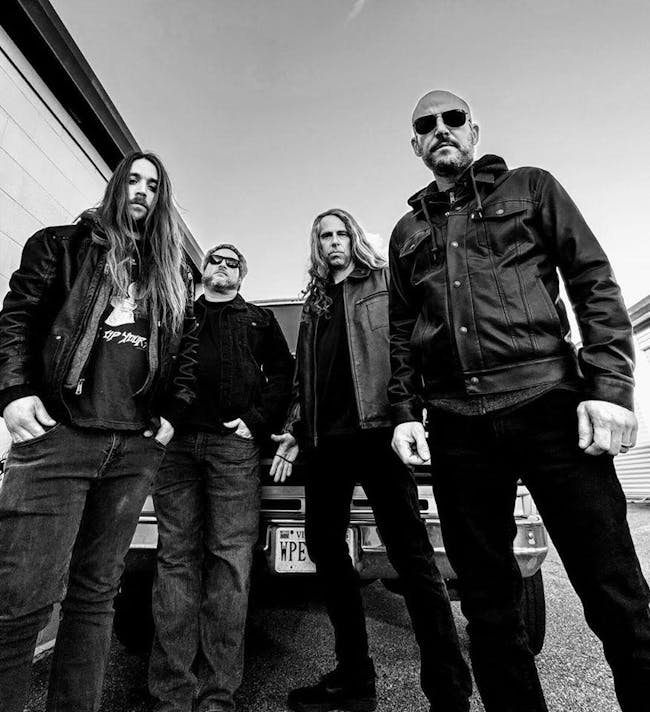 Freedom Hawk at The Funhouse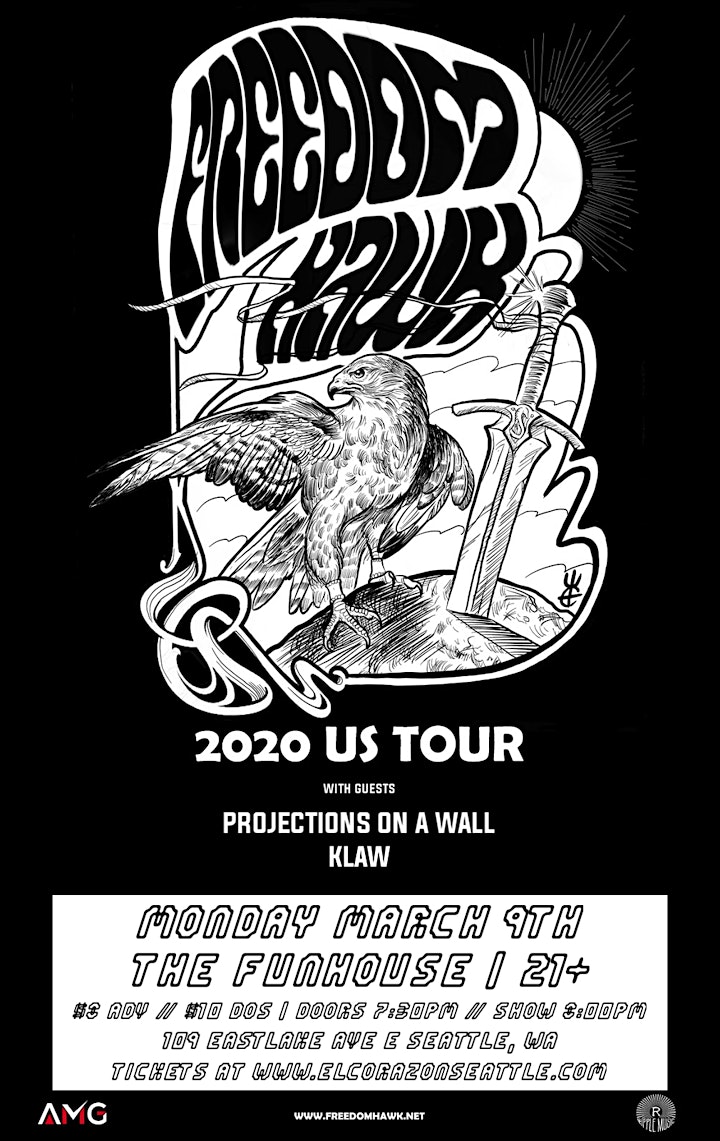 FREEDOM HAWK
Emanating from the barrier dunes of Virginia, Freedom Hawk's weighted riffs, rolling groove, soulful guitar melodies, and harmonic metal packaging produce a sound distinctly their own. The quartet's brand of rock captures the best of the heavy '70s with touches of early-'80s metal and is inspired by experiences that could only come from living close to the ocean. Their songs speak to a lifestyle that conjures images of the warm sun, a day of surfing, and partying on the beach. There are far worse ways to spend an afternoon.�
The band formed in 2005 with T.R. Morton, Mark Cave, Matt Cave, and Lenny Hines and played their first show as Freedom Hawk in January of 2006, opening for Year Long Disaster and Throttlerod. Their self-released debut album, Sunlight, arrived in early 2008 and songs like "Executioner", "Land of the Lost", "Going Down" and title track "Sunlight" captured the band forming the sound and writing style that would be expanded on in later releases.
Their second release in 2009, Freedom Hawk (MeteorCity), was a forward push from the debut reflective of the musical journey underway. Being a popular choice as the soundtrack for online videos, this is album is unique in that all seven songs were picked up and used throughout the years.
Building off of the success of the first two releases, 2011 brought their third full-length, Holding On (Small Stone Records), and found the band even more comfortable with each other musically while expanding their style. "Zelda" and "Faded" saw them reach beyond the boundaries they'd set for themselves, while tracks like "Living for Days" and "Indian Summer" offered a heavier take on their original foundations. "Her Addiction" was sampled and used in an episode of CBS' Hawaii Five-O and could also be heard in an episode of MTV's Ridiculousness, along with "Indian Summer."
After the departure of Matt Cave, the band released Into Your Mind (Small Stone) in 2015 as a three piece, sticking close to their core sound. Slow grooves and heavy rock anthems abounded, but a cleaner, purer package. The rhythm tracks were recorded organically, with all three members together in one room, and as a result, "Beyond Our Reach" and "The Line" show a more laid back bluesy take, while heavy-hitters "Blood Red Sky," "Radar," and "All Because of You" stay true to form. "Blood Red Sky" was also used in an episode of MTV's Ridiculousness.
2017 was an exciting year and brought the re-release of both Sunlight and Freedom Hawk via Ripple Music. Both albums were remastered and issued on vinyl for the first time since their original release.
The band's fifth long-player, Beast Remains (Ripple Music), is due in 2018 and will be a return to a four-piece with the addition of Brendan O'Neil. The culmination of years perfecting and solidifying their sound, combined with the returned dual-guitar dynamic, with songs like "Solid Gold," "Darkness to Light," "Champ," and others, the stage has been set for what could be another reinvention of the exploration they started a decade ago.
Over the years, the band has gone on countless tours taking them to across the US and to multiple countries in Europe, hitting American festivals SXSW, Maryland Doom Fest, and Doomed and Stoned and Euro destinations like Roadburn and Freak Valley Festival. In 2018, they'll land at Desertfest London and Desertfest Berlin with more live dates to follow as they continue to expand their reach both in terms of music and fanbase around the world!
Check out Freedom Hawk's latest release, Beast Remains, on Digital, CD and Vinyl at ripple-music.com.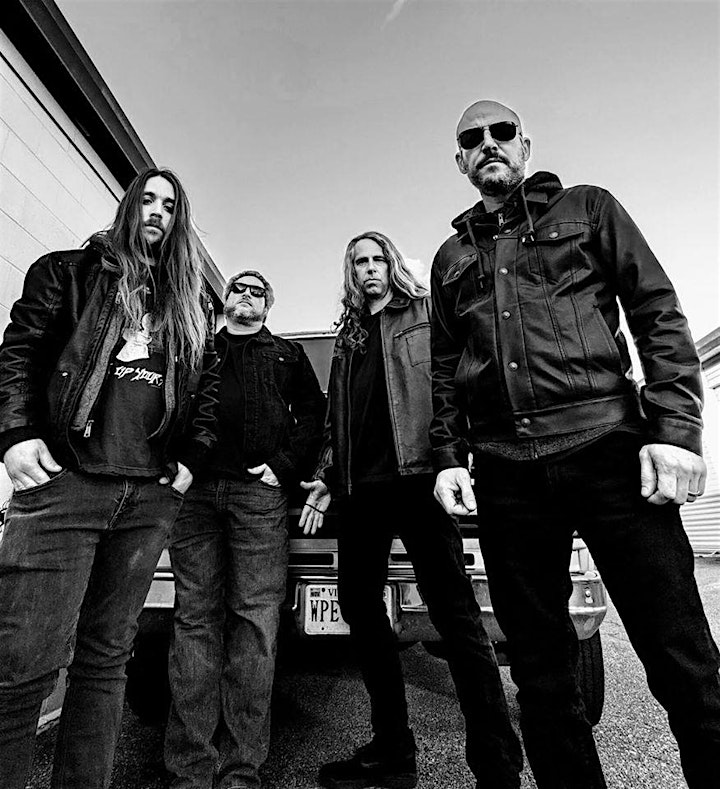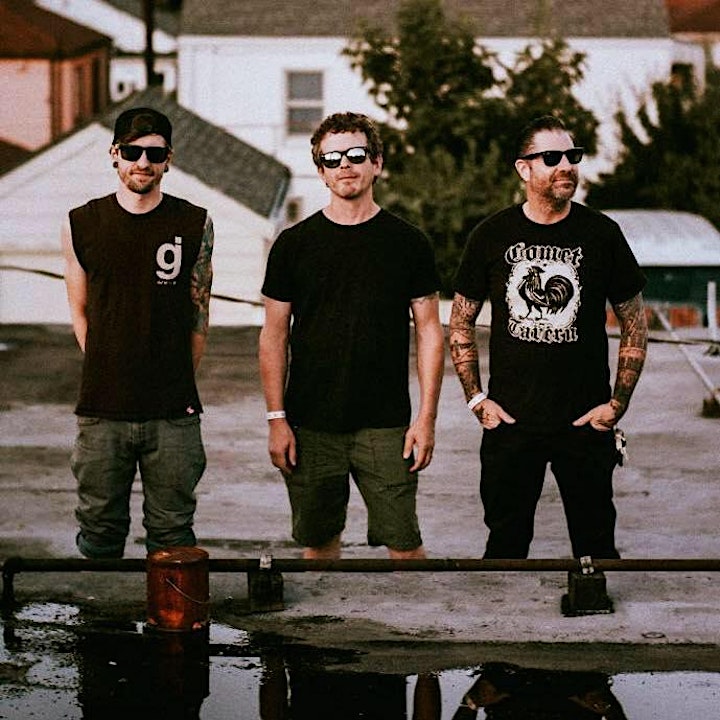 KLAW
KLAW started in 2011 as a long time idea turned musical collaboration with friends Justin Williams and Casey Cunningham. Jamming in Casey's basement in what is now referred to as the old KLAW Kave the band was first known as Doktor Klaw with members Darin Sorenson on drums, Jean Greagor on bass and David York on second guitar. Justin plays lead and Casey is on vocals. KLAW's first show was at the Funhouse in May 2011. KLAW recorded their first EP called "The Doktor is out" with Tad in spring 2012. By mid-2012 the Doktor was dropped from the name. Jean moved to second guitar and added Josh "Da Gorilla" Danford on bass. KLAW then went on a playing frenzy setting up shows all over Washington creating roots with in the PNW rock scene.
Summer of 2013 KLAW saw the departure of beloved drummer Darin. KLAW had some hefty shoes to fill and went on a 4 month search to find there next drummer. Casey ended up asking a coworker Ruben Lara Mozzochi who said he played little drums to try out. What KLAW didn't know is that they were pulling out of retirement one of Seattle's best drummers. Ruben nailed the audition and was quickly a main stay in the band.
With the arrival of his first child beloved guitarist Jean had to bow out of the band in 2014. KLAW then made a decision to be a four piece. Now slimmed down and ready for action KLAW started focusing on their first full length album. Recording started in January 2015 at Earwig studios in Georgetown run by the amazing recording engineer Don Farwell. The album is a culmination of songs form the past five years of the band. KLAW finished recording in spring of 15. KLAW was lucky enough to get amazing horror artist Nick Gucker to do all the art on the album. The self-titled KLAW album was released 7/10/15 to great acclaim within the Seattle rock and metal scene. KLAW and Greenriver Thrillers toured the west cost in the summer of 2016.
Having played with many of Seattle and Washington's great rock and metal bands KLAW is quickly gaining momentum with in the PNW music scene. KLAW hosts a yearly Toys for Tots Benefit called Noise 4 Toys. It is held on the 1st weekend in December at the Substation. KLAW went back in to the studio late 2017 and looks forward to releasing there long awaited 2nd album in late 2018.
Kids Knights Kills Kilt
Love Leprechauns Lamas Lovin
Awesome Astronauts Alligators Animal
Weed Wizards Werewolfs Wrestlers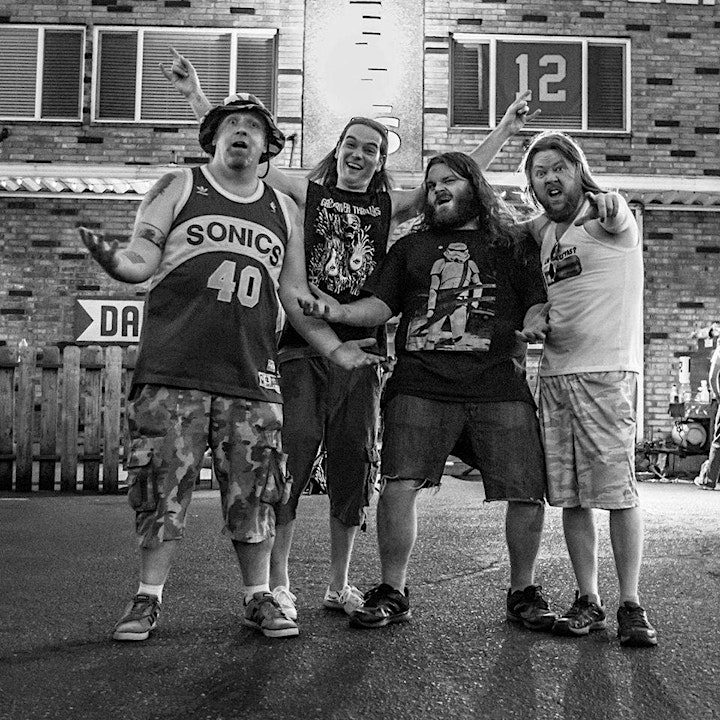 Venue Information:
Funhouse
109 Eastlake Ave E
Seattle, WA, 98109