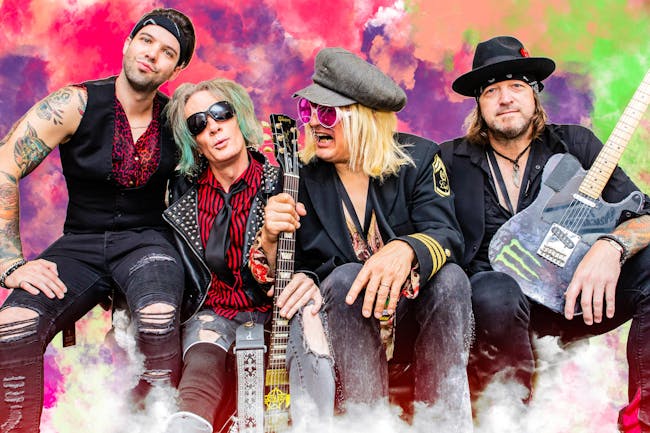 Enuff Z'Nuff
Baby And The Nobodies, Aisha, Drastic Down, Thomas Weeks & Force Of Nature
Funhouse
Enuff Z'Nuff at The Funhouse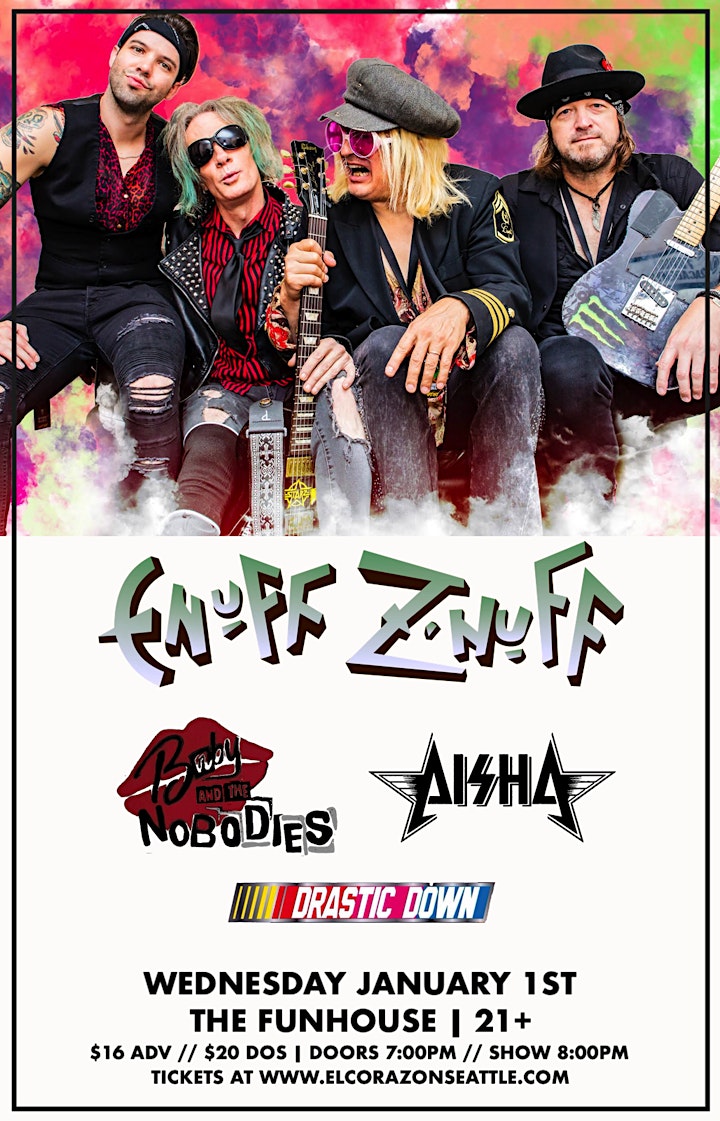 ENUFF Z'NUFF
Enuff Z'nuff are the living, breathing example of what a rock/pop group should be. The band was formed in 1984 in Blue Island, Illinois. Its first release, Fingers On It, gave the band some initial recognition when the track was featured in the 1986 cult movie, Henry: Portrait of a Serial Killer.
By 1989, original members, Chip Z'Nuff and Donnie Vie, were joined by guitarist Derek Frigo and drummer Vikki Foxx. The band had signed with Atco/Atlantic Records that same year and released their debut self-titled album. The album spawned two singles that were to change the course of the bands history, New Thing and Fly High Michelle. Both songs were played constantly on radio, and gained heavy rotation on MTV spending over 60 weeks in the top 10.
1991 saw the band release its follow up, Strength. The album had more of a rock overtone, and following its release, the band became regulars on shows like David Letterman and Howard Stern and was featured in Rolling Stone's hot issue as 'the next big thing'.In 1993 the band left Atco records and moved to Arista, releasing the album, Animals With Human Intelligence. The album gained lots of critical acclaim, and prior to its release, Vikki Foxx was replaced by new drummer Ricky Parent.
Still a major force after 20+ albums, Enuff Z'nuff still has a legion of loyal fans, and has earned the respect and acclaim of its peers and contemporaries. With the addition of longtime guitarist: Tory Stoffregen, former Enuff Z'nuff singer/guitarist: Alex Kane, and Chicago native: Daniel Benjamin Hill, the band continues to tour and record relentlessly.
Industry heavyweights have been singing the praises of Enuff Z'nuff for years:
Howard Stern: "Enuff Z'nuff deserve rock-star status".
Paul Stanley: "Their debut is a classic".
David Letterman: "When it comes to rock n' roll, these guys are all you need".
Little Steven Van Zandt: "Enuff Z'nuff is one of the most underrated bands in the world".
Enuff Z'nuff are:
Chip Z'nuff: Singer/ Electric bass guitar
Tory Stoffregen: Guitar
Alex Kane: Guitar
Dan Hill: Drums
BABY AND THE NOBODIES
Baby and the Nobodies might hail from the Pacific Northwest, but they sound like they could have come from the So-Cal punk scene in the late 80's early 90's. Rebecca Terry's vocals are reminiscent of the Punk Rock styling of Blondie and the Runaways. However you can tell her influences go far beyond just that, with poppy and in your face melodies she takes the guitar driven music of Baby and the Nobodies to new levels that force you to pay attention. Penning the music falls on guitar player, Rev, who has written and performed all over the world, he takes his influences from the early Punk and Glam scene citing Johnny Thunders and Mike Ness as his favorites. He states: "If I hear something I like, I can't stop listening, be it punk, rock, country or dance music I don't care, if it's good I listen to it". Teaming up with Rebecca has been an inspiration and an outlet to get some of the songs in his head out to the crowds. "People want to hear this", he says. His guitar sound adds the color and flavor, from the tasteful chunky riffs to the sweet guitar melodies that paint the canvas of each and every song. Jason's drumming not only keeps Baby and the Nobodies in time, but holds the crowd in captivity. Chris, on bass, holds down the bottom end, and adds a specific flair that can only be described as awesome. Together these four individuals form one united front: Baby and the Nobodies. They aren't just a group of people that make music, they are a band that works hard and takes you on a journey each time you see them perform. Baby and the Nobodies Sophmore release was a 5 song EP called "Kiss This", mixed and produced by Jonathan Plum who's credits are vast and varied from Alice in Chains, Pearl Jam, Blind Melon, Ann Wilson, and Candlebox. The 4 piece debut realse was a 10 song CD titled "Satellite Highway", Mixed by Phil Soussan, former bass player for Ozzy Osbourne. The disc is filled with with heartachingly soulful songs, catching the rock n roll edge they know and love, that will keep you tapping your steering wheel like you were driving down the PCH on a sunny afternoon. Bluesy Guitar-Driven Power Pop-Punk Rockers with class and feeling for days. Don't let the name fool you, these guys are definitely not Nobodies.Keep your eyes open for Baby and the Nobodies, they will be touring the west coast, playing car shows in the Pacific Northwest and blowing up your favorite speakers.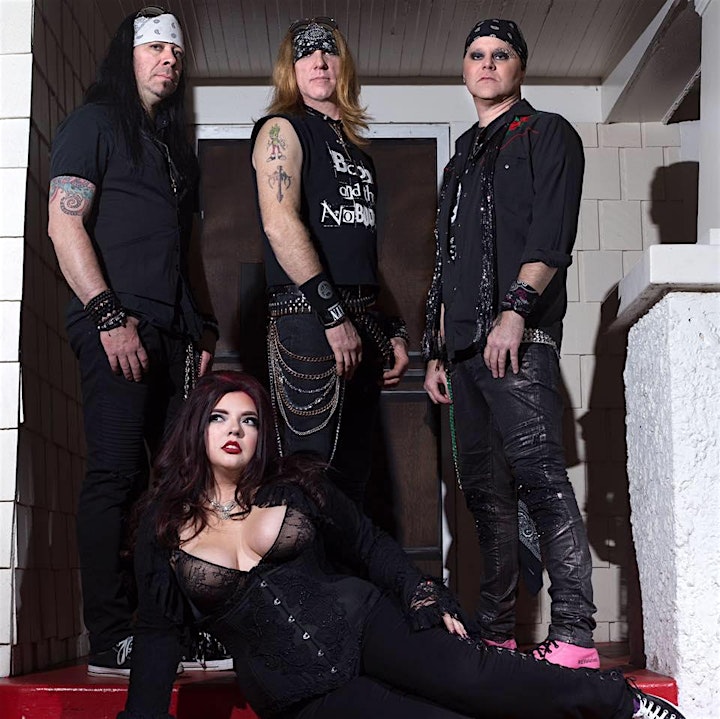 AISHA
Classic riff Rock n' Roll is alive and well with Seattle vocalist and songwriter Aisha. Her thunderous guitar riffs and electrifying vocals deliver an original yet familiar brand of rock n' roll, with songs of arena sized proportions.
In 2012, Aisha founded Seattle's All Female Soundgarden Tribute band, where she turned heads with her natural and authentic delivery of Chris Cornell's powerful vocals. In 2018, she embarked on an original solo career. Her upcoming self titled debut album is a breath of fresh air for rock n' roll purists, with catchy Joe Perry-esque guitar riffs, and soaring vocals reminiscent of classic heavyweights such as Robert Plant, Steven Tyler, and Chris Cornell. Aisha's self titled debut is a time capsule of sorts, drawing together songs inspired by each of the golden eras of rock. With influences such as Paul Rodgers, Chris Cornell, Whitney Houston, The Black Crowes, and Prince, Aisha has a unique vocal style that will surely one day place her in the ring with the rock n' roll big dogs.
Catch Aisha live with her wall of sound, consisting of drummer Chase Culp, bassist Rose McMayhem, and featuring a rotating lineup of guitarists including Kathy Moore and Keith Wright.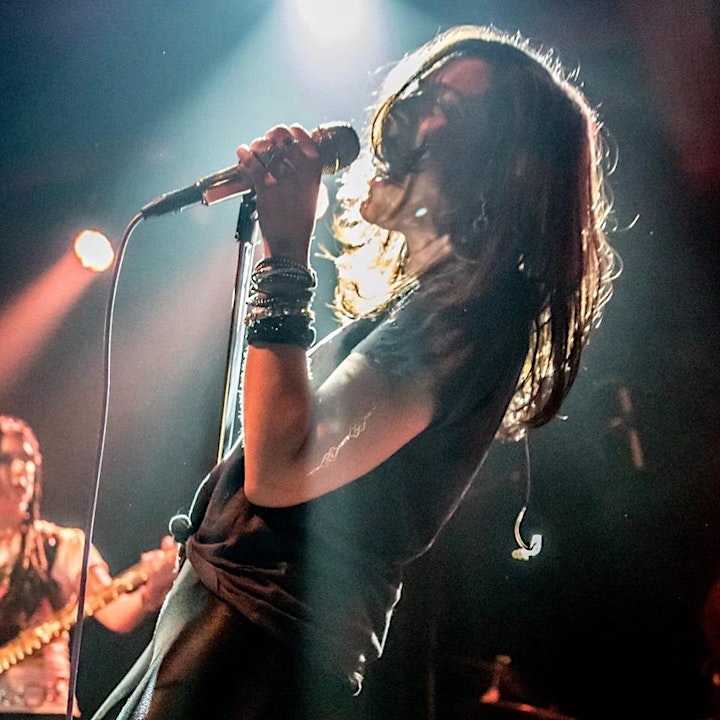 DRASTIC DOWN
Drastic Down is a four piece hard rock band hailing from Seattle, WA. Formed by Enrico Mariuzzo and rounded out by Andy Brodigan, Craig Raphael, and Jordan Miles. They're slated to release an a EP in 2019.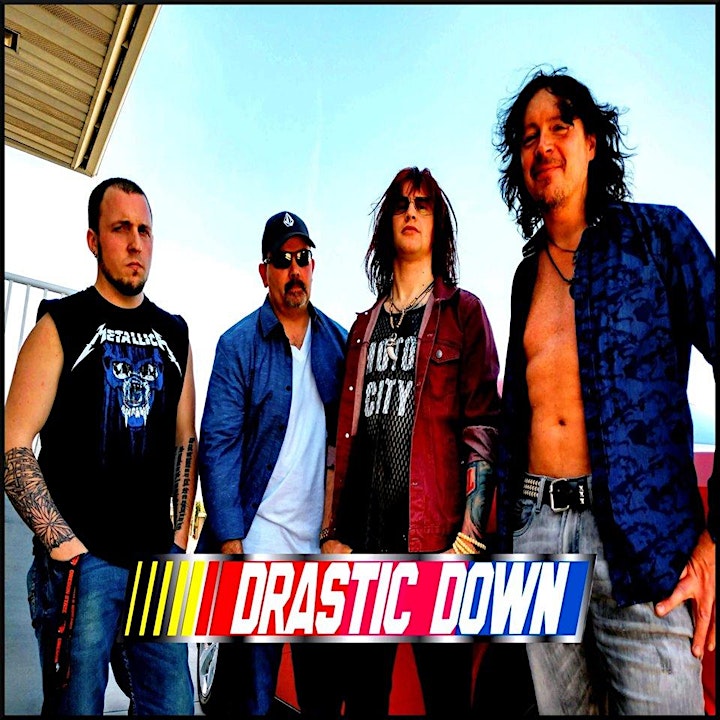 THOMAS WEEKS & FORCE OF NATURE

Venue Information:
Funhouse
109 Eastlake Ave E
Seattle, WA, 98109