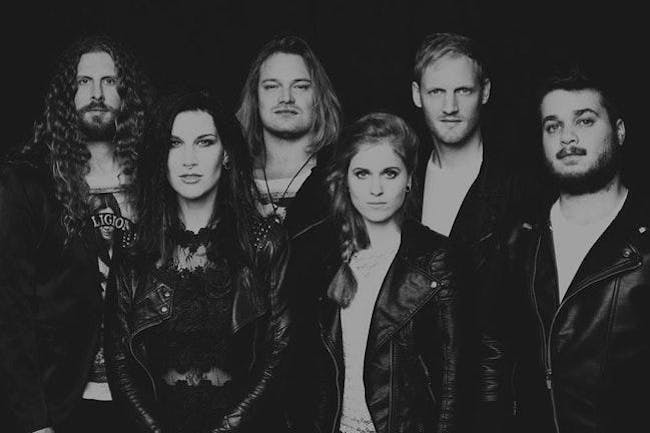 Presented by KISW (99.9 FM) METAL SHOP & EL CORAZON
Delain
Amorphis
Anneke Van Giersbergen
El Corazon
KISW (99.9 FM) Metal Shop & El Corazon Present: Delain & Amorphis
DELAIN
Delain is: Charlotte Wessels, Martijn Westerholt, Sander Zoer, Otto Schimmelpenninck van der Oije and Timo Somers.
A lot has happened with Dutch band Delain since they unleashed their second album April Rain on the masses in 2009. An extensive headliner tour of Europe was followed by euphorically received tours of North and South America. The live impressions and pure energy that all this activity brought the band is now clearly audible in the material featured on their new material, the band's third. Delain took the time they needed to make We Are The Others, by far the most powerful, atmospheric and irresistible album of their career!
All this despite the fact that the old music biz adage still holds…ah yes, the "difficult" third album! Delain's musical mastermind and keyboardist Martijn Westerholt nods in agreement. "For me these were the recording sessions from hell! I was working with a producer for the first time, so I had to let go of so many things. That's not easy for a control freak like me!", says Martijn, who mastered the situation brilliantly, despite any difficulties. Singer Charlotte Wessels also laughs and says, "Yeah, I already heard the same old wives' tale about the second album! But honestly, we have the perfect songs, songs that will blow away everything both live and on CD!"
With their 2009 album, Delain had actually already arrived at a position that other bands work for years or even decades to get to. They firmly established a foothold at the very top of their genre alongside contemporaries like Evanescence and HIM. Now this Dutch formation is an indispensable part of the ever-growing, evermore exciting mainstream market for popular rock music of a darker nature. Against this backdrop, the expectations for the follow-up album to the frenetically acclaimed April Rain were very high indeed, both from the Delain fan base and from the band themselves. With We Are The Others, Delain have not only met these high expectations; they have far exceeded them. And they've made it all look easy in the process, broadening out of a niche market and audibly developing musically while remaining true to the successful sound that they lovingly developed over the years. While Martijn has been primarily responsible for songwriting duties, with Charlotte in increasing matter over the last two albums, for We Are The Others they relied more heavily than ever on team effort together with their musical partner Guus Eikens, also involving arranger Oliver Phillips in the composing department, stretching their experimental wings to try new things and ultimately came up with a more multifaceted overall sound than ever before.
The band spent most of last summer with the "Tripod" producer-team, consisting of star producer Jacob Hellner (Rammstein, Clawfinger, Apocalyptica ...) and the Epicentre-Team (Fredrik Thomander und Anders Wikström / Scorpions, Backyard Babies...) in the TriPod-Studios in Stockholm, taking two months to collectively fine-tune the material for We Are The Others. "Never before have we gone as much into detail in writing the songs" Charlotte reports, referring to the multiple writing-session on songs and lyrics in Stockholm, where she was recording her vocals parallel in a second studio. "Jacob works very instinctively and has a great nose for good songs. At the same time he is the most critical producer I've ever worked with! I was around one day when they were recording the bass. Our bassist had to play the same riff over and over again, virtually for hours in a loop. Jacob listened closely and said, 'I hear a boring note in there somewhere. Try to fix that!' It was fucking hard to work with him, but it was also unbelievably fruitful and inspiring. The result is that what you hear in the songs is a highly tuned, compact band that plays well together, not some side project. We're incredibly proud of the result!"
Martijn Westerholt, a workaholic himself, agrees entirely. "Our drummer was sent for two weeks of drum rehearsals to the Backyard Babies rehearsal studio located nearby. Jacob pushed every one of us to our absolute limit and in many cases beyond! He really knew how to get the maximum out of us individually, out of Delain as a band and of course out of our songs!
You can find more on the recording sessions in the band's video studio at http://delain.posterous.com/.
While the title We Are The Others may seem mysterious and conspiratorial at first, there is a very serious background: The lyrics to the title-track were inspired by the hate-crime against a British girl named Sophie Lancaster in 2007. She and her boyfriend were beaten comatose by a gang of youths, because of their goth looks. Sophie died from her injuries (check also: http://sophielancasterfoundation.com/). This tragedy sent shock waves throughout the world. DELAIN's response to this tragic case is expressed through the song We Are The Others.
Charlotte says: "Sophie's story hit close to home for us, being part of a subculture ourselves but it's in no way an individual case; people are discriminated against -all the time- to the point of violence - based on their cultural or ethnic background everywhere. We Are The Others is our own 'outsiders anthem' for everybody who, deliberately or not, diverts from the norm. Whether it's by looking different, acting different, or choosing a different path in life then is expected from you.
Delain have taken the same kind of path with We Are The Others. The band is armed with true musical hooks in tracks like "Are You Done With Me?" and "Get The Devil Out Of Me". And "I Want You" may well be the most macabre love story of the year, as Charlotte explains with a wonderfully diabolical laugh. "Although it lyricly starts like your typical romantic song, this tragic love story ends with the leading character running over her lover with a car; If she can't have him, then no one else damn well will! There aren't any actual autobiographical traits to the song – my boyfriend is doing fine (for now) – but it definitely contains some dark, most vengeful payback fantasies I admit."
One of the album's less typical moments for a band of this genre is "Generation Me", where Delain demonstrate their eagerness to experiment as well as their topicality. "It's about the so-called 'iGeneration' where everyone's putting self-branding and this utopian kind of self-representation in front of everything else, we ourselves -whether we like it or not - are very much part of this generation, and in this song we make fun a little out of everyone taking themselves so seriously. With this kind of subject matter it's easy for us to be inspired. My lyrics have always been influenced by real life, from what happens around me" lyricist Wessels explains. This is also evident in Delain's powerful number "Where Is The Blood", with none other than Fear Factory shouter Burton C. Bell on guest vocals.
"I met him at the Wacken Open Air festival. We immediately got along great and exchanged e-mail addresses. I think his raw voice is really perfect for the insane scream part on this track!"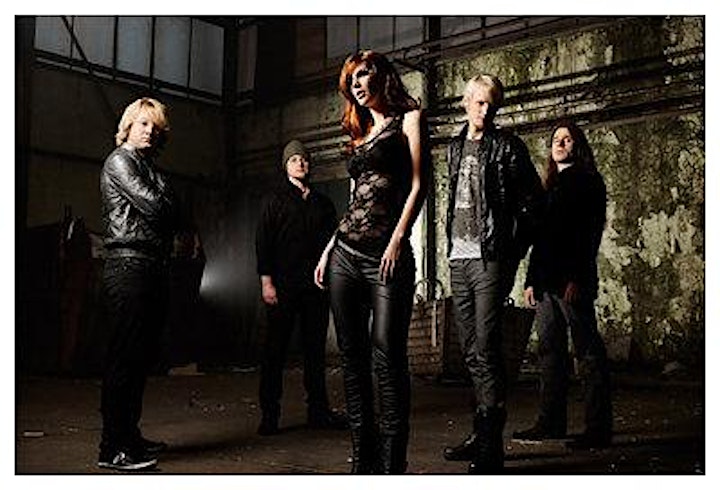 AMORPHIS
Founded 1990 in Helsinki, AMORPHIS have worked their way to the apex of the European metal scene and won international renown. The band's name, derived from "amorphous" (no determinate form or shape), has been programmatic for the pioneers of Finnish metal over the course of their 20-year career. Setting a diverse, intricate and unique style to their musical approach, often being described as "ahead of their time", the band accrued a large and loyal international fan base. From their independently released demo "Disment of Soul" (1991) through the current releases, Amorphis have always fused elements of traditional heavy, death and doom metal with a great variety of non-metal influences, including folk, progressive and psychedelia, and managed to create an instantly recognizable sound of their own. The band's break-through came in 1994 with "Tales From The Thousand Lakes". The album won the band a massive fan base around the world, reaching a multitude of listeners among and beyond the metal community, and remains immensely popular to this day.
In the early stages of their career, Amorphis consisted of Tomi Koivusaari (guitarist and original vocalist), Esa Holopainen (guitars), Olli-Pekka Laine (bass), and Jan Rechberger (drums). Together they greatly affected the metal underground, gained recognition and soon scored a multi-album contract with Relapse Records. Shortly after, Amorphis released their debut album, "The Karelian Isthmus". Receiving an impressive response, the band chose to venture further into melodic terrain, adding progressive keyboard sounds here and clean guest vocals (performed by Ville Tuomi of Kyyria) there. The result was the classic "Tales From The Thousand Lakes", which to this day is considered to be one of the most groundbreaking albums in the doom/death genre. For the first time incorporating lyrics from the Finnish national epic, the Kalevala, the album also was the first true manifestation of the influential Amorphis sound: a seamless combination of intoxicating melodies and aggressive sounds delivered with both clean and harsh vocals.
The success of "Tales From The Thousand Lakes" provided Amorphis with the opportunity to tour the European continent several times, and followed by their first US tour in late 1994. Shortly thereafter, the band underwent some major musical and line-up changes. Continuing to feature lyrics based on traditional Finnish folk poetry, the third album "Elegy" introduced a new vocalist, Pasi Koskinen. This adjustment proclaimed a significant transformation in Amorphis' career. Pasi's unique vocals brought a new setting to the music, which now concentrated more on compelling keyboard atmospheres, psychedelic guitar sounds and a distinctive arrangement of the vocals, delivered by both Tomi and Pasi. Encouraged by popular and critical approval, the band members took three years to prepare their next album, honing the newfound style to perfection. "Tuonela" was liberally sprinkled with 1970s-style psychedelic touches and marked another great leap ahead for Amorphis, and its successor, "Am Universum" delved even further into progressive soundscapes.
In 2003, Amorphis released "Far From The Sun". While closer to the band's metal roots than the previous longplayer, the album was again very relaxed and melodic as ever, spiced with Far Eastern touches as well as progressive elements in the vein of Pink Floyd. In the late summer of 2004, long-time singer Pasi Koskinen left the band, and Tomi Joutsen (Sinisthra) joined around the end of the year. With a new singer and new energy, the band recorded "Eclipse", an acclaimed masterpiece that combined the best-loved elements of Amorphis' unique sound with fresh vigour. The album went straight to the top of the Finnish charts and was followed by triumphant live appearances all over Europe before the band retreated again to the recording studio.
"Eclipse" was followed by "Silent Waters" in the late summer of 2007. The dynamic and emotional range of the new songs, all of which were based on a single episode from the Kalevala, went beyond any of Amorphis' earlier albums, yet at the same time hearkened back to the band's past output in all its diversity. The release of the new album was preceded by a string of festival appearances - including Germany's famous Wacken Open Air - and immediately followed by a five-week Finnish tour. The remainder of 2007 found Amorphis in Europe, Russia and Japan, whereas in 2008 they played in southeastern Europe, at a multitude of festivals and, during the fall, in the USA and Canada.
The new album "Skyforger" shares the lyrical concept of the two previous albums, its central character being Kalevala blacksmith Ilmarinen. Musically, the band soars to unprecedented heights; not abandoning the cherished ingredients of their sound but rather refining them, augmenting them with fresh elements, and delivering them with breathtaking passion and intensity. Both the album and the single "Silver Bride" went straight to number one in the Finnish charts, and the live qualities of the new songs were immediately tested and proven on the summer's festival stages. In September, Amorphis went on their first-ever tour of Latin America, followed by the extensive Forging Europe Tour in the fall. In the summer of 2010, the band presented its first-ever live DVD, which includes two full shows recorded in 2009 as well as a career-spanning documentary. The release coincided with the 20th anniversary of Amorphis, which in addition was honored by a compilation of re-recorded classic tracks, released in September 2010.
Nostalgia, however, is not what this band is about. Granted, The Beginning Of Times (2011) showcases their trademark style in perfection, including plenty of reference to the death metal days, yet at the same time it proves that Amorphis have lost none of their progressive edge and experimental spirit. Doing honor to protagonist Väinämöinen, the Kalevala's central character whom myth credits for bringing music into the world, the band brought forth its most versatile and nuanced effort to date; in terms of performance and arrangements as well as rythms and sounds. Iikka Kahri, whose flute and saxophone already graced several songs on Skyforger, was back in the fold, Tomi Koivusaari added a few discreet touches of pedal steel guitar and Santeri balanced the 1970s prog and 1990s death elements with a synth vocabulary straight out of the eighties. More noticeable still was the addition of Netta Dahlberg's backing vocals, which beautifully complement Tomi Joutsen's lead - most poignantly on "Mermaid" and "Soothsayer" but also, for example, on the single You I Need. Besides another number one in Finland, The Beginning Of Times also earned Amorphis their first-ever Top 20 rating in Germany.
At the outset of the third decade, Amorphis continue their musical journey creative as ever – not confined to any predetermined shape, yet always instantly recognizable, always true to their own vision, and always unique.
On August 21, 2012, Amorphis announced on their website that a new album was in the works. On January 17, 2013, the band announced the title and release date for their next record. Circle was released on April 19 in Europe and April 30th in North America. On September 16, 2013, Circle won Metal Hammer´s "The Album of The Year" award. Esa Holopainen on the award, "For us, Album of the Year award is a great recognition for the work done so far. Especially when we got it from our 11th studioalbum."
On August 4, 2014, Amorphis announced on their website and through social media that they would be playing a number of special Tales from the Thousand Lakes 20th Anniversary shows where their 1994 album would be performed in its entirety. Tales from the Thousand Lakes 20th Anniversary shows included festivals such as Wacken Open Air, Maryland Deathfest, and 70000 Tons of Metal with many other tour dates and festivals included.
The band began demoing new songs at the start of 2015, and in 4 March of that same year, it was announced that Amorphis will begin to record a new in album in April 2015, at Fascination Street Studio, Örebro, Sweden with Jens Bogren.
The lyrics will be written once again by Pekka Kainulainen, who says "Like 'Kalevala', they are descriptions of natural phenomena, seasons and the human mind. Reoccuring situations where hope and uncertainty alternate. Attempting to gain advice from higher powers. The poems do not form a complete story per se, but they are drawn together by a certain theme. We live under a red cloud and once again, time weighs us."
The release of the new album will be followed by a world tour, starting with shows in the band's home country of Finland, then other parts of Europe with Nightwish & Arch Enemy in November 2015.
In 15 June 2015, it was announced that the title for the twelfth studio full-length album is Under The Red Cloud, with the artwork and tracklist revealed and with a worldwide release date of 4 September 2015 by Nuclear Blast Records.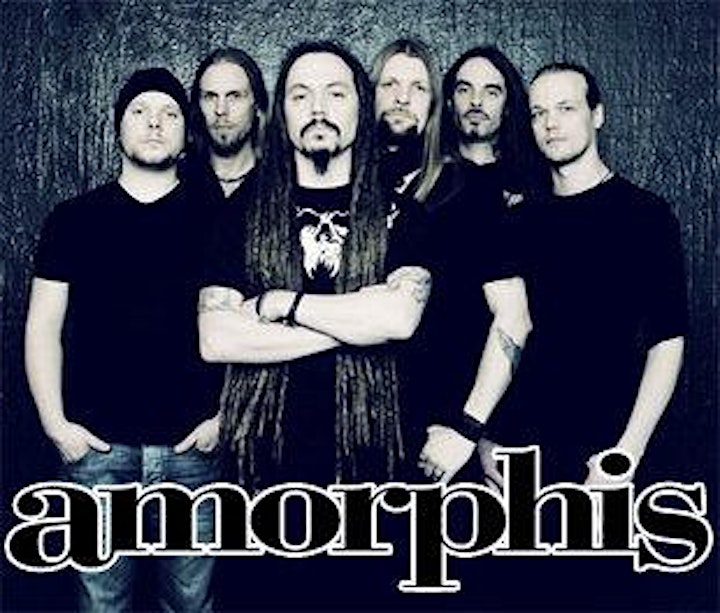 ANNEKE VAN GIERSBERGEN
Dutch singer, songwriter, guitarist and pianist, born 8 March 1973 in Sint Michielsgestel, The Netherlands.
Her first appearance on a release is: The Mess (8) - King Moron (The Original Soundtrack From The Motion Picture Of The Same Name).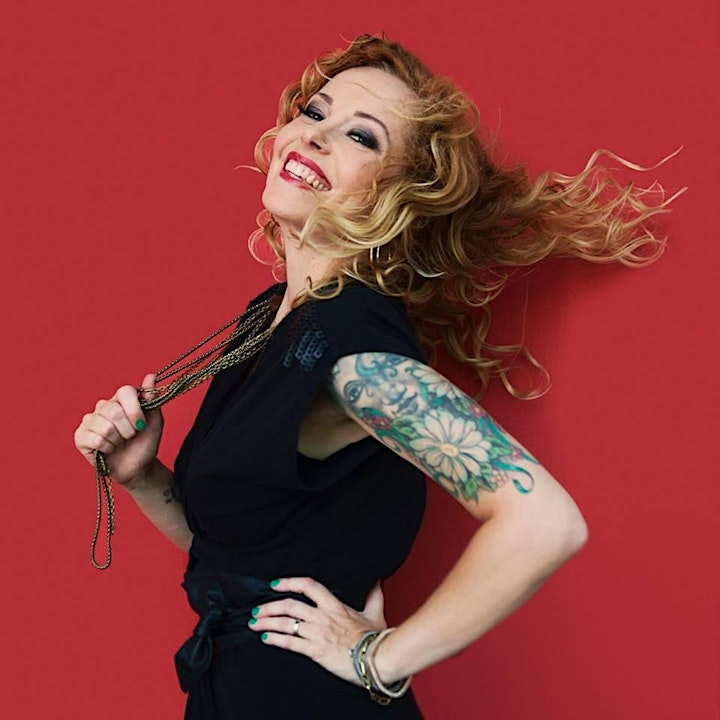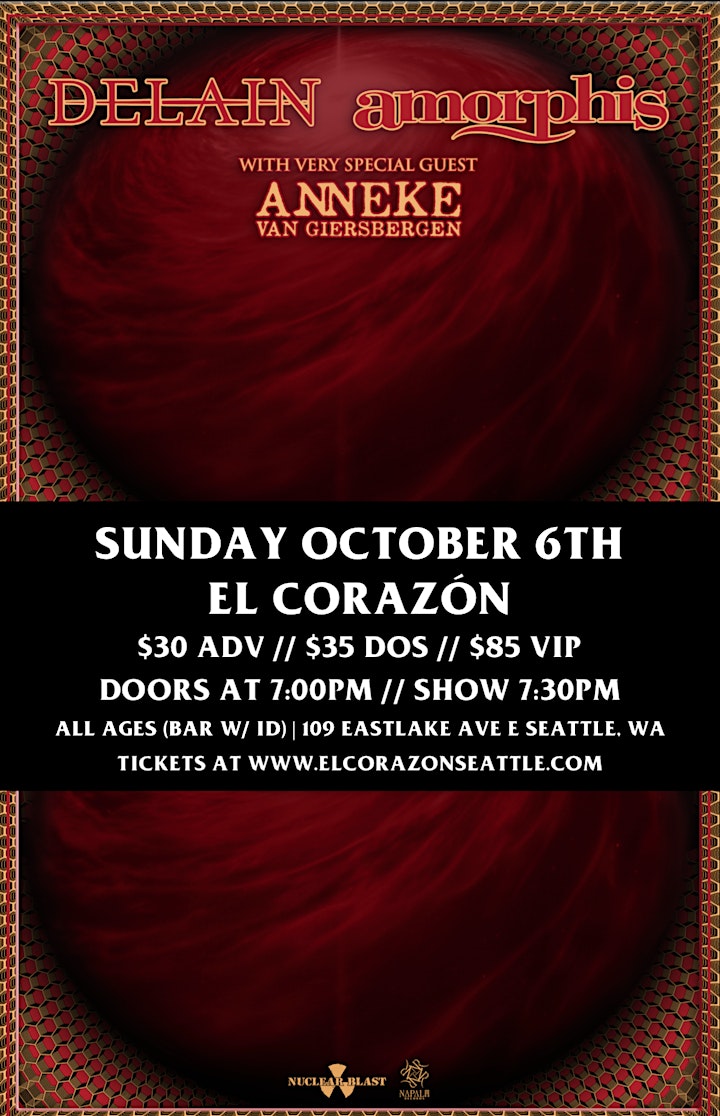 Venue Information:
El Corazon
109 Eastlake Ave East
Seattle, WA, 98109