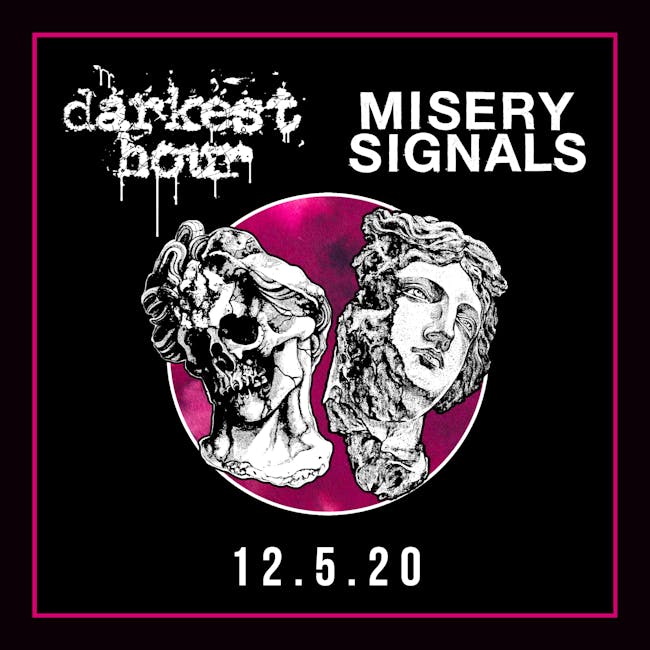 Darkest Hour
Misery Signals
El Corazon
DARKEST HOUR & MISERY SIGNALS Worldwide streaming event
Darkest Hour will be streaming an encore presentation of our Live at the Black Cat 2020 Benefit Concert while Misery Signals will be streaming a never before seen set recorded especially for this online event. Portions of the proceeds from ticket sales will go to benefit clubs all over the world who are either effected by our tour cancelations or have hosted a Darkest Hour / Misery Signals Concert in the past. We have built our careers on Live music, we will continue to do our best to give back and use this digital connection to ensure our future physical one. See ya in the digital pit!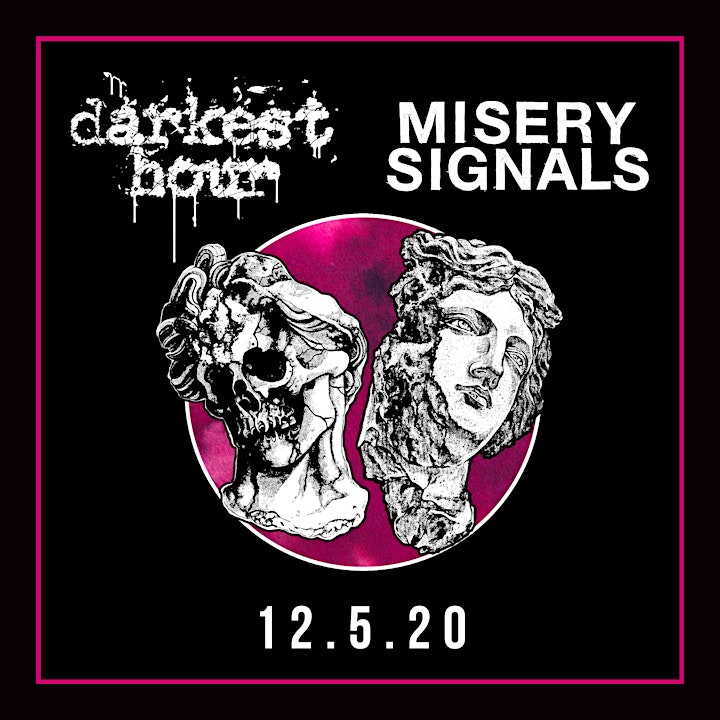 DARKEST HOUR
A bastard child born of the mid 90s punk/metal/hardcore movement, Washington, DC's DARKEST HOUR combine the passion, energy, and soul of punk/hardcore with the style, speed, vengeance and fury of melodic speed/thrash/death metal.
DARKEST HOUR have helped defined the entire New Wave of American Metal sound as one of the pioneers of modern metal/core. A sound that gave the metal and hardcore/punk world the revitalization it surely needed. This style blended the raw, hardcore punk of the 80s, with the Scandinavian death metal of the 90s and forged a sound that would later become the template for modern metal.
Since their inception 21 years ago, Darkest Hour has released 8 studio full lengths (via 11 different record labels), appeared in major motion pictures and US television shows, video games, and have toured the world extensively covering 6 of the 7 continents.
While many of their contemporaries have decided to hang it up, Darkest Hour is still charging ahead with invigorated spirit. In 2016, the same rabid fan base that helped propel the band into the national spotlight, pushed them to reach another milestone by helping the band crowd fund over $70,000.00.
The band then partnered with California based Southern Lord Records to help complete the release and distribution of this fan fueled release!
2017 will see the release of said album, and the world tour that will follow. This 9th studio album produced by underground legend Kurt Ballou (Coverge), at his Godcity complex, is destined to be a Metalcore classic.
Drawing from the bands 21 years' experience, this album is set to solidify Darkest Hour's legacy as a metal power house. Raw as all hell, musically complex, melodic, yet cutting with razor blade precision, Darkest Hour's 9th full length record, Godless Prophets and the Migrant Flora is fierce and hungry for blood.
MISERY SIGNALS
The most effective, connective and inspired creative expression often comes from those who've abandoned all aspirations beyond the art for the art's sake. At a time when the vast majority of the so-called "scene" is obsessed with careerist goals, popularity and time-tested formulas, Misery Signals have reemerged from self-imposed hibernation to once again remake the rules and reassert the inherent power of true passion. A decade since their initial formation, the Midwestern musical collective remains driven by determination, resilience and the urgent need to share their work with their enduringly diehard supporters.
Equal parts raw punk-rock spirit and skillfully adept heavy metal precision, the Misery Signals sound continues to stand apart from the pack on their first full-length album in over five years, the jarringly dynamic Absent Light. Hearkening back to the DIY hardcore ethos the band members grew up with, the new album was financed by Misery Signals fans via crowd-funding service Indiegogo. Longtime listeners and curious newcomers alike displayed their anticipation for new Misery Signals music by more than doubling the band's funding goal online.
Misery Signals is the type of group who inspires questions about time signatures and musical gear rather than hairstyles or love lives. Their combination of progressive, technical and atmospheric riffage with melodic prowess, impassioned frenzy and unhinged rock n' roll edge helped define part of the New Wave Of American Heavy Metal, a subgenre that includes the commercially successful likes of All That Remains, Killswitch Engage and Lamb Of God. The transcendent experimentalism of Deftones, the mind-bending pulse of Meshuggah, the power of seminal Metalcore masters Shai Hulud and the adventurously dynamic engagement of "thinking man's metal" band Cave In all exist within the unique blueprint Misery Signals have pioneered for themselves.
The fact that Misery Signals has thrived on tours with peers ranging from Between The Buried And Me and The Dillinger Escape Plan to Norma Jean and Emmure speaks volumes as to the band's singularly broad appeal. Leaders and not followers, innovators and not imitators, Misery Signals have built a catalog of stunningly complete sounding albums, including Controller (2008), Mirrors (2006) and Of Malice and the Magnum Heart (2004). After 11 years, Misery Signals retains three of its founding members: Ryan Morgan on guitar, his brother Branden on drums, and newly returned bassist Kyle Johnson. Gregory Thomas adds guitar-playing skill to the band's stew, which sits confidently behind the urgent vocals of Karl Schubach, who took on the frontman position in 2006.
The prolific members of Misery Signals stayed active even while separated by geography and the peaks and valleys of life outside the band. Karl dabbled with a super heavy solo project, Solace. Ryan and Kyle co-founded crusty hardcore throwback Burning Empires together with members of Fall Out Boy and 7 Angels 7 Plagues. Branden hooked up with guys from The Receiving End of Sirens and Motion City Soundtrack to form the female-fronted The Company We Keep, and stepped in as touring drummer for Emarosa.
Absent Light launches with the phrase "I'm not ready to say goodbye" in the album's first track, "A Glimmer of Hope." Clearly, fan feeling was very mutual. "Shadows and Depth" is triumphant as it declares, "We are the torchbearers!" The symbolism on Absent Light is thick and rich, from the trenches of war to the taste of ashes, burned out gaslights to the bewilderment of regret and closure.
The recurring theme of the reinvigorated band's first album together in five years is one of losing your way with an object of attachment perhaps only to find center again. Buoyed by a real-life 40-string ensemble with real instruments (the Morgans' father has spent decades with the Madison Symphony Orchestra) and even more exotic musical tools throughout, Absent Light retains the cinematic-sounding ambition that saw Revolver once compare Misery Signals to Sigur Rós.
Shredding musicianship has been popularized within the scene in the years since Controller, but Absent Light serves as a firm reminder that more musically driven, song-oriented compositions will always better showcase the "shred" factor than mindless showmanship. A largely self-produced effort mixed by trailblazing studio maestro Steve Evetts (The Cure, Glassjaw, Sepultura), Misery Signal's return wasn't bound by creative limitations, label pressure or outside expectation. And the overwhelming excitement about the compellingly participatory packages of the Indiegogo campaign helped inspire the quintet as they created together.
Misery Signals still delivers their boundary pushing music and live performances across the world, with a new commitment to touring with their main project shared by all of the members of the band. True torchbearers indeed, Misery Signals continues to fly the flags for authenticity, audience/band communal experience, old-school DIY ethics and impressively unwavering artistic bravery.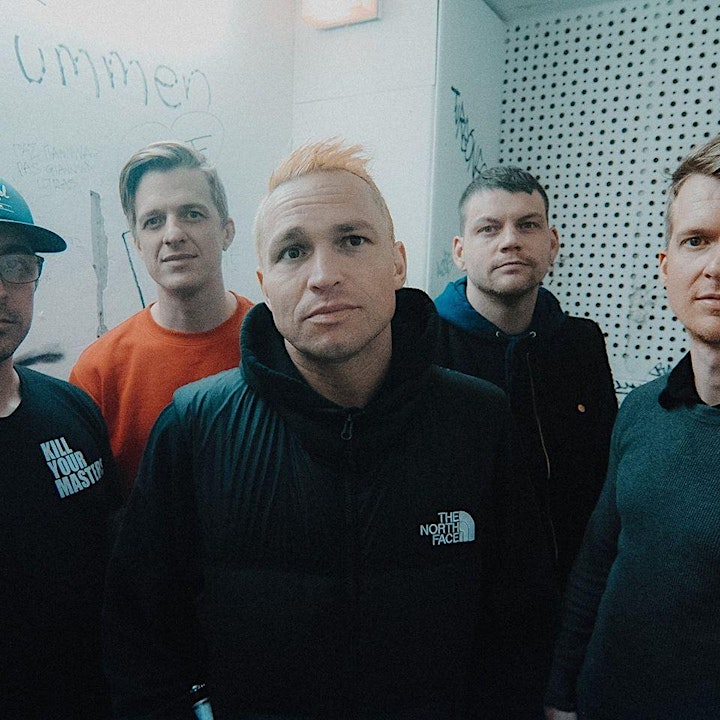 Venue Information:
El Corazon
109 Eastlake Ave East
Seattle, WA, 98109