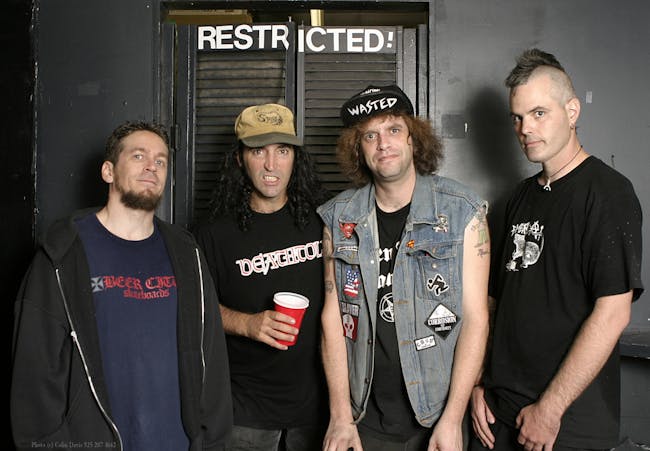 Presented by KISW (99.9 FM) Metal Shop & El Corazon
D.R.I.
Intent , Acid Teeth, DETÖNATÖR, DISCIPLES OF DISSENT, Toxic Reign
El Corazon
KISW (99.9 FM) Metal Shop & El Corazon Present: D.R.I.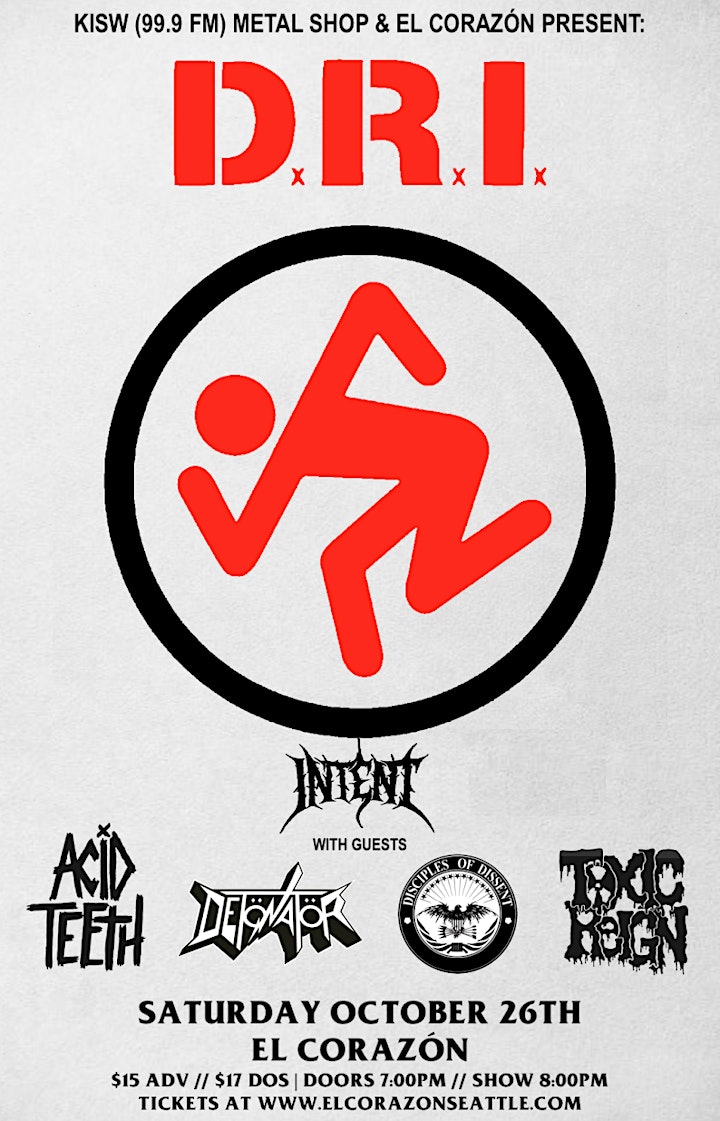 D.R.I.
Dirty Rotten Imbeciles (also known as D.R.I.) are a United States hardcore punk/thrashcore/crossover thrash band that formed in Houston, Texas, in 1982. The band currently comprises founding members, vocalist Kurt Brecht and guitarist Spike Cassidy, as well as drummer Rob Rampy and bassist Harald Oimoen.
D.R.I. never gained a mainstream audience, but the integration of their hardcore punk roots with thrash metal influences was a stylistic catalyst for their contemporaries —most notably Suicidal Tendencies, Corrosion of Conformity, and Stormtroopers of Death— alongside whom they are considered pioneers of what would later be called "crossover thrash." This subgenre was also coined from their 1987 album Crossover.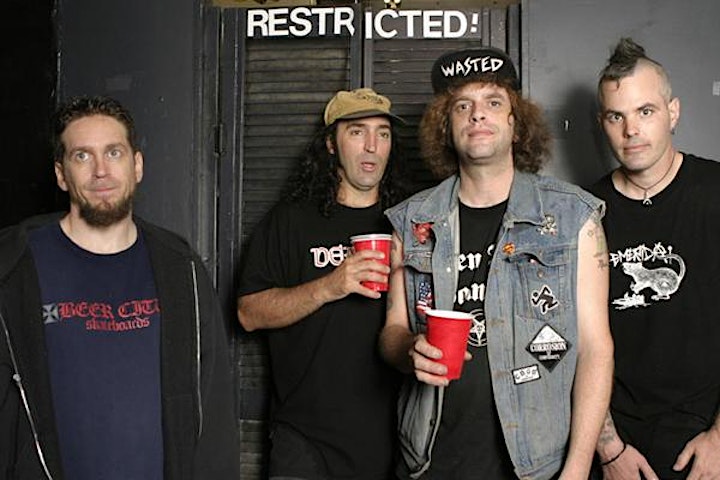 INTENT
Intent is a thrash metal band from the wasteland of Mesa, Arizona. Formed in 2016 by Jeremy Lambert, Garrett Loper, and Ricardo Hall; The band would eventually recruit Jimmy Nelson and Alex Zucker and go on to produce their debut album, "Vox Populi" in early 2018.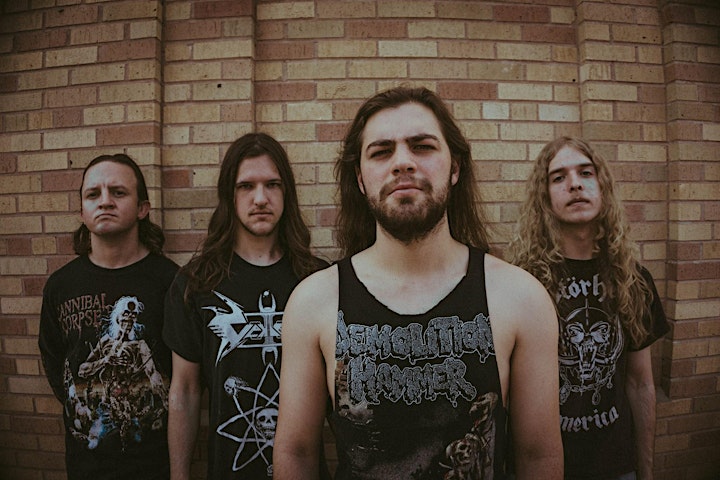 ACID TEETH
Acid Teeth features members from Northwest Punk Veterans: RC5, Go Like Hell, The Triple Sixes, Plaster
Hometown: Seattle WA
Genre: Punk/ Post Hardcore/ Pop Punk
DETONATOR
Speed-rock-n-roll from the Pacific Northwest.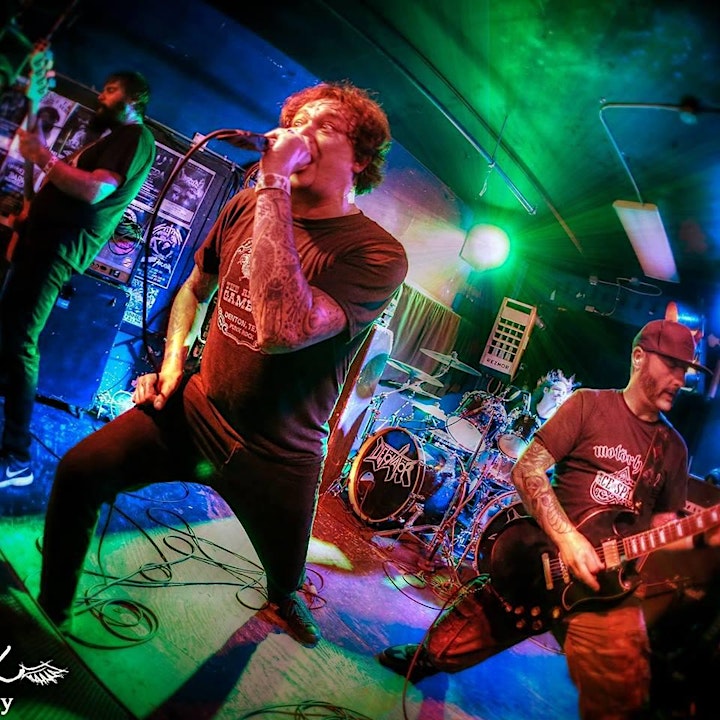 DISCIPLES OF DISSENT
Disciples of Dissent began as a two-man project in mid-2013. Brady Johnson and Shannon Laird first met at a show at Studio Seven in Seattle, and discovering a shared need to create an awesome metal band, formed the precursor to Disciples. Brady had already written most of the music and was looking for a drummer.
After the first couple of practice sessions, having worked with JG for many years, Shannon brought him on board for vocals. Jon Schluckebier and Eric Johnson joined shortly afterward, having known Shannon and JG since the early 1990s, and both being excited about the band, the music, the look and the message. JG had been sitting on the "Disciples" moniker for some time, and when Brady bowed out to pursue an MMA career, Disciples of Dissent was officially born. Eric suggested Robert "Bear" Fulmer as the second guitarist, and Disciples of Dissent became whole at that point.
The band is off to an amazing start so far, having already opened for national acts such as Sanctuary, Deicide, Hate Eternal, and Exodus within the last year.
JG, Shannon, Jon, Eric, and Bear, while having varied tastes in music, share a love of many of the same punk, metal, rock, and hardcore influences. Their shared mission and vision for the band is threefold:
To create heavy music and have fun doing so;
To get people thinking with their brains instead of letting the TV, radio, computer, or a corrupt government think for them;
To spread the message to the masses – LEGALIZE IT
TOXIC REIGN
Thrash metal from the gutter of Tacoma!
In 2009, Zakk and Lance met on Craigslist. When Lance saw Zakk's post which ended in "Poison sucks!", a match was made for destruction. The two practiced literally almost 7 days a week in the summer of 2009 at Zakk's apartment, playing along to bands like Metallica, Megadeth, Iron Maiden, Dio, Pantera, just to name a few. After a few tryouts of many members and Lance's stint with local Tacoma band Sword of Judgement, the two found Dave Prieto through a friend and started building a monster of b-horror movie porportions. The main goal of the band....:SPREAD THE THRASH METAL DISEASE AND HAVE AS MUCH FUN AS POSSIBLE!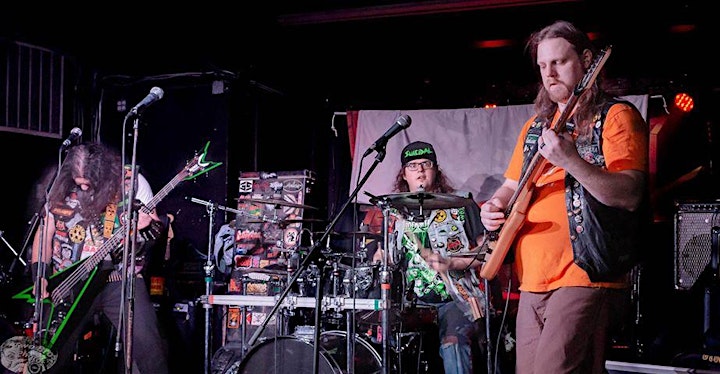 Venue Information:
El Corazon
109 Eastlake Ave East
Seattle, WA, 98109