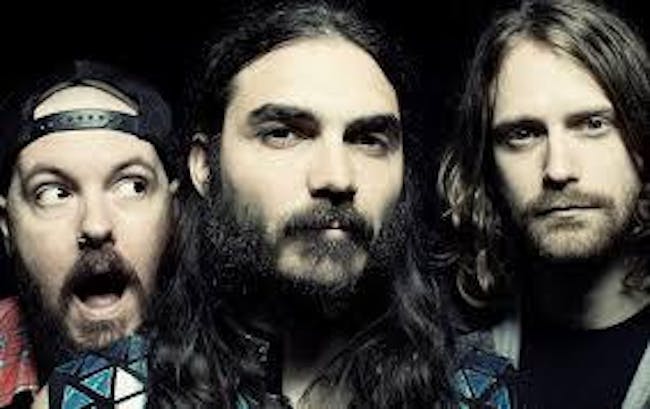 Crobot
Aeges, Like Machines , The Jab, Drastic Down
Funhouse
Crobot at The Funhouse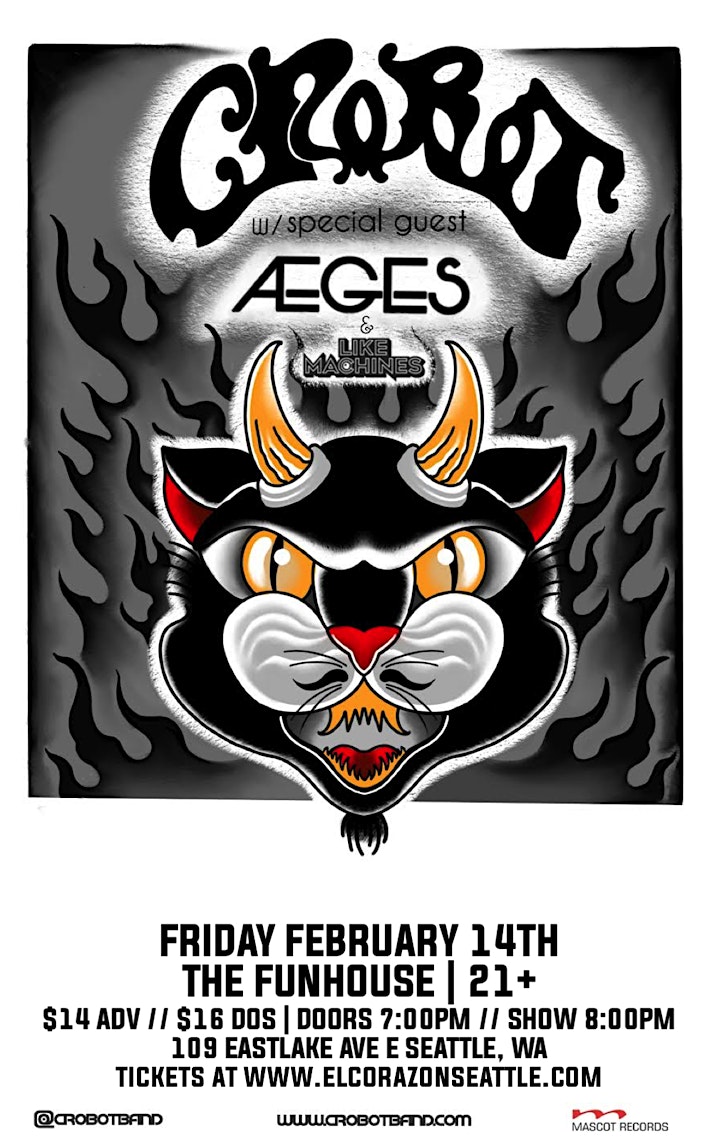 CROBOT
Like food of the gods, rock 'n' roll nourishes the soul. Offering holy communion, Crobot proudly personify a trinity of "meat, strings, and emotion" within their music and during the raucous and raging gigs they remain known for. Striking a delicate balance between hard-charging riffs, ass-shaking funk, and out-of-this-world reflective stage attire, the Pennsylvania quartet—Brandon Yeagley [lead vocals, harmonica], Chris Bishop [guitar, vocals], and Dan Ryan [drums], satisfy starvation for sonic sustenance on their fourth full-length and 2019 debut for Mascot Records, Motherbrain. James Lascu and Eddie Collins share the role of touring bassist for Crobot.
"When we were making the record, it was all about 'meat, strings, and emotion'," affirms Chris. "It explains the thought process. We'd usually start the day with chicken biscuits from Chik-fil-A. Obviously, I would play the strings. The emotion comes from the sheer power of me playing."
"It had nothing to do with the chicken biscuits," laughs Brandon.
Regardless, Crobot continue to fill a void. Since emerging in 2011, the group have quietly cemented themselves among the rising rock vanguard. Following the 2012 debut Legend of the Spaceborne Killer and 2014's Something Supernatural, the musicians made waves with Welcome To Fat City in 2016. Consequence of Sound praised the title track as "a stomping slice of doom," and Classic Rock bestowed a coveted 4-out-of-5 star rating on the album, going on to claim, "Welcome To Fat City is a mighty leap forward for Crobot, an ebullient masterclass." Not to mention, they received acclaim from AXS, New Noise Magazine, and more as total album streams surpassed the 1-million-mark. Along the way, Crobot toured with the likes of Anthrax, Clutch, Black Label Society, Volbeat, Chevelle, Motorhead, The Sword, and more in addition to appearing on ShipRocked! and at numerous other festivals.
During late 2017, the boys started to write what would become Motherbrain. Signing to Mascot Records, the group went from writing at Chris' spot in Austin, TX to Marietta, GA where they holed up in the studio with Corey Lowery [Seether, Sevendust, Saint Asonia, Stereomud] for a month. The producer's direction to embrace the dark side took life, while Brandon delivered some of the most emotive recordings Crobot has delivered to date.
"I think it's a much darker record, musically, lyrically, and thematically," says the frontman. "It's some of the heaviest material we've ever done, but it's also some of the funkiest. We're widening the Crobot spectrum even more. It's the catchiest too. It's less about wizards and dragons and more about everyday turmoil and the struggles of life. Corey made it digestible and appealing for not just dudes with beards or chicks with dicks."
They heralded the record with the rabble-rousing "Keep Me Down." Meanwhile, the first single "Low Life" shows the scope of this expanded palette. Featuring chunky guitars and a howling hook, it sees the band co-write with Johnny Andrews and deliver a bold banger. "It's a song we never would've written by ourselves," Chris continues. "That makes it cool. It took us out of our comfort zone." "It's an anthem about this outside perspective on the definition of a lowlife," explains Brandon. "There's a misconception that being a touring musician without a lot of money makes you a lowlife, but how is that really any different from the rest of the world? And, if that does make you a lowlife, we're okay with it!"
Co-written by Brian Vodinh of 10 Years, "Burn" nods to "the power of Stone Temple Pilot's 'Dead and Bloated'," and siphons it through "a Crobot filter." Elsewhere, "Drown" tempers a muscular groove with a magnetic melody, while the "funkiest song" of the bunch "Alpha Dawg" pays homage to a "funky werewolf mofo" inspired by Teen Wolf. Then, there's "Stoning The Devil." So catchy it might be Satanic, the tune flips tradition upside down.
"I wanted a different spin on the act of stoning the devil," states Brandon. "Muslims take a pilgrimage to Mecca in Saudi Arabia to throw stones at these pillars. The act is supposed to ward off evil spirits and cleanse one's soul. It's a different culture for the devil's storyline in our genre."
In the end, "meat, strings, and emotion" might just be what rock 'n' roll needs in 2019 and beyond…
"When people hear this, I hope they say, 'Yeah, that's Crobot'," the frontman leaves off. "We want to maintain our identity from record to record. We always want to be genuine. It's going to evolve, but it will always be Crobot."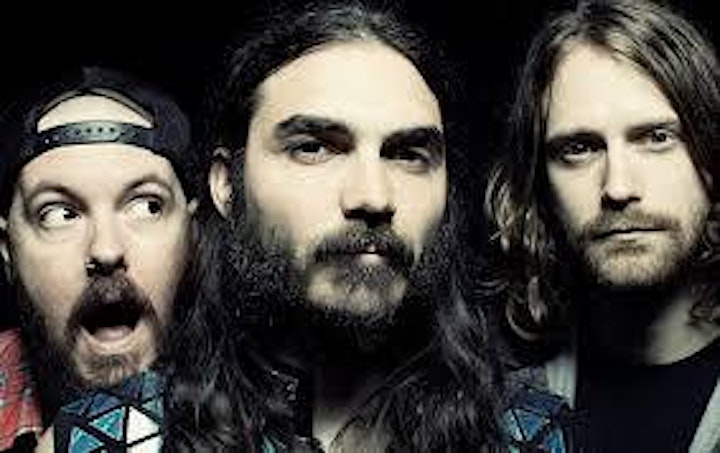 AEGES
In ÆGES (pronounced "ages"), ambitious rock n' roll soundscapes and melodies the size of mountains are the electrifying result of four men from diverse musical backgrounds united by their shared love of loud guitars, big drums and catchy songs. Since joining forces in Downtown Los Angeles, guitarists/vocalists Kemble Walters and Cory Clark, drummer Mike Land and bassist Tony Baumeister have concocted a thrilling sound that's both nostalgic and forward thinking. ÆGES has made the improbable marriage of massive extremes their hallmark, steering beyond the simple combination of sonic crunch and melodic hooks into a hypnotizing and enchanting lane occupied by pioneering acts like Queens Of The Stone Age and Soundgarden. The group has earned accolades from respected outlets like BrooklynVegan, Decibel, Exclaim!, MetalSucks, Guitar World, and Alternative Press; shared stages with Tool, Coheed & Cambria, Thrice, Buckcherry, FLOOR, and Local H; and joined tastemaker festivals like Fun Fun Fun Fest, Power Of The Riff, and South By Southwest. The interplay between Walters and Clark in particular is an absolute standout all over Weightless, the most fully realized work from ÆGES thus far. The duo's separate screams, blending harmonies, jagged duels and unrelenting passion simply blow the doors down. Weightless is as fierce and chaotic as it is earnest and atmospheric. For their first album with Another Century, ÆGES worked with veteran rock producer Bob Marlette (Black Sabbath, Shinedown, Rob Zombie, Seether) and mixer/Saosin guitarist Beau Burchell (The Bronx, Emery, Middle Class Rut), with additional production on a couple of the Weightless tracks handled by the band themselves. The Bridge (2012) was a guitar driven affair whose singular focus gave way to the even bigger sonic tapestry found onAbove & Down Below (2014), cementing ÆGES as four players with distinctive strengths that combine to make something virtually unrivaled today, as clearly evidenced by every single song on Weightless. The new record from ÆGES takes listeners on a journey to a place somewhere between The Green Albumby Baroness,Colour & The Shape by Foo Fighters, and Superunknown by Soundgarden. Weightless is fully charged by powerful guitars, pounding drums, rich melodies, and delays veering between dense and sometimes sparse. Massive sonic heft, magical melodies, odd - time signatures and raw power cohabitate with transcendent catchiness throughout, as various combinations of sonic strength and spacey noise build tension that is both organic and dramatic, earning each of the album's biggest moments with authentic earnestness. ÆGES has mastered the slow psychedelic jam as well, intertwining all of these elements with desert rock, flashes of prog, and thick guitars that ebb and flow. ÆGES is prone to experiment with dissonant sounds without the pretensions of art - rock; they swing for the fences with unabashedly huge vocal hooks, without the vapidity of pop rock. This is a band with unstoppable potential, owing much to the fact that they can shake the earth with grandiose bombast without the boundaries and limitations of hard rock, hardcore - punk or any associated subculture. With nothing tying ÆGES down, their future is truly Weightless.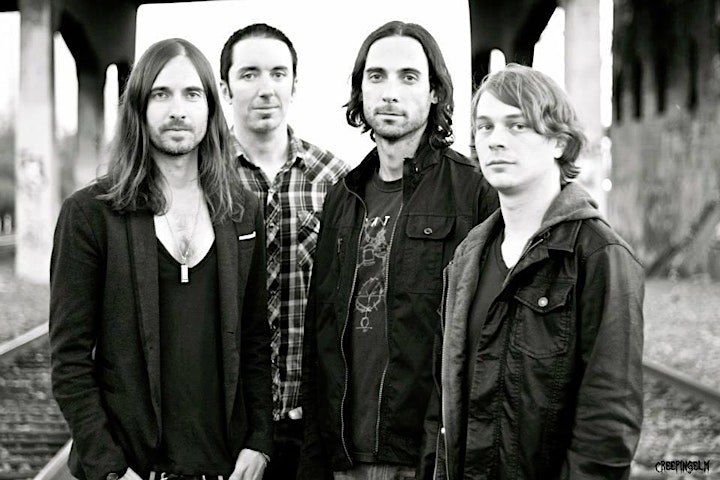 LIKE MACHINES
Established in 2019, Like Machines is a hard rock trio reigning from Atlanta, GA. The group (formerly known as The Stir) has toured the country with artists such as Collective Soul, Fozzy, Tyler Bryant & the Shakedown, Clutch, and more. Newly named and newly inspired, the band has been in the studio recording tons of new music. Working with Madison Records and Red Light Management, Like Machines is set to be releasing their new music for the remainder or 2019. Be ready...

THE JAB
The JAB frontman Jam Alker was showcasing his punk-blues aesthetic for major labels on the Chicago club circuit just a handful of years ago. With the world at his fingertips, he swapped his guitar for the needle and disappeared for nearly a decade.
In 2014, the birth of his daughter finally flipped the life or death switch and he began treatment. An arduous journey of detox and song-writing therapy laid the foundation for his debut LP, CONSUME.
Tom Stukel, Terry Byrne, Ryan Herrick, and Alex Piazza—all seasoned, dynamic players—collaborate with Jam on blue-collar thinking-man's music, delivered with grit and transparency.
The result is the bluesy, post-classic rock, modern sludge rock record CONSUME. With bite-sized versions of Led Zeppelin's monstrously thick-grooved riffs, the sensibilities of a Black Keys album, and an often-deep southern melody, CONSUME is the darkest feel-good record in years.
The JAB is releasing its first single "RIOT" on Dec. 13, 2019, and will be touring throughout 2020 in support of the release of CONSUME on Feb. 4, 2020.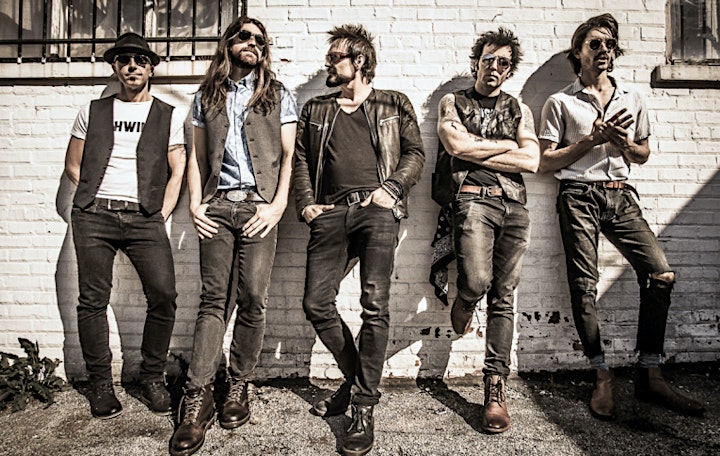 DRASTIC DOWN
Drastic Down is a four piece hard rock band hailing from Seattle, WA. Formed by Enrico Mariuzzo and rounded out by Andy Brodigan, Craig Raphael, and Jordan Miles. They're slated to release an a EP in 2019.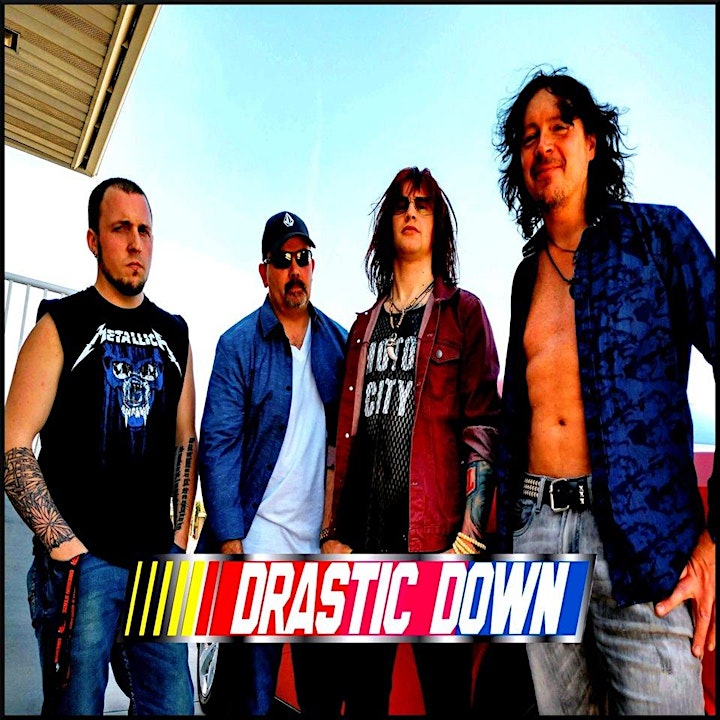 Venue Information:
Funhouse
109 Eastlake Ave E
Seattle, WA, 98109