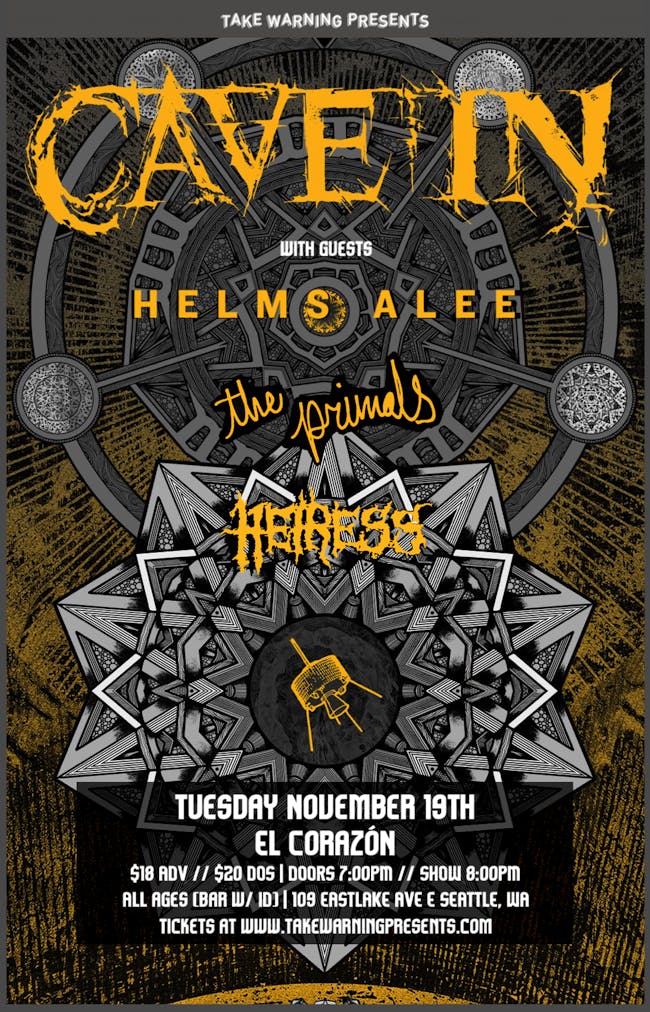 KISW (99.9 FM) Metal Shop & Take Warning Present
Cave In
Helms Alee, THE PRIMALS, Heiress
El Corazon (SEATTLE)
Ticket price includes $1 donation to Caleb Scofield Memorial Fund.
Cave In
Cave In is an American rock band that formed in 1995, in Methuen, Massachusetts. Sonic Deathwall.
http://www.facebook.com/CaveIn.Official
http://instagram.com/sonicdeathwall
https://twitter.com/SonicDeathwall
Helms Alee
Helms Alee is a Seattle three-piece formed in 2007 by Ben Verellen (Harkonen, Roy, These Arms Are Snakes) and is completed by Dana James and Hozoji Margullis.
The band combines heavy rock with melodic arrangements and seems to have an ear for excellent composing. All members of the band exchange lead vocals duties and occasionally teams up for harmonies.
http://helmsalee.bandcamp.com/
https://www.facebook.com/HelmsAlee
http://instagram.com/helmsaleemusic
THE PRIMALS
The Primals began with songs written by John Henry and drummer Andrew Black. In 2015, they self-released a demo LP, and added bassist Chad Fjerstad to the lineup. As a trio, they shifted towards a slightly heavier sound while maintaining the pop sensibility of the early material. In 2017, with their new material, they garnered the attention of producer John Reis, and in turn, Southern Lord Records. On September 7th, 2018, their proper debut, "All Love Is True Love" was released on Southern Lord Records.
Members:
John Henry - lead vocals, guitar
Andrew Black - drums
Chad Fjerstad - bass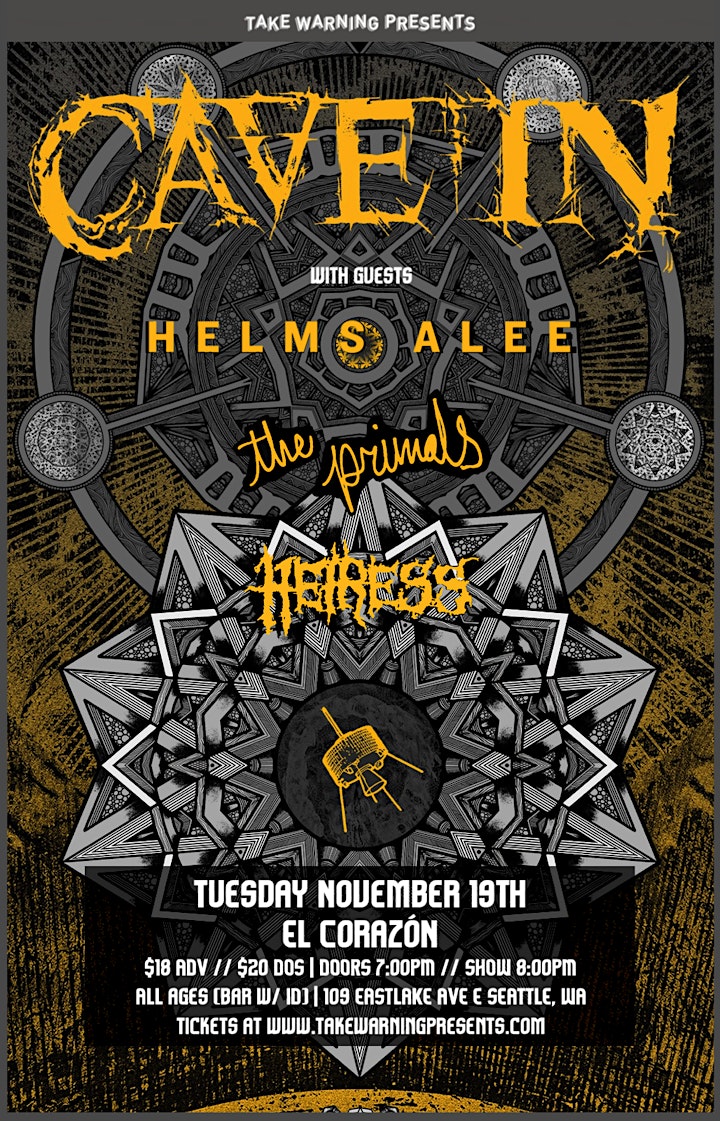 Venue Information:
El Corazon (SEATTLE)
109 Eastlake Ave. E.
Seattle, WA, 98109