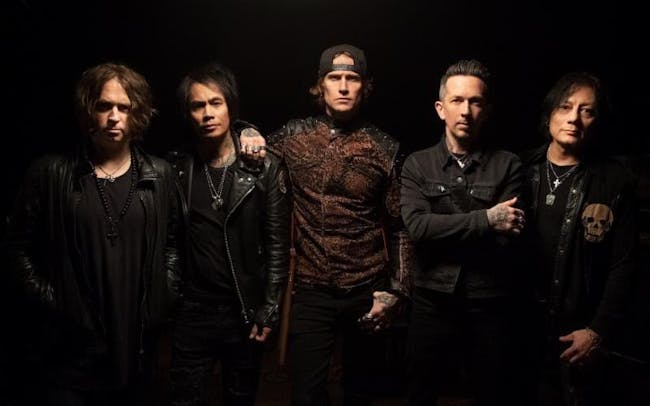 Buckcherry
Jaded Mary, Palooka, Aisha
El Corazon
Buckcherry at El Corazon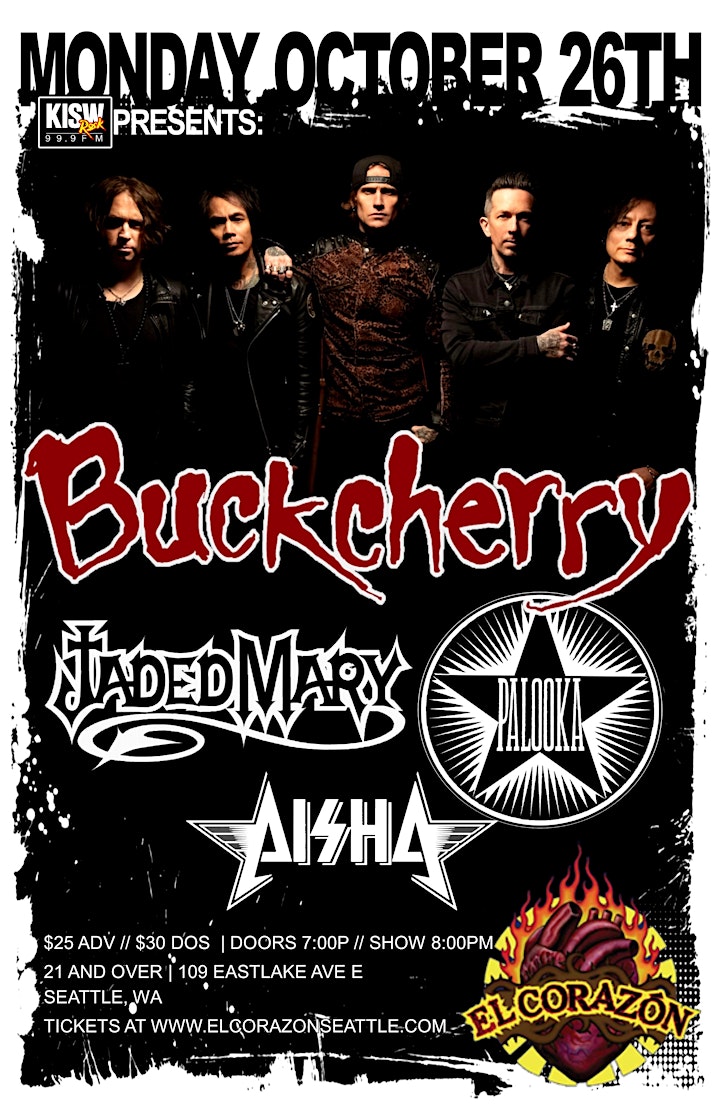 JADED MARY
Have you been Jaded?
Welcome to the world of Jaded Mary. An ever-evolving musical experience. A successful an proven formula that is a direct result of their ability to deliver a legendary performance.
Every time.
The music of Jaded Mary is a reflection of their diverse influences, rare chemistry and exceptional musicianship. The pursuit of their creative vision produces a unique and relevant sound that challenges the boundaries of musical creativity.
TEB has lived, composed and performed in many different musical worlds. His technique is heavily influenced by the various genres he has extensively studied. He exercises his knowledge by exploring new melodic realms on electric guitar, harp guitar and various other stringed instruments.
Jamal began playing bass at the early age of nine. His love for music and appreciation for it's history has given him an uncommon and sometimes abstract approach to music. His ability on the bass guitar has won him praise and respect from both musicians and fans alike.
LAW began as a classically trained percussionist. His refined application of cadence and rhythm and attention to tempo and time, brings a solid and familiar feel to his performance. LAW continues to experiment with new and progressive patterns to serve as the connection between all the musical elements of Jaded Mary.
Dave is a life-long student and lover of music. His passion was fostered early in life by his family, and through his education, experience, and practice of various styles and instruments, he has developed a genuine and soulful approach to song writing. Dave possesses a rare ability to invoke an emotional connection with compelling lyrics and warm, powerful melodies.
Jaded Mary's dedication has rewarded them with regional radio air play, live international web casts, televised performances, featured articles, positive reviews and the opportunity to share the stage with several national acts.
Join the experience and answer the call...
Have you been Jaded?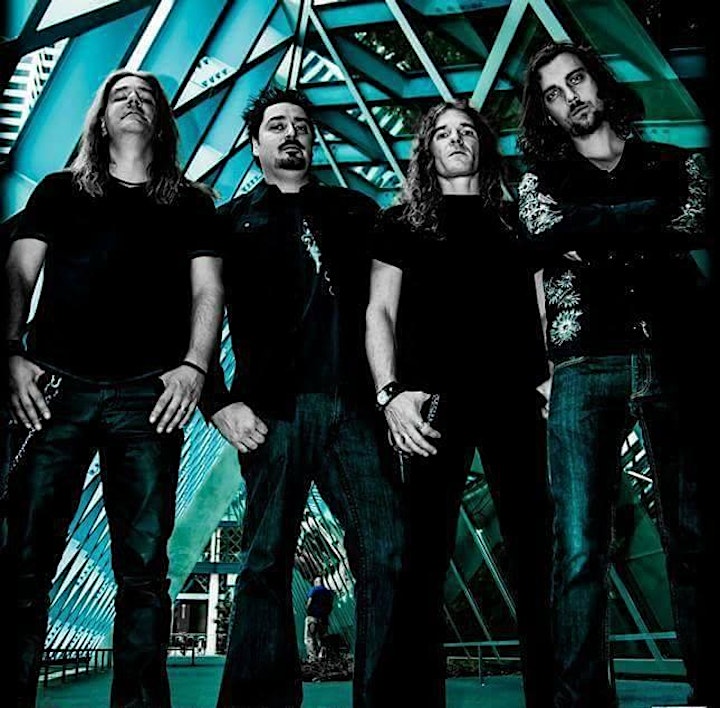 PALOOKA
PALOOKA is big thick two guitar rock the way nature intended it. Singer Chuck Campbell belts out melody lines full of emotion and purpose with tenacity. Duffy Delgado and Glen Logan trade flurries of devastating and searing guitar punches reminiscent of a barroom brawl. All of which sits on the rock solid pounding foundation built on the talents of Howard Binner on bass and the percussive mauler Jason Reavis on drums.
PALOOKA clearly borrows from their past contributions to bands like Overlord, Bible Stud, Slaughterhaus 5, Debutant, Razrez, and Nylon Kincaid. PALOOKA brings those and other influences together to offer a complete and contemporary take on Hard Rock/Alternative music full of honest emotion and grit.
What's Wrong With Wanting Everything is not only the title of PALOOKA's cd and the accompanying title track but it also seems to be their approach to putting together an album. The 11 songs on this cd cover a lot of ground which at times makes it hard to fathom how all these often divergent tunes sit so closely together, so comfortably. The good news for the listener is that they do.
How you ask? It may be the fact that PALOOKA brings together musicians who have been haunting the Seattle scene from the pre grunge days (yes there was a pre grunge Seattle music scene) to present. PALOOKA is made up by former members of Overlord, Bible Stud, Boss Martians, Razrez, Debutant, Born Naked. Combined with influences PALOOKA sites ranging from Elton John and Louis Armstrong to Bowie/Ronson, KISS, Cheap Trick, Alice Cooper, Iggy Pop, The Sex Pistols, The Cult, The Ramones, The Rolling Stones, Motorhead, Judas Priest and many more the picture gets a bit clearer. Topped off by the obvious Evel Knievel hero worship that asserts itself from their younger days as demonstrated by the cover photo we start to get a glimpse of how they pull it off.
What's Wrong With Wanting Everything goes from heavy and loudly extroverted at times to subdued, self-critical and introspective. Not afraid of guitar solos, or quite acoustics the musical pallet here ranges from hard rock with metal tinged fury to something approaching alternative and at times even bluesy. Songs on this cd deal with subjects ranging from larger social commentary with songs like Ugly American, and Dime Store Jesus, to the loss of a close friend and brutal self-examination on Sun Will Rise, and Golden Boy, to a gratuitous pursuit of life in the adrenaline fueled moment on the title track.
Ambitious? Sure but it works. According to PALOOKA there is nothing wrong with wanting everything and this cd proves that they just may be on to something.
PALOOKA's, CD What's Wrong With Wanting Everything was released on June 28th 2011. The first run of the CD sold out within a little over a month. Songs from the CD What's Wrong With Wanting Everything have been featured on KISW, Seattle's premier rock radio station as well as many internet radio stations and podcasts worldwide.
PALOOKA released a 2 song 7 inch vinyl single on August 27th 2013 featuring the song She's Speed backed by live fan favorite Under Control.
Their second LP Turbo Excelente, released on November 18, 2017, features 10 songs on 12-inch black vinyl and includes a digital download card. The vinyl version is available at select record stores in the Pacific Northwest and Worldwide, as well as directly online from CD Baby.
Turbo Excelente is the product of writing and recording demos of almost 20 songs then choosing the 10 that came together to become the album we wanted to create. This album was a labor of love for all of us and we are excited to share it with the world.
In early 2019 PALOOKA released a digital single featuring the songs Separated From Sunshine and Do You Need It which is available via CD Baby and on all major digital music sites and apps.
Most recently PALOOKA has been in the studio with the new line up and has plans for several releases over the Summer of 2019. Plans also include writing new material for the next PALOOKA album which the band plans to start recording this Fall.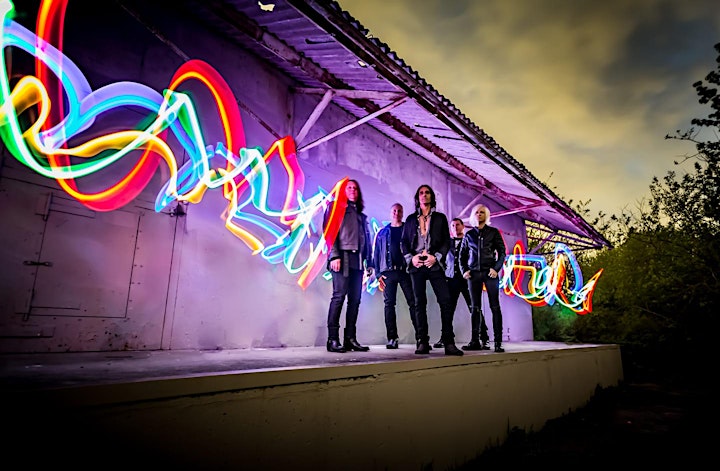 AISHA
Classic riff Rock n' Roll is alive and well with Seattle vocalist and songwriter Aisha. Her thunderous guitar riffs and electrifying vocals deliver an original yet familiar brand of rock n' roll, with songs of arena sized proportions.
In 2012, Aisha founded Seattle's All Female Soundgarden Tribute band, where she turned heads with her natural and authentic delivery of Chris Cornell's powerful vocals. In 2018, she embarked on an original solo career. Her upcoming self titled debut album is a breath of fresh air for rock n' roll purists, with catchy Joe Perry-esque guitar riffs, and soaring vocals reminiscent of classic heavyweights such as Robert Plant, Steven Tyler, and Chris Cornell. Aisha's self titled debut is a time capsule of sorts, drawing together songs inspired by each of the golden eras of rock. With influences such as Paul Rodgers, Chris Cornell, Whitney Houston, The Black Crowes, and Prince, Aisha has a unique vocal style that will surely one day place her in the ring with the rock n' roll big dogs.
Catch Aisha live with her wall of sound, consisting of drummer Chase Culp, bassist Rose McMayhem, and featuring a rotating lineup of guitarists including Kathy Moore and Keith Wright.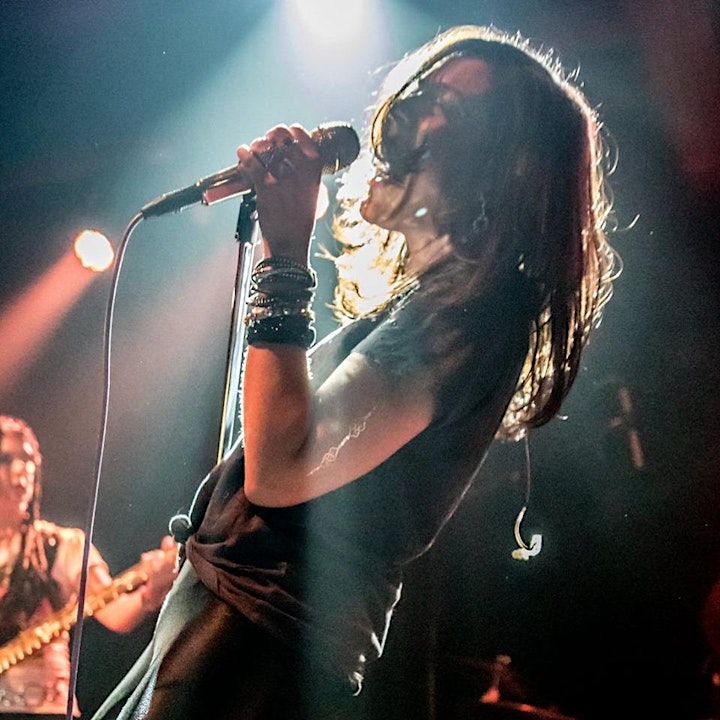 Venue Information:
El Corazon
109 Eastlake Ave East

Seattle, WA, 98109