Ape Shifter plus Guests at El Corazon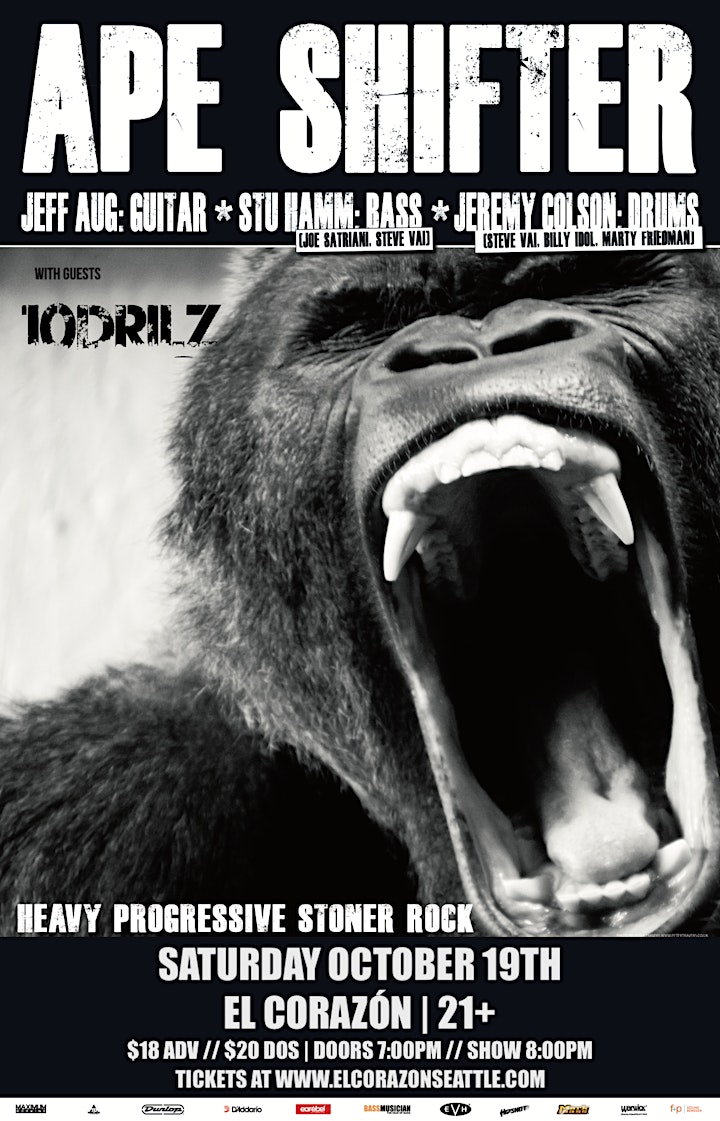 APE SHIFTER
German-based progressive-stoner rock trio APE SHIFTER will debut on North American shores this fall, featuring the extraordinary lineup of APE SHIFTER leader/guitarist Jeff Aug, legendary bassist Stu Hamm and drummer Jeremy Colson.
Stu Hamm, whose resume includes performing with Joe Satriani, Steve Vai and Caifanes, says, "I have known Jeff and his music for years, and Jeremy and I are going to KICK THE SHIT out of this music on the APE SHIFTER tour!"
APE SHIFTER's second album, Ape Shifter II, was released earlier this year to critical acclaim. Fusing a classic heavy rock sound that arcs in the stoner rock direction with technical musical prowess, APE SHIFTER is dissimilar from any other progressive instrumental band.
"It is instrumental music without sounding like nerd rock," says Jeremy Colson, who also currently drums for Steve Vai and has worked with Billy Idol and Marty Friedman. "It is punk rock mentality with heavy grooves!!!"
Since releasing their self-titled debut in March 2017, APE SHIFTER has completed several European club tours and has shared bills with Loudness and The Skull, among others. Festival performances have included the main stage at Zytanien, Burg Herzberg Festival, OBOA, Free n Easy, Festival Kult!, and others.
Say Jeff Aug, "…Atomic Bitchwax comes close, but there is no one on the planet doing what APE SHIFTER does."
Born in Washington, D.C. and raised in nearby Laurel, MD, Jeff Aug relocated to the foothills of the Alps in Southern Germany over 20 years ago. Since then, he has toured with notable musicians such as Allan Holdsworth, Soft Machine, Greg Howe, Alex Skolnick, Carl Verheyen, Johnny A., Albert Lee, and has performed shows with an eclectic mix of artists including Jawbox, Shudder To Think, Joan Jett, Thee Hypnotics, Scorpions, Alice Cooper and Body Count with a previous band. He's worked with John Stabb from Government Issue, has been touring and recording with Anne Clark for the last 15 years and nas been touring as a solo guitarist for more than 25 years. Aug can also be heard on the Atari Teenage Riot album Is This Hyperreal?. Not surprisingly, Aug set the world record for the "most concerts performed in different countries in 24 hours," not once but twice in 2009 and 2012). He´s been featured on NPR´s show Morning Edition and has had a #1 selling album on iTunes Acoustic Music Charts in the U.S.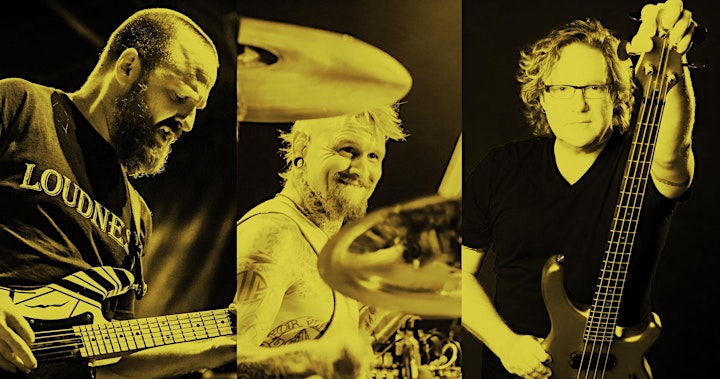 10DRILZ
10Drilz is an up and coming entrepreneur, producer, artist, and DJ. With over five years in the field, 10Drilz continues to flourish. For many years he was underground working with local rappers and singers, perfecting tracks and providing new music regularly. 10Drilz is the creation of DMV native Brendan Wertlieb. With a B.A. degree in Music and Social Entrepreneurship, including concentrations in music composition and production, 10Drilz is continually evolving and perfecting his craft. A lifelong love of music with an eclectic mix of influences, he has performed in live music for over a decade and has come to understand that music can bring people together to change the world. Ultimately he wants to help achieve world unity. Music is his passion and he puts it well before most things. He is now pleased to announce the release of music you have been deprived of.
10Drilz is a founder, producer and driving force behind the legendary label Masked Appeal which has been his split focus for the past 5 years. Masked Appeal has been developing over time and is on the verge of ground breaking releases. 10Drilz and Masked Appeal will revolutionize the music industry by bringing the heat on the regular and creating music that pushes the envelope.
10Drilz pulls from all genres of music to create unique fusion style tracks. From remixes, to rap beats to original music, 10Driilz can do it all, creating the perfect environment and sound to suit all your music needs. Explore his library of completed work, or commission an original composition to meet your style and standards. Inquire about production and recording services as well.
Global, national and local events combine to cloud our ability to see the positive. You are being intentionally blinded. Music is a powerful tool, you are encouraged to use your ears and brain. With music we can revolutionize the way we think, communicate and behave. With his music he hopes to create change, and provide a place we can all enjoy and maintain. You can be a part of the change. His performance campaign will be shaped in a similar way to the legendary Bassnectar's. Very few producers/DJ's/ musicians give back to the community. 10Drilz plans to be able to do similar projects and movements, starting by contributing a portion of ticket sales to a cause of your choice. This will be voted on and decided by the audience.
You can be part of the movement. You can reach your potential and use music to bridge the gaps, spread the positive and change the world.
Thanks for all the support – X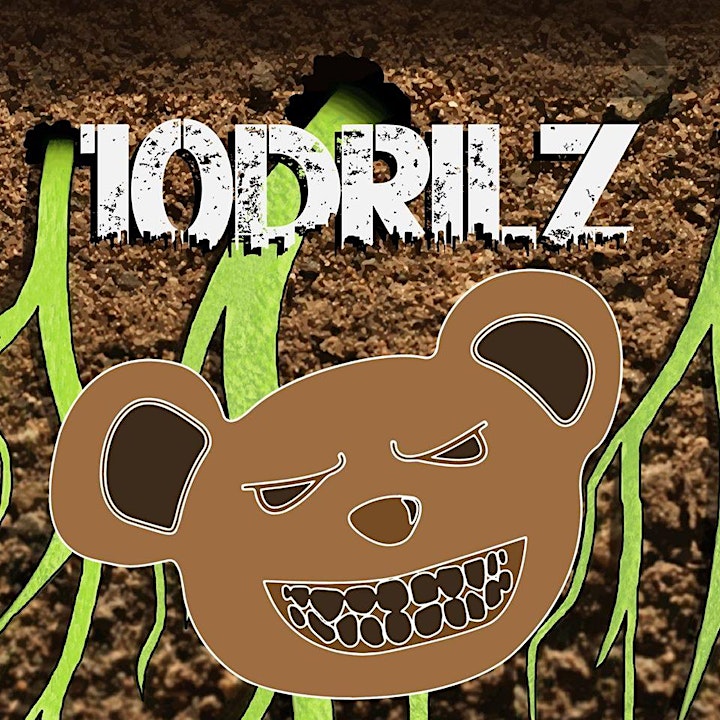 ODAX
A hereby sword-wielding, melody-tinged metal band, Odax is the product of Daniel Keating, Eamonn "The Shieldbreaker" McCauly, who, along with Nick Raykovich (vocals) Dashiell Sanders (drums) and Chris Haller (guitars) unite in Odax. Odax's self-titled debut benefits not only from the accompanying realm "Hyrethrone" where the album's story takes place, but compact, if not proto-metal-leaning cuts, the joint union of Thin Lizzy and NWOBHM.
Currently at work on the second album ODAX 2: The King Is Dead, the band will be making the journey from the city of Acronus to play some live shows in 2019 in Seattle, WA.
Hail to the King! King Odax!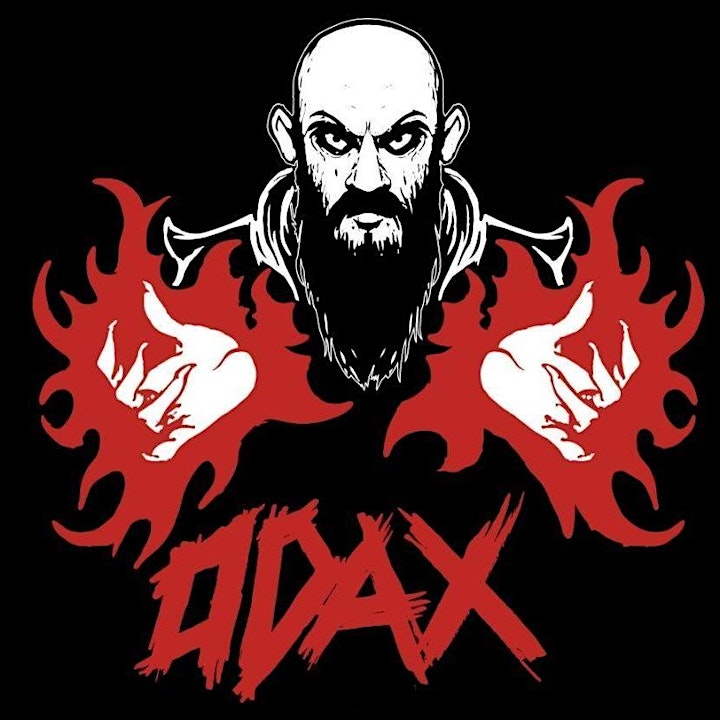 UGLIEST MAN ALIVE

Seattle-based operator of guitars, synths, and whatchamacallits.

Venue Information:
El Corazon
109 Eastlake Ave East
Seattle, WA, 98109