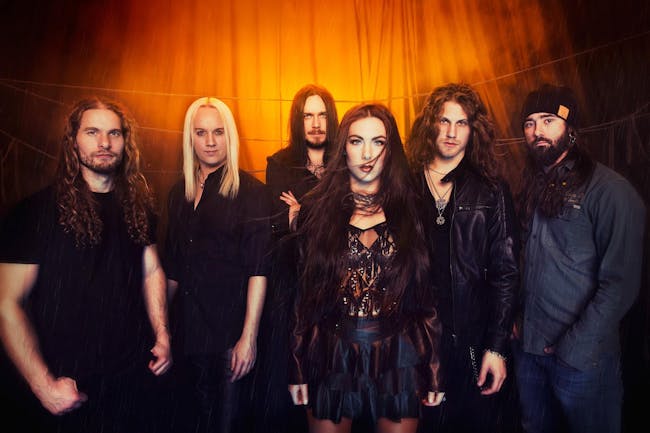 Amaranthe, Battle Beast, Seven Spires plus Guests at El Corazon
AMARANTHE
AMARANTHE have carved their name into the annals of metal in capital letters. According to some sources "melodic death metal" and somewhere else pegged as "metalcore" Amaranthe keeps driving genre purists loopy.
Formed in 2007 by Olof Mörck and Jake E. in Gothenburg and sporting 3 singers, each with characteristics of their own, Amaranthe sound like no other band - timeless, pop choruses coated with an icing of three layers of sublime singing and growls.
In April 2011 their debut album was released via Spinefarm Records to worldwide acclaim, charting high in Sweden and Finland. "Amaranthe" was the 84th most played album on Spotify worldwide, counting all genres. After a completed run of 92 live shows they returned to the studio.
March 2013 saw the release of "The Nexus". Extensive touring followed, more chart entries garnered (Top 10 entries in Sweden and Finland, #12 on US Billboard Heatseeker etc.).
October 2014 saw the release of Amaranthe's 3rd outing MASSIVE ADDICTIVE. The album immediately charted in 6 countries, reaching #1 on the Billboard Heatseekers chart.
The band's 4th album "Maximalism" was released in October 2016. The album charted everywhere, reaching #1 on the Billboard Heatseakers, Top 100 Billboard & #3 in Finland.
Jake E left the band in the spring of 2017 to pursue a career outside of Amaranthe. The band signed Nils Molin as replacement. The announcement was made at Provinssi Festival in Finland on July 1st 2017.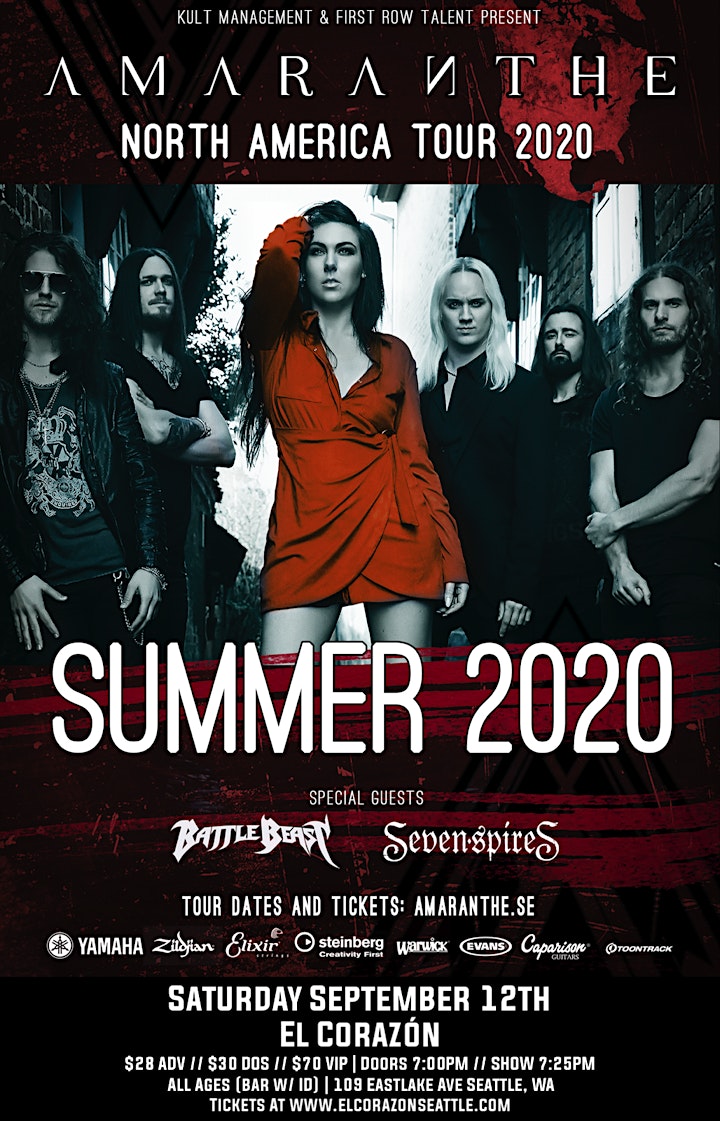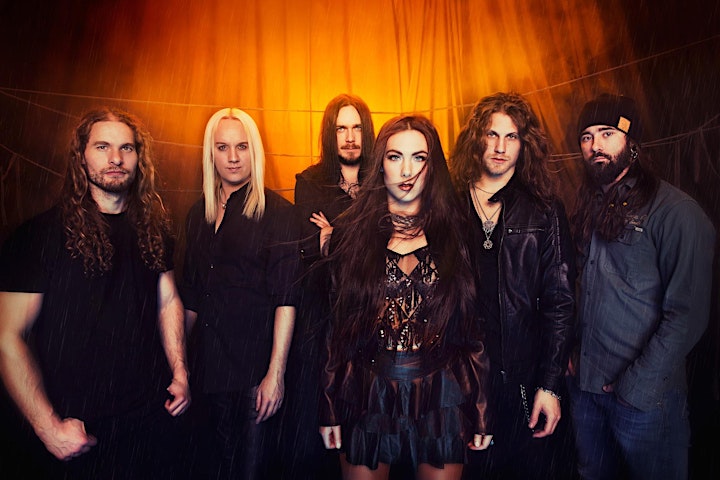 BATTLE BEAST
"100% heavy metal - 0% bullshit!" - BATTLE BEAST's formula is simple, but very effective; and with their enormously catchy, riff-laden songs coupled with Noora Louhimo's unique voice, these young Finns have become a flagship of modern heavy metal over the past few years.
Having only formed in 2008, BATTLE BEAST signed a record detail with the renown German metal label Nuclear Blast in 2011. The unleashing of their acclaimed debut »Steel« (2012), won the band a support slot for their labelmates NIGHTWISH. Frontwoman Noora Louhimo finally joined the band in 2012 and the band's self-titled record (2013) was released shortly afterwards. BATTLE BEAST then got the opportunity to open for bands such as SONATA ARCTICA and POWERWOLF on extensive runs. Their ascent up the metal ladder was quick and the band's 3rd studio album »Unholy Savior«, achieved remarkable chart positions all over Europe (#1 Finland, #23 UK Rock, #39 Germany etc.). This release was accompanied by another big European tour, but this time with Swedish heavy metal heroes SABATON and DELAIN. BATTLE BEAST's very first headline run throughout the Continent rounded off their »Unholy Savior« touring cycle.
But the band didn't rest on their well-deserved laurels and instead made 2017 the most successful year in their still rather short history by forging their 4th powerful piece of heavy metal, »Bringer Of Pain«. The record also marked BATTLE BEAST's first output without their original songwriter Anton Kabanen. The achievements of the previous album were topped: #1 in Finland, #14 in Germany plus several entries in countries where they had never hit the album charts before. The band's 2ndEuropean headlining trek, this time supported by MAJESTY and GYZE, was the cherry on the 2017 cake. Many shows were sold out and had to be moved to bigger venues! Appearances at festivals such as Bloodstock Open Air (UK), Summer Breeze (D), and Masters of Rock (CZ) and show debuts in various countries and continents faded out this year which went down in history. In April 2018, BATTLE BEAST went on another US tour with KAMELOT and DELAIN, before closing their »Bringer Of Pain« world tour with selected summer festival and club gigs.
…whilst in the silent corners of the band's tour bus, 11 new hymns have been written for their opus no. 5, entitled »No More Hollywood Endings«. Recorded by keyboardist Janne Björkroth, Viktor Gullichsen and guitarist Joona Björkroth at JKB Studios; the record was also produced and mixed by Janne. The cover artwork was created by Jan Yrlund (KORPIKLAANI, MANOWAR etc.), who already took care of the »Bringer Of Pain« design.
But not all has been done the old way, there's also a lot of fresh blood on the sextet's forthcoming record: "The heavy songs are heavier, pop-delights brighter, rock vibes stronger, and sounds richer than before. The emotional scale is wider, and everything is bigger," adds Janne.
And the record immediately proves the keyboardists promise! It begins with the driving opening track 'Unbroken', graced with orchestral elements, which have been recorded by a real string ensemble this time. Up next, the first single and title track 'No More Hollywood Endings', which takes the fans by surprise with its extravagant lead melodies; followed by the hymnic stadium rocker 'Eden' and the heavily 80's breathing 'Unfairy Tales', the listener arrives at 'Endless Summer', delivering one of Noora's most soulful performances. Kicking off the 2nd half of the record with an old-school 8-bit music intro, 'The Hero' speeds up the tempo again and leads into the next banger, 'Piece Of Me'. Also packed with an orchestral chorus is 'I Wish', the ballad of the album, right before the duo 'Raise Your Fists' and 'The Golden Horde' gallops towards the glorious closing track in which BATTLE BEAST literally set the 'World On Fire'.
"BATTLE BEAST have a shiny new skin and we're going to present it with pride. With music even more empowering, theatrical and emotionally charged, this is going to be the most exciting adventure for BATTLE BEAST listeners since we started. Just wait until you experience the new material live. Come and see how the beast has been born again!" comments Noora.
With »No More Hollywood Endings«, the group cements their status as unstoppable force, showcasing their magic touch for writing endlessly catchy songs once again, without repeating themselves. This record includes everything the band needed to take the next step to conquer the big halls of the world. In the end, one thing's for sure: Although BATTLE BEAST's new record may not purely contain "100% heavy metal", but definitely "0% bullshit"!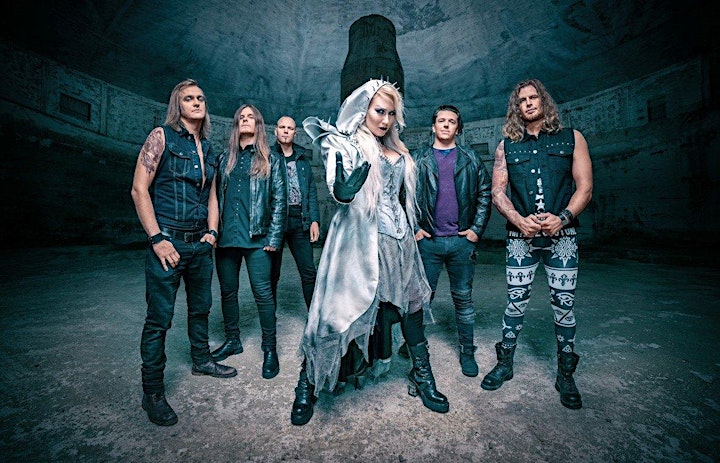 SEVEN SPIRES
"Already hard at work on album number two, Seven Spires have the wind in their sails and it's not hard to imagine them becoming inordinately huge over the next 12 months." - Dom Lawson (Metal Hammer UK)
"Tougher tracks such as 'Paradox' or 'Burn' compliment the Symphonic Metal metal elements, so you sometimes feel like you already have the new Dimmu Borgir…" – Metal Hammer (Germany)"Spires are one of the most untypical symphonic metal bands I've ever seen." – Rock Hard (Germany) review of "Solveig" 7.5/10"Captivating from start to finish, 'Solveig' captures every nuance that the subject matter deserves and will appeal to anyone who loves their metal symphonically and emotionally charged, with the only downside being Seven Spires have set the bar so high for themselves that even Robert Wadlow would struggle to reach his pint." – PowerPlay magazine (UK) review of "Solvieg" 10/10Seven Spires is an American metal quartet specialising in melancholic tales and tenebrous grandeur. Part bittersweet melodic metal anthems, part apocalyptic melodic death and black metal, and part Romantic Classical poets, they are storytellers who draw from across the traditional spectrum of metal and beyond to weave tragedies of demons, death, love, and the peculiarities of human condition.
Following a highly successful crowdfunding campaign and release of their debut album "Solveig", Seven Spires performed extensively in the US, Canada, and at festivals such as MetalDays, 70,000 Tons of Metal, and ProgPower USA. They are in the final production stages for their second full length record, which will once again be mixed and mastered by Sascha Paeth (Avantasia, Kamelot, Epica, etc).
Seven Spires' new album "SOLVEIG"Seven Spires' new album is "SOLVEIG", a theatrical metal concept album in two acts. It is the story of a lost soul and his journey through a Demon's sunless neo-victorian underworld. Despite small glimmers of hope, it is a grim tale with a heavy focus on escapism, death, and decadence. With distinct attention to melancholic power metal, melodic death, and black metal, Seven Spires fuse sounds from across the spectrum of metal with their great love for Romantic composers, and the atmospheric and storytelling capabilities of film scores. "Solveig" is available worldwide NOW!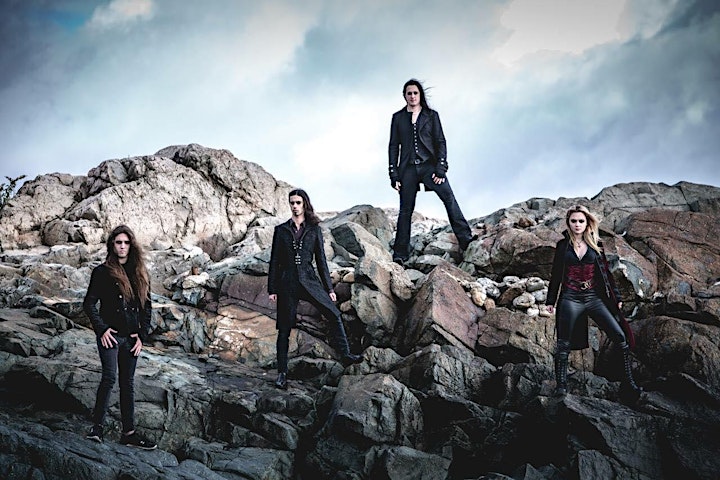 Venue Information:
El Corazon
109 Eastlake Ave East
Seattle, WA, 98109