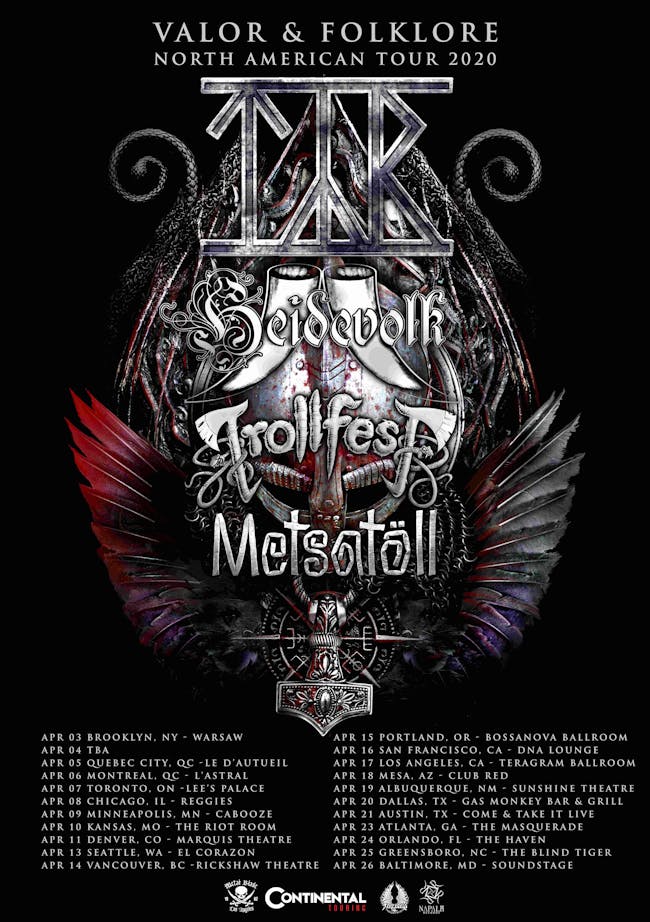 KISW (99.9 FM) Metal Shop & El Corazon Present
TYR
Heidevolk, Trollfest, Metsatöll
El Corazon
"Valor & Folklore" North American Tour 2020 feat. TYR at El Corazon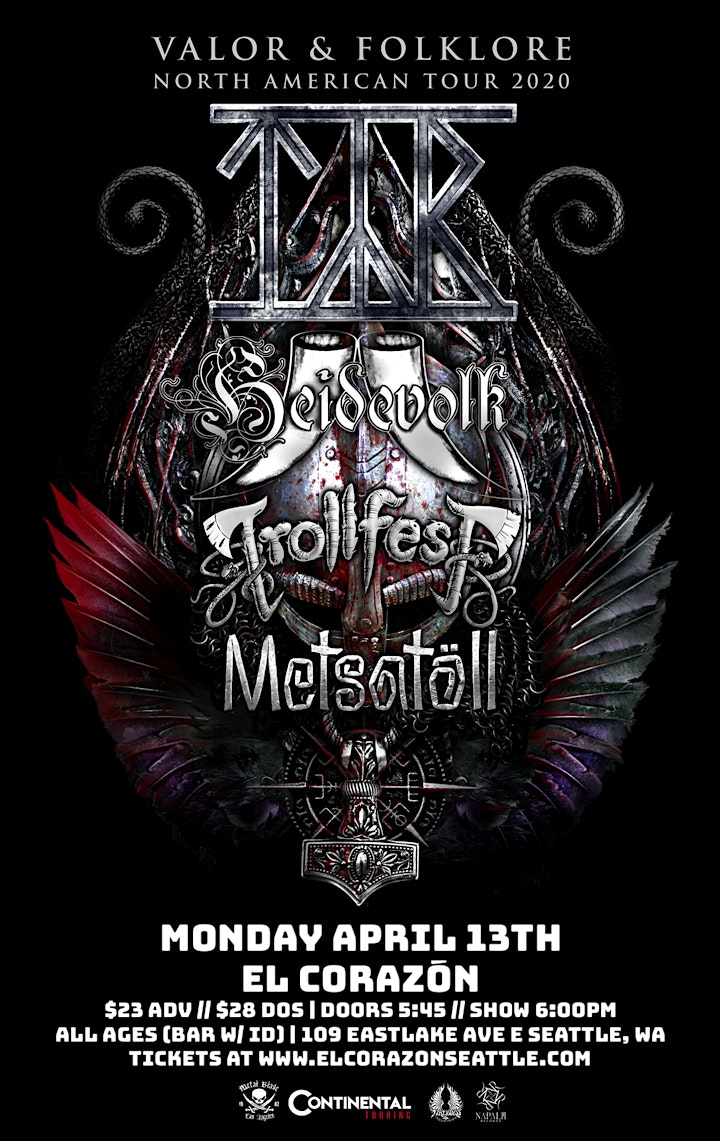 TYR
Týr is a Faroese folk metal band. They have been characterised as one of "the islands' two most successful metal bands". Their subject matter revolves almost entirely around Viking lore, mythology, and history, taking their name from Týr, the god of war in Norse religion.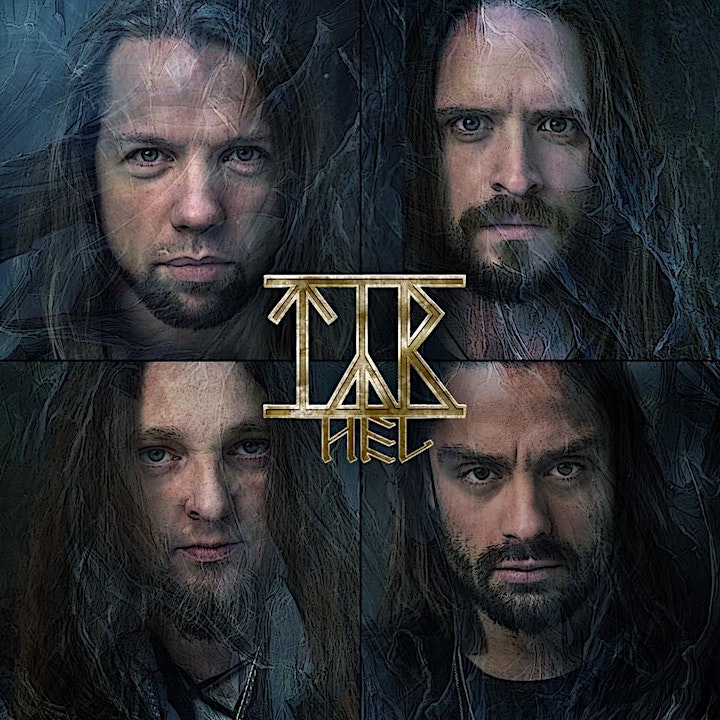 HEIDEVOLK
Few could have envisioned the bright future that the Norns had in store for HEIDEVOLK back in 2002. Since its inception in Arnhem (the Netherlands) thirteen years ago, HEIDEVOLK came, saw, and conquered stages throughout Europe with their very own brand of folk metal. Instantly recognizable dual clean male vocals and irresistibly catchy songs have ignited the pagan fire in the souls of many on the continent. They deliver their songs on divine matters and profane pleasures with equal integrity, fueled by a folkloric fire and pagan pride. With a repertoire ranging from epic to raging, captivating live shows and an undying desire to perform, HEIDEVOLK has become a familiar face Europe and in North and South America. HEIDEVOLK stands for an uncompromising attitude, intense shows, and the transcendence of barriers between performer and audience… even if your Dutch sucks!
In 2005, HEIDEVOLK released its first CD, "De strijdlust is geboren", followed by the "Wodan Heerst" EP in 2007. The sophomore full-length CD 'Walhalla Wacht' (Napalm Records) saw its worldwide release in 2008. The internationally well received third full-length, "Uit oude grond" (2010) and the more aggressive concept album BATAVI (2012) followed. In 2015 HEIDEVOLK stunned the scene with their beautiful masterpiece VELUA, a journey through a world of myths and legends of the Veluwe, Netherlands. Now at the dawn of 2018 HEIDEVOLK is back and brings you the ageless story of revolt and resistance captured in their most varied and mature release to date called "VUUR VAN VERZET".
"Vuur van Verzet" ("Fire of Resistance") catapults you back in time to a battlefield where a failing Roman empire is retreating and Germanic tribes are on the rise to claim back what is theirs. It will guide you through the heart of the great migrations where havenless tribes roam the continent in search for new territories. Along with these historic events it sings the praises of early traditions, gods and nature. These concepts are fitted in eleven songs each of them tailored to tell its own story. Ranging from in-your-face metal songs to proud hymns and folkloric soundscapes. The songs emphasize the characteristic HEIDEVOLK sound but also underline the progression of their songwriting. Fast metal riffing, trademark dual male vocals, a twenty four piece all male choir, various folk musicians, a string ensemble and the raw guest vocals of Primordials' Nemtheanga ("The Alliance") make "Vuur van Verzet" an album that shows its teeth..in a bombastic way. Join us, for the Pagan Metal Brotherhood is on the rise!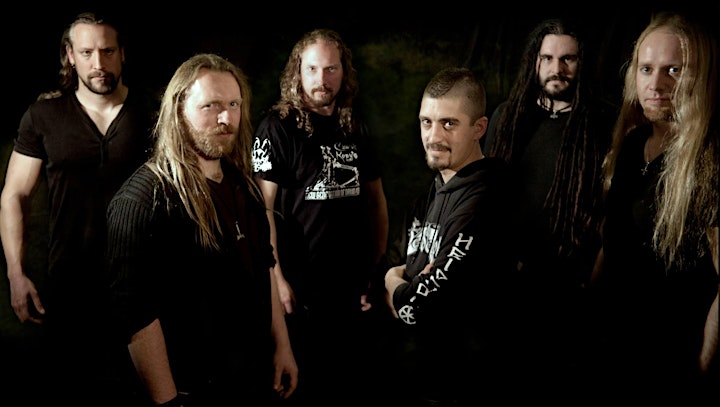 TROLLFEST
One weekend in 2003, in Oslo, Norway, a bunch of goons became bored with the selection of party music that was available to them, and, helped along by the consumption of large quantities of alcohol, the soon-to-be members of TrollfesT decided to take matters into their own hands. One website and six songs later, a German label, which at the time was called Solistium, recognised the potential in the madness and got in touch. With the immortal words "what the heck, let's give it a go" TrollfesT agreed to a deal and started writing new material. By 2005 "Willkommen Folk tell Drekka Fest!!" hit the streets. And life as we know it was never the same again.
Containing a selection of sounds and comments, many of which you would not necessary come across if you only frequented polite parties, "Willkommen…" displayed some unique qualities that caught people's attention and consequently sold rather a lot of copies, so a deal for a second album was signed and in 2006 the story of Brakebein the Troll was released. "Brakebein" (not a bad choice for a title really given its subject matter), appeared in two versions - one that included a cartoon illustrating Brakebein's voyage, and the other that included the lyrics.
During the first years, TrollfesT never actually played live, but nevertheless the two albums succeeded in making the band a sought after addition to festivals, and the first foray beyond the planning stage occurred in 2007 as one of the headlining bands at the Ninth Barther Metal Open Air Festival. TrollfesT then went on to headline and play various festivals and concerts around Europe during 2007/08 including the Ragnarök and Riedfest festivals.
January 2009 saw the release of TrollfesT's third studio album "Villanden". A much-anticipated underground album according to feedback from the fans, "Villanden" was quickly acknowledged as one of the craziest albums to have been released in a very long time, mixing, as it did, European Balkan music with extreme metal, and spread rapidly through the viral networks like YouTube, MySpace and Facebook.
So how would anyone, in their right mind, or otherwise, dare to define TrollfesT? The closest you would come is probably True Norwegian Balkan Black Metal, but even then you would need to include influences from lots more genres. The best way to put it is that this band is all about alcohol, joy and music, three subjects that draw in fans from all ages and genres, eager to listen to TrollfesT's records and witness the exuberant and skilled live performances.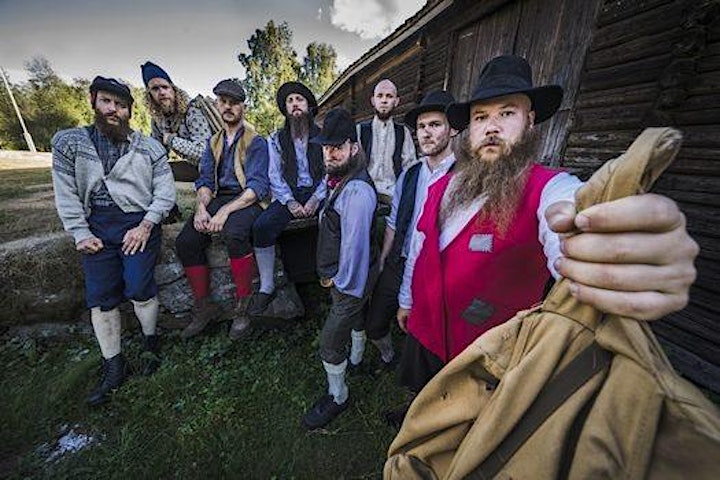 Metsatöll
On 24 February 1999, three men held a meeting at the borders of the Pääsküla bog, in the singer and guitar player Markus's basement, one of whom could play a little bit of guitar, another who knew how to play a little bit of drums, and a third who had come up with a sufficiently ancient-sounding name that would be just right for a heavy metal band – 'Metsatöll' (the name "Metsatöll" is an ancient Estonian euphemism for wolf).The thought soon turned into reality and over the next few days four or five songs were composed and a couple of months later there was an entire album-full of them. The demo album Terast mis hanging me hinge was released in the autumn of 1999. Soon afterwards, Lauri joined the band, bringing with him a second guitar, the torupill, kannels and flutes.
In early 2001, the original bass player was replaced by Kuriraivo. A year later, a single and video for the song Hundi loomine were released.
Metsatöll's current line-up was finalised in 2004, when Atso took up the place behind the kit. At that same year, the album Hiiekoda was released, which multiplied the number of the band's fans several hundred times, crushed all previous sales records for an Estonian metal artist and won Metsatöll the Best Metal Act 2005 award at the Estonian Music Awards ceremony.
In 2006, the same award was won for the album Terast mis hangund me hinge 10218, a re-recorded and re-arranged version of the band's demo album. The live DVD See You On The Battlefield! was recorded during the album's presentation show, and it won the title of Best DVD 2006. At that very same year Metsatöll and the Estonian National Male Choir composed an arrangement of Veljo Tormis's magnum opus, Raua needmine; a DVD was released in Estonia and Germany of the show that took place in the ruins of the Pirita cloister.
Metsatöll's third album, Iivakivi, released in February 2008, won the band the now familiar Metal Act of the Year award from the Estonian Music Awards ceremony. At the same year, Metsatöll signed a contract with Universal's Finnish subsidiary, Spinefarm Records.
To celebrate the band's 10th birthday, a 2DVD/CD Kõva Kont (2009) was released, which will be Metsatöll's final release published with the band's own resources. More than five hours of stuff to watch and listen, from between the years 2000-2008, it provides a thorough overview of the band's history – from rehearsals recorded in a basement and the very first gigs attended by both of their fans, to the show at the Rabarock festival, cheered by a stadium full of people, and the concert Märkamisaeg, which was attended by an audience of more than 100 000.
In the autumn of 2009, Metsatöll joined Ensiferum (FIN) for an European tour of 31 shows in 11 countries. By today, the band has played more than 350 shows in Europe and the US, and has sold more than 50 000 albums.
On 15 january 2010, the online-single and video Vaid vaprust was released, a first taste of Metsatöll's fourth album Äio, due out on 3 March. All the music and lyrics on the album were conceived in the isolation of a small farmstead in Hargla, South Estonia. This provided the songs with a breath that, according to the guys themselves, cannot be achieved in a big city. Äio was recorded in Finnvox studios in Finland and Sinusoid studios in Estonia. The album was mixed by the legendary producer and sound engineer Mikko Karmila.
In 2012, Metsatöll gave concerts in Estonia, Finland and Latvia. In autumn, the band toured with Korpiklaani (FIN), Tyr (FRO) and Moonsorrow (FIN) for a month in North-America, where a total of 26 shows were given. The DVD Tuska, which was recorded at the Tuska Open Air 2012 in Helsinki, was released.
The year 2013 took off to a flying start - Metsatöll gave two gigs for the soldiers of Estonia, USA, UK and Denmark in Afghanistan, at the Helman province. Followed by a trip to Southern Asia, the band went on a European tour with Korpiklaani (FIN) - 40 shows were given in 15 countries.
To this day, Metsatöll have given more than 490 performances and have sold more than 100 000 records.
* Metsatöll uses the chronology of the local natural religion. It begins with the Billingen catastrophe of 8213 before Common Era, when the Baltic ice lake broke its way into the ocean and most of the current territory of Estona appeared from under the water.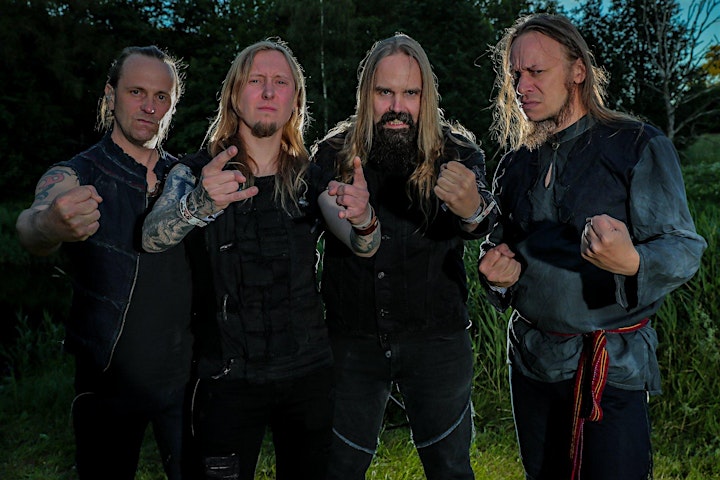 Venue Information:
El Corazon
109 Eastlake Ave East

Seattle, WA, 98109