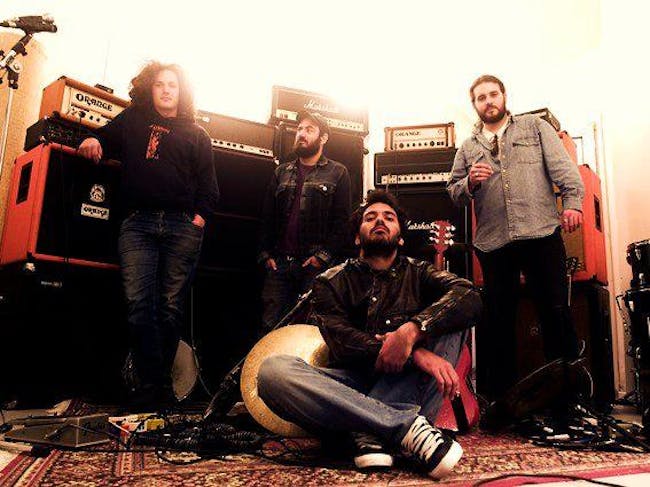 1000mods
Ape Machine, Fatso Jetson, Klaw, The Stuntmen
Funhouse
1000mods, Ape Machine, Fatso Jetson plus Guests at The Funhouse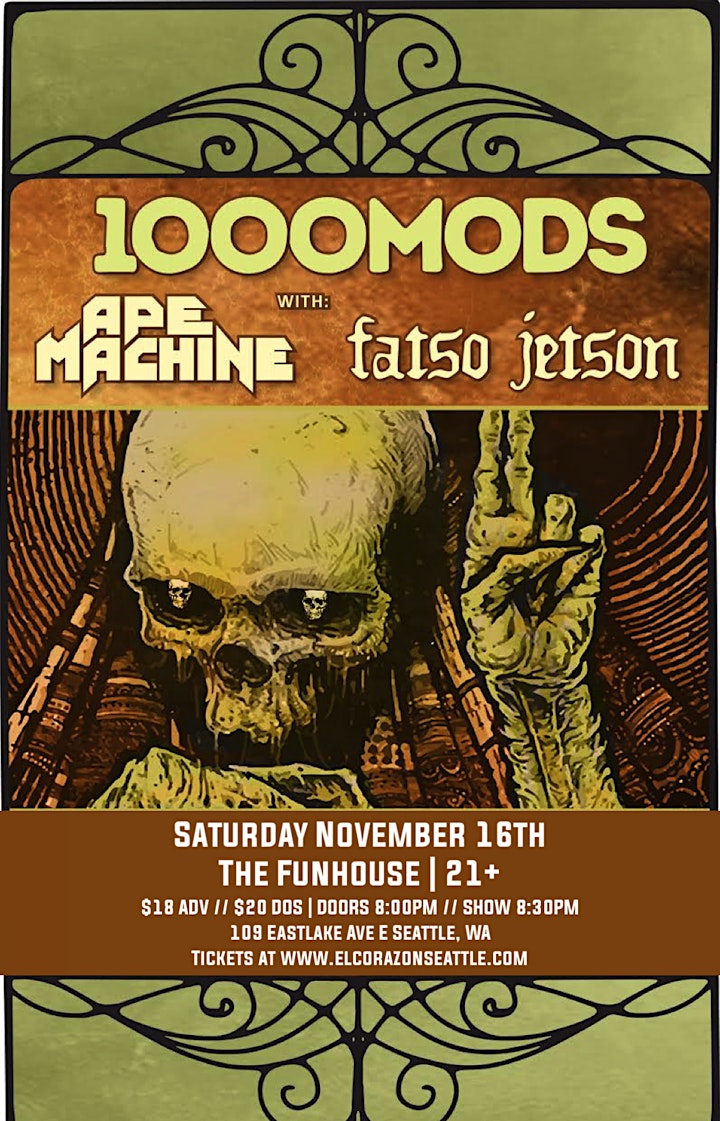 1000MODS
1000mods is a psychedelic/heavy rock band from Chiliomodi, Greece. They were formed in the summer of 2006, and since then they have played over hundreds of live shows, sharing the stage with bands like The Black Keys, The Black Angels, Graveyard, Brant Bjork, Colour Haze and many more. They are known for their commitment to vintage equipment, thick and heavy analog sound and remarkably passionate stage performances.
In October 2010, the almighty Billy Anderson visited Greece in order to produce the band's debut album, while Malleus Rock Art Lab took care of the artwork. "Super Van Vacation" was born. In order to promote their debut album, they played 40 shows in 15 countries around Europe, including festivals such as Rockwave festival, B'estfest and Lake on Fire.
After two successful European tours, the band was ready to get down to work again. Their experiences and growth paved the way for their upcoming album, "Vultures" which was released on the 30th of May 2014. Two European tours followed with a massive two-month tour on October/November 2014 and a tour supporting The Atomic Bitchwax during May 2015.
The time has come for 1000mods to get their effort to the next level. "Repeated exposure to…" was released on the 26th of September 2016, being their best album to date as well as an inspirational mixture of all that's heavy in the glorious 70's and the 90's heavy rock movement. Having been recorded with hi-end outboard equipment in a non-stop 24/7 procedure, produced by both the band and sound engineer George Leodis and mastered by living legend Brad Boatright (the audio mastering engineer of Sleep's "Dopesmoker") "Repeated Exposure to…" sounds thick, beefy and tight, as a modern heavy rock album must sound.
Not much later, the band departed for a 27-date European Tour with Monkey3 and Moaning Cities, participating in leading festivals such as Up in Smoke Indoor Festival In Z7, Desertfest Belgium, Desertfest Athens and Keep it Low Festival. The Greece/Cyprus leg of the tour followed, playing in 12 different cities with their big gig in Athens in January 2017 being Sold Out with more than 2700 people attending!
Their 2017 "Repeated and Exposed to" tour features a total of 42 live dates in 15 European countries, including –once again- appearances in acknowledged European festivals such as Desertfest London, Desertfest Berlin, Under the Black Moon Festival in Munich and Riff Ritual Fest in Barcelona. The tour was a big success for the band with noumerous Sold Out shows accross Europe.
In early 2018, 1000mods toured North America for first time, with 29 gigs in U.S.A, Canada and Mexico. Now (spring 2018) they are getting back on the european road with a headling tour during April 2018 and lots of summer festival appearances including Hellfest, Rock Im Wald, Free and Easy festival and a lot more.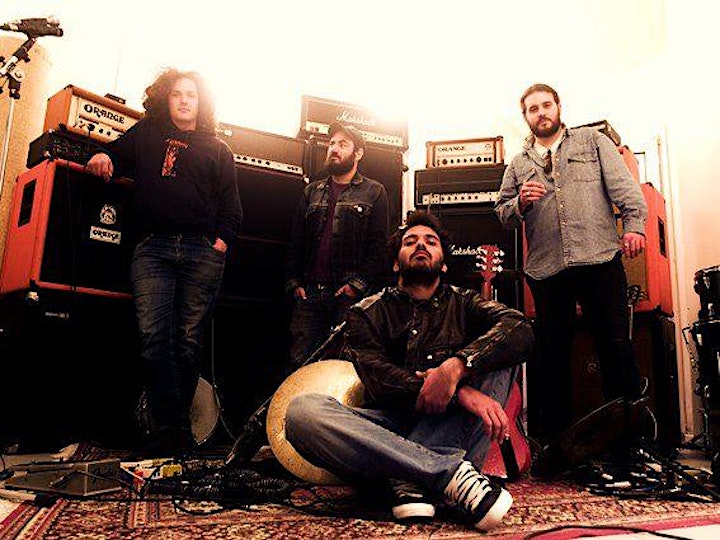 FATSO JETSON
Fatso Jetson formed in the wee hours of 1994 after Tony Tornay, and cousins Mario and Larry Lalli spent way too much time together playing pool, drinking shitty beer and watching TV in the after hours at Mario and Larry's nightclub, "Rhythm & Brews." They decided that since they already played the appropriate instruments, that their time would be better spent playing music instead of eternally making double-or-nothing bets on a crummy pool table and watching History Channel documentaries.
After cobbling together 9 or 10 songs (and coming up with a name that references an old Ingmar Bergman film character) they played their first show in September 1994, opening for former Black Flag guitarist Greg Ginn. On the basis of this show, Ginn decided he wanted to release an album with the band on his SST Records imprint. The band then went on to play as many shows as possible including a tour with fellow desert dwellers Kyuss.
Then, in August 1995, Fatso Jetson's first record, "Stinky Little Gods" was released. Just over 2 years later in November 1997, the band released their second full length opus, "Power Of Three", again on SST featuring the bands first collaboration with Vince Meghrouni. It was around this time that the band hooked up with Brant Bjork (ex-Kyuss, ex-Fu Manchu skinsman) who played rhythm guitar. Brant stayed in this capacity until touring with Fu Manchu forced him to leave the band, though he did appear on two 7" releases, one of them a split with The Bloodshot, and the other a split with Fu Manchu.
In late 1997 Fatso Jetson started to look for another record label and found themselves in the company of Bongload Custom Records. In April 1998, Tony, Mario and Larry entered Monkey Studios in Palm Springs to record their 3rd full length offering for Bongload, The album they came up with is "Toasted," produced by Chris Goss (Masters Of Reality, Desert Sessions). Around this time famed artist Frank Kozik asked the band to record a record for his now legendary "Mans Ruin Records". In August 1998 the band re-entered Goss' Monkey Studios to lay down the tracks for a record that would eventually become "Flames For All." Long time Lalli collaborater Gary Arce joined the band as a rhythm guitarist for a tour with Queens Of The Stone Age and continued to play with the band for a European tour and an appearance at the Dynamo Festival in Holland and an appearance at SXSW in Austin, Tx. in 1999 until he finally departed in April 2000.
Amidst all of this activity Fatso Jetson also contributed to "The Desert Sessions" releases. The Desert Sessions were the brainchild of Josh Homme (Kyuss, Queens of the Stone Age). He organized these recordings bringing desert musicians, outsiders, freaks, and other creative like-minded rock musicians together to collaborate. At these sessions Mario Lalli co-wrote two songs with Homme ("You Think I Ain't Worth A Dollar, But I Feel Like A Millionaire" and "Monster in the Parasol") these would eventually make their way on to the Queens of the Stone Age albums "Rated R" and "Songs for the Deaf." All three members contributed music to other tracks that would find their way onto "Desert Sessions" records
After some regional touring in the United States and a second appearance at SXSW in 2000, Fatso Jetson headed back into the studio to record their 5th full length studio album: "Cruel & Delicious." Recorded in Silver Lake, Ca. at Donner and Blitzen Studios with earthlings? and Twilight Singers collaborator Mathias Schneeberger. The album was subsequently released on Josh Homme's "Rekords Rekords" in November of 2002.
After some highly anticipated dates with Queens Of The Stone Age, Fu Manchu, and Beck, Fatso Jetson quieted down for a few years. The permanent members Mario, Tony, and Larry had found themselves living in different cities with other obligations taking over their time. They consistently played regional shows and spent time in various studios recording but it would be a few years before any new music would come to light.
Even in their quiet they managed to still make noise: LA Weekly nominated them as one of the "Best Rock Bands" in Los Angeles in 2003.
Around this time Tony spent some time playing with Black Flag alum Chuck Dukowski recording a record and playing shows in both the States and Europe with an appearance at Coachella, while Mario toured and recorded with a reactivated Yawning Man and a desert "super group" Orquesta del Desierto along side Pete Stahl (Scream, earthlings?, Goatsnake), and Alfreado Hernandez (Yawning Man, QOTSA, Kyuss)
In 2007 The band now joined full time by Vince Meghrouni playing multiple instruments and singing, released "Live" a, well as the name implies, a live record recorded in their adopted hometown of Los Angeles and released on Cobraside Records
2010 saw the release of "Archaic Volumes" again on Cobraside Records with subsequent European and United States tour dates with Oaks Mary and The Atomic Bitchwax including sold out performances at The Roadburn Festival and Stoned from The Underground Festival.
In 2010 Tony started Deep Dark Robot with famed record producer Linda Perry. They recorded an album "8 Songs About A Girl" in 2011 and spent the year touring America in support of the album and making videos starring the likes of Kat Von D and Juliette Lewis.
In 2013 Fatso Jetson was joined by Dino Lalli (Mario's son) and released a Split 12" record with fellow desert dwellers Yawning Man and headed out for a European tour to promote it including sold out co-headlining performances at both Desert-Fest London and Berlin.
Tony spent a few months at the end of 2013 and the beginning of 2014 recording and touring with childhood friend Brant Bjork on his project "Brant Bjork And The Low Desert Punk Band". They hit Australia, America and Europe before Tony bowed out to re-focus on Fatso Jetson
2014 has seen the band playing festival shows and some regional touring while being featured on the Foo Fighters: Sonic Highways documentary.
2015 promises to be quite a busy year for Fatso Jetson with both the recording and release of a new record and extensive touring in bothe The States, Europe, and beyond…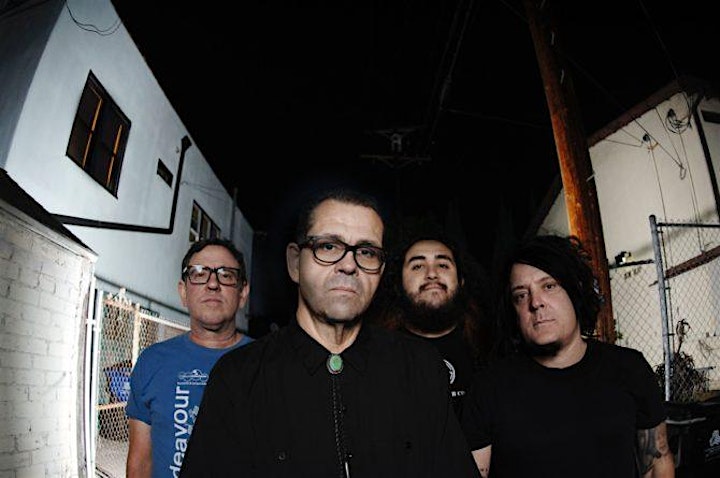 APE MACHINE
The name APE MACHINE is a nod to the days of reel-to-reel magnetic tape audio recording; a fitting moniker for the heavy-hitting quartet as the band plays through vintage tube amplifiers and lays down its songs using exclusively throwback quality studio equipment. With a heady mix of animal aggression and technical precision, APE MACHINE's music carries an organic depth and warmth rarely heard since the time of rock's glorious early years (or your Dad's bad ass record collection) infused with an exceptional modern sensibility. When the mystical lyrics of vocalist Caleb Heinze lock in with the band's stone-cold groove, APE MACHINE demonstrates an earth-shaking ability to rock. A true four-piece, the group has been called "a rock and roll band with a finger on the pulse of the 70's and their asses firmly in the present" and "real heavy-psych for the iPhone generation" that delivers "true guts and glory rock and roll."
Blending equal parts Rock n' Roll, Blues, Stoner Rock and Psychedelia, Ape Machine is out to melt faces and pound the apathy out of otherwise jaded listeners with a wall of heavy rock n' roll tones unheard since the days of bell bottoms, long hair and blaring tube amplifiers.
Ape Machine's mission is to combine intense melody, cutting riffs and blistering live improvisation. Where many bands rely on meticulously rehearsed, just-like-the-record-parts, Ape Machine provides a live experience that is as unique as each evening it shares with an audience.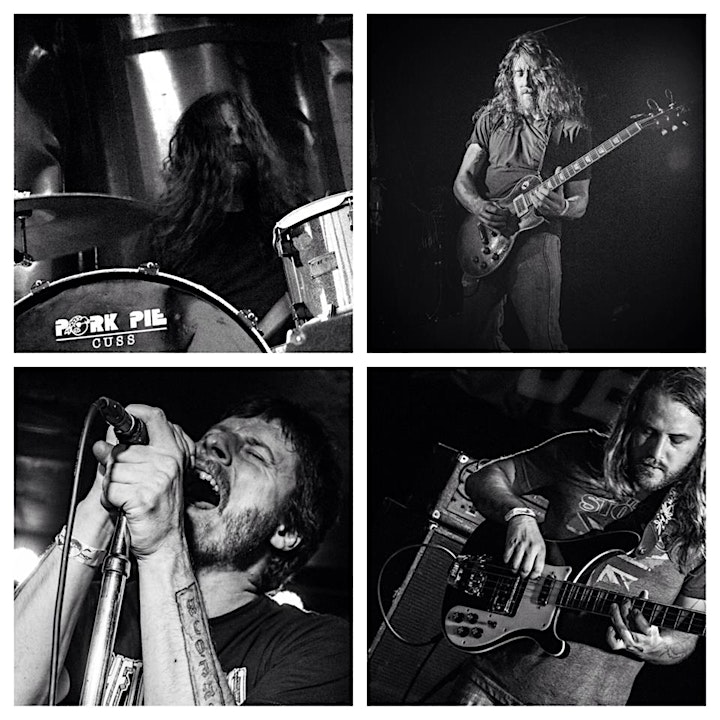 KLAW
KLAW started in 2011 as a long time idea turned musical collaboration with friends Justin Williams and Casey Cunningham. Jamming in Casey's basement in what is now referred to as the old KLAW Kave the band was first known as Doktor Klaw with members Darin Sorenson on drums, Jean Greagor on bass and David York on second guitar. Justin plays lead and Casey is on vocals. KLAW's first show was at the Funhouse in May 2011. KLAW recorded their first EP called "The Doktor is out" with Tad in spring 2012. By mid-2012 the Doktor was dropped from the name. Jean moved to second guitar and added Josh "Da Gorilla" Danford on bass. KLAW then went on a playing frenzy setting up shows all over Washington creating roots with in the PNW rock scene.
Summer of 2013 KLAW saw the departure of beloved drummer Darin. KLAW had some hefty shoes to fill and went on a 4 month search to find there next drummer. Casey ended up asking a coworker Ruben Lara Mozzochi who said he played little drums to try out. What KLAW didn't know is that they were pulling out of retirement one of Seattle's best drummers. Ruben nailed the audition and was quickly a main stay in the band.
With the arrival of his first child beloved guitarist Jean had to bow out of the band in 2014. KLAW then made a decision to be a four piece. Now slimmed down and ready for action KLAW started focusing on their first full length album. Recording started in January 2015 at Earwig studios in Georgetown run by the amazing recording engineer Don Farwell. The album is a culmination of songs form the past five years of the band. KLAW finished recording in spring of 15. KLAW was lucky enough to get amazing horror artist Nick Gucker to do all the art on the album. The self-titled KLAW album was released 7/10/15 to great acclaim within the Seattle rock and metal scene. KLAW and Greenriver Thrillers toured the west cost in the summer of 2016.
Having played with many of Seattle and Washington's great rock and metal bands KLAW is quickly gaining momentum with in the PNW music scene. KLAW hosts a yearly Toys for Tots Benefit called Noise 4 Toys. It is held on the 1st weekend in December at the Substation. KLAW went back in to the studio late 2017 and looks forward to releasing there long awaited 2nd album in late 2018.
Kids Knights Kills Kilt
Love Leprechauns Lamas Lovin
Awesome Astronauts Alligators Animal
Weed Wizards Werewolfs Wrestlers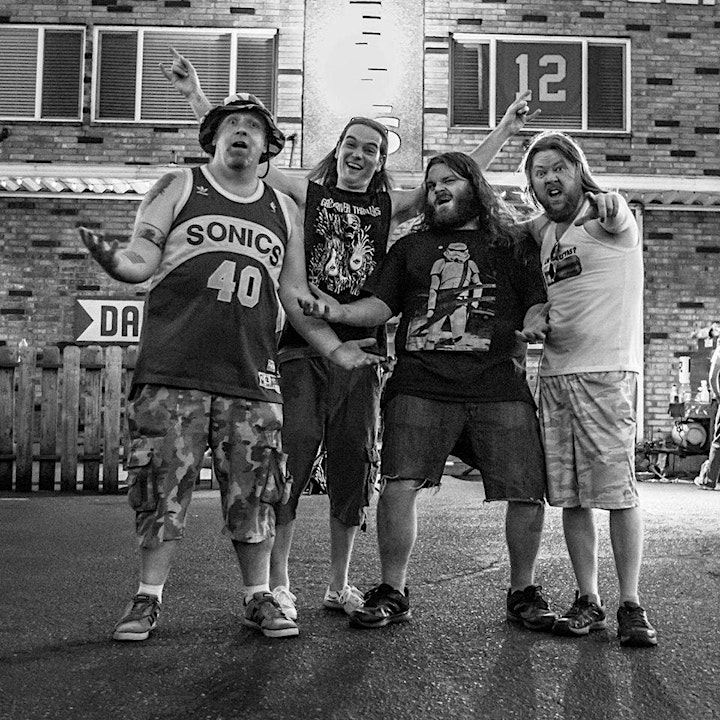 THE STUNTMEN
Seattle/Olympia Hard Rock and Roll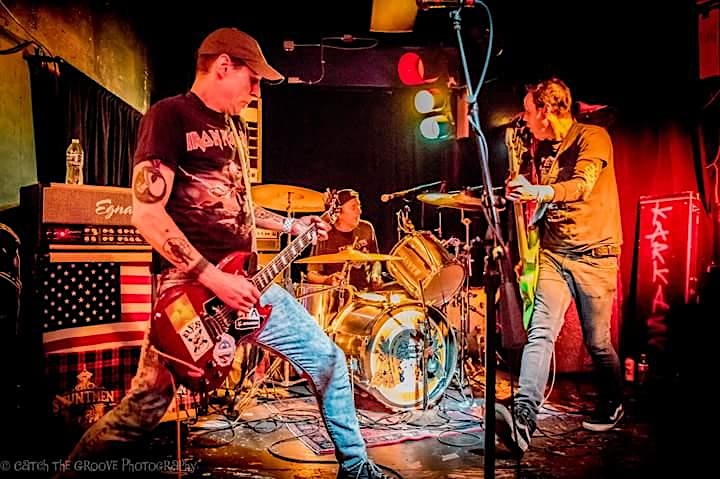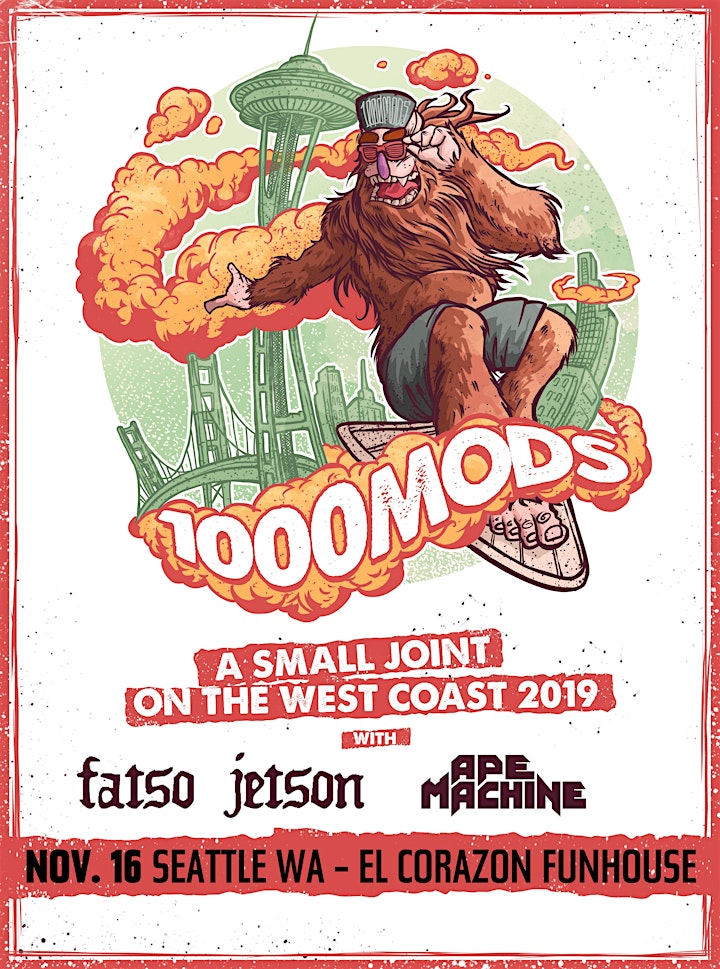 Venue Information:
Funhouse
109 Eastlake Ave E
Seattle, WA, 98109